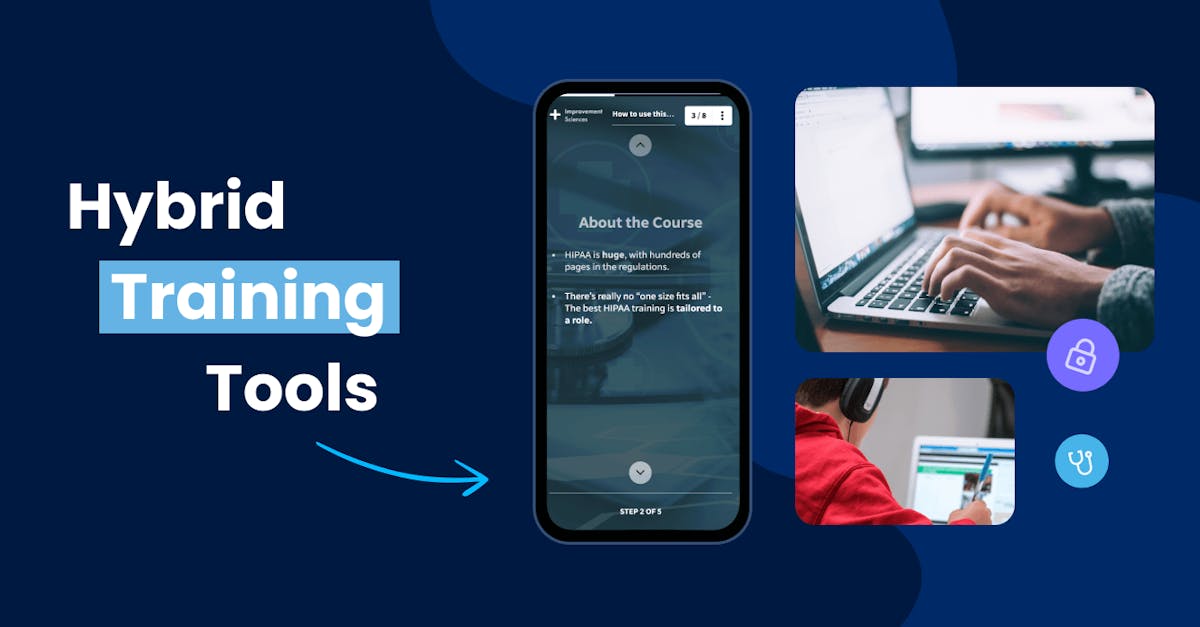 Hybrid training tools help make it easy to implement both traditional and online learning with the features they provide. While hybrid learning is said to boost productivity due to its flexible nature, a healthy combination can be tough to achieve due to the back and forth modes of delivery. To help you succeed with your training goals, we've rounded up 10 hybrid training tools to make your learning strategy meaningful and effective. 
Hybrid Training Tool #1 – EdApp
EdApp is an all-in-one learning solution designed to enhance learning outcomes for hybrid training through the various features it offers. You'll have access to a wide selection of editable courses with gamification elements that you can use for knowledge transfer and reinforcing concepts. It also makes use of other features such as videos, quizzes, and surveys to keep your learners engaged. As a hybrid training tool, it works seamlessly in combination with your favorite video conferencing platforms and learning solutions through its Virtual Classroom feature to give the closest simulation to in-person interaction anytime and anywhere.
Since EdApp is a mobile-first learning management system and platform, employees need not worry about being tied up at their desks just to complete their training. It's accessible on any device, regardless of the screen size, and has a responsive design to ensure that all learners get the same interactive experience. EdApp is also SCORM compliant, allowing you to upload SCORM compliant courseware on to this LMS platform. 
Cost: Free
Key features:
Course library

Virtual classroom

Mobile-compatibility

Gamification
Sign up for Free and Start Using the Most Effective Hybrid Training Tool Today!
Hybrid Training Tool #2 – Kahoot!
Kahoot! is a hybrid training tool that you can use to gamify your quizzes and assessments, as well as introduce new concepts to your employees. The quizzes are creatively called "kahoots", which can be accessed via a web browser or a mobile app. They can be presented on a shared screen and answered by a group of "players" all at the same time. Alternatively, you can also arrange them as a self-paced challenge to be completed by your team asynchronously through online training. It also provides reporting and analytics so that knowledge gaps can be spotted and feedback can be provided for a more holistic training experience.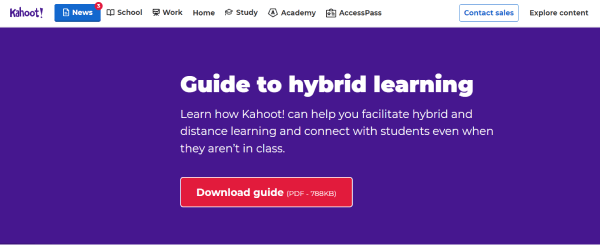 Cost: Starts at US 0/host/month
Key features:
Live quizzes

Self-paced challenges

Analytics
Hybrid Training Tool #3 – Yarno
Yarno is a hybrid training tool with mobile in mind, designed to effectively train your employees wherever they're located. It features a learning library where your training teams and learners can store all your training content for easy access. It also has an interesting feature called Embed campaigns wherein quick quizzes can be rolled out over a certain period and completed daily to check for employee learning. Yarno is unique because of how mobile learning and training are delivered, which is by asking questions so learners can come up with answers that strengthen the recall of information. It's then followed up by explanations where they can receive feedback from their answers. The team at Yarno can also work with you to create custom-made videos to level up your employees' competency.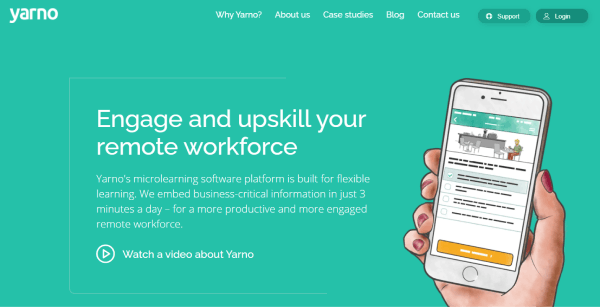 Cost: Available upon request
Key features:
Hybrid Training Tool #4 – ProProfs
ProProfs is an LMS software that you can use to simplify the training creation process. You can import content from other LMS, customize ProProfs' ready-to-use courses, or easily create fresh courses like leadership training, communication skills training, health care training, hospitality safety training programs, and more. Trainees can also be managed via its virtual classroom feature where they can then enroll themselves in the courses they need. Discussion forums are also used to develop a collaborative learning environment. To gain insight on learner progress, learner participation, course engagement, and completion rates, ProProfs provides detailed reports and analytics that you can share and export when needed.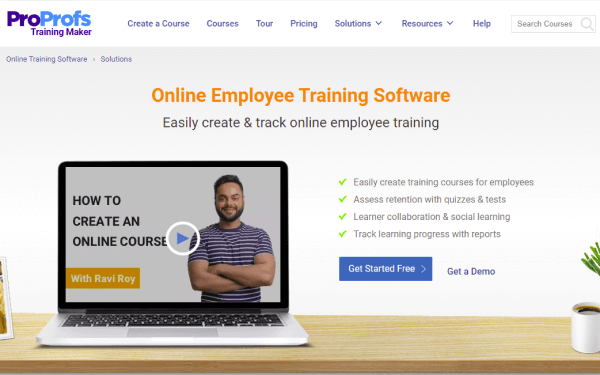 Cost: Starts at 0 USD/month
Key features:
Virtual classroom

Ready-to-use courses

Discussion forums

Reports and analytics
Hybrid Training Tool #5 – Blackboard
Another hybrid training tool for you to consider is Blackboard which is equipped with a powerful range of teaching tools and solutions that revolutionizes online teaching and learning. Here, you can create online elearning courses, organize tasks, and even monitor your learners' progress. You can also host virtual training and connect with your learners in real-time using its virtual classroom solution. But unlike most of the video conferencing software, it's more than just a live classroom. It also offers interactive whiteboards, hand-raise notifications, breakout groups, and chat features, making the collaboration among your teams more fun and exciting.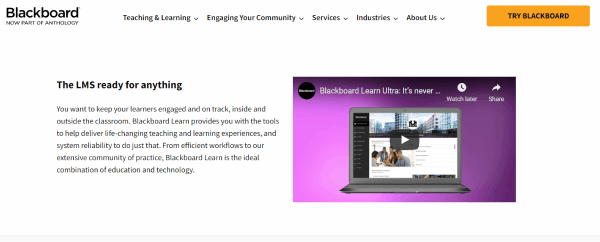 Cost: Available upon request
Key features:
Course authoring

Task management

Virtual classroom
Hybrid Training Tool #6 – Gyrus
Gyrus is a cloud-based LMS designed with AI-driven intuitive features helping you bring world-class training and development objectives for your employees. This LMS serves as a hybrid training tool by allowing you to develop training materials to be delivered through various digital formats. These include eLearning videos, webinars and documents, and virtual classrooms, providing support in traditional onboarding and training activities, as well as accessibility anytime and anywhere across any device. Its smart learning features are optimized for building customized learning tools and programs for various groups of employees, and streamlining organizational compliance becomes easier for training managers.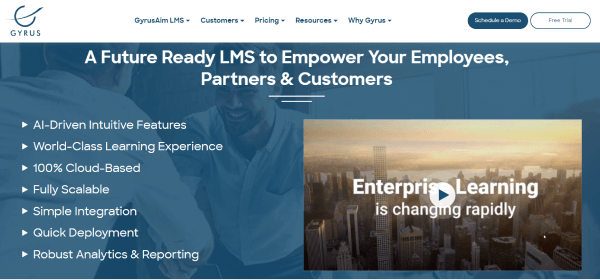 Cost: Starts at US 00
Key features:
Various eLearning options: Online, instructor-led, webinars, and file-based courses

Mobile-compatibility

Virtual classrooms
Hybrid Training Tool #7 – Learner Mobile
Learner Mobile is a mobile LMS built for modern learners, which perfectly fits a hybrid training model. With its built-in authoring tool, you can easily build courses and update content whenever you need it. Through its predictive algorithms, learners will have access to personalized training programs and will be directed to training that's relevant to them. Learner Mobile provides real-time data on different metrics for learning measurement so you're never amiss on each individual's performance.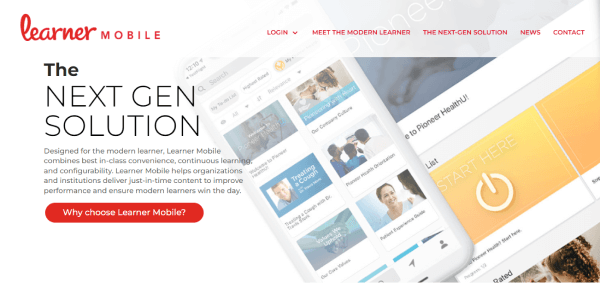 Cost: Available upon request
Key features:
Built-in authoring tool

Predictive algorithms

Performance insights
Hybrid Training Tool #8 – Google Classroom
Google Classroom has gained popularity among many schools and organizations trying to reach learners remotely. Through this tool, trainers can create a "classroom" where employees will be able to participate in different training sessions and access lectures assigned to them. With the help of the resources and tools also created by Google, you can designate different creative projects and hands-on learning to keep them engaged. It also allows cross-software integrations with other third-party apps, like Bakpax and BookWidgets, making sharing files and documents seamless. Since it's created by Google, this means it can easily be used with Google Meet, Google Docs, and the like for a more streamlined experience. While this is free of charge, it lacks the bells and whistles that come with other tools that allow for more customization to make it visually appealing for corporate training.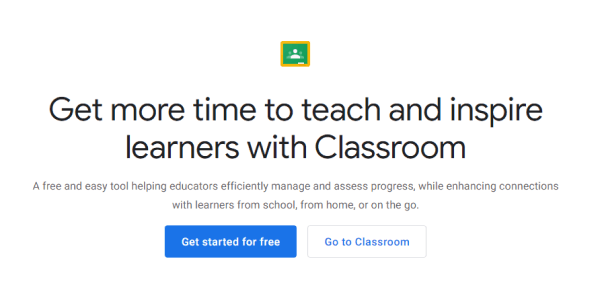 Cost: Free
Key features:
Hybrid Training Tool #9 – Flipgrid
The bulk of training sessions usually relies on the instructor talking. But with Flipgrid, videos and other learning materials are used to promote meaningful discussions to engage learners to participate. All you have to do is create a group, assign a topic, and invite students to join. Learners can then record their responses using the Flipgrid camera where they can use different lenses, frames, music, text, 3D emojis, and more to make it a fun experience. Flipgrid can be integrated with other popular tools that you may already be using, such as Zoom and Microsoft Teams, which lessens the back and forth with other applications. Their dedicated app can be downloaded on both the Play Store and App Store.
Confidentiality training courses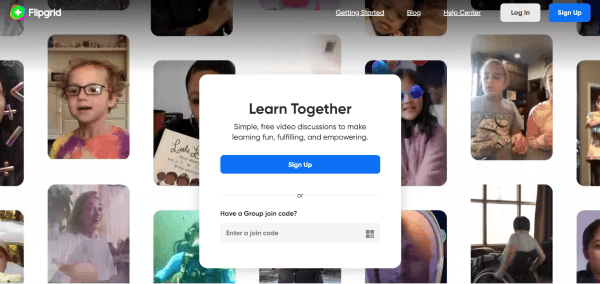 Cost: Free
Key features:
Video discussions

Dedicated mobile app

Third-party integrations
Hybrid Training Tool #10 – Arlo
Arlo is an LMS specifically for training providers that focus on delivering a learning journey to empower learners through self-paced learning, live online learning, and blended learning. This hybrid training tool extends training beyond the four walls of a classroom through digital learning incorporated on live and interactive webinars, eLearning modules, discussion forums, recorded videos, assignments, and quizzes. Its innovative SAAS training management system design streamlines processes and simplifies tasks enabling training providers to save time while still effectively increasing course registrations.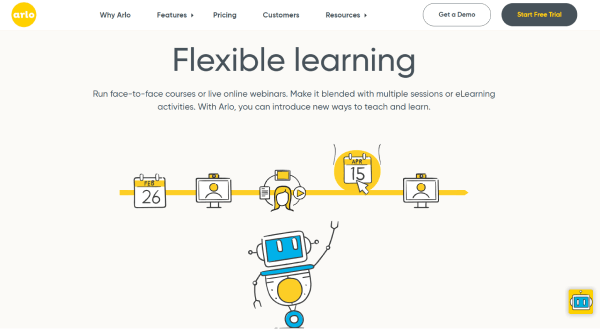 Cost: Starts at US 9/license/month
Key features:
Hybrid Training Tool #11 – dominKnow
dominKnow might be the best hybrid training tool for you if you desire an all-in-one cloud-based platform. A course creator and content management system are included, enabling real-time updates between creator and learner. This platform encourages teamwork and blended learning to create course materials that can be accessed on mobile devices. You may also localize and translate your material into more than 50 languages using the available options.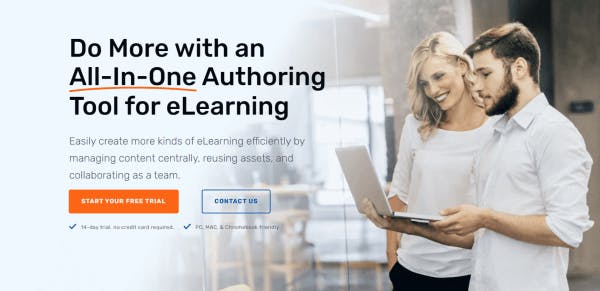 Although dominKnow has a tool for creating courses, they don't have a course catalog. As a result, you would have to start from zero when creating your courses and lessons, which can be time-consuming.
Cost: US97 per year for solo plan, US,497 per year for team plan
Features:
Hybrid Training Tool #12 – WizIQ
A virtual classroom experience can be had online thanks to WizIQ, a platform for business training. Delivering live lectures and courses through your website or existing LMS is possible if your LMS is equipped with features like online course authoring, tests and assessments, and analytics. In the event that you decide against using WizIQ to deliver self-paced learning, they also provide their own LMS software. Through the WizIQ app, which is accessible on iOS and Android, learners may take their lessons while on the go.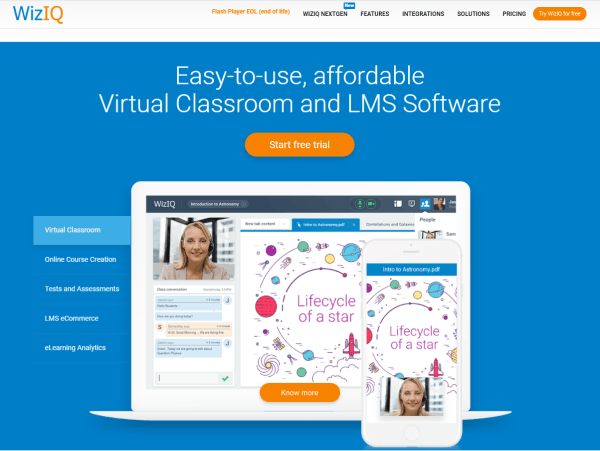 However, many of WizIQ's services require monthly payments in order to access them. Particularly, their learner mobile app is only offered as part of their LMS software package. WizIQ offers a 14-day free trial and monthly prices that start at US5.
Cost: Free trial, starts at US5 per month
Features: 
Virtual classroom

Online course creation

Tests and assessments

Analytics

LMS and mobile app