We've listed down 10 Sumtotal alternatives so you can create powerful learning experiences without breaking the bank. With these tools, L&D professionals can have access to a wide array of features that can streamline the creation and deployment of training programs with a more user-friendly interface.
Sumtotal Alternative #1 – EdApp
EdApp is a mobile-based free Sumtotal alternative that prides itself on its array of easy-to-use training features to help managers and L&D professionals build their training. Its intuitive authoring tool showcases several microlearning templates that you can use to make the information easier for learners to absorb. There are also gamification features that mimic a game design to make the training engaging for the employees, which leads to higher completion rates.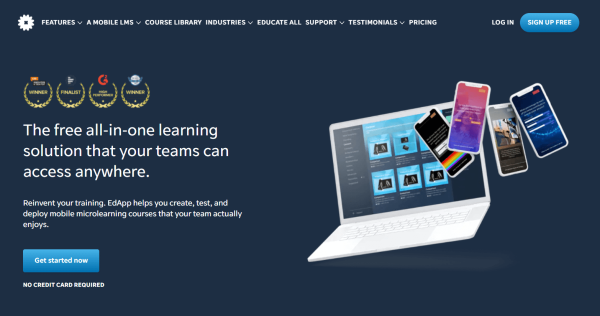 EdApp also has a fully-editable course library that is very convenient as managers can instantly deploy any course materials so that they don't have to start from scratch. Each EdApp course is carefully created by expert instructional designers, so the quality is not compromised. Not only that, it is customizable, so companies can place their logos to make the courses fit their branding. Lastly, there is an in-app quiz maker and analytics tool to track the learning progress of the employees. 
Features:
Authoring tool

Microlearning templates

Gamification

In-app branding

Quiz maker

Analytics

Mobile learning
Cost: Free
Sumtotal Alternative #2 – Abara LMS
Abara LMS is a Sumtotal alternative designed to simplify businesses' employee training processes and resource management. It provides training administrators with web-based and mobile learning features like course creation and distribution, knowledge management, SCORM compatibility, and virtual classroom training, as well as assessment and survey capabilities. Apart from scheduling and deploying courses to your learners, you can also send out push notifications to remind them of completion deadlines, tests, or lesson updates. There are also a couple of learner engagement tools that your employees can use, including the learner dashboard, course progress feature, and gamification elements like leaderboards, points, badges, and certificates. Abara LMS also incorporates social learning through discussion forums and a modern message center.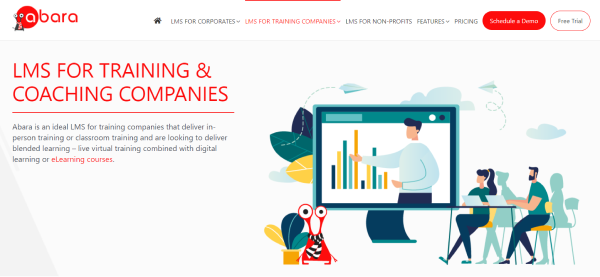 Features:
Course creation

Knowledge management

Virtual classroom

Assessments and surveys

Learner dashboard

Modern message center
Cost: Starts at $420 USD/month
Sumtotal Alternative #3 – UpsideLMS
UpsideLMS is an AI Sumtotal alternative designed to help businesses upskill their workers, centralize learning resources, and ensure their employees comply with company standards. It has many powerful features that make it a great learning management system for learning and development professionals. Some of these features include content authoring, gamification, business intelligence and reporting, instructor-led training, and virtual training. It also provides a comprehensive online library of over 80,000 ready-to-use microlearning courses and videos, giving your learners quick access to high-quality learning resources. The multi-lingual support feature is perfect for organizations that have multiple offices across the globe.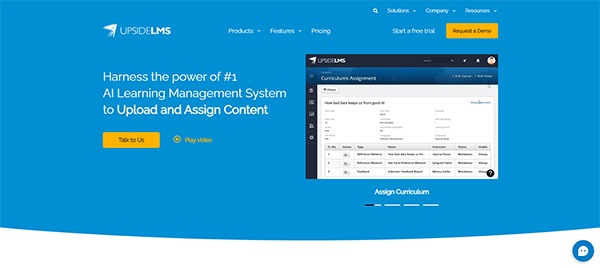 Features:
Content authoring, Ready-to-use content

Gamification

Business intelligence and reporting

Instructor-led training

Virtual classroom training

Multi-lingual support
Cost: Paid plans
Sumtotal Alternative #4 – Brightspace LMS
Brightspace LMS is a powerful Sumtotal alternative designed to create inspired learning experiences. Creating content with this LMS is made possible through an HTML editor, which uses content templates, files that you can save in their learning repository, or content from other supported LMSs. To drive social and collaborative learning, you can take advantage of features such as web conferencing, whiteboards, and slide sharing. Motivating learners can also be achieved by making your awards, certificates, and leaderboards. To further empower learners and improve their skills beyond the learning pathways provided, they can even search for courses and enroll themselves.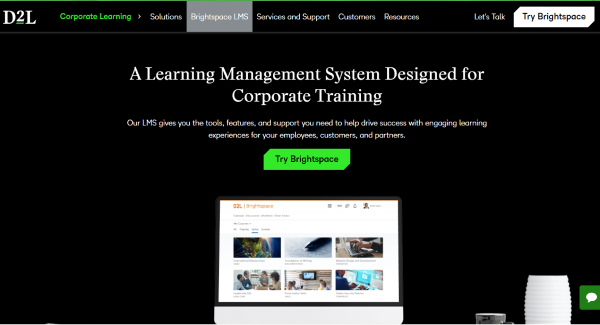 Features:
HTML editor

Learning repository

Web conferencing

Whiteboards

Awards & certificates

Learning pathways
Cost: Paid plans
Sumtotal Alternative #5 – Axonify
Axonify's learning tool is geared towards one goal: helping employees perform their best at work every day. Here, you can build your custom content with the help of their learning experts, making sure that your team is getting the right training that will help them confidently perform in their field. Axonify also houses several ready-to-go content materials covering a range of topics, from workplace etiquette to time management, ensuring that the skills and knowledge of your team are updated and consistently aligned with your business goals.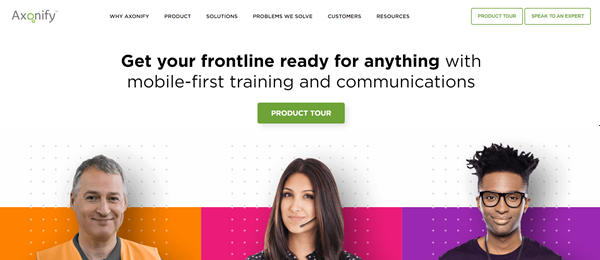 Another notable feature of this training platform, which you'll undoubtedly appreciate, is the personalized learning path. You can serve your team with personalized bursts of training by mixing training materials, training activities, compliance certifications, and more helpful resources, so they can keep learning even long after their onboarding. 
Features:
Custom content

Ready-to-go content

Personalized learning path
Cost: Paid plans
Sumtotal Alternative #6 – Administrate
Administrate makes it possible to organize, deliver, and track all your course resources in a single-centralized system. With this Sumtotal alternative, you can schedule an instructor, take command of your essential course documents, and automate email communications with ease. Built with maximum flexibility, it can manage virtually any form of training delivery, from online to blended learning, even face-to-face, and virtual instructor-led training. It also features a unique vILT Rapid Implementation should you need to transform your instructor-led training into online training.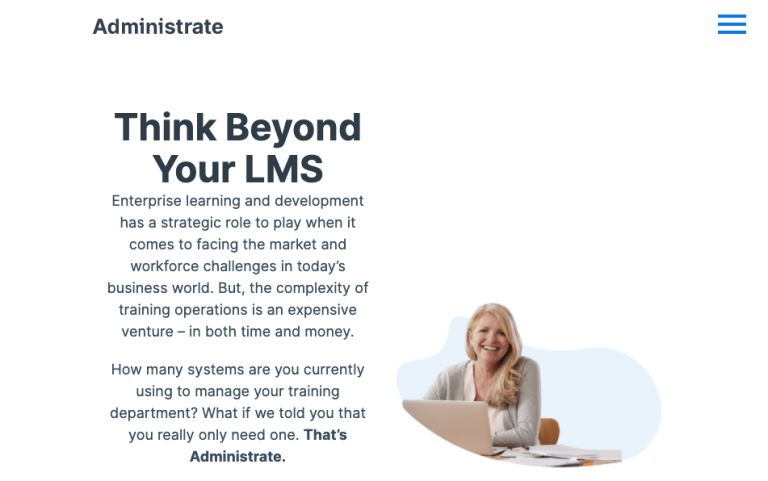 Features:
Training course management

Instructor-led training

Automated email alerts

Unique vILT Rapid Implementation 
Cost: Paid plans
Sumtotal Alternative #7 – Totara Learn 
Trusted by over 19 million users worldwide, Totara Learn is a Sumtotal alternative you should check out. Totara's LMS gives you a lot of options to make your courses engaging for your learners. You can add gamification elements to stir up healthy competition among your employees, customize your course theme so it matches your branding, and even include assessments and certifications to prove the timely completion of their training. Totara Learn also supports flexible formats, so feel free to make your learning available offline and online, or even a mix of both, it's all up to you.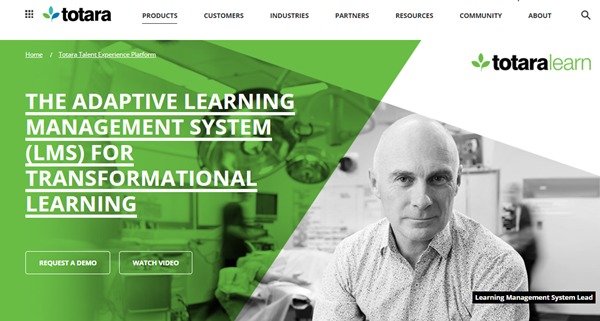 Features:
Flexible LMS

Custom themes

Gamification

Assessments and certifications
Cost: Paid plans
Sumtotal Alternative #8 – domiKnow
domiKnow is an all-in-one cloud-based Sumtotal alternative that comes complete with a course creator and a content management system. The web-based platform is designed to help you collaborate as a team in real-time and create well-optimized learning content with just one tool. It allows you to design interactive content on any device using a range of templates and digital assets and deploy completed learning materials on any device. It also provides translation and localization capabilities that allow you to choose from over 50 languages to translate learning content for learners from a specific region.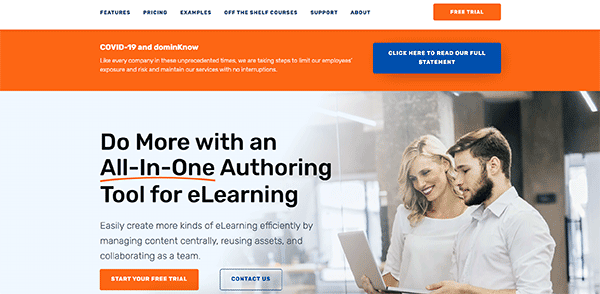 Features:
Mobile learning

Real-time collaboration

Translation

Localization
Cost: Starts at $997 USD/year
Sumtotal Alternative #9 – Neo LMS
Neo LMS takes pride in its learning management system that operates with efficiency and simplicity, making it another great Sumtotal alternative on this list. What's noteworthy about this platform is that it's bursting with an array of LMS features that can help build useful training and courses and ensure that your teams flourish in their respective fields. Some of their expertise includes content authoring, which supports various file formats like photos, videos, PDFs, and PPTs. They also offer a drag-and-drop quiz system, allowing you to develop engaging quizzes in game format, like true or false, multiple-choice, and fill in the blank. Built with the users in mind, these tools are very easy to use and mostly self-explanatory.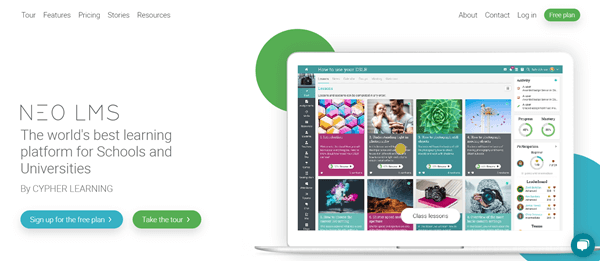 But what sets Neo LMS apart from its competitors is its graphical class catalog, which organizes all classes and courses in one location to ensure easy access. The dashboard will show them information about the program, class schedules, and course links.
Features:
Content authoring

Gamification

Graphical class catalog
Cost: Free, paid plans
Sumtotal Alternative #10 – Tovuti
Tovuti LMS is a Sumtotal alternative that incorporates features dedicated to an efficient training process for managers and an effective learning experience for your teams. It integrates a course management tool that enables you to build and deploy interactive courses, as well as track interactions with your course content. This training software supports a blended learning strategy through its virtual classroom, which allows you to set up synchronous training sessions where your employees can discuss in groups or have one-on-one interactions with an instructor. Learners also have access to a personalized portal that shows their badges, certificates, leaderboard rank, checklists, assigned courses, and upcoming training sessions.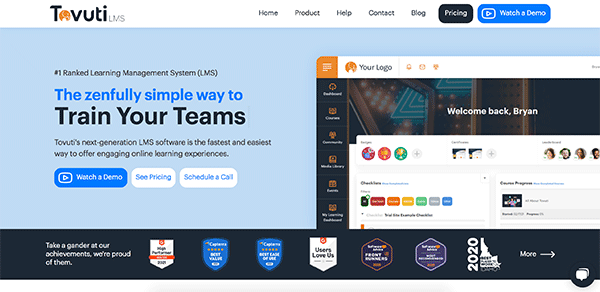 Features:
Course authoring tool

Analytics tool

Virtual classroom

Personalized learner portal
Cost: Paid plans