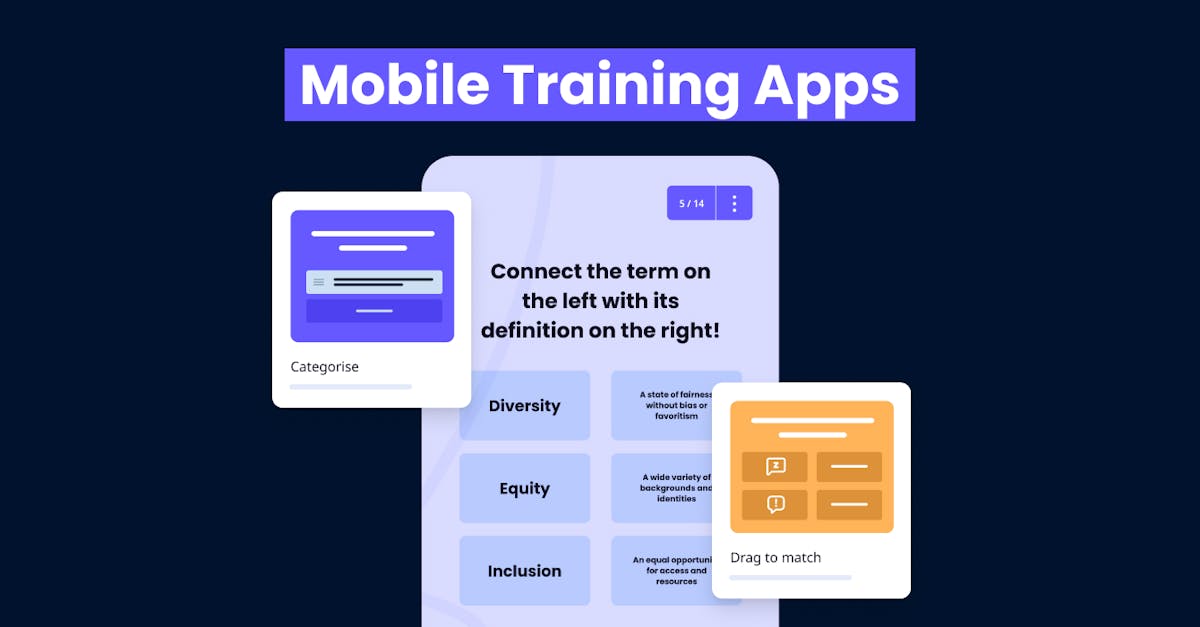 Fitting the world's knowledge in the pocket, mobile training apps have surely won the hearts of most L&D professionals. However, with so many mobile app options on the market, it can be a little overwhelming to find the best one that suits your training needs. So, to make things easier for you, we've scoured the internet and made a guide list of the best mobile training apps available today.  
1. EdApp
Earning the number one spot on this list is EdApp, a top-of-the-line mobile training app recognized for its feature-rich tools and user-friendly interface. As acknowledged by its outstanding client Colgate-Palmolive, "We were happily surprised at how simple it was to create effective lessons quickly, copy templates, and we recognized the value of mobile-first learning, which means that our employees can access and complete courses on their own time from anywhere."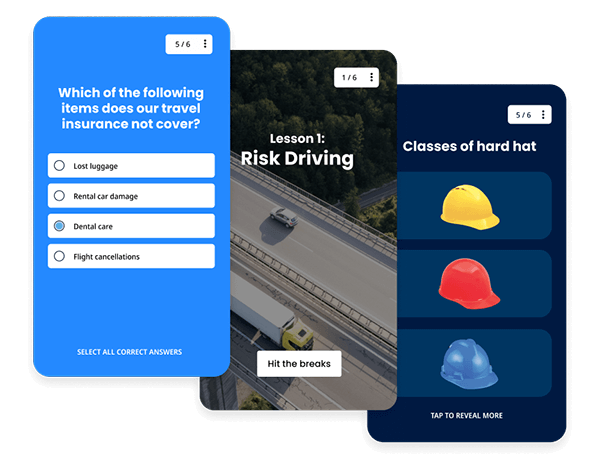 One of its best features is its free authoring tool, which uses a simple drag-and-drop template structure. The average, traditional eLearning course takes months to develop. Plus, they usually require the help of expert coders and designers to make sure they function perfectly on mobile devices. But with EdApp, the entire course authoring will only take minutes, saving you an incredible amount of time, money, and stress. It also offers pre-made courses that you can customize and share with your team, like leadership, marketing, diversity and inclusion, and Scrum training courses, among many others. Through its tried-and-tested learning content and quiz templates, it's possible to author mobile-learning materials in the morning and distribute it in the afternoon. Another bonus feature — you can even update your employees with new information or update old lessons in real time.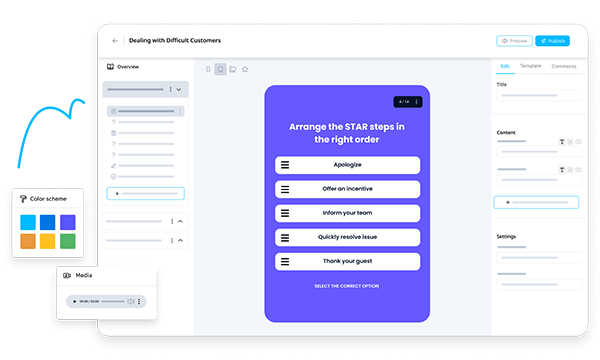 All EdApp-published microlessons and quizzes are downloaded straight to your users' smartphones. Worry not as these learning materials have been engineered to integrate seamlessly with both Android and Apple mobile devices while remaining perfectly formatted within any computer-based web browser. Feel free to activate EdApp's custom push notifications to inform your learners of new training content, or nudge those who have yet to unlock or complete their training. No more remembering to remind your teams. Their algorithm knows the perfect time to notify every learner – no matter their time zone.
Cost: Free
Key features:
Mobile-responsive courses

User-friendly interface

Rapid authoring tool

Drag and drop templates

Real-time course updates

Custom push notifications 
2. Axonify 
Axonify is deemed as one of the most recommended mobile training apps for frontline workers who are always on the move, like healthcare providers, firefighters, restaurant crews and food runners, and more.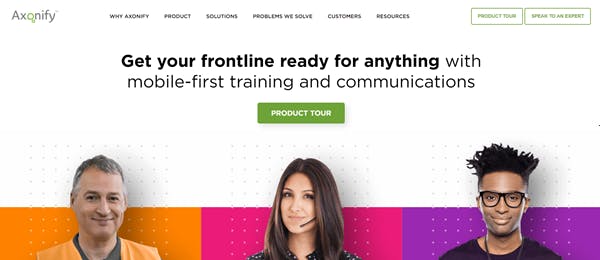 What's great about this platform is that it's stocked with an array of frontline-focused elearning materials, which are conveniently accessible through Axonify's mobile training app. Cut through all the hassle of organizing face-to-face training sessions. Here, you can onboard or retrain your frontline teams right away using the devices they already use every day. And if there are particular things that you want to add or highlight, say your company's unique policies or product qualities, they have a team of instructional designers that can help you build the content you have in mind. No sweat!
Axonify also offers a range of personalization options to level up the mobile learning experience of your employees. They have custom learning paths, where you can pull the right mix of topics and activities that your frontline teams need the most. You can also blend certifications into their training, include specific videos, or host virtual events for higher engagement. 
Cost: Available upon request
Key features:
3. Skill Pill
Skill Pill specializes in producing digital courses focused on corporate learning, like leadership, management, sales, and more. These learning materials are jam-packed with a range of interactive elements, such as videos, quizzes, worksheets, and work-based feedback tools, securing higher learner engagement and content retention. For certain topics that aren't covered in their ready-made courses, you can also approach them for bespoke animation services to produce videos tailored to your own brand identity. If needed, they can also translate your courses into over 20 different languages, eliminating language barriers in your global training.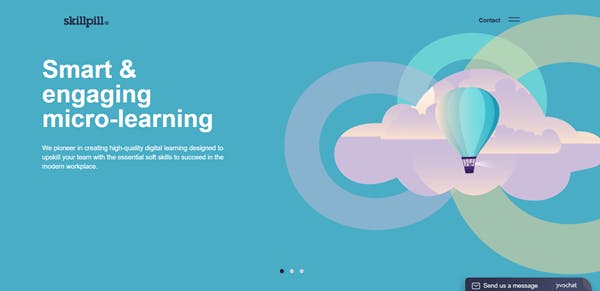 Offering ultimate convenience and accessibility for learners, all published materials in Skill Pill are made available through their mobile training app, which is downloadable on both iOS and Android. 
Cost: Available upon request
Key features:
iOS and Android compatibility

Corporate learning courses

Interactive tools like videos, games, and quizzes

Bespoke animation services 

Course translation
4. Learnworlds Mobile App Builder
LearnWorlds is a widely-recognized platform where everyone can create and even sell courses.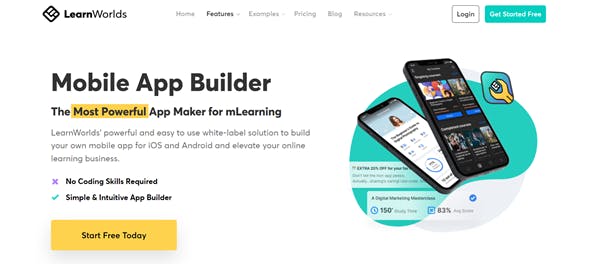 On top of its easy-to-use authoring tool and eye-catching templates, this platform also lends its mobile learning expertise to help companies build their own mobile training apps and make their online learning initiatives more accessible to their learners. Through its Mobile App Builder, you have the power to create and customize the look and feel of your training courses and put your brand at the center of your learning slides. Want to take it up a notch? You can also activate a push notification system to engage, alert, and remind your learners about their courses. LearnWorld makes the entire training process easy and simple; no coding skills are required.
Cost: 19 USD
Key features: 
5. SoloLearn
If you're looking for a specific mobile training app for upskilling your IT staff, then look no further than SoloLearn.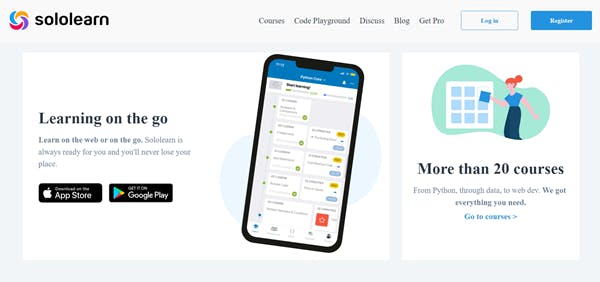 While this mobile training app doesn't exactly cater to the broader public, it does demonstrate good outcomes for its target audience, which is why it made our list. Some of the mobile-friendly courses it offers include Python code, Java, JavaScript, HTML, and responsive web design, all of which are accessible using the SoloLearn mobile training app. They prepare their material through a series of interactive lessons and enjoyable activities, making learning less difficult for your IT team. Subscribing to this platform will also give your staff access to their community. Here, they can ask questions and get instant feedback, or share their knowledge and experience with others. 
SoloLearn is free, but a quick heads up that it doesn't have any authoring capabilities. So if you have specific content that you want to roll out to your team, you might want to look into some of the other tools on this list.
Cost: Free
Key features: 
Mobile-friendly coding courses

Interactive lessons and fun activities

Global community
6. Quizlet
Quizlet is an online quiz creator where you can build quizzes and assessments, as well as interactive study guides, which your learners can access through its mobile training app.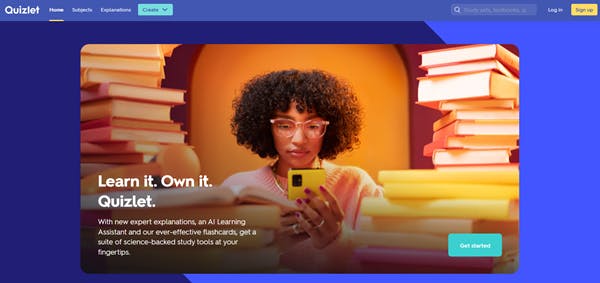 While it was originally built for teachers and educators, some trainers are also taking advantage of this platform to support their training initiatives and test their employees' understanding and retention of concepts. If you don't have enough resources available, it has millions of flashcard sets and over 10,000 textbooks and verified solutions that can be used as a guide. All study tools and games published in this mobile training app are all optimized for phone and tablet, providing your learners ultimate convenience to learn anytime and anywhere. 
Quizlet is free to use, but a paid subscription is needed to save sets for offline use and remove ads. Analytics and customization are also only available through Quizlet Plus.
Cost: Free; paid subscription starts at 7.88/year
Key features: 
Mobile-friendly quizzes and assessments

Study Guides

Flashcard sets

Textbooks and verified solutions
7. Kahoot!
Similar to Quizlet, Kahoot! also offers a fun way to quiz and check your learners' training progress.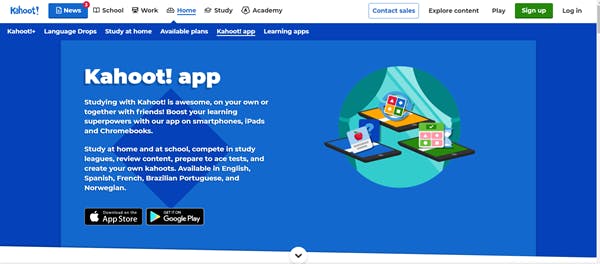 Forget about traditional, static training programs. Give your learners awesome mobile learning experiences by presenting them gamified quizzes, which they call as "kahoots" on this platform. These kahoots can be arranged as a self-paced exercise, but for optimal engagement, you can host them live or via any video conferencing platform and ask everyone on your team to play. To spice things up, learners can also compete in leagues within the Kahoot! mobile training app.
You may create kahoots and connect remote teams of up to 10 people with the free plan. But if you need more employees to participate, you will have to pay for a paid plan.
Cost: 7 USD per host per month
Key features:
8. Yarno
Yarno's mobile training app is designed to train employees wherever they're located. It features a learning library where your learners can easily access your training content whenever needed.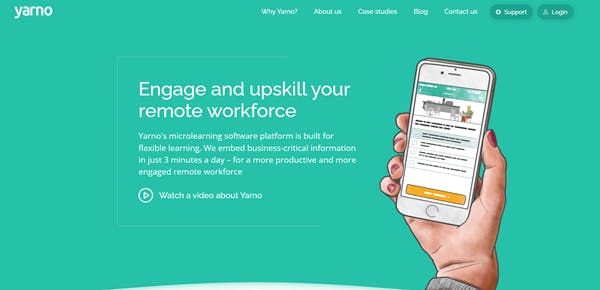 It also includes a quiz feature called Embed, which you can deploy to your team to identify any knowledge gaps and reinforce information. In this platform, training is delivered through interactive questions to further strengthen the recall of information. Learners are then supported with informative answers and explanations. You can also work with a team at Yarno to help you create custom-made videos to level up your training.
Cost: Available upon request
Key features:
9. Bridge
Bridge is an all-in-one employee training tool equipped with robust features that you can use to build mobile-friendly courses and drive your employees' growth wherever they are.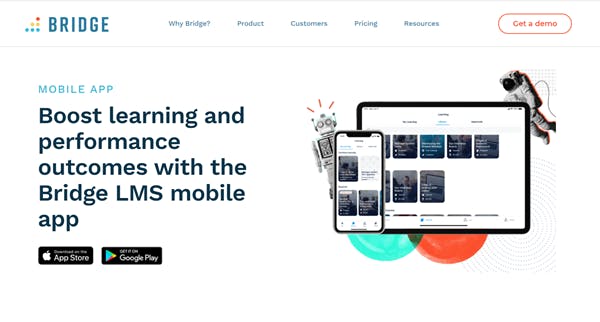 What impresses its customers the most is its native course authoring tool, which harnesses the power of simplicity. Everything is in drag-and-drop function, and the customization of content works like your usual Microsoft Word. This platform will also store all your company documents and learning materials in their platform, which your employees can easily access using Bridge's mobile training app. 
Cost: to 2 USD per month
Key features:
Mobile-friendly courses

Native course authoring tool

Course storage

Course access via Bridge app
10. Kitaboo Insight
Last but not least is the Kitaboo Insight, a mobile-first platform where you can create, publish and deliver courses compatible with all mobile devices, whether it be iOS or Android.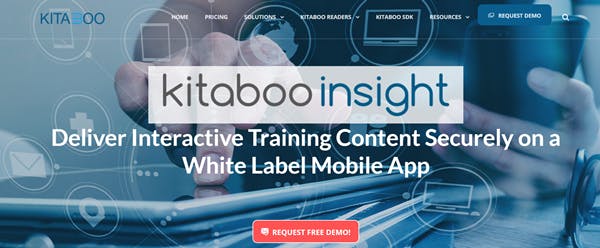 With its pre-built templates, you can easily create or customize your training content and quizzes. Once training materials are securely uploaded, you can have offline access to your content. This platform also allows you to convert static PDF, PowerPoint, and text files into interactive digital content. This is perfect for learners with short attention spans who may have trouble going through long documents.
Cost: Price available through a quote request
Key features: