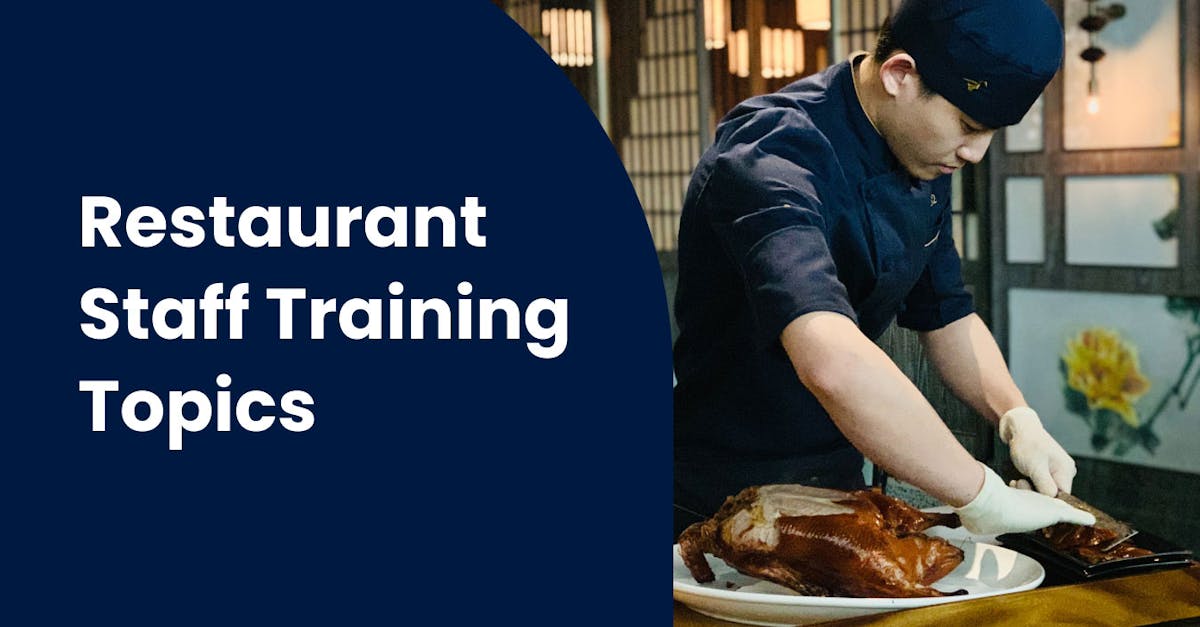 Training your team with restaurant staff training topics ensures that they're calibrated with workplace operations since managing a restaurant involves many moving parts. This also helps restaurant managers and supervisors address current issues and develop a working system for the business to run smoothly day in and out. To achieve this goal and provide the best dining experience to your customers, let's look into 10 restaurant staff training topics you can discuss with your employees.
Restaurant Staff Training Topic #1 – Food safety
The importance of food safety can't be overstated in the restaurant industry. Knowledge about food safety and food protection guarantees that the food served to customers by food handlers is not contaminated, prepared hygienically, and is safe for consumption. You can start this topic by discussing the fundamentals of food-service and kitchen safety, such as personal hygiene, foodborne illness, cross-contamination prevention, proper food storage, and preparation. It's also important that your staff is aware of and compliant with food hygiene standards, such as those imposed by the Food and Drug Administration, HACCP, or its local equivalent.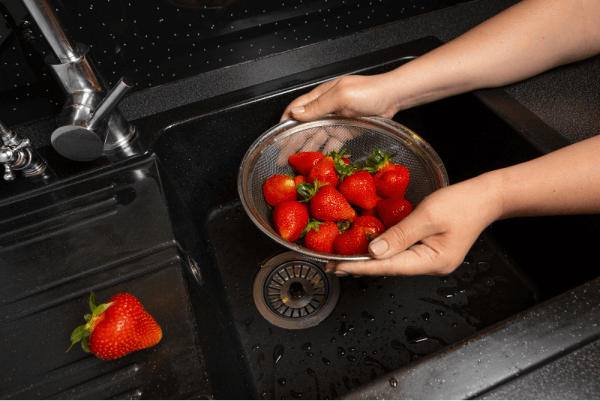 If you're not sure where to start, EdApp's world-class course library offers a wide range of food safety courses and food safety programs developed with leading industry partners and community thought leaders. Safety-training courses such as Food Safety Standards, Food Prep, and Food Safety Hazards, along with many others, are free for everyone – whether you're a food safety manager or aspiring food worker – to deploy, edit, and customize for your food safety training to ensure food-safe compliance based on your establishment's guidelines and needs.
Sign up for Free and Start Using The Best Restaurant Staff Training Platform
Restaurant Staff Training Topic #2 – Bussing
Bussing, while often overlooked, helps your restaurant run like a well-oiled machine when done efficiently. The nature of the job mainly involves cleaning, clearing, and resetting tables, in coordination with servers, to provide a seamless experience for diners. However, it's crucial to remember that customer interaction also plays a pivotal role when it comes to bussing and how to staff a restaurant. Aside from discussing the technical aspects of the job like proper table setting and clearing, you can also include other topics, such as learning to read customers and tailoring your approach to provide the best service suited to their needs and preferences. Although bussing is a responsibility that may fall into the hands of a certain group of people, an all-hands-on-deck mentality is expected of everyone so that all guests are attended to promptly.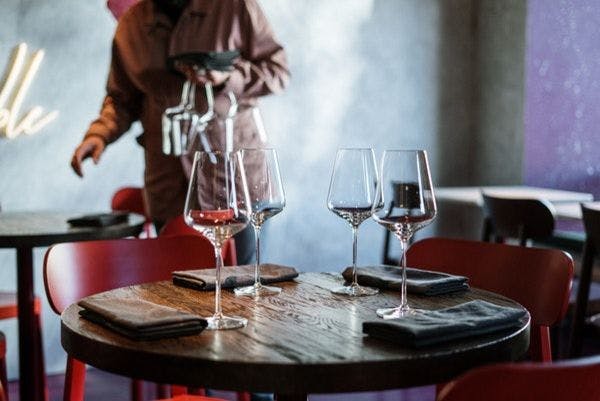 Restaurant Staff Training Topic #3 – Serving food
Your restaurant's serving staff is the face of your establishment, and they are the ones who spend the most time interacting with customers. They must know how to properly greet customers, seat them, and take their orders. Knowledge of the menu is important so that they can answer questions about the food items and provide suggestions based on preference or dietary restrictions to avoid hiccups, such as food allergy reactions. Teaching different selling strategies, such as recommending dishes, drinks, and desserts that go well together, can make a big difference to improve their eating experience and making their food more palatable and enjoyable. Level up your restaurant training by giving your staff access to food handler training and responsible service of alcohol training courses.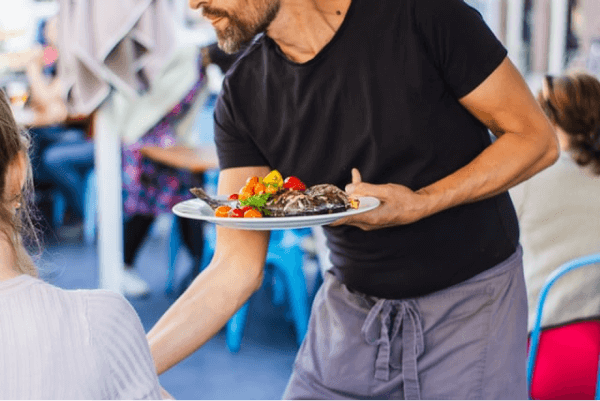 Restaurant Staff Training Topic #4 – Cleaning and sanitation
In the service and hospitality industry, the cleanliness of an establishment sets a precedent for food hygiene, service, and more. According to a poll by Cintas Corporation, 75% of consumers will not visit a restaurant with negative reviews about its cleanliness. This staggering statistic just goes to show how important it is to keep your establishment clean and tidy as it leaves a lasting impression on consumers, and even on those who haven't visited yet.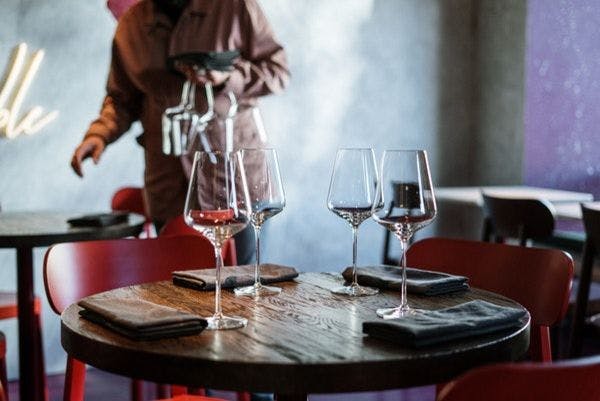 To kick this restaurant staff training topic off, it's crucial to first differentiate "cleaning" from "sanitizing" since they're often used interchangeably. Cleaning is concerned with the elimination of visible dirt, but sanitizing means that a surface has been disinfected, killing germs and bacteria invisible to the naked eye. Emphasize that both must be done to truly say that something is clean and safe for the sake of everyone's public health. You can also establish cleaning procedures and guidelines, such as prioritizing areas with high-touch surfaces (restrooms, dining, and service areas), following a cleaning schedule, and using the proper cleaning supplies and equipment.
Restaurant Staff Training Topic #5 – Quality customer service
The restaurant industry thrives on customer service as it cannot exist without consumers in the first place. Remember that customer service can either make or break the success of your restaurant. When discussing this topic, you can start with the proper welcoming and greeting of guests as this is where their customer experience begins. Being knowledgeable about your venue and menu is also a must since it allows for flexibility to accommodate a customer's needs or requests. Checking on customers, calling them by their names, being proactive, and anticipating their needs also demonstrates good customer service as they are likely to appreciate your attentiveness and professionalism. To get a better understanding of how they felt about the food and service, consider asking for their feedback — whether it be through simple questions or through a comment card. Doing so shows that you care about what they have to say regarding improving your services and continuing what you did well.
Additionally, inclusive training courses and reading up on tips from restaurant server blogs can help equip your staff with the tools they need to provide excellent customer service, including when it comes to bussing.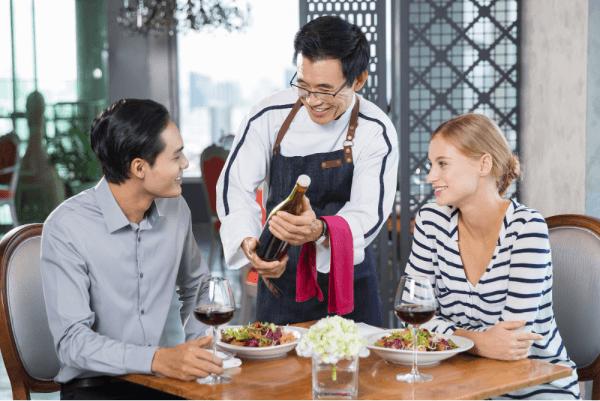 Restaurant Staff Training Topic #6 – Opening and closing the restaurant
Opening and closing a restaurant isn't as simple as flipping the sign on your door from "Closed" to "Open" and vice versa. Before you officially open and close for the day, some procedures and duties have to be done to make sure that you're all set for the day and ready for the next one. Discuss what needs to be done before opening your restaurant, such as counting your cash float, checking for cleanliness, turning on lights and other facilities, and setting up your furniture. When closing your restaurant, make sure that your staff is also aware of what to do during the last hour of service, as well as after-service hours.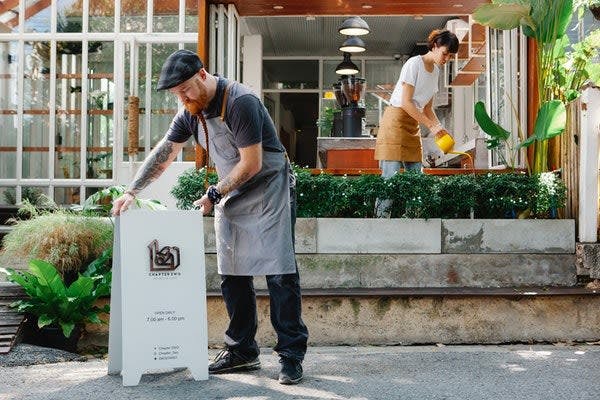 Checklists are an efficient way to explain how the system works and ensure that tasks are accomplished. To make this as efficient as possible, you can use a digital inspection app, such as SafetyCulture's SafetyCulture. It can convert paper checklists to digital format and it has ready-to-use templates that you can customize to suit your business's needs. Once your restaurant inspection template is set up, you can quickly perform inspections with any mobile device, even offline.
Restaurant Staff Training Topic #7 – Food handling and storage
Proper food storage helps preserve the integrity and nutritional value of the food you buy while assuring that the food prepared is safe to eat. This starts from food production and the time you accept food deliveries wherein you have to make sensory checks and quick inspections and make sure that the food is in good condition. This also goes to say how important it is that a food handler knows how to handle different types of food correctly, such as perishable raw meat and ready-to-eat foods to avoid food borne illness. Lessons here will teach you how to wash hands correctly and make sure that you're wearing the proper attire.
Safe food handling and storage also involves proper maintenance of your storage equipment, selection, labeling & organization of food, storage temperatures, thermometer, and more. As part of food safety management, it's crucial that these guidelines are reinforced to prevent spoilage and contamination from pathogens that may lead to an outbreak of foodborne illnesses, such as food-poisoning and the proliferation of salmonella. It's also essential to include HACCP training and conduct a hazard analysis to identify potentially hazardous ingredients, safe restaurant storage ideas, storage conditions, and more. When your staff is trained and well-versed in this topic with a food safety program, it will save you from dire consequences, such as fines, legal lawsuits, and loss of business from unsafe food practices, while making sure that your customers consume high-quality meals that are safe for consumption.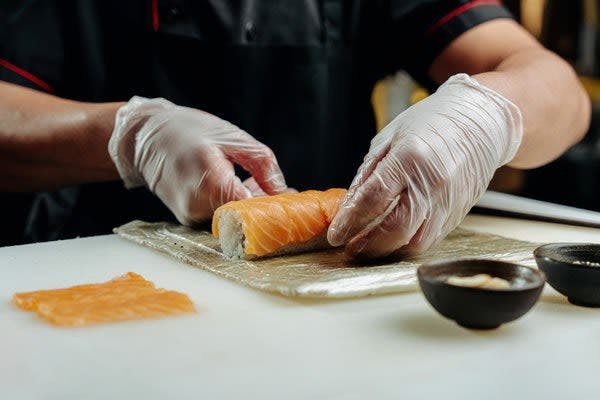 Food handling and storage is quite a comprehensive topic as there are many things to take note of. However, EdApp's food safety course: Food Delivery and Storage course uses a microlearning approach that bulks overwhelming safety management information into bite-sized modules that focus only on key elements for better training reinforcement. This form of training makes concepts easier to digest and makes the practical application of new learnings 17 percent more efficient and can be used for food safety certification. 
Restaurant Staff Training Topic #8 – Cashiering
A restaurant's cashier is responsible for processing payment transactions using a cash register or other point-of-sale systems. Aside from handling money, which can be unnerving for some, they also have to converse with customers at times. Having excellent cashiering skills assures not only smoother transactions but also outstanding customer experiences, whether you're serving a quick-service lunch or a sit-down meal. As working in a restaurant often requires job rotations, all staff should be provided with this training so they can operate the register with confidence, which will also protect your business from fraud or mishandling of funds. Customers will also surely appreciate fast and accurate checkout processes.
Restaurant employees can easily learn about this topic through the EdApp LMS, which includes a free course library consisting of cashier simulation training courses. Since EdApp is mobile-first, this means that restaurant staff can fit in training despite having hectic schedules as they can access it anytime and anywhere on their mobile devices.
Restaurant Staff Training Topic #9 – Effective communication
Aside from their primary functions, staff for restaurants usually wear multiple hats and may also play the role of a host, salesperson, and customer service representative. All of these roles boil down to being able to effectively communicate with customers to give them the best dining experience and service. Practice active listening with your staff so they can make a conscious effort to fully understand and retain the information provided to them. Additionally, pay attention to common non-verbal cues, such as tone of voice, nuances, and body language to determine your customer's needs.
It's also important to have clear team communication as peak times can be noisy and chaotic. Create a communication system that everyone understands, which includes appropriate signs and gestures that are especially helpful when speech is difficult to understand.
Restaurant Staff Training Topic #10 – Workplace safety
In an industry where workers are exposed every day to sharp objects, heat, chemicals, and more, it's no surprise that hazards and risks are common in restaurants. These can result in work-related injuries, such as cuts, burns, muscle strain, slips, trips, and falls, that can even be fatal. As restaurant employees face several hazards due to the nature of their job, it's important that they understand how to minimize and eliminate these risks. For this restaurant staff training topic, acquaint your staff with the layout of your workplace and determine areas to look out for where these risks can happen, such as in the kitchen and storage area. Educate them about OSHA workplace safety standards and give more in-depth training, such as knife safety, safe kitchen machinery operation, and chemical hazard communication. By keeping your employees safe, they'll be able to do their jobs efficiently and without unnecessary stress.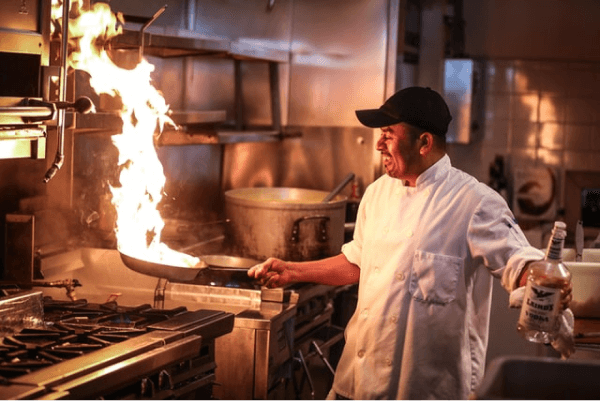 Restaurant Staff Training Topic #11 – Knife handling and safety
Restaurant staff who handle kitchen duties typically work with dangerous kitchen tools such as skewers, slicers, and knives, which is why it's important for them to be knowledgeable about knife handling and safety. This restaurant staff training topic can help workers feel more confident in their knife-handling skills, do their job more efficiently, and avoid knife-related injuries. Knife handling and safety training will also help them learn how to choose the right knives for specific cutting tasks and how to clean, sharpen, maintain, and store their knives properly.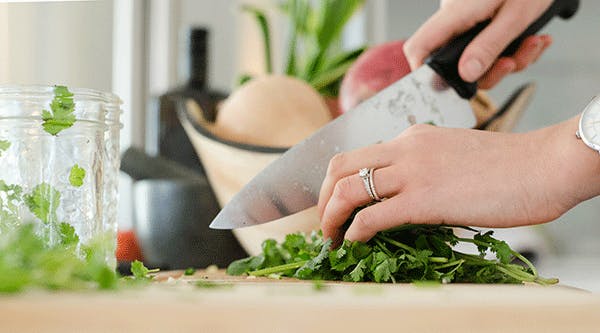 Restaurant staff can easily learn about this topic through EdApp's Knife Handling microlearning course. In summary, it talks about the different types of kitchen knives, safety tips, and various knife skills that are essential to working in the kitchen. 
Restaurant Staff Training Topic #12 – First aid
First aid training is another important restaurant staff training topic to take into consideration. From sharp objects and tight spaces to open flames and hot substances, there are a number of hazards that workers must be aware of. With this training topic, you can help your workers assess risks, prepare for emergencies, and administer prompt care in the event of an illness or injury in your restaurant. This topic will also help your employees adhere to safety compliance guidelines in your area. 

Another cool perk of restaurant first aid training is that you can refresh your employees' knowledge of first aid kit essentials. You can make sure that each worker is also aware of the location of the first aid kit. EdApp has a couple of first-aid training courses that can help you kick off your team's safety training program. Some notable courses include The Basics of First Aid and OSHA First Aid Training and Standards.