Different product training examples to consider
Now that we've got a solid grasp of what product training is and why it's so important for businesses, let's dive deeper and explore some examples of product training.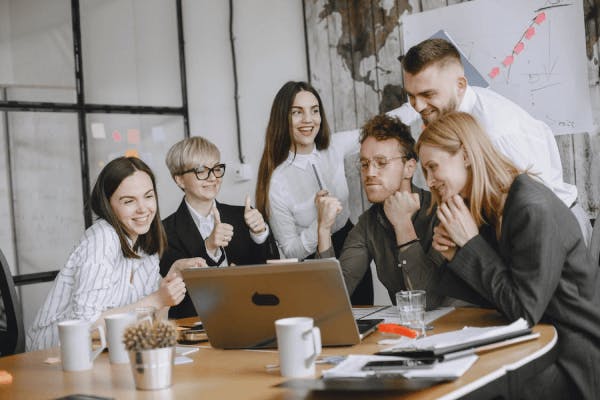 Pro tip – incorporate a mix of these training examples. By incorporating a variety of approaches, you can cater to different types of learners and achieve maximum learning outcomes. 
Hands-on workshops 
Conduct hands-on workshops where participants can directly interact with the product. This learning approach allows them to explore product features, understand functionality, and gain practical knowledge through guided activities and demonstrations.
Gamified learning
Put a little spice into your training by incorporating the idea of gamified learning. This training example has been proven to be effective in increasing a learner's level of engagement. By adding game elements such as points, levels, challenges, and rewards, your learners will be motivated to participate and engage in your training, resulting in better training outcomes. 
Virtual Reality (VR) modules
Make use of the power of virtual reality technology to create immersive product training experiences. VR modules allow learners to explore virtual environments, interact with product simulations, and gain a realistic understanding of product functionality, leading to enhanced learning and retention.
Microlearning courses
Break down your product training into bite-sized, focused courses and deliver information in a concise and easily digestible format. This product training example helps learners access relevant product knowledge, anytime and anywhere. Whether it's during a lunch break or while commuting, microlearning gives your team the flexibility to learn at their convenience, without the need to disrupt their work routines.
How to do product training: your step-by-step guide
Here, we'll guide you through the essential steps to create effective product training. Use this step-by-step guide to level up your product training and make sure it leaves a lasting impact on your team.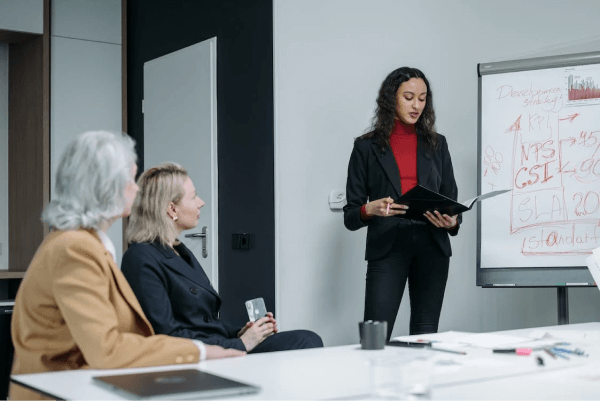 Step 1: Analyze training needs
Before creating your product training, it's important to first conduct a thorough analysis of your training needs. Start by identifying the individuals who will be receiving the training and delve into their specific roles and responsibilities within the organization. From there, consider the benefits that this product knowledge will bring to their work, such as empowering them to enhance their sales skills, refine their marketing materials, or even improve customer support interactions. 
Step 2: Develop clear learning objectives
After analyzing the training needs, you then need to set clear and measurable learning objectives for your program. Define what participants should know and be able to do after completing the training. These objectives will serve as guideposts, directing the content and activities of your training to make sure they align with the desired outcomes.
Step 3: Design engaging content
The next step in how to create your product training is creating your instructional materials. But it goes beyond just putting together a boring product presentation in PowerPoint or PDF. You need to make sure that your content is visually appealing, concise, and easy to understand, so your learners can get the most out of it. 
Think outside the box and mix things up with engaging formats like videos, eye-catching images, and interactive modules. By adding some variety to your product training, you'll keep your learners hooked and actively engaged throughout their learning process. 
Step 4: Choose the right training delivery method
Now that you have your awesome content all set, it's time to choose the right delivery methods for your product training. We all know that each learner has their own unique style and preferences when it comes to learning, which is why it's important that you have a range of training delivery options. 
Some of the most common delivery methods include:
Online learning - it allows learners to learn at their own pace, whenever and wherever they prefer.

In-person workshops - they bring your learners together in the same location and time for a more immersive and interactive learning experience.

Virtual training - it delivers training sessions remotely while still facilitating real-time interaction.

Blended training - it combines different delivery methods so learners can benefit from various learning environments. 
Step 5: Assess training progress
Assessments help you find great insights into the knowledge retention of your learners and identify areas where further improvement may be needed. Quizzes, case studies, and practical exercises are the most effective assessment tools. You can sprinkle them throughout your training program, or offer them at the end of your course. 
Step 6: Offer post-training resources
To foster continuous learning and reinforce the knowledge gained during product training, it's beneficial to offer post-training resources to your learners. These resources can include manuals, quick reference cards, or step-by-step guides that summarize key concepts, processes, or product features. 
With these resources at their fingertips, learners can reinforce their training and apply their newfound knowledge with ease. It's like having a helpful toolkit that supports them in putting their learning into action and becoming true experts in your product or service. 
Why is EdApp the best tool for creating effective product training?
EdApp stands out as the best tool for creating effective product training, offering a range of features and tools that transforms the way you design, deliver, and measure the impact of your product training.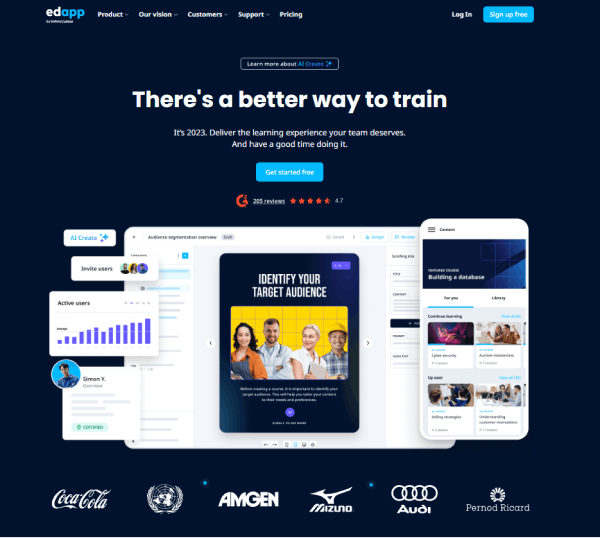 Here's why it stands out:
And best of all? EdApp's mobile-first approach gives your learners accessibility and flexibility in their learning. Meaning, they can access training content anytime, anywhere.
Level up your product training with EdApp's powerful training tools!