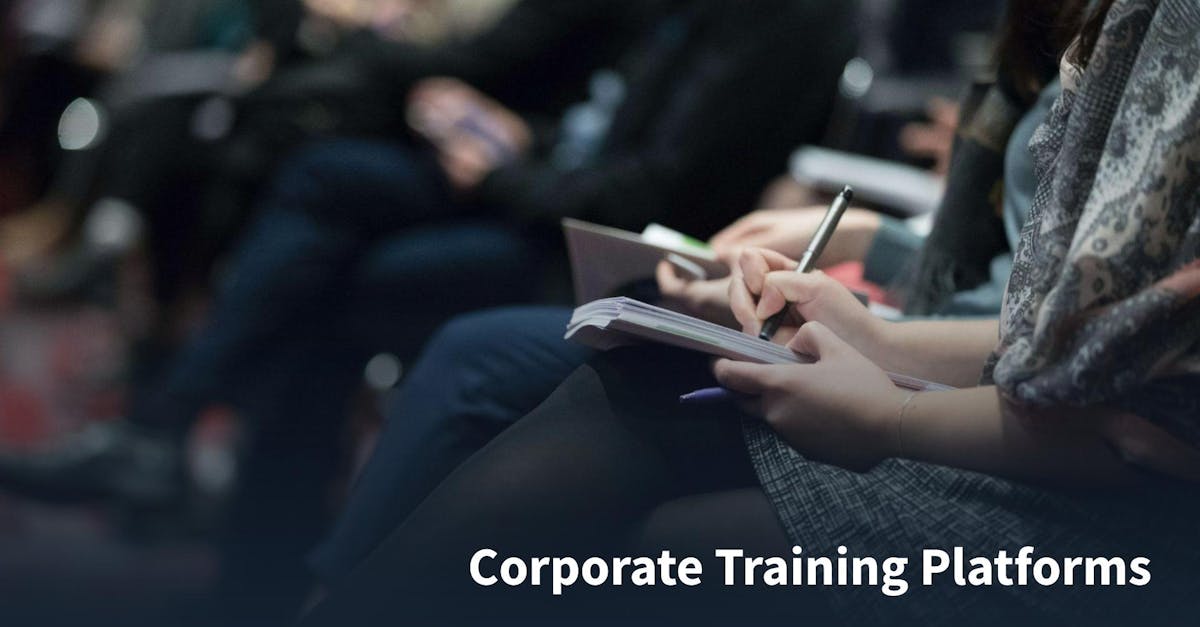 With training needing to take on different forms in the workplace, it's essential that your organization has a corporate training platform that's suited to your needs. Effective training will always lead to a more productive and successful employee experience, so it's crucial to invest in effective training programs that will provide your learners with the skills and knowledge necessary to propel them forward. Renew your training with these 10 corporate training platforms below. 
1. GoSkills
GoSkills is a training platform that specializes in corporate skills training. Learn in-demand skills such as project management, design, and data analysis from their course library. Their courses are built for flexible, self-paced mobile learning that you can take on the go. They also offer quizzes, exercise files, and reference guides so that your learners can put their knowledge into practice. And with the help of daily streaks, they can easily see and track their learning progress.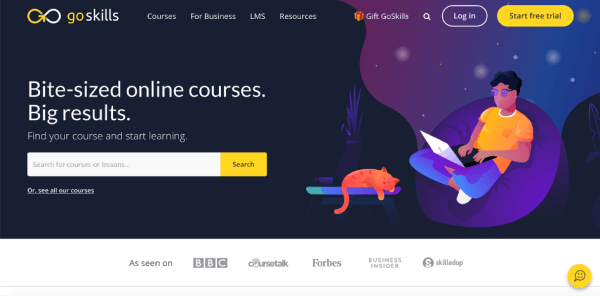 GoSkills offers individual and team-based plans that feature importing courses, premium video tutorials, and certification. You can try out GoSkill for free for 7 days before considering buying a monthly or annual plan.
Cost: Free trial and paid plans

Features: Course library, mobile learning, quizzes, progress tracking, importing courses, certification
2. WizIQ
WizIQ is a corporate training platform that delivers an online, virtual classroom experience. Equipped with features like online course creation, tests and assessments, and analytics, you can deliver live classes and courses through your website or existing LMS. They also offer their own LMS software in case you want to use WizIQ to deliver self-paced learning instead. Learners can take their lessons on the go through the WizIQ app available on iOS and Android.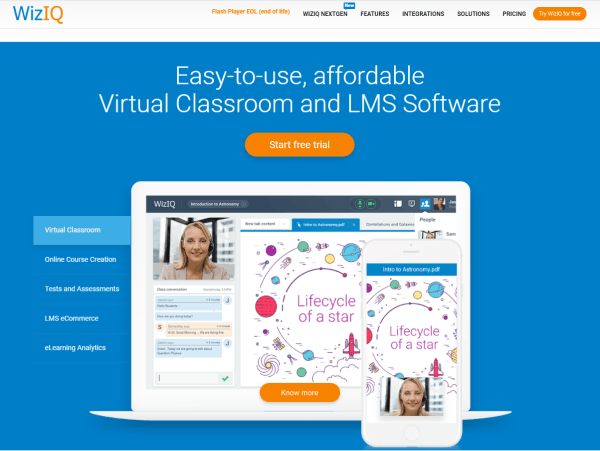 However, a lot of WizIQ's features are locked behind paid monthly subscriptions. The learner mobile app, especially, is only available bundled with their LMS software. WizIQ pricing can start from US5 per month with their free trial lasting for 14 days. 
Cost: Free trial, starts at US5 per month

Features: Virtual classroom, online course creation, tests and assessments, analytics, LMS, mobile app
3. EdApp
Our first corporate training platform on this list is EdApp, a free mobile learning management system (LMS). This tool includes everything you might need to reinvent and upscale your training. With EdApp's extensive and editable course library, there's no need to create your courses from scratch. With over 800 free courses available, you and your learners can find business-relevant courses such as Communication in Project Management, Digital Marketing, and more. You can even edit and add content to these courses to reinforce company policies and procedures.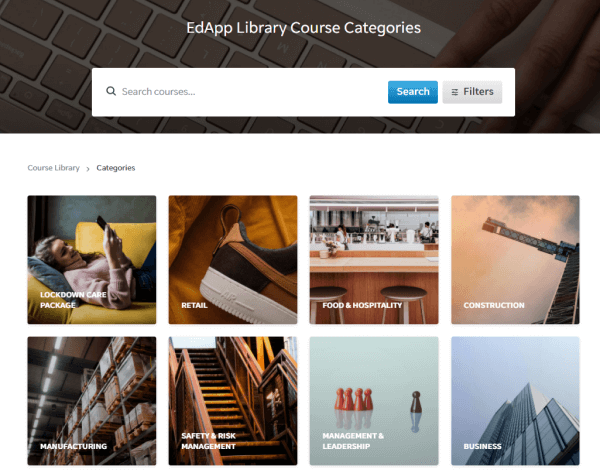 If you do want to create your content from scratch, EdApp also features a built-in authoring tool with a template library that features interactive content slides and game-based slides. The game-based slides make use of the concept of gamification, which is adding gameplay elements in learning to encourage higher engagement rates. If you already have existing training presentations, EdApp can also convert PowerPoint presentations into microlessons within minutes, saving you time and resources.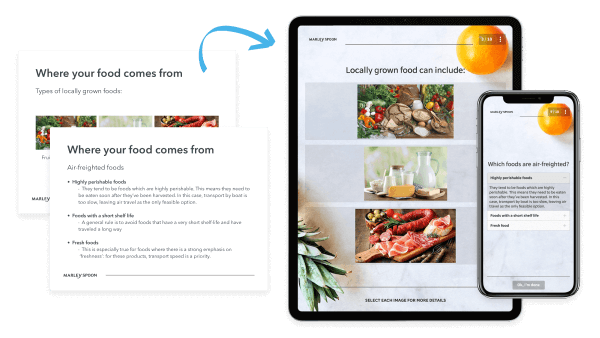 When it comes to training, it's important that your learners understand the lessons. Unlock your team's full learning potential with EdApp's Brain Boost spaced repetition feature. Brain Boost takes the concept of spaced repetition and compiles key concepts and lessons your learners fail to understand. It then repeats these concepts and lessons until your learners have demonstrated knowledge retention in long-term memory. Learners can finish their assigned Brain Boost quiz in as short as 5 minutes on the go on their phone, or in between calls on their computer.
Cost: Free

Features: Mobile LMS, editable course library, built-in authoring tool, template library, gamification, PowerPoint conversion, Brain Boost
4. Thinkific
Thinkific offers an e-learning platform for coaches, experts, and managers alike to create and distribute their lessons. This top training portal has everything you need to easily set up, launch, and scale your training. You can either create your own course material or enroll your employees in an already existing course. If you're going to create your own material, Thinkific makes it easy with their drag and drop editor, video and content hosting, imports and embeds, and language support. You can even assess your learners' progress by giving out quizzes and surveys. 
Although Thinkific is initially free and available on any mobile device and computer, more features like live lessons and unlimited courses are only available through their paid plans. The existing course library is also not editable and there are limitations with their reporting and analysis features.
Cost: Free and paid plans

Features: Course creation and enrollment, drag and drop editor, media hosting, imports and embeds, language support
5. Degreed
Another versatile corporate training platform is Degreed, which provides you the tools to upskill your training. It integrates internal and external learning materials that your organization can use to grow and upskill, like online courses, videos, podcasts, and more. You can also use this platform to reach out to your organization's partners, allowing your whole work ecosystem a place to learn and grow together. And with Degreed's skill analytics feature, you can measure critical skills, visualize strengths and weaknesses, provide insights, and align development to strategic priorities in real-time.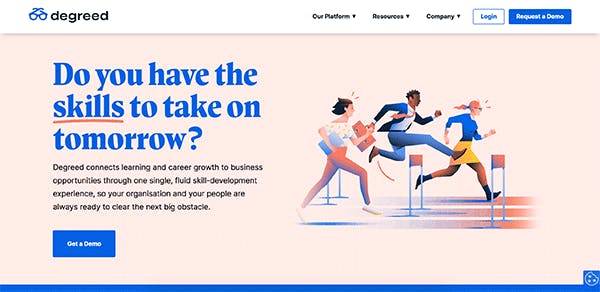 Unlike some of the other digital training management systems on this list, Degreed features no course library. This would require you to create your content from scratch, which can take up time and resources. 
Cost: Free trial and paid plans

Features: Resource curation tool, work ecosystem, skill analytics, real-time updates
6. Arlo
Arlo is a training management software designed for training providers looking to grow their businesses with classroom-based training, live online webinars, and e-learning. Mixing and matching these forms of learning can lead to blended and self-paced learning, which allows you to reach the different needs of your learners. Arlo also features automated course and event management, which simplifies your training and allows for faster course delivery. Similarly, you can have access to data and analytics instantly with their real-time reporting and business intelligence feature. All of these features are available to you and your learners on any mobile device or computer.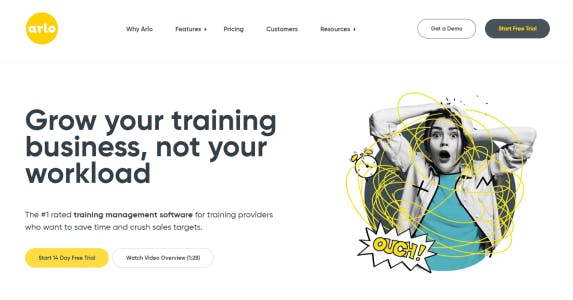 Still, Arlo is another platform on this list that is only completely available through a monthly subscription. But, users are allowed to try all its key features for free for at least 14 days.
Cost: Free trial, starts at US9 per month

Features: Live online webinars, blended learning, self-paced learning, course and event management, data and analytics
7. Inquisiq
If you need a tool that fosters collaboration and communication, then Inquisiq can do that for you. Inquisiq's software incorporates social learning and blended learning into their tool. With user communities and community walls and feeds, learners have easy access to specific documents and courses, as well as the ability to post or respond to questions and comments. This feature drives instant communication in informal, peer-learning environments. Inquisiq also features a course catalog and library, learning paths, and instructor-led training resource management, suitable for blended learning.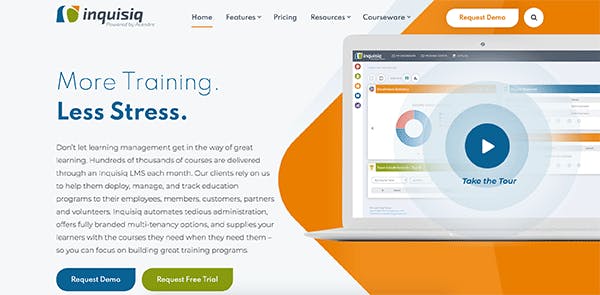 Inquisiq also features SCORM compatibility, assignments and assessments, and a multilingual interface. However, this tool for training managers and all its features is only available through paid monthly plans. 
Cost: Paid plans

Features: User communities, course catalog and library, learning paths, instructor lead training resource management, multilingual interface
8. edX
If you want to include higher education courses in your corporate training, edX offers access to courses from leading educational institutions. You can find high-quality, in-demand courses from universities and partner companies like Harvard, MIT, Berkeley, Google, Microsoft, and more. Their course library offers a wide range of topics in job-relevant subject areas like computer science, engineering, and business to list a few, and can be viewed in up to 11 different languages. Your learners can even take assessments to gauge their level of understanding.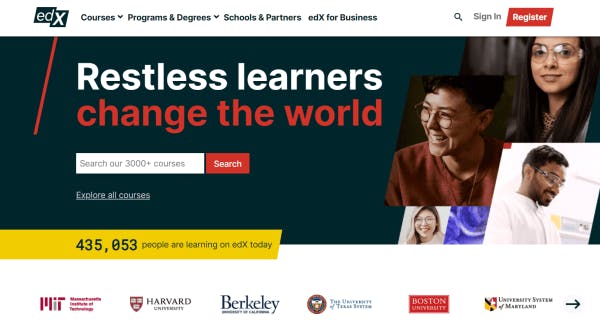 This corporate training platform is free, but also offers paid plans for business use. Although, if you would like to receive certification after completing your courses, users that have been using edX for free would have to pay for them. 
Course: Free and paid plans

Features: Courses from leading educational institutions, assessments, supports 11 different languages, certification
9. Trainual
If you're looking for a corporate training platform that focuses on both training and onboarding of employees, then Trainual might be what you're looking for. For training, building learning materials is easy with over 150 pre-built templates for courses and over 30 SOP templates for policies and procedures. Trainual also allows you to organize your company's onboarding content where new employees can easily find your company's founding story, products, values, and more. You can even build organizational charts, invite and manage teams, and assign tasks and responsibilities. With their embed and integration feature, you can attach different documents and media to enhance your training material.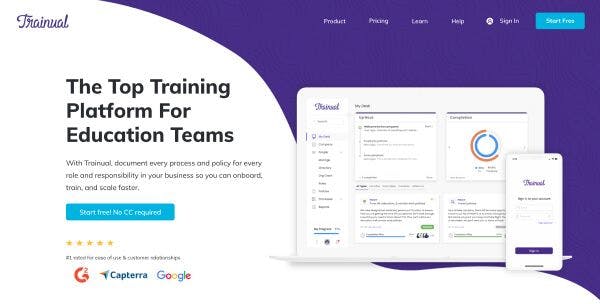 Unfortunately, Trainual does not support SCORM or other e-learning formats. They only offer a 7-day free trial and their paid plans start at US9 per month. 
Cost: Free trial, starts at US9 per month

Features: Course creation, over 150 pre-built templates, over 30 SOP templates, onboarding and training, embeds and integrations
10. V360E
Our last corporate training platform on this list is V360E, a virtual-reality (VR) based online training platform. Originally created for training in the aviation industry, it has now evolved into an interactive VR software for labor-intensive industries like healthcare, construction, and transportation. Using their course creation feature, you can create 360 panoramic photos to simulate a virtual environment. You can add interactivity, guides, and instructions to train company processes or procedures.  Learners can access these VR courses through their mobile devices or computer, allowing you to reduce costs on purchasing actual VR equipment.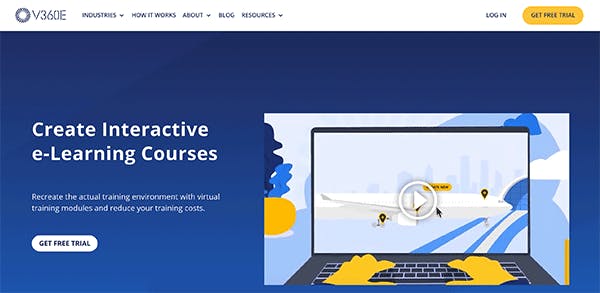 Since this tool makes use of scenario-based training, it might not apply to businesses that aren't as labor-intensive. However, it can certainly provide a unique training experience, if you're looking to reinvent your company's training processes with virtual training ideas. 
Cost: Free trial and paid plans

Features: VR-based online training, course creation, 360 panoramic photos, interactive and scenario-based training, mobile access