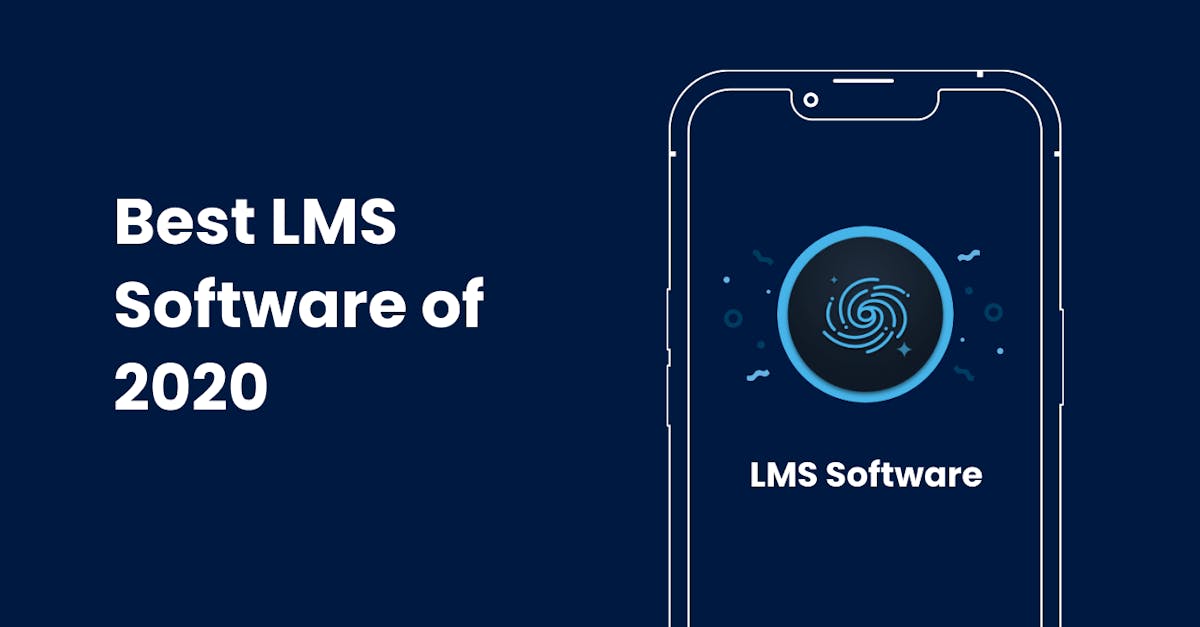 Some of the most important perks of LMS software in the workplace are integration with work, live chat software, and independent choice of learning pace. These tools are also deemed helpful in the distribution of training materials according to the needs of those who learn. In this article, we'll take a look at the best LMS software of 2020 and its key features.
1. EdApp
EdApp revolutionizes the concept of LMS. This best LMS software in 2020 enhances course management thanks to built-in support for videos, quizzes, ratings, lists, and more.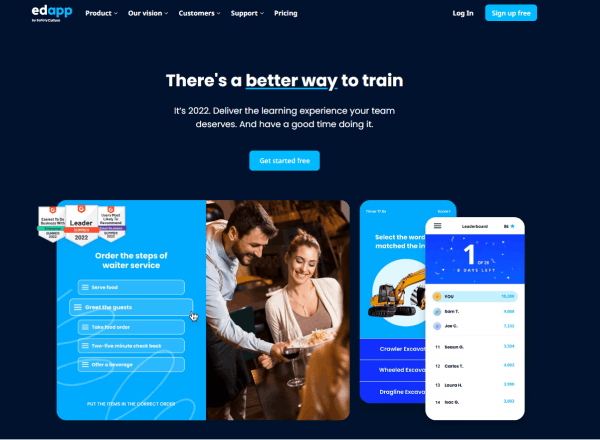 It has all functionalities you need in an LMS, as well as some additional well-designed features that are nice to have. When creating courses, its course creator tool gives you a lot of options. You can use some of their free templates, include games and quizzes, and upload a short video clip for enhanced retention. You can also enable a course certificate to motivate your team to complete the course. 
What's most important is that it allows you to create learning materials/resources as efficiently as possible. And we're talking about making the content more engaging, interactive, and brain-teasing using their Brain Boost tool. It uses the science of spaced repetition, which automatically repeats key content until your learner fully understands the lesson. The content is pulled from incorrectly answered slides and presented to your learners in spaced intervals.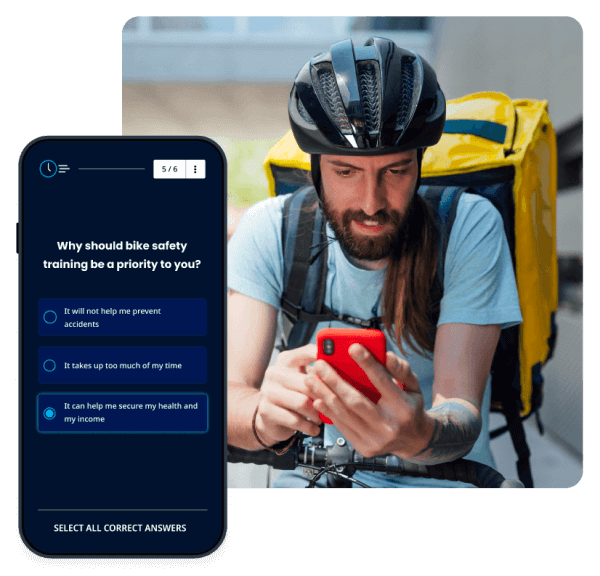 Collaborate with a team of experts at every step of the journey. A team of instructional designers at EdApp can also help you get your mobile training program off the ground if you don't want to get into the process of course designing.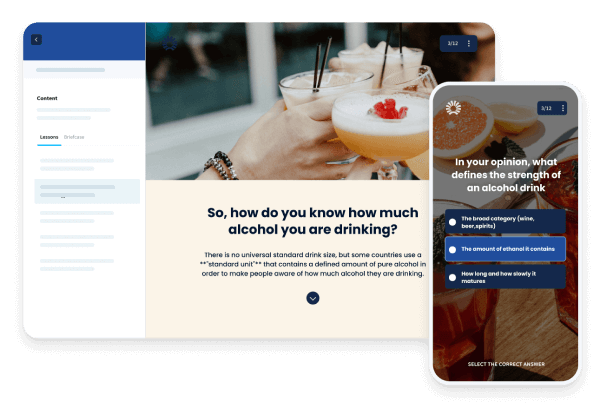 Additionally, EdApp offers an easy-to-navigate interface for training management. It supports management and creating content from anywhere using any device you prefer, be it a smartphone, tablet, laptop, or desktop. 
Create better learning experiences with EdApp today. Sign up for free. 
2. BlackBoard
BlackBoard is a software tool used primarily for online learning in the case when the professor and students are spatially distant, and all that is needed for its use is an Internet connection and any web browser. In addition to providing the possibility of distance learning, it is also used as an add on to classical courses and the classical way of education.
It is considered one of the world's leading e-learning tool due to the large number of institutions that use it, and the many functionalities it provides to teachers and students.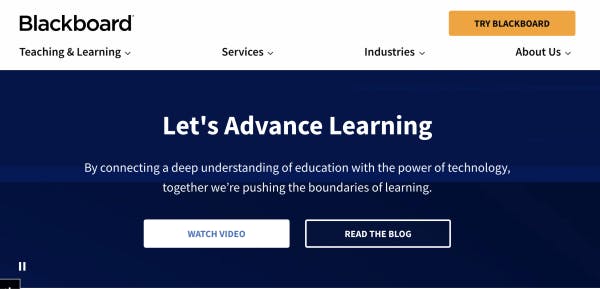 Instructors can add various tools to their courses, such as a discussion board, e-mail system, live chat, as well as documents and websites. Also, BlackBoard requires a minimum of technical expertise and knowledge by the people working on the development, maintenance, and preparation of the courses and also by those who use them, so this is a big plus.
Although mostly used by the education sector, businesses can benefit from its interactiveness, ease-of-use, and functionality.
3. Claroline
Claroline emerged with the aim of directing the most important concepts of development towards pedagogy and quality content use of technical tools. In other words, it is a system that provides the opportunity to improve the whole process of learning and teaching.
Claroline is open source software and is licensed under the GNU License, which provides the freedom to share and modify such software, making it free for all users. It is compatible with Windows, Macintosh, and Linux environments, i.e. with all systems that offer the ability to use a web browser.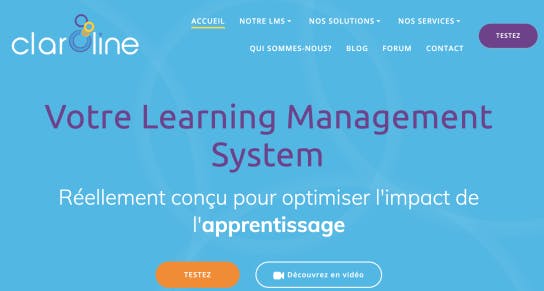 The developers of Claroline took into account the following factors in learning motivation: understanding the abilities that the learner will acquire in the future, the interests and values ​​of the tasks, and a sense of maturity for the task. Knowledge of activities and tasks is important to gain a sense of security and maturity to perform tasks.
However, the system does not have the ability for interface change, events cannot be entered into a calendar, and provides fewer options when creating tasks for assessing the knowledge that was acquired.
4. ILIAS
The ILIAS system intends to offer a flexible environment for learning and working online with integrated tools. It offers a large number of courses in various formats (sound, images, video …), and enables the communication between learners, tutors, and administrators, monitoring the learning process and testing. We can consider it an online library that provides users with content and learning materials. Also, certain contents can be accessed by unregistered users.
Unfortunately, this system is not so intuitive. It has a wonderful interface, supports a large number of functions, but it is not so easy for both the learner and the teacher to understand them. The user must learn how to work or adapt and simplify it for their needs.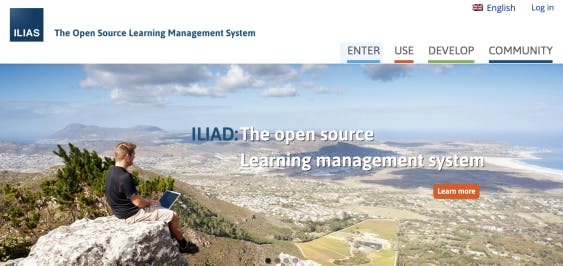 We are a little disappointed with the performance and usability issues, but since the use of this model of learning is very simple and completely free, you should take advantage of all the opportunities it provides in acquiring new knowledge.
5. Sakai
Sakai is used for teaching, research, and collaboration. In addition to course management capabilities, Sakai is conceived as a common tool for research and group projects. To support this feature, Sakai includes the ability to change the settings of all feature-based tools, changing what the system allows different users.
Sakai software includes many options for course development and organization of course management system, as well as for document flow management, forums, chats, and online testing.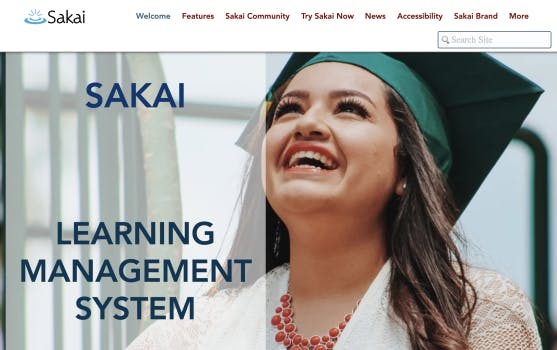 Some of the features we especially like are its customizability, content organization, user-friendliness, and easy navigation. On the downside is limited in terms of the media format coverage – especially in terms of video integration.
6. Dokeos
Dokeos is a free online learning management system product used by international companies, federal governments, and universities. This platform was created to build distance learning tools. It is more suitable for organizations than universities, as it focuses on professional clientele, such as company staff.
It offers a full range of software tools. It supports graphic learning by creating mental maps and helps with administering, structuring, and testing knowledge.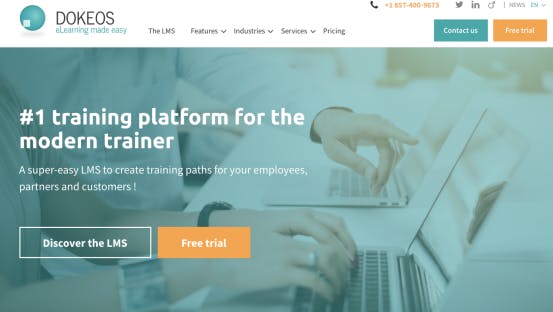 The training management tool is intended only for web-use, and we must mention that the price range is on the high end.
7. OpenELMS
OpenELMS is a joint project whose activities are focused on the organization and implementation of a distance learning software for use in commercial and educational organizations. This platform is a free software product. The LMS OpenELMS software is very comprehensive and incredibly intuitive to use.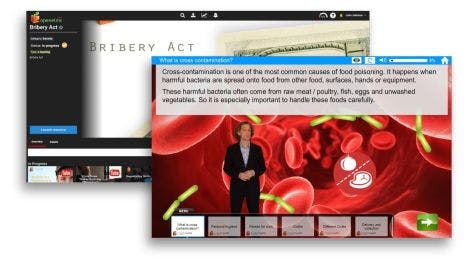 It has a limited range of options, but we must praise it in terms of visual attractiveness as well as universality. And all that for free!
8. Opigno
Opigno is an LMS portal that supports informal teaching, and all users have equal authority or a hierarchical teaching environment, with the roles of teachers, students, classes, and workgroups. The downside is the complex configuration.
The possibilities provided by the Opigno system are certificates, lecture schedules, forums, author e-learning tools, grading systems, and video galleries which are just some of the impressive list of features available to the user.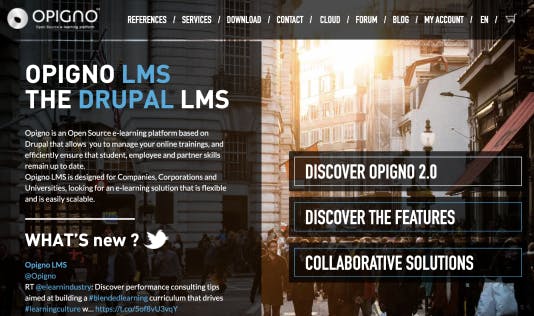 This gives you the ability to manage your curriculum, track progress, and integrate e-commerce with just one tool.
Opigno also offers users online surveys, instant messaging, and chat, allowing them to provide and receive feedback quickly and collaborate efficiently.
9. Forma LMS
From general knowledge analysis to detailed statistics and reporting – Forma LMS boasts a fairly wide range of available functions. The service also has a range of certificates, competent leadership support, and a wide range of virtual classroom management tools, including a variety of calendars and event managers.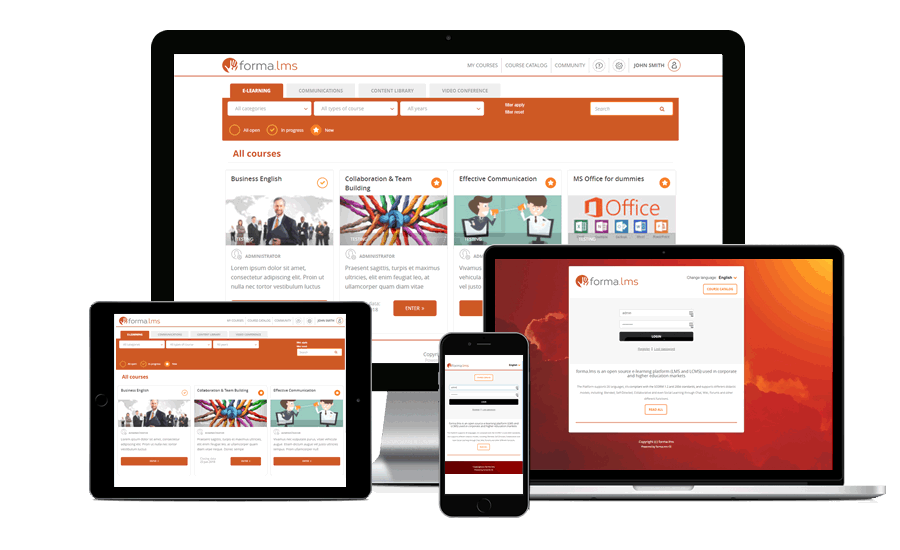 It offers access to an active online community where you can find many useful tips on how to make the most of the service.
It would be better if some improvements are made in terms of the functionality of the software.
10. Your-study
The difference from the classic LMS website is that the functionality is focused on practical work. Your-study allows publishing of educational materials, but most of the system is designed for all types of knowledge testing.
Your-study contains a sufficient number of tools for organizing training and testing. Its main benefits are there is no installation/configuration required, the system is free, easy to use, and has English support as well. Its disadvantages are the impossibility of self-improvement, lack of SCORM support, and limited functionality.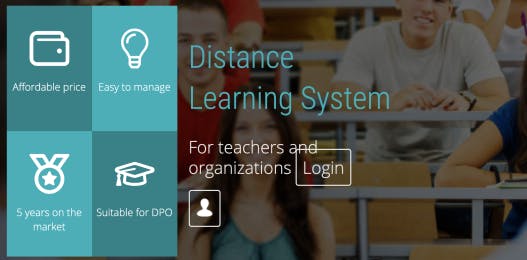 Your-study generally deserves a solid rating and is a good LMS for small business that wants to organize staff training at no cost to purchase an LMS.
11. Auzmor
This cloud-based learning management system aids businesses and organizations in managing, tracking, and delivering training to employees or associates. There are course-authoring capabilities within the LMS software, as well as centralized data storage. As an HR or L&D specialist, you have access to a dashboard that shows learner progress. It should be noted that Auzmor is limited in customization capabilities and lacks features to help achieve the best learning experience for you and your teams.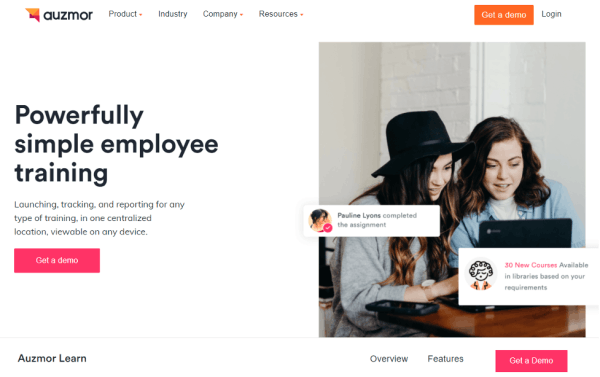 Training courses are available to use, however, the library is limited in terms of variety and volume. Through open enrollment functionality, learners can add to or refine existing skills all within a mobile learning environment. Alternatively, access to training materials is available through desktop. There is also the ability to build teams and assign courses specifically to people who need those training. The platform can be a bit tricky to get up and running but they do offer support.
12. Prosperity
Prosperity software systems is part of the Ziiva's suite that was designed to aid businesses in managing employee training programs. This end-to-end learning management solution is limited in its training capabilities, namely catering Corporate HR and training departments. The platform also comes at a cost and requires you to purchase basic features like storing your content in the cloud and having access to basic features. A monthly subscription is on offer should you wish to access the full platform but it's difficult to confirm its effectiveness with a lack of reviews (there aren't any on G2).

Prosperity is a SCORM-compliant software and hosts an authoring tool for you to create content from scratch. A course library is also accessible and provides free training modules on a small number of topics including OSHA safety regulations, computer skills, leadership, and teamwork courses.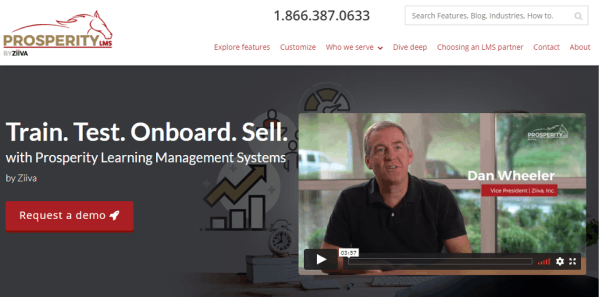 13. Edvance360
Edvance360 is a provider of eLearning software and services to academic-oriented institutions, so it's not ideal for professional-level training, but rather academia ranging from K-12 to higher education. Online lesson management, progress tracking, online certificate creation, and an in-house social network are some of Edvance's most notable features.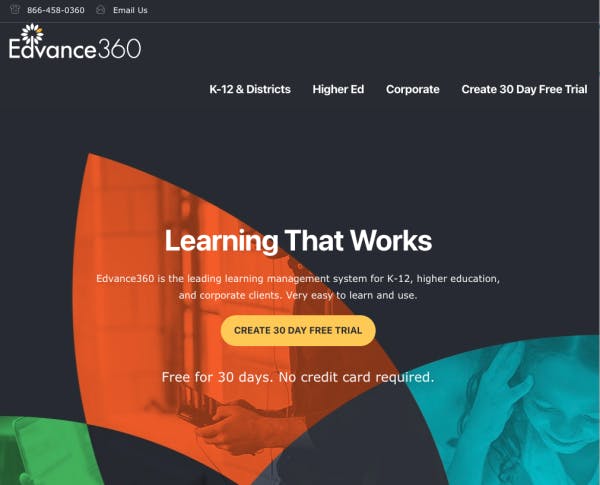 This platform also offers personalization to customize your content and basic progress tracking is also available. Edvance360 includes a content builder which allows you to interact, create, and update testing materials for students. These changes are made in real-time which is time-effective as well as the platform's automated reminders, which can be enabled to remind your students to complete course for you. Edvance360 is both Mac and PC compatible (like most platforms) and anyone with WiFi access can work on training assigned through this LMS.
14. iTacit
While iTacit is noted to be a workforce app, its focus is solely on simplifying communication while improving engagement between employers and teams. Suited for a variety of organizations, including healthcare, government, banking, and manufacturing, this LMS can support your basic communication needs.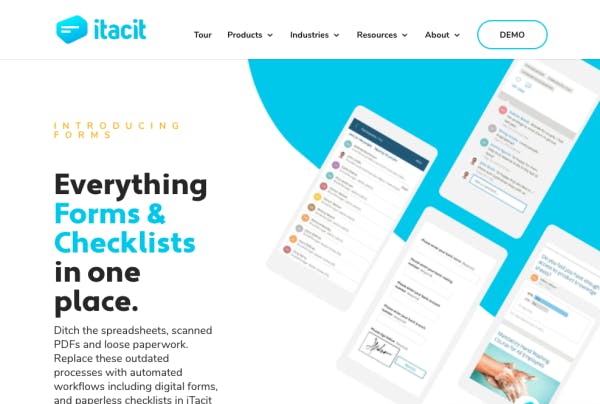 HR teams can use this LMS to provide critical updates, messages, and new training to remote and in-office employees. iTacit is compatible with Windows, Mac, iOS, and Android devices, getting training for employees in a way they can access should be easy. The downside is it lacks basic features like instant sharing of files, making it a clunky and underdeveloped platform. Pricing is also on a monthly subscription basis.
15. eLearning Cloud
From VAIRKKO, as the title suggests, eLearning Cloud is a cloud-based LMS. Creating new training courses, conducting new employee orientations, or updating corporate policies are some of the possibilities available via this LMS.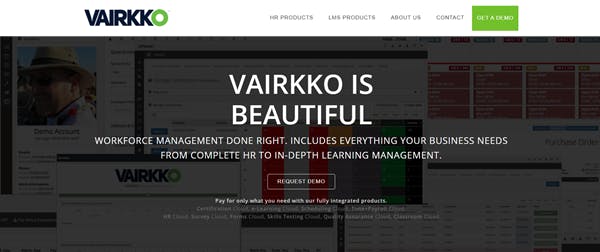 Multimedia resources can also be uploaded to support learning and there are post-course assessment options to provide employees with practical applications to gauge what they learned. While the eLearning Cloud advertizes many built-in features, they do not include a course library (editable or otherwise) which means you must create all of your content from scratch. Users have said that the platform doesn't offer enough variety to cater to different industries and only a free trial is available for a limited time so the use of this platform will cost you.
16. NextThought
NextThought is a learning management platform that focuses on team engagement. Through customer, employee, and partner training, teams work together to complete upskilling and reskilling within teams.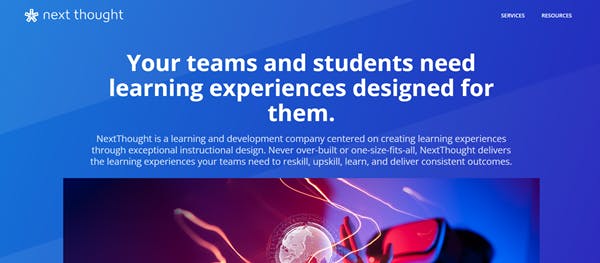 With consistent learning outcomes and training module creator tools, NextThought supports social learning, although creating the content and facilitating community learning is up to you. The platform also lacks built-in features to easily manage your teams, with no forums or discussions. With NextThouhgt, you have the option of designing courses or embedding additional learning within existing course materials. Integration with some third-party software applications is also a feature – although this is limited. While the platform offers a free trial, the monthly plan will cost you anywhere between 9 to 99.
17. BrainCert
BrainCert is a basic platform that delivers training online with real-time tracking for your training results. This white-label solution enables you to customize at a basic level, like inserting your company's logo, theme, and colors into your course content.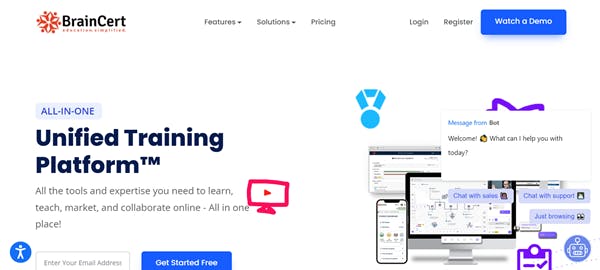 The platform's embedded communication tools allow for on-board engagement and collaboration, which helps in retaining customers through role-based access controls. And while BrainCert positions itself as being modern and extensive to support you and your teams, keep in mind that the most notable feature is a virtual classroom, which doesn't integrate with all your standardized platforms like Zoom. There are four platforms within BrainCert that separate most needs, making it somewhat difficult to provide a seamless learning experience for your employees. Users have also found it difficult to get a hang of the platform, crediting disorganization and an overwhelming amount of information in the platform.
18. CoreAchieve
Streamlining content creation, compliance, as well as audio/video employee training are all doable via CoreAchieve. Developing professional coaching materials and managing online training courses are two major purposes of this cloud-based LMS and if you're looking for basic content, it can be tracked down by using filters, titles, categorization, tags, and descriptions.
CoreAchieve is limited in terms of how many users you have per month, so if you have a medium to large and/or growing organization, this might not be the platform for you. The LMS does, however, host basic content like audio and video and integration with a limited amount of third-party systems is doable. Pricing ranges from .44 per user per month, capped at 500 users, and if you have less (around 100), you're looking at per month, per active user.
19. Bridge Software
While Bridge Software is less of a standalone LMS and more of an integration service, the platform bridges partners with SaaS LMS companies to build APIs for their software. Similarly, Bridge Software offers API integration and middleware development and maintenance services.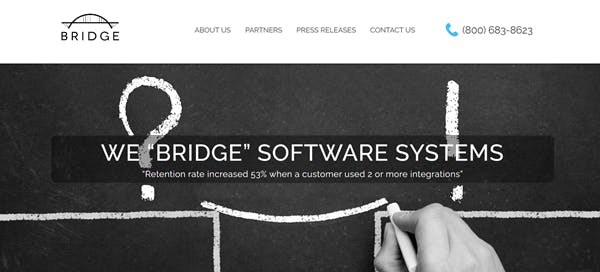 Unfortunately, there is no free trial with Bridge Software, making it impossible to test the tool out. Once you purchase a licence, the platform promises to configure, customize, and deploy for you. This means that real-time edits and management is not available and will take time to curate and ensure your bespoke content has the opportunity to reach your teams.
20. WorkRamp
WorkRamp is a training LMS that serves as an all-in-one corporate learning platform for your personnel, especially those in sales, support, retail, marketing, and HR. This centralized LMS gives you a streamlined process for creating customized learning pathways for your personnel based on their role, teams, skills, or seniority. It provides a specialized onboarding software process, advanced training content creation, and learning progress tracking through dashboards and analytics. It also gives a blended learning experience with support for virtual instructor-led sessions. Through its modern technological features, you're able to transform the learning experience in your organization. In return, your employees are able to perform their roles better,  improve relationships with customers, and deliver desired business outcomes.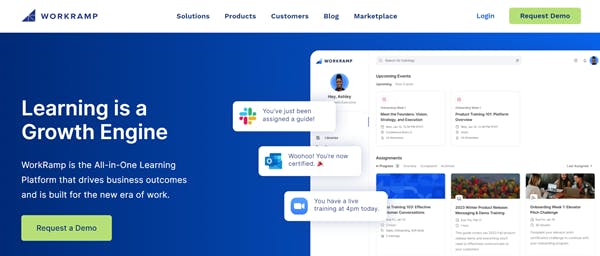 21. Learn Amp
Learn Amp is an all-in-one learning management system and engagement platform focused on helping businesses develop and retain their employees. With this eLearning software, your employees can develop their professional skills through social learning and peer-to-peer features like in-app messaging, self-generated content, discussion threads, event management, and group assignments. You can access performance reports easily through Learn Amp's built-in visual dashboard and use these stats to design learning pathways and further each employee's growth. Do note that if you want to try out this tool, you'll have to get a price quote from their site.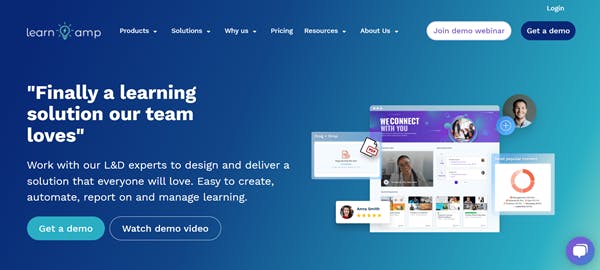 EdApp is free to train teams large and small, and best of all, you can educate unlimited learners! Sign up for free.