2. edX
edX is another training portal offering high-quality online courses that can help your team expand their skills and knowledge on a diverse collection of topics and drive them to deliver outstanding performance at work. There are over 3000 courses on this platform, designed by some of the world's leading institutions such as Harvard, MIT, University of Oxford, the University of Tokyo, as well as Google, IBM, and Microsoft. All of the lessons are delivered in video format, which your learners can take at their own pace. They can even search for a course in their preferred language. A download option is also available so learners can stream the classes anytime and anywhere, whether they're grabbing a quick coffee or commuting to and from their homes.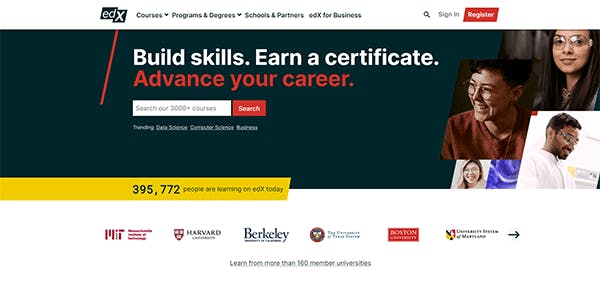 The majority of the courses are free for everyone to take as edX is a global non-profit organization. The only downside with this platform is that it has no authoring tool that you can use to customize or manage training content. 
Cost: Free

Key features: Over 3000 courses designed by institutions such as Harvard, MIT, Google, and IBM, self-paced video courses, offline streaming
3. Skillshare
Skillshare is another well-known training portal that hosts hundreds of instructional video courses, delving into a vast array of topics such as design, marketing, photography, film and video, leadership, entrepreneurship, sales, and many more. These live and pre-recorded video training programs are designed and facilitated by experienced instructors and other reputable experts from different industries. Learners don't need to worry about accessibility, as all lessons can be taken online or downloaded for offline use through any desktop or mobile device.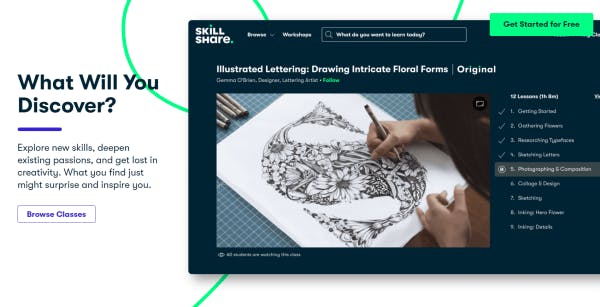 Do note, however, that Skillshare requires learners to get membership subscriptions in order to gain unlimited access to the video library. Plus, they can't edit or customize any of the uploaded training content.
Cost: Starts at 2 USD per user per month

Key features: Live and recorded video courses, video library, offline downloads, desktop and mobile accessibility
4. Trainual
Trainual is a versatile technology training portal and visual learning software that you can use to onboard new employees or train current team members. It allows you to customize learning materials by choosing from the platform's 150+ free templates. You can also embed images, videos, and multiple-choice questions to make your content more engaging for learners. Trainual also highlights the importance of training process documentation so they provide playbook templates for training to become infinitely repeatable and scalable. Once your training courses have been deployed, your employees can access them through any iOS or Android device or on a desktop through a Chrome extension or web browser.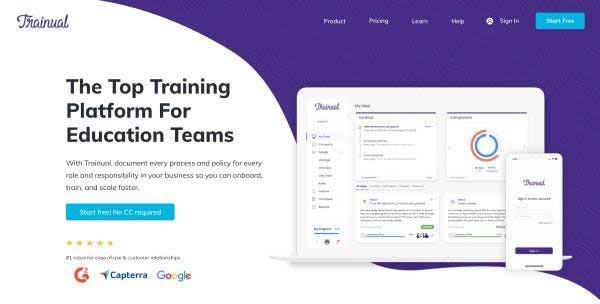 However, it doesn't support SCORM files or other eLearning formats, which can be a deal-breaker for those who want to transfer their existing content from other platforms. Another disadvantage of this tool is that you'll have to spend at least 9 USD per month to get access to all of its best features.
Cost: Starts at 9 USD per month

Key features: 150+ free course templates, playbook templates, multi-platform access
5. Tovuti LMS
Tovuti LMS is a highly flexible online training portal that you can use to streamline your employee training and online onboarding processes. With its built-in course authoring suite, you can design, schedule, and distribute interactive courses in just a few easy steps. You can also include gamification features like badges, certificates, checklists, and leaderboards to encourage learners to complete their assigned learning tasks. If you want to integrate synchronous learning sessions into your training, Tovuti LMS's live virtual classroom allows you to meet with your team members virtually and discuss learning content through third-party online video conference platforms like Zoom and GoToMeeting.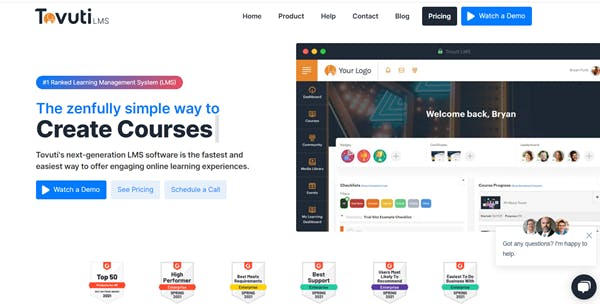 Learners also have access to a personalized portal that shows their badges, certificates, leaderboard ranks, checklists, assigned courses, and upcoming training sessions. This learning management system even has an all-in-one custom reports feature that allows you to track your employees' learning progress,  KPI stats, and other micro-interactions with your course content. 
Cost: Get a quote

Key features: Course authoring suite, personalized learner portal, gamification, leaderboards, virtual classroom, custom reports
6. Cloud Academy
Cloud Academy is another training portal that allows businesses to create highly comprehensive and targeted tech learning content for their employees. Some of the ways you can maximize this web-based training platform include customizing learning materials through the content engine, designing role-based exams using pre-built questions, and giving users access to a vast content library on technology fundamentals.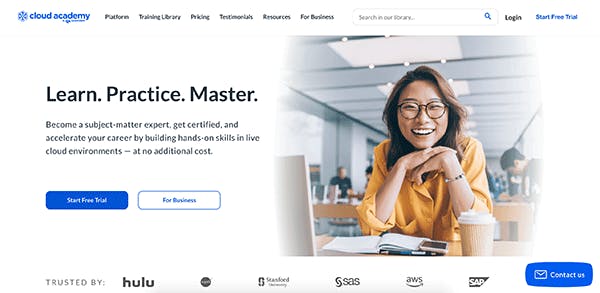 The platform allows your employees to access learning resources even while offline. It also comes with a Cloud Roster feature that encourages users to learn what skills they should train for by exploring in-demand skills from specific job roles. Another unique feature is its training plan tool that you can use to assign custom learning paths for your learners, allowing easier learning progress and completion tracking. You do have to pay for a subscription to access all the best features, but you can try the platform for free for 7 days.
Cost: 7-day free trial, starts at 9 USD per month per person

Key features: Content engine, customizable exams, cloud roster, training content library, learning paths, offline mode 
7. 360Learning
As an online training portal, 360Learning can help managers and team leaders create and deploy training courses in just a few clicks. It's widely known for its collaborative training solutions, which include a user-friendly authoring suite, a content integration system, and an analytics dashboard. All these tools require no design experience or technical skills to use, enabling anyone to create courses in just a few minutes. You can also include other learning resources like videos, images, blog articles, and research into your course to keep training content up-to-date and engaging. With 360Learning, your employees will also have access to collaborative learning features like discussion boards and group pages that allow them to participate in meetings with both managers and their fellow employees.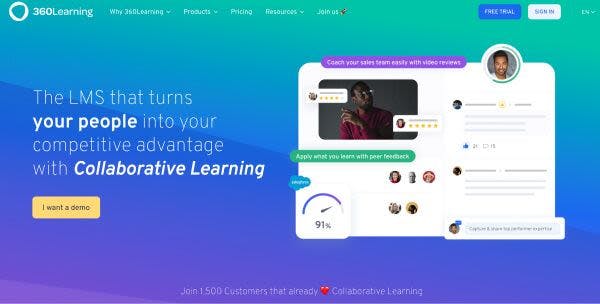 Cost: Free trial, Paid plans start at USD per month

Key features: Collaborative learning, authoring suite, content integration, analytics dashboard, discussion boards, group pages
8. Degreed
Degreed is an upskilling platform and training portal that can help you run both small and large-scale employee training programs with ease. Before you begin training your team, you can access the tool's real-time data insights and determine whether your employees need upskilling or reskilling. After this process, you can then start creating a custom content pathway for each employee to help them become more proficient in skills that they lack. This elearning platform also integrates all learning materials that your workforce needs to grow and upskill – online courses, videos, podcasts, news, and blog articles. To help learners feel more motivated as they try to learn new skills, certifications are available after each course completion.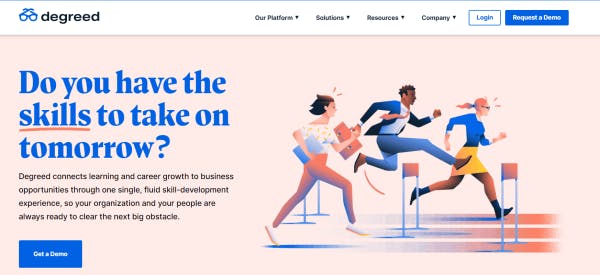 Cost: Get a custom quote

Key features: Real-time data insights, content integration, content pathways, skill certifications
9. Inquisiq
Inquisiq is an online learning portal that stays true to its trademark – More Training, Less Stress. Through this employee training tool, you can deploy, manage, and track hundreds of courses as well as automate course enrollment, completion notifications, and report generation without exerting too much effort or wasting valuable time. This free knowledge management software has a friendly, fully configurable, and multilingual interface to ensure that your employees across the world can use the tool and access their learning materials. It even allows easy interoperability with other elearning authoring tools, thanks to its SCORM compatibility.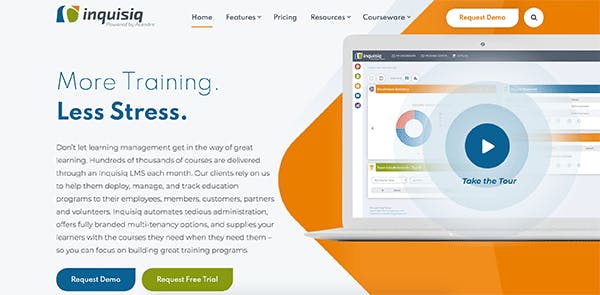 To incorporate blended learning and social learning into the elearning platform, they've added collaborative features like built-in messaging, user communities, and discussion boards. You can even design personalized learning paths for your employees through multiple courses, homework, and course completion certificates.
Cost: Free trial, Paid plans start at 50 USD per month

Key features: Automated course enrollment, notifications, and report generation, user communities, built-in messaging, task assignments, personalized learning paths, SCORM compatibility, in-app messaging
10. AdaptiveU
With AdaptiveU, you can create responsive web page-like courses through their all-in-one cloud-based authoring software and automated training portal. Designing your own course is easy, intuitive, and requires no advanced tech skills. Just copy and paste your lesson's text, add links to relevant articles, and attach images or videos. To help learners retain the material better, you can even add multiple-choice and true-or-false knowledge checks throughout the course. It works seamlessly as a Storyline software alternative, allowing not only course creation and content management but also collaboration and report generation.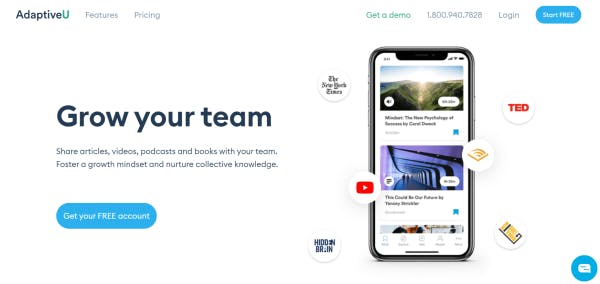 Through this tool, learners can track their peer's course progress and share relevant learning content with one another. Teachers or trainers can also generate reports because of AdaptiveU's powerful analytics and learning management functionality.
Cost: Free plan, Paid plans start at 5 USD per month

Key features: Responsive web-page style courses, collaboration and content sharing, peer performance tracking, analytics