Learner engagement: 3 Things you must know
There was never a more fertile time than 2020 to shine a spotlight on workplace technology. When COVID hit, regular workplace meetings and in-person workplace training programs were quickly dismantled then somewhat resurrected in a lockdown loving e-learning form, and employees barely had a chance to clear their desks before upskilling and normalizing in a matter of days to the wonders of Zoom, Google Hangouts, and Microsoft teams.
Our brush – in other cases our rush- into new workplace technology and eLearning clearly became an unforeseen and rapid learning imperative and left an indelible mark on us all. The COVID apocalypse has revealed that workplaces and eLearning can productively cohabitate and achieve their goals.
The workplace training spotlight has swung towards even less in-person training and more online, especially as COVID safe health measures remain in place. This is indeed the dawn of a new eLearning zen.
For e-learning designers in this newly rearranged and reinvigorated workplace, the floor is yours. Your clients will be more 'tech ready' than ever before because of this new learning experience.
Your time is now.
No pressure, but it's even more vital that learner engagement is understood. On this note, a look at how the features of leading mobile training solution and elearning software EdApp features will be referenced.
Learner Engagement Step #1 – Seek Not to Entertain
'You will never work in a place like this again. It's brilliant. Fact. And you'll never have another boss like me, someone who's basically a chilled-out entertainer'. Ricky Gervais as David Brent, in The Office (UK).
When Ricky Gervais's David Brent from 'The Office' defined himself as above, the learning engagement level of his staff got up and took a running leap out of the office window.
After all, entertainment is for audiences. Its purpose is recreational. Engagement is for learners. Its purpose is to change. In the workplace, eLearning is onboarding, upskilling, and creating among staff a base of 'common knowledge.'
It is closing the gap between current and desired performance by achieving clearly defined workplace goals and competency, and where learning becomes a cultural norm.
EdApp prides itself on genuine learner engagement. Their suite of functions, including microlearning and gamification, ensure that EdApp is the 'gap closer' in the eLearning workplace world when it comes to connecting and engaging learners with workplace content, like learning programs and training courses.
Pre and post-COVID, the challenges for e-learning designers remain constant:
1. Activating and sustaining learner motivation
2. Transforming what can be dry subject matter into meaningful learning experiences
3. Catering to the learning needs of different generations.
No amount of chilled-out entertainment a la David Brent will extinguish these constants.
Start boosting learner engagement with EdApp today!
Learner Engagement Step #2 – Engage! Engage! Engage!
Learner engagement is fundamental to education.
Any eLearning designer and subject matter expert worth their salt know that learner engagement must be at the core of their learning and development design.
Learner engagement is having an authentic connection with learning material that is sufficiently engaging, that is targeted to the area of greatest need, that is linked to real and achievable outcomes and that creates and sustains the motivation to keep going and to do well.
As an educator, I see engagement at its best when the learner has a positive relationship with their learning. There is learner buy-in, evidenced transformation, and a sense of self-direction. Learning materials are curated to meet specific pedagogical methods, and workplace goals, together with a workplace culture that fosters individual pride in learning are key agents to effect this.
Curated material is where the efficacy of EdApp steps into the e-learner engagement spotlight. A key feature of EdApp's mobile learning management system (LMS) is its completely free, Editable Course Library, which gives you access to hundreds of world-class ready-made learning content for you to edit and brand then deploy to your teams within minutes. Whether you're selecting pre-made courses from the ever-growing library or if you prefer to create your learning content from scratch, EdApp's powerful Rapid Authoring Tool will help you to easily and quickly create stunning and effective learning content. There is also an option to convert PowerPoint to SCORM LMS with EdApp, should you wish. Elearning development is easier and quicker than ever before with a SCORM compliant learning platform and authoring software with interactive learning tools.
In light of how crucial learner engagement is in the e-learning landscape, if you are a learner designer looking for a mobile LMS platform, these features are worth a closer look at for your online training.
EdApp's Editable Course Library is a learning designer's heaven.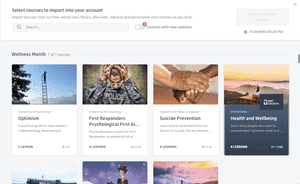 Already offering a suite of customized courses, the Editable Course Library is stamped with agility so that together in collaboration with workplace executives, The EdApp Editable Course Library can be edited, rebranded, and personalized with ease. The ability for customization in courseware is critical to ensuring workplace learning goals are understood and achieved.
EdApp goes the extra length in ensuring that your course development is not only engaged with but delivered in a microlesson format (bite-sized chunks) that makes courses not only editable – but edible.
A stand out of EdApp's rapid authoring tool is just how efficiently content can be updated. Supported by expert instructional designers and the testimonies of previous clients, once you have selected your EdApp interactive template to fit with your learning objective, just add your content. A micro lesson on a current workplace goal can be deployed that afternoon.
This is agility at its finest: a micro lesson potent in its relevancy and therefore a driver of real learning engagement.
Learner Engagement Step #3 – Measuring Learner Engagement
If consumers of workplace e-learning haven't thrown themselves out of the proverbial window in a raging fit of apathy, then we can be thankful that David Brent has not only left the building but was nowhere near it in the first place.
A hasty window exit is one measurement of learner engagement. Interestingly, despite the rapid global growth in workplace eLearning programs, standards for measuring learner engagement is scant.
Countries such as the US are keen on increasing learner engagement, but there seems to be little mention of measurement, while Canada is tracking towards prioritizing the evaluation of learner engagement.
There are two key elements that remain viable tools in evaluating learner engagement in an elearning program. The first is course completion. EdApp's micro lesson formatting is geared towards allowing the learner a high rate of course completion and repeat visits, while the sleek in-built gamification feature enables learner achievements to be monitored and awarded.
When course completion is combined with evidenced achievement, the learner continues to build a crucial positive relationship with their learning.
The second key element in evaluating learner engagement is the impact on the learning goals established in the first place. If the learning goals have been clearly articulated and understood from the beginning, then the base of common knowledge expands, the gap closes and a positive relationship with learning becomes a cultural norm.
It remains true then that engagement is vital for learners. And with the easy-to-use features of the mobile training solution EdApp at your learner's fingertips, it might be possible to have fun.