If you're looking to boost motivation and engagement in your training sessions, using tools to gamify training is the perfect solution. By using game design elements to make work-related information fun and interactive, you'll have employees engaging with your training material in no time. To help you select the right one, we've listed down 10 tools to gamify training that will help you achieve this.
Tools to gamify training #1 – EdApp
Spice up your training with EdApp Microlearning. EdApp is a mobile-based tool to gamify training with its intuitive gamification features. One way is the use gamification templates like drag-and-drop, sequencing, memory, matching, jeopardy, and many more to make the learning experience interactive for your learners. The selection of game design elements makes an otherwise boring training into something fun that learners can't get enough of. Not only that, other game-like features such as leaderboards, rewards, and scoring are also used alongside the course content to promote user engagement. Suffice to say that this approach will surely upgrade the whole learning experience of your employees.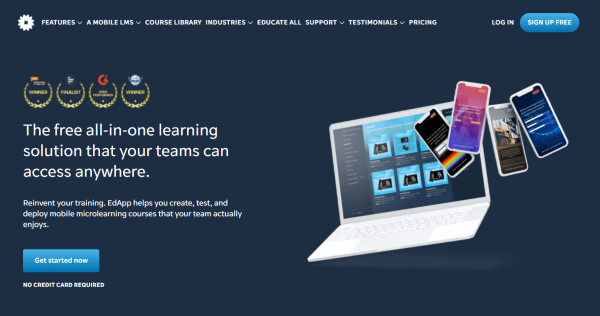 Aside from the gamification features, EdApp has several microlearning templates that you can incorporate when creating courses using the authoring tool. Microlearning is best used alongside mobile learning to make it more engaging and effective. It's an approach where overwhelming information is transformed into bite-sized modules that focus only on the key elements of any subject. Through microlearning, learners find their courses easy to follow, increasing the completion rates. The best part? This form of training allows you to embed information into the long-term memory of your employees while also empowering them to have control over their learning process. To see if your employees really learned from the courseware, EdApp's analytics dashboard will give you an overview of the employees' learning progress.
Features:
Authoring tool

Microlearning 

Gamification templates

Leaderboards & rewards

Mobile learning

Analytics
Cost: Free
Sign up for Free
and Start Using The Best Tool to Gamify Training!
Tools to gamify training #2 – Gametize
As the name implies, Gametize is an enterprise-grade tool to gamify training. This enables organizations to enhance their employees' training experiences, whether they are going through onboarding or upskilling programs. With this gamification learning platform, you can easily design your gamified content by choosing from a vast library of game templates, which are divided into project categories like employee engagement, learning and development, talent acquisition, and many more. You can also boost training engagement and completion rates using flashcards, quizzes, and interactive challenges.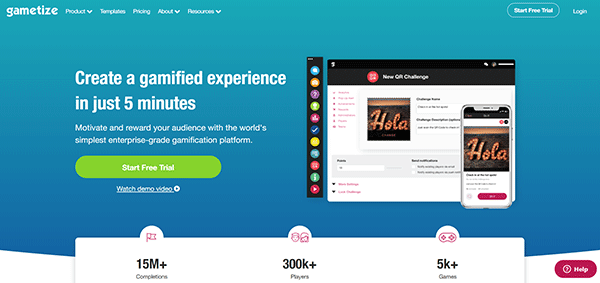 Features:
Game template library

Leaderboards

Badges

Rewards

Results tracking
Cost: Starts at $100 USD per month
Tools to gamify training #3 – Edgagement
Edgagement is a tool to gamify training that uses a simple drag-and-drop authoring tool to help you build gamified microlearning courses, quizzes, and surveys for your teams. Even with little to no knowledge of graphic design, you can create engaging training materials with the help of over 15 game templates. Some of the most common ones include a spin to win, fact or fiction, double match, connect the dots, and jumble pic. The gamification software also provides organizations with leaderboards and rewards features, both of which are great tools for encouraging friendly competition among your workers and motivating them to complete their training.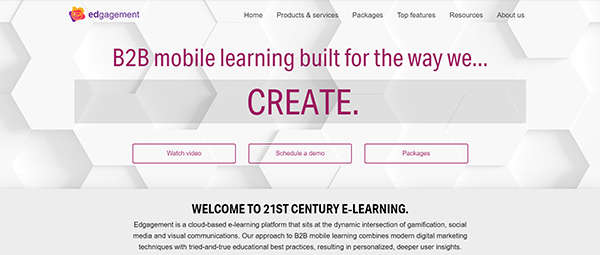 If you want to assess your employees' overall performance and optimize your training content for better results in the future, Edgagement's data center gives you quick access to each learner's game engagement stats, completion rates, and knowledge gains.
Features:
Drag-and-drop authoring tool

Gamified quizzes

Surveys

Microlearning content

Game templates

Leaderboards

Rewards

Datacenter
Cost: Paid plans
Tools to gamify training #4 – Funifier
Funifier is a tool to gamify training that incorporates game techniques in its features to increase engagement. It provides features like a progress bar, quest lists, leaderboards, and many more to boost your employees' learning performance. To further encourage learners to stay on top of their game, Funifier allows you to create a custom incentive program so you can reward learners through its rewards catalog. Aside from these, you'll also have access to a dashboard, which you can customize with KPIs that are relevant to your objectives. You can then use your data to enhance your gamification learning strategies.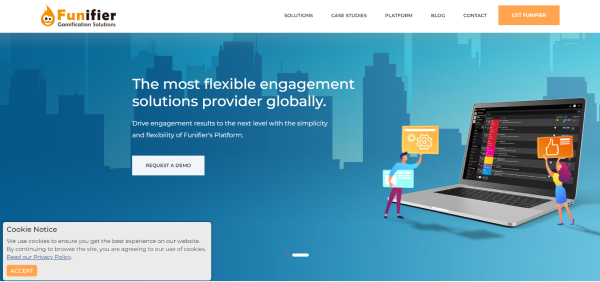 Features:
Game techniques

Rewards Catalogue

Custom incentive program
Cost: Paid plans
Tools to gamify training #5 – Kahoot!
Kahoot! also works perfectly as a learning gamification tool. It provides learning and development professionals with easy access to interactive gamification elements, all designed to motivate and train their teams. To get started, trainers simply have to customize a template-based quiz or game, also known as "kahoots", via a web browser or through the mobile app. Once they're built, they can then be presented live through any video conferencing platform and answered by a group of learners simultaneously. On the other hand, you can also set "kahoots" as self-paced quizzes that each team member can complete at their own convenience. To top it off, the elearning platform also allows trainers to track their learners' progress and address knowledge gaps through the built-in reporting and analytics features.

Features:
Template-based quizzes and games

Synchronous and asynchronous learning

Reporting and analytics
Cost: Free trial, paid plans
Tools to gamify training #6 – Centrical
Another tool to gamify training is Centrical gamification training software. With its intuitive user interface, you'll be able to create polished game-based learning materials without needing advanced technical design skills. On the gamification platform, you can customize learning challenges, set prize-winning competitions, or design quest-based game narratives to help your employees adopt the right behaviors, practice skills, and improve the overall knowledge and skills they need to succeed. Centrical continuously rolls out new games, challenges, and raffles so that learners can sustain excitement throughout their entire training process.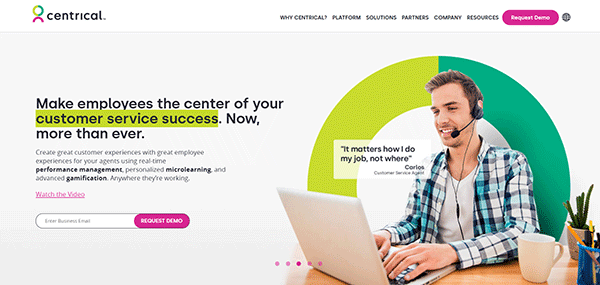 Features:
Personalized microlearning

Quest-based game narratives

Rewards

Real-time performance management
Cost: Paid plans
Tools to gamify training #7 – Quizlet
Quizlet is a popular assessment gamification tool recognized for its characteristic flashcard format. While this format is most commonly used in schools, you can create a quiz that you can use in your employee training program to assess employee knowledge and recall of training topics. You are also provided access to a large collection of pre-made flashcard decks on a variety of topics, making quiz production much easier.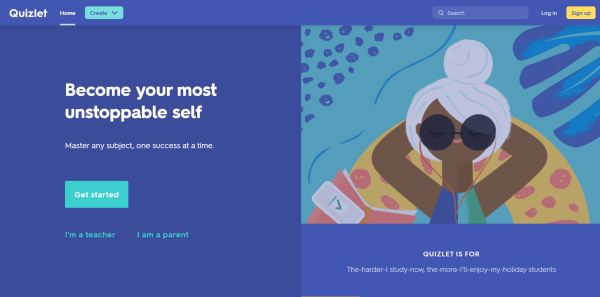 In addition to customizable flashcards, Quizlet allows you to create game-show-style tournaments to encourage healthy competition among your employees. This includes features like timed games, adaptive questions, and practice quizzes. This online quiz maker is free but you can only access analytics and advanced gamification customization options if you subscribe to their paid service.
Features:
Digital flashcard format

Pre-made flashcards templates

Multiple study modes

Gamification
Cost: Free, paid plans
Tools to gamify training #8 – Qstream
Qstream is another tool to gamify training that offers micro-explanations, challenges and scenario-based Q&A. It also offers spaced repetition features, so you can also increase your learner's knowledge retention and productivity. Managers can determine training efficacy, address knowledge gaps, and track overall employee performance in real-time with useful tool components like proficiency heat maps, leaderboards, team comparisons, and analytics dashboards.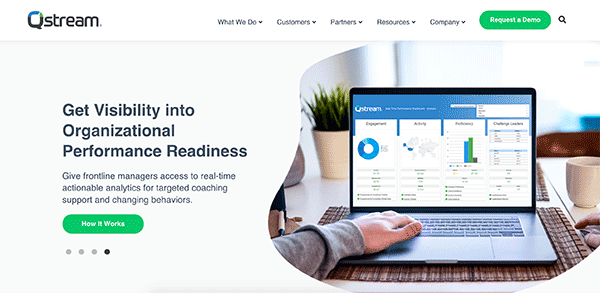 Features:
Leaderboards

Analytics dashboards

Coaching hub

Real-time heat maps
Cost: Paid plans
Tools to gamify training #9 – Raptivity
Raptivity is a cloud-based tool to gamify training that delivers distance learning through visually stimulating content. It incorporates gamification in the workplace by including games in the training material, such as bowling and dart game quizzes. It also has an interactive template library suited for different learning styles that you can customize with various themes and colors. In this distance learning tool for teachers, learning programs can run on different devices, including mobile. This helps you focus more on your content as you're sure that it will seamlessly display your training materials regardless of the device used.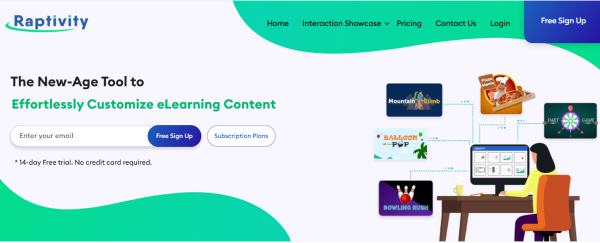 Features:
Gamification

Template library

Mobile-friendly
Cost: $30 USD per user/monthly
Tools to gamify training #10 – Gimkit
Gimkit is a game-based learning platform that anyone can access through any device. In a Kit, learners will be exposed to questions multiple times to ensure mastery of the content. There's an in-game currency that serves as points and can be reinvested by purchasing upgrades & powerups. With millions of combinations, students can make purchases that suit their strengths. With 10 unique game modes and more on the way, you can make lessons and assignments more interactive and engaging.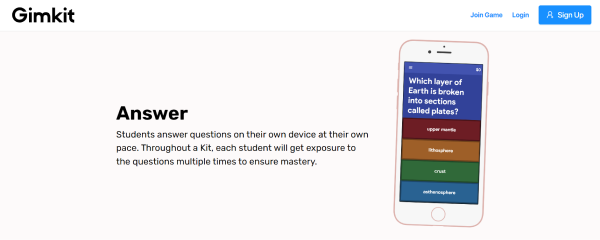 Features:
Game kits

In-game currencies

Upgrades and powerups

10 unique game modes

Interactive lessons and assignments
Cost: Free