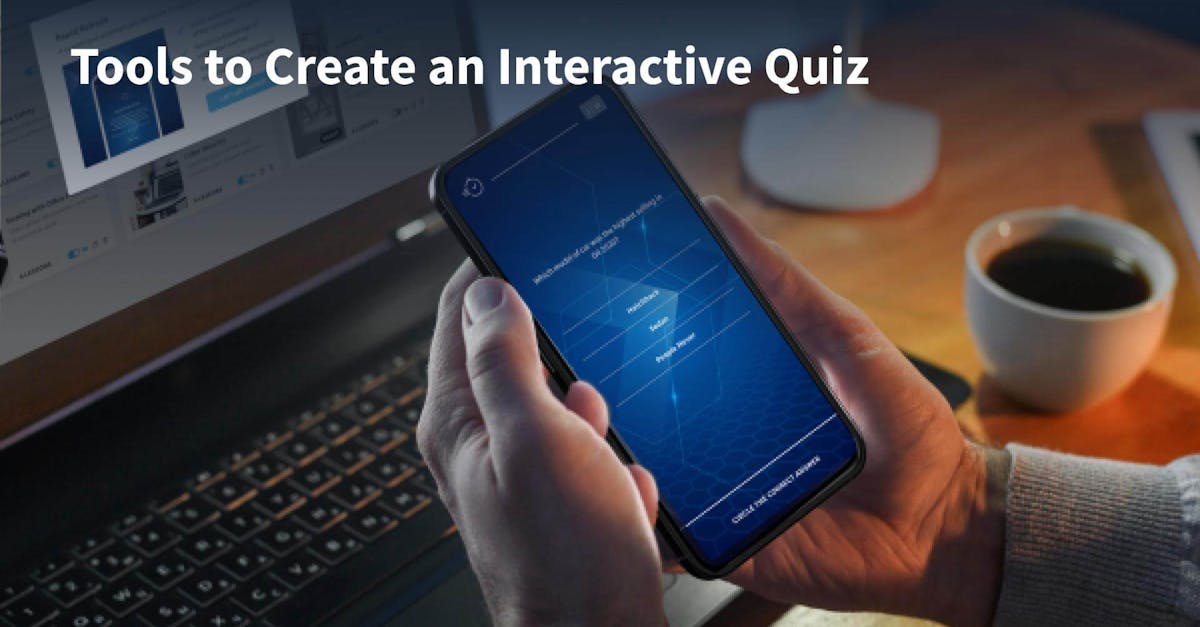 You can make online and physical training sessions much more fun and engaging by using tools to create an interactive quiz. Interactive quizzes can help increase information retention, learner engagement, and training participation. Learn more about how you can create your own quiz, elevate online learning and digital training with these 10 tools to create an interactive quiz.  
1. Rapid Refresh by EdApp
Rapid Refresh is a tool to create an interactive quiz and is featured in EdApp, a mobile-friendly microlearning LMS. Rapid Refresh is a user-friendly quiz maker designed to check the understanding of your learners and reinforce the content being delivered. Questions are inserted using a spreadsheet that you just need to fill in to complete – no technical expertise needed. It will turn your questions into an engaging, gamified format and deliver fun online quizzes with just a press of a button. You can even further automate the delivery by setting up the intervals in advance and having your learners take quizzes daily, weekly, or in a single burst.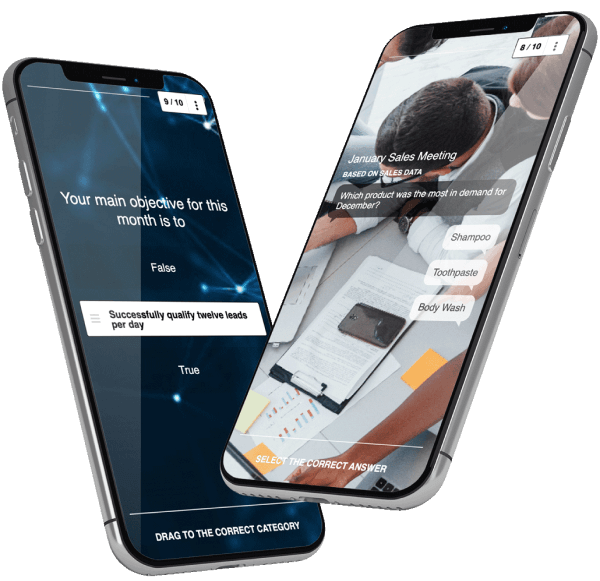 You can take advantage of other EdApp features and integrate them with Rapid Refresh. The leaderboard feature helps you and your learners identify who are the strongest and weakest performers on your team. This can spark friendly competition and motivate those who are falling behind to do better and those that are performing better to stay consistent. With push notifications, you can remind learners to reengage with any quizzes they may miss out on or inform them of any new lessons they need to take.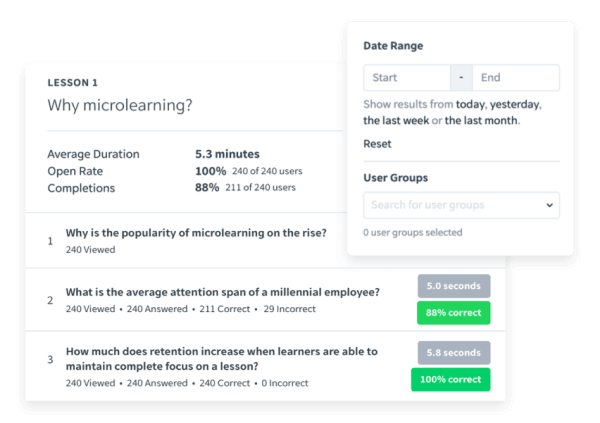 Keeping track of performance is also made possible with EdApp's full analytics suite. All data generated from your quizzes, surveys, and courses will automatically appear in the analytics dashboard as tables and graphs. You can use these insights to keep track of individual performance and identify knowledge gaps at a question level. Together with survey slides, you can also receive feedback and questions that you can address to provide additional support to your learners.
Cost: Free

Features: Mobile friendly, rapid refresh, gamification, automated deployment, leaderboards, push notifications, analytics dashboards, surveys
2. Quizlet
Want to know how to make quizzes that can help learners retain information? Quizlet is that answer! Quizlet is an online quiz maker that is well known for its flashcard format and great for creating free online quizzes for fun. Its game-show style content mostly sees its uses in educational settings, but it can also be used in employee training. You have access to a library of pre-made flashcards stacks for easier quiz authoring, or you can create your own from scratch. Flashcards can also include audio and visual content. This makes memorizing and retaining information less mundane and more inviting instead. Quizlet also supports mobile functionality, game-show style contests, practice tests, and timed games.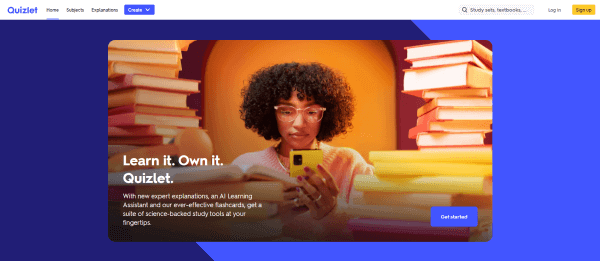 This tool is available for free, but if you want access to analytics and customization options, you'd have to get their paid service. QuizletPlus has a free 7-day trial and is priced at US5.99 per year. 
Cost: Free, paid plans start at US5.99 per year

Features: Game-show style content, pre-made flashcard stacks, authoring tool, audio and visual content, mobile functionality, analytics, customization
3. Kahoot!
Just like Quizlet, Kahoot! is mostly used in schools, but it has applications in corporate training. You can make your own quiz in minutes, either from scratch or with a pre-designed template. They have a variety of question types such as multiple-choice, true or false, polls, puzzles, and more. You can even add images and videos to boost engagement and interaction. Kahoot! promotes social learning with team competitions and asynchronous learning with self-paced challenges. Data and analytics are also available in real-time and can be used to shape learning pathways. 

Kahoot! is very easy to use and it's free, but if you have teams with at least 20 participants, you'd need to invest in a paid plan. If you also want import features and more customizable options as well, you'd need to upgrade your paid plan. 
Cost: Free, paid plans start at US0 per host per month

Features: Creation tool, pre-designed templates, various question types, images and videos, social learning, asynchronous learning, data and analytics
4. ProProfs
ProProfs is a learning solution that offers different training software like quizzes, assessments, surveys, and more. With its online quiz maker, you can make quizzes your way, either from a template or from scratch. They also offer different quiz types such as scored quizzes and personality quizzes, so you're sure to find one that's suitable for your training. You can also customize the look and setting of your quiz, as well as add images, videos, and other integrations.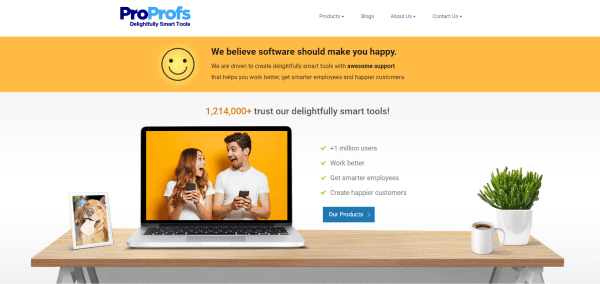 ProProfs is available for free, but it features ads, which can affect your learners' concentration. If you want to remove ads and have access to essential features like reporting and grouping, you'd have to get one of their paid plans.
Cost: Free, paid plans start at US5 per month

Features: Online quiz maker, templates, quiz types, customization options, images, videos, integrations, reporting, grouping
5. Typeform
Another online test maker is Typeform. Typeform uses a drag-and-drop tool to help you create professional online quizzes easily, with no coding or design experience needed. Use their quiz builder with ready-to-go quiz templates to give out different types of quizzes. With their Logic Jumps feature, you can build different question paths and create more relevant questions and learning experiences. You can personalize your quizzes even more with their Hidden Fields feature that allows you to create unique interactions and personally address your learners.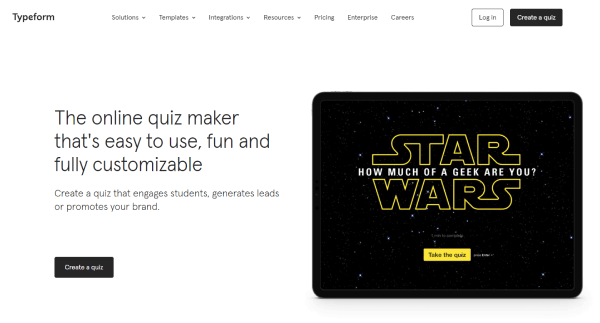 Typeform, however, doesn't have a pre-existing library of quizzes for you to take advantage of. And without a document converter or importer feature, this means that you have to create all your quizzes from scratch, which can take up time and resources. 
Cost: Free, paid plans start at US0 per month

Features: Drag-and-drop quiz creator, different quiz templates, question paths, personalization
6. EasyTestMaker
EasyTestMaker is a free quiz maker that lives up to its name because of its ease of use. You can create an interactive quiz with a variety of questions like tool trivia, multiple-choice, fill-in-the-blank, matching type, true or false, and more. Quizzes are also graded automatically, but you can override grading when necessary as well. Tests can be created out of an existing question pool, and alternate quizzes with different question orders can also be created with no extra work. EasyTestMaker also creates reports quickly so that you can see how your learners performed on each question. 

Core features to create quizzes and tests are available for free. But if you want more intuitive features like spell checking, text formatting, and advanced online test options, you'd have to invest in one of their paid plans.  
Cost: Free, paid plans start at US9.95 per year

Features: Different question types, automatic grading, question pools, alternative quizzes, reports
7. FlexiQuiz
Create, publish, and analyze online quizzes effortlessly with FlexiQuiz. This quiz-making software is perfect for those who want to provide their learners with a fun and interactive learning experience. With an intuitive user interface, creating quizzes requires no coding or software downloads, making quiz creation simple and easy. You can choose from 9 question types, upload supporting documentation, and show question feedback at certain times. They even offer customizable options as well as branding, grading, and sharing of quizzes. 

Something to keep in mind, especially if you want to try this digital learning platform, is that FlexiQuiz doesn't offer integrations and live support with its cheapest paid plan option. They do offer a free plan, but it limits your access to reports and analytics, as well as your quiz creation options. 
Cost: Free, paid plans start at US5 per month

Features: Intuitive user interface, question types, customizable options, branding, grading, sharing, integrations, live support
8. Qzzr
Qzzr is a quiz-creating software designed to help businesses understand their customers better. With a simple interface, you can have more time creating your quizzes instead of having to learn the software. You can even add in your branding with custom elements, images, and media to make your quizzes look right at home on your website or platform. Qzzr also has a data and analytics tool that you can use to discover what your respondents are really saying.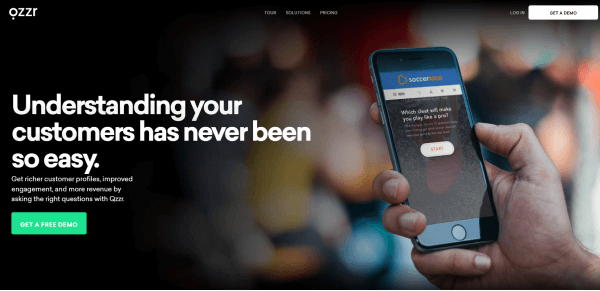 Because of the limitations of its niche use, Qzzr does have some drawbacks. Qzzr is also not a free platform, but it does have a free trial. 
Cost: Free trial, starts at US6.67 per month

Features: Simple interface, branding, custom elements, images, media uploading, data and analytics
9. Nearpod
If you're looking for a platform that makes use of slides and videos, then Nearpod might be what you're looking for. Nearpod lets you create interactive quizzes and activities by uploading supporting documentation like PowerPoints, Google Slides, PDFs, and videos. With its PowerPoint quiz creator, you can learn how to create a quiz in PowerPoint and how to make a trivia game on PowerPoint, You can even use their library filled with many different pre-made resources for every instructional moment. With nine different types of assessments, you can keep your learners engaged with the content and get real-time insights with these fun and interactive activities. 

While Nearpod can be used for free, you will be limited with both library storage and lesson space. This can be limiting if you're going to create quizzes in bulk. The number of learners that can take a session is also limited in number.
Cost: Free, US59 per year

Features: Uploads of supporting documentation, pre-made resource library, nine types of assessments, real-time insights
10. GoConqr
GoConqr is the last tool to create an interactive quiz on this list. It also works as an all-in-one learning management system, course builder, and quiz maker software that anyone can use to create their own assessments and learning content. You can easily build and deploy quizzes, provide immediate feedback, and securely track your learners' results and overall progress. GoConqr gives you access to a variety of question types and an existing quiz library so that you can test your learners more effectively. Lastly, it also includes mind maps, flashcards, notes, slides, flowcharts, and even a study planner, which help your learners retain information and stay organized.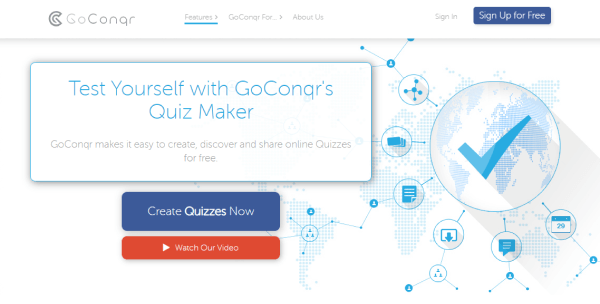 However, GoConqr features ads in its free version. It's important that your learners stay focused and not distracted, and ads are one way to ensure your learners' learning is disrupted.

Cost: Free, starts at /bin/sh.67 per month

Features: Quiz creator, immediate feedback, question types, quiz library, flashcards, notes, slides, flowchart
11. Outgrow
Outgrow is one of the top tools to create an interactive quiz for marketing professionals. You can make quizzes quickly by using fully customizable themes and templates. Its no-code online quiz creator will help you produce targeted leads, engage users, boost website traffic, and encourage client loyalty. You can test out the expertly created, pre-optimized templates of Outgrow's quiz maker for free for seven days to improve your conversion rates.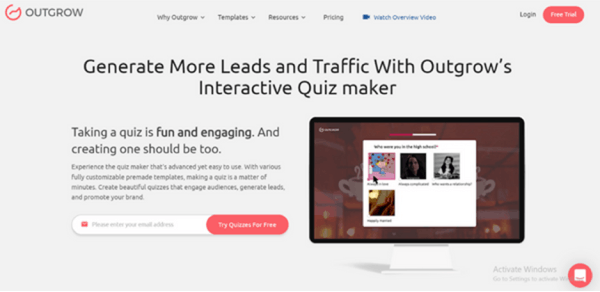 Cost: Free, starts at /bin/sh.67 per month

Features: Customizable theme, interactive quiz templates, no coding required
12. Fyrebox
Fyrebox makes it simple to construct interesting and well-designed interactive quizzes. You can track the success of your employees' training by introducing a presentation or a discussion quiz format that is similar to chat applications like WeChat, WhatsApp, or Messenger, or you can generate leads for the website of your company. With the help of this tool, you can alter the color scheme, add background images, and select the font styles for your form.