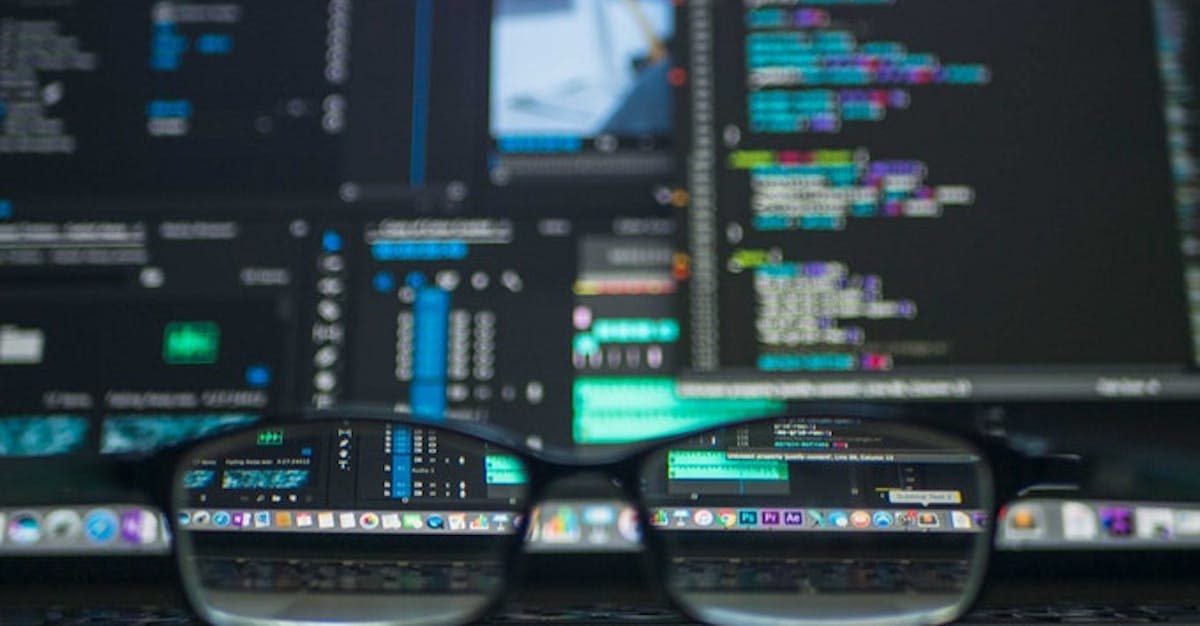 The General Data Protection Regulation (GDPR) is an EU data privacy regulation that was implemented in 2018. This law was created for data breach, privacy and security. All companies who offer goods and services to EU residents are required to abide by this regulation regardless of location. As such, it has a huge impact globally and not just in European countries and its members. Completing GDPR compliance training courses is essential because it is of utmost importance that you and your team know how to properly handle personal data and always be compliant with this law. To help you train your teams, we've rounded up the top 10 GDPR compliance training courses.
1. General Data Protection Regulation (GDPR) for Individual Privacy
The first course on our list is the one we know is best. It's from EdApp, a mobile-first, all-in-one learning content management system (LCMS). This General Data Protection Regulation (GDPR) for Individuals course covers what GDPR is and why it is important, how businesses interact with your data under GDPR and how GDPR affects you.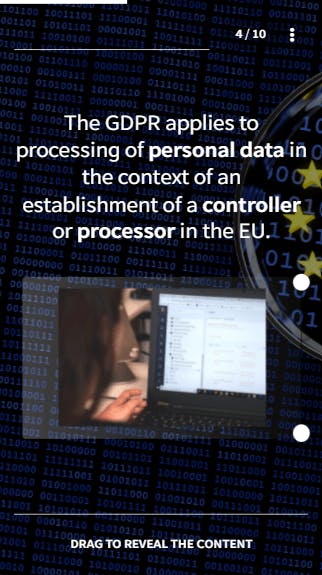 This course is unique because it is editable and can be customized for your team. A very important aspect of this course is that it is available to your team to do at any time, so they do not have to set aside hours or days to do it all at once. You should train your team with this course so they can learn about special category data, data processing principles, and more concerning data protection privacy.
Scope: Data subject, data protection laws, processing of personal data, safeguards, privacy laws
2. Certified EU General Data Protection Regulation (EU GDPR) Foundation And Practitioner
This GDPR training course is from The Knowledge Academy. The course is accredited by TKA and covers a range of topics.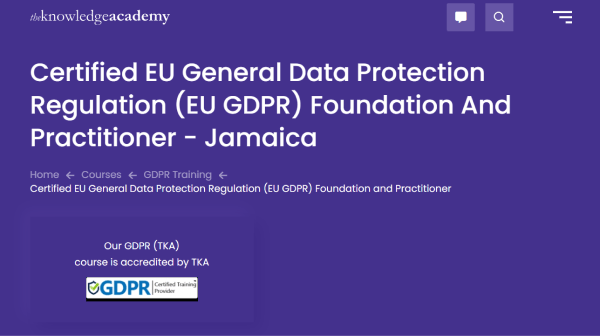 This course covers topics such as an introduction to GDPR, key terminology used when discussing GDPR, the main differences between the data protection act and the EU GDPR, the rights of data subjects, and many others. Unfortunately, this course is not asynchronous and is not free. You should register you are Workforce with this course if they have enough free time to take a course on available dates. The course is quite comprehensive so a lot of valid information will be covered.
Scope: Data protection officer, personal information, data protection authority, information commissioner, rights and freedoms
3. Introduction to Data Protection and the GDPR
Computer Law Training provides this introduction to data protection course. It is designed to give its students a basic understanding of the obligations, rights, and concepts specified by the GDPR.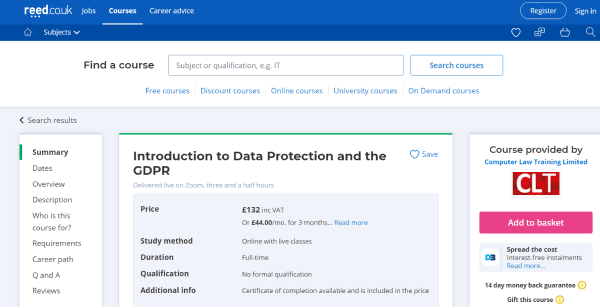 This course is three and a half-hour long and only covers the bare essentials. This may also be looked at as a negative thing as you may want a more complete course for your team. You can use this course to train your team if you are looking for something that can be delivered via a virtual classroom platform like Zoom, for ease of access. Note that the maximum number of participants is only 12.
Scope: Data protection rules, European commission, data protection and privacy, data protection authorities
4. Data Protection (GDPR) Foundation Certificate
This formal course from CLT is versatile and is suitable for the private, public, and third sectors. Workers who complete the course will receive a foundation certificate that is internationally recognized and also endorsed by TQUK. Please note, this is not a free course, so consider your budget when signing up your team.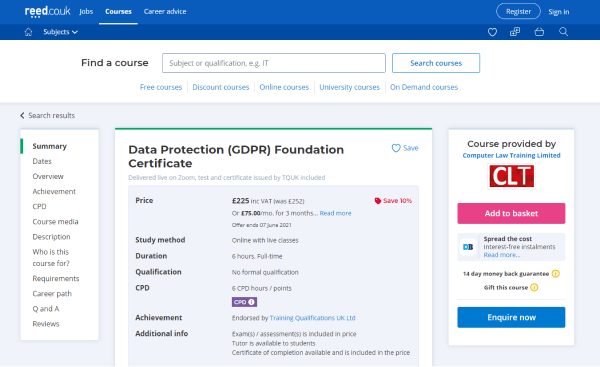 You can use this training course to train employees who already have a background in GDPR so they can follow the advanced material.
Scope: Privacy shield, public interest, privacy by design
5. GDPR and Data Protection Act 2018 Staff Awareness E-learning Course
This course from IT Governance is a staff awareness e-learning course that was recently updated for 2021. It allows for up to a thousand users at any one time and will help your staff comply with article 39 of the general data protection regulation. The course introduces data protection and the GDPR. It also explains the definition of integrity, confidentiality, and availability concerning the GPR. The course will give your learning organization an overview of the fundamental data protection principles related to GDPR and many other topics. If you need a scalable training course that is available free for you and your team, unfortunately, this course is a paid course.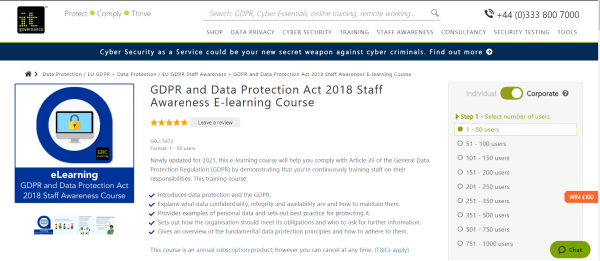 6. GDPR Training Course
This Training Express Ltd course goes through the new rules of privacy regulation, and new data processor, and controller obligations. This is a good course because it provides the basics of cybersecurity training to teach your learners how to process sensitive personal data and also relevant data protection terminology. Other positive aspects of this course are that it is accredited by the CDP and offers instant e-certification. The course may be self-paced, but you don't have an option to edit it for your workforce's specific needs. You should choose this course if you are looking for a budget-friendly certification course.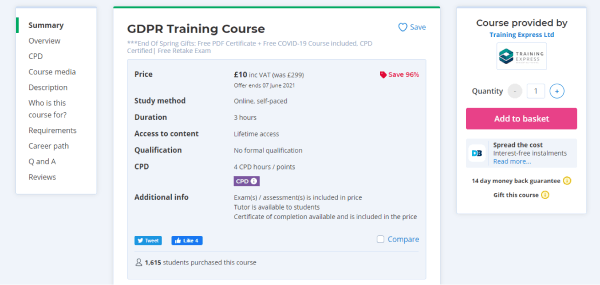 7. Certified GDPR Foundation Training Course
If you are on the market for a certified foundation GDPR training course, you can consider getting this one. This particular course provides a comprehensive introduction from specialist consultants to the GDPR. This course is unique because it will help your workforce to develop a practical understanding of the implications and legal requirements of GDPR. Unfortunately, the course is not an in-depth course that comprehensively covers all of the topics surrounding GDPR. It is only an introduction. You can use this course for your employee training if you would like them to get ISO 17024 certified because the course comes with an exam that leads to certification.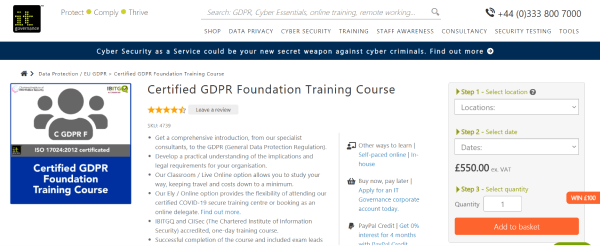 8. GDPR Training
Here we have a GDPR training course that is specifically designed for professionals that work in schools. This course teaches everything you will need to know about handling personal data in a school environment. The course is great for individuals working in schools because it is very targeted for their professions, but on the flip side, this is also a drawback for this course. Its specific nature makes it unusable for other industries. You can use it to train your school staff skills in data handling and dealing with data breaches.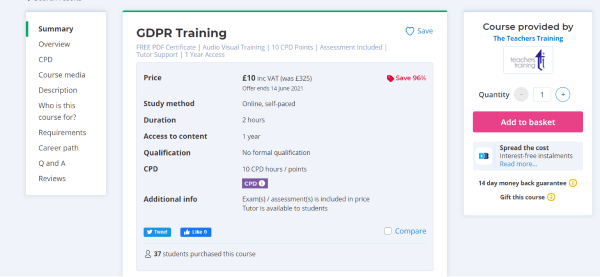 9. Certified GDPR Practitioner Training Course
This next GDPR course is a practitioner training course that provides knowledge and skills from specialist consultants to managers in your organization who will need to maintain an effective compliance program at your company.

This course has flexible attendance options. Learners can either choose to attend a certified COVID-19 secure training center or attend the course as an online delegate. Unfortunately, the course isn't a part of an LMS so it may be difficult to keep track of the learner's progress. You can use this course to earn your workers ISO 17024 certification (EU GDPR P).
10. Data Protection Impact Assessment (DPIA) Training Workshop
This is another course on our list from IT Governance. It's a little different from the others because it is also a workshop and follows a blended learning approach. The course serves to teach an understanding of all practical knowledge that one would need to perform impact assessment for data protection. Not a lot of courses are centered around performing assessments, but this one is. Unfortunately, the course has a hefty price tag and this could be a deterrent. Enroll your staff in this one if you want them to get a practical workshop experience.