With the help of competency-based training tools, managers don't need to start everything from scratch, as these platforms can streamline the process of creating training programs. Check out the list below to learn more.
Competency-Based Training Tool #1 – EdApp
EdApp is a multi-award-winning competency-based training tool that may be used for both small and big businesses. This LMS offers a straightforward and easy-to-use layout that will help you get the most out of your corporate training.
The current templates streamline course creation and make it easier to distribute content to teams. EdApp boasts a premium library of ready-to-deliver course content created by the EdApp team that managers can assign to learners' accounts. Courses are offered on a wide range of topics that suit a competency-based learning approach and can be taken as is or customized, thanks to the fully editable course library.
Additionally, you can get help and support from EdApp if you need it to create training materials for you. They take all the stresses associated with creating these courses from scratch, allowing you to implement your training program as soon as possible.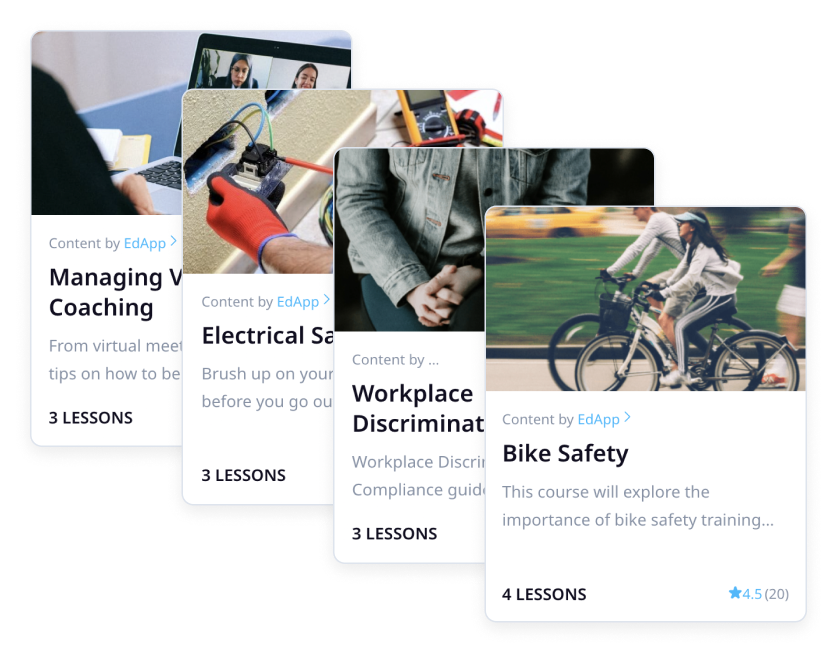 To assess the learnings and competencies of the team, managers can leverage EdApp's quiz maker feature called Rapid Refresh. It allows employees to complete quizzes in between lessons to reinforce their knowledge, while also allowing managers to see where knowledge gaps exist.
It's incredibly simple to create quizzes with Rapid Refresh — all you have to do is input your questions into their simple spreadsheet file and wait for the tool to automate it into a quiz format. You also have the option to have your quizzes delivered at chosen intervals. Their analytics tool is also useful for keeping track of training progress and success rates.
Features:
Course authoring tool

Editable course library

800+ high-quality courses

80+ highly customizable authoring & testing templates (no coding required)

Quiz maker, Rapid Refresh

Automated delivery

Analytics
Cost: Free
Create seamless competency-based training with EdApp. Join EdApp for free now.
Competency-Based Training Tool #2 – Brilliant Assessment
Brilliant Assessment's specialty is generating feedback reports that are personalized to every employees' skills and knowledge. Their competency-based assessment can be used in multiple areas of the business, whether it's for employee exams, content marketing, cybersecurity, company assessments, risk assessments, and more. With this competency-based assessment tool, you can tailor your test according to your company's needs. The platform has an intelligent scoring algorithm that makes the results detailed and as accurate as possible. Managers are also given a full view of the questions, answers, feedback, rating, and every data they may need for their analysis. This can be used by managers to prepare initiatives that can help their employees to do well in their job. Using the platform, team leads can create specialized training programs across a wide range of topics, including DEI training, bullying training courses, active listening programs, and more.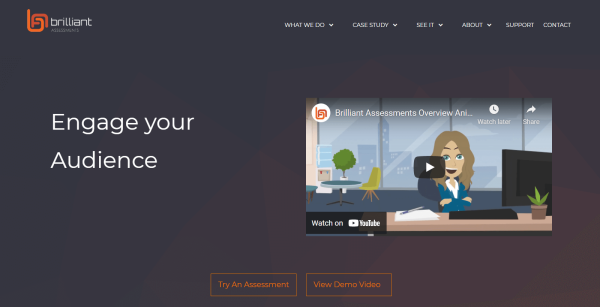 Features:
Intelligent scoring algorithm

Personalized brand reports

Assessments, responses, and feedback reports

Language translation for reports
Cost: Free trial, paid plans
Competency-Based Training Tool #3 – Degreed
Another versatile upskilling platform is Degreed, designed to provide a fluid skill-development experience for small and large-scale organizations. It integrates all learning materials that your workforce needs to grow and upskill or reskill – online courses, videos, podcasts, news, and blog articles. Data-driven insights on skills and growth opportunities allow you to efficiently curate custom learning journeys for your employees delivered through courses, videos, books, articles, podcasts, and projects. And by using its real-time data on each employee's unique strengths and interests, these resources will automatically find the right team who needs them the most.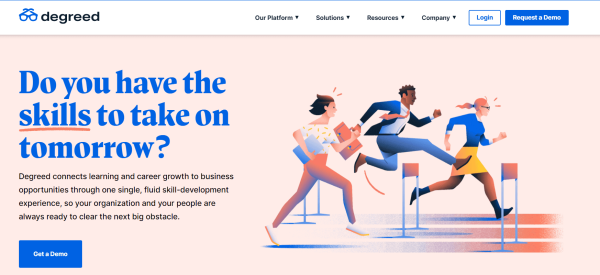 Another bonus feature is using this platform to reach your channel partners and external audiences and deliver these learning materials. This way, you can rest at ease knowing that their knowledge and skills are also in sync with your company's vision and objectives.  
Features: 
Wide range of learning materials in different formats

Real-time data insights

Automatic deployment

Resources extended to external audiences
Cost: Paid plans
Competency-Based Training Tool #4 – Skills Base
Skills Base is a powerful intuitive skills assessment platform that helps managers gather data needed to create better workforce strategies. This competency-based training system allows you to figure out the skills and interests of your employees using a self-assessment feature. This way, both managers and employees will be aware of the strengths and areas for improvement that can help with distributing tasks. It is a great way to enhance the capabilities of the employees whilst monitoring the progress that can ultimately affect business outcomes.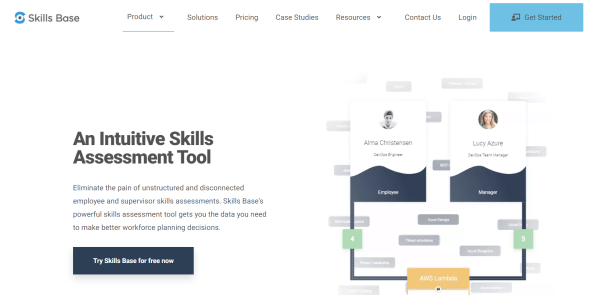 Features:
Assessment notification

Skills assessment data dashboard

Custom rating criteria for skills assessments

CSV/PD export results
Cost: Free
Competency-Based Training Tool #5 – Gyrus
Gyrus is a cloud-based competency-based learning platform that assists training managers in effectively meeting the learning needs of their employees and equally creating a meaningful learning experience for their learners. Its AI-driven features like e-learning and skills management tools are designed to develop personalized learning programs for various employees. In Gyrus, training content can be delivered through file-based courses, videos, webinars, simulations, documents, and virtual classrooms, which give you more flexibility in planning an adaptable training strategy. You're also able to instantly monitor the effectiveness of your training programs with its real-time data visualization and reporting.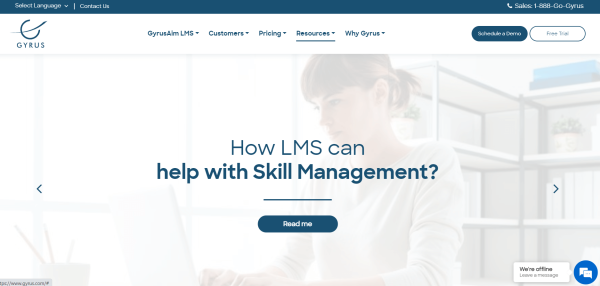 Through the platform, you can develop courses for various topics, whether they be technical or non-technical. Some examples of courses that you can design using the platform include product training courses, safety training, EMR training courses, quality control training courses, and more.
Features:
Various eLearning formats

Real-time analytics & insights

File-based courses

Several media formats
Cost: Starts at $300 USD/month
Competency-Based Training Tool #6 – Trainual
Developing the abilities and competencies of the employees has never been quick and easy with Trainual. This competency-based training tool has more than 150+ pre-built templates universal to different business industries, like a sales handbook, hiring checklist, orientation outline, and so many more. There are a lot of course selections for the employees to develop their knowledge for their roles.  It also offers 30+ free Standard Operating Procedure (SOP) templates that you can use to document your organization's policies and procedures. All you need to do is a little adjusting to ensure that the content fits the internal tasks and processes you have at your company. 
You may also opt to store and organize your useful documents in Trainual's library section. This way, all courses will be easily accessible, searchable, and trackable by users anytime they're needed. 
Features:
150+ universal templates

30+ SOP templates

Content library
Cost: Starts at $99 USD/month
Competency-Based Training Tool #7 – Vervoe
Vervoe is a skills assessment software that is versatile to use in any industry. The platform has 1,000+ skills assessments that are customizable, allowing trainers to tailor items to fit their company training. With that, Vervoe allows employees to recognize their abilities on a scale that permits managers to provide training to strengthen the learners' expertise. Following that, this competency-based training tool uses the evaluate, automate, and predict method, which is a three-step procedure that the platform is known for. Employees are expected to complete tests that the platform assesses automatically, providing details about their job performance in a period. It is a useful tool for managers to evaluate the next actions for the benefit of their employees and the organization's objectives.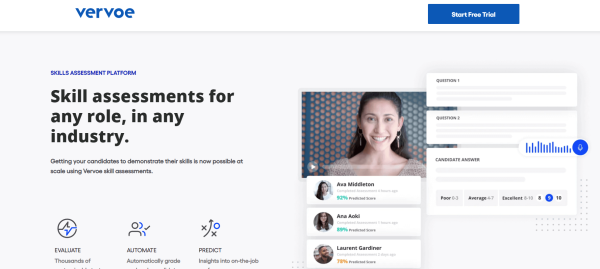 Features:
1,000+ skills assessment tests

Customizable tests

In-app branding
Cost: Free trial
Competency-Based Training Tool #8 – Vowel LMS
Vowel LMS allows managers to take control of how competency-based learning happens in your organization. It allows trainers to conveniently assign courses, track learner progress, and view customized reports. You can easily author courses on the fly with its drag and drop HTML course builder even without any technical knowledge. If you already have existing SCORM or TinCan-compliant content, you can just upload it with a click of a button or you can opt to choose from their content library if you don't want to start from scratch. Vowel LMS believes that engagement is a huge factor in learning so a personal profile feature is included where learners can share their interests and display their achievements to their peers.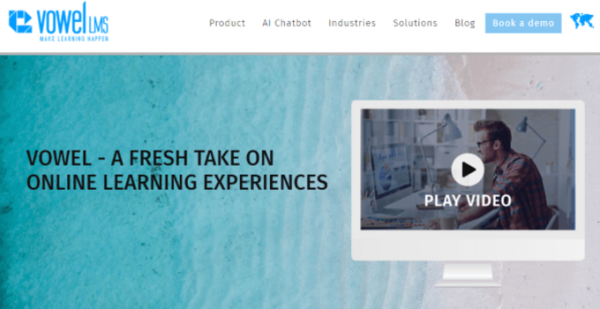 Features:
Drag and drop course authoring tool

Content library

Social learning hub
Cost: Paid plans
Competency-Based Training Tool #9 – Skillshare
Skillshare has gained in popularity as a result of its vast online courses aimed at upskilling teams and individuals from many industries, may it be in design, sales, and business. This competency-based learning platform primarily uses videos as a medium of instruction, which some learners can catch live if the time zone allows. Some of the learning tools, on the other hand, are confined to pre-recorded training videos from industry experts and specialists. The recordings can take up to 40 minutes long, which can be a struggle for some learners that have a short attention span. However, learners have the freedom to watch the lessons at their own pace so they can visit the videos anytime. These online classes are also accessible on mobile devices, so learners can keep learning on the go.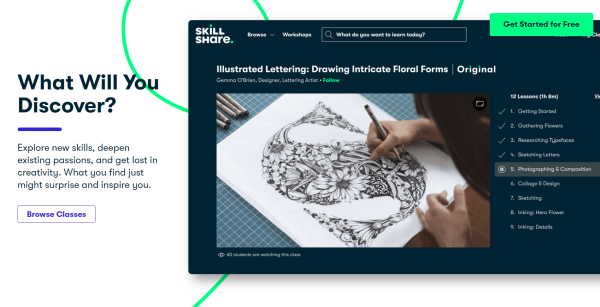 Features:
Live and pre-recorded online classes

Wide range of course topics

Mobile accessibility 
Cost: Paid plans
Competency-Based Training Tool #10 – ProProfs
ProProfs was built to make the process of developing competency training content a lot easier. With hundreds of themes and audiovisual resources to choose from, you have the freedom to create any online training courses and quizzes. To make things easier, this LMS includes a unique library of readily available courses that you can easily lift and distribute to your teams. Discussion forums and virtual classrooms are also used to develop a collaborative learning environment. You may quickly expedite operations in producing training materials and track the progress of each team member using its training management system.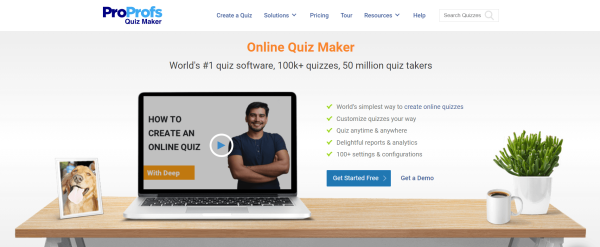 Features:
Premium course library

Editable course content

Discussion forums

Virtual classroom
Cost: Free, paid plans