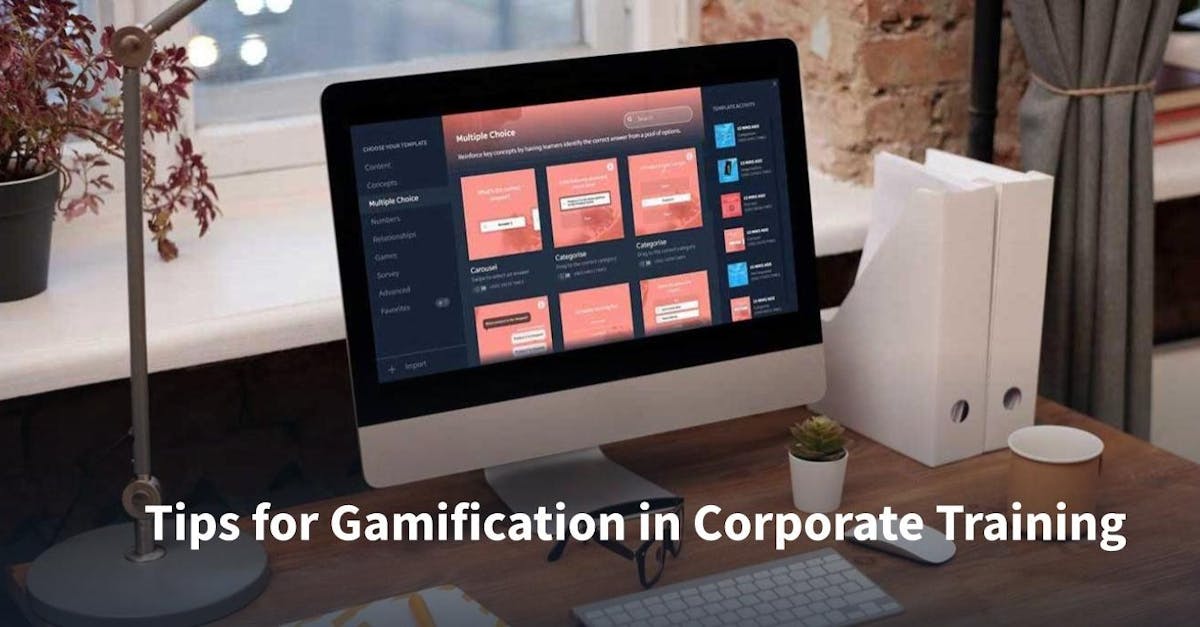 Gamification in corporate training is a strategy that helps increase learning engagement among employees and improve their knowledge retention. To guide you, we've listed tips for gamification in corporate training, including some learning management software tools that can help you in implementing them. 
1. Transform your traditional eLearning courses with gamification 
Gamification is the process of incorporating gaming elements into traditional eLearning courses to make them more interactive. This can be in the form of lessons that are transformed into casual smartphone games. For instance, with gamification in corporate training, instead of simply deploying training for your employees to read, you'll apply concepts like matching key messages, or making them identify the right sequences of a process. Research suggests that the use of play elements in a formal environment, such as work, can significantly boost employees' engagement and interest. It's an effective way to combat the lack of motivation and boredom associated with learning work-related information. When learning doesn't feel like another mundane task, gamified microlessons are proven to result in 90% (or higher) completion rates compared to typical eLearning courses.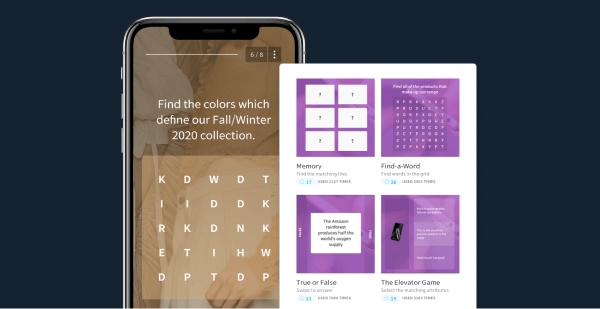 Thankfully, there are online Learning Management Systems (LMS) like Edapp that can help you transform your old training materials into engaging gamified courses. To test out the effectiveness of gamification in your training without spending even a single cent, EdApp provides Trade-In-Your-Training. With this service, you can simply share up to three SCORM-compliant training materials of any format and our expert team of instructional designers will incorporate learning strategies such as gamification into the courseware–all for free! 
2. Automate gamification through authoring tools 
One tip for gamification in corporate training is to automate the process by leveraging platforms that support gamification in their authoring tools. Many platforms offer gamification that can be applied to online short training courses, presentations, quizzes, and many more. They give you access to a lot of interactive gamification templates so you don't have to start from scratch, especially if you have no prior experience with applying gamification in your training.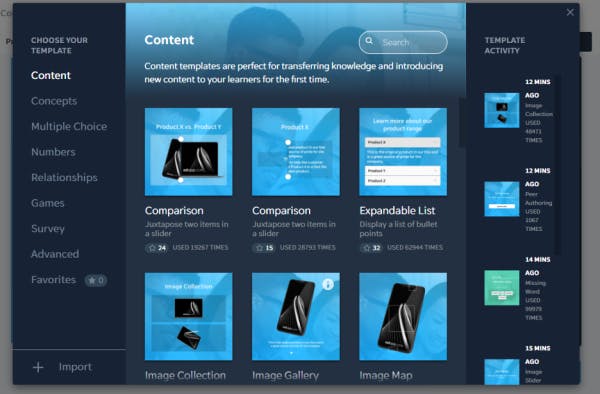 EdApp is one of the free blended training software in the market that incorporates game design elements and features, such as leaderboards, rewards, and scoring to help increase learner engagement. Its authoring tool includes a free template library that includes interactive games, such as a letter jumble game, jeopardy game, and memory game. These gamification templates can be applied in lessons and even in refresher quizzes to better support your corporate learning efforts. 
3. Apply gamification with microlearning
Microlearning is an approach where bulks of overwhelming information are transformed into bite-sized modules that focus only on key elements of any subject. It's a straightforward but engaging training strategy to prevent cognitive overload among learners. By focusing only on what's important, lessons become easier to understand for the learners. Therefore, it also makes it easier for them to store information in their long-term memory unlike with traditional training courses that may have too much unnecessary additional information.  With the compact nature of microlearning courses, they can be completed in just a couple of minutes, unlike traditional courses that take hours or days to complete. That's why the engagement power of the gamification strategy is best combined with the convenience of microlearning. This is to make elearning development and training easier to understand, more engaging, and less time-consuming all at once.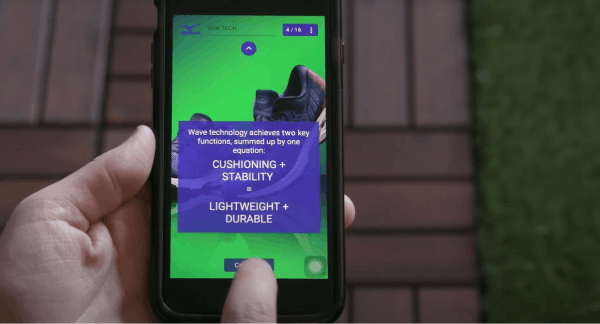 This strategy is leveraged by Mizuno, one of EdApp's clients in the retail industry. Through mobile-first microlearning with EdApp, Mizuno is able to train their internal teams and external retail partners on constantly updating and expanding products — including footwear ranges, which are updated every six months. Their employees reported that their microlessons in EdApp helped them to understand and retain their learning materials better.
4. Deliver gamified microlessons with mobile learning
Mobile learning, or mLearning, is not just simply making training accessible across multiple devices, but rather incorporating smartphone technology into the learning experience. Delivering your gamified microlessons with a mobile learning approach makes training courses feel more like a smartphone game instead of an overwhelming traditional eLearning course. Aside from making learning even more interactive, it also serves as an efficient way to train employees at scale, whether they work remotely, in the office, or on-site, as training materials are easily accessible on their mobile devices.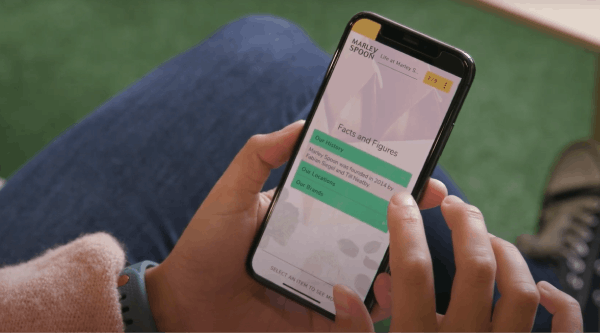 Marley Spoon, one of EdApp's clients in the food service industry, has demonstrated how this mobile learning example helped them amidst the unprecedented challenges brought by COVID-19. Mobile Learning, with the support of EdApp LMS platform, allowed Marley Spoon to onboard hundreds of new employees and provide vital information such as food hygiene training and procedures in just a short period of time. It serves as the best modern learning solution at a time when face-to-face training isn't possible due to the pandemic. Whether the employees are on-site, at production centers, out delivering products, or at the office, they can easily complete their microlessons within just a couple of minutes. 
5. Motivate learners through a friendly competition
Some employees thrive in friendly competitions which can be incorporated into gamification in corporate training programs through leaderboards. To rank on the board, employees should earn points on their online learning activities such as completing lessons and passing assessments. This strategy recognizes outstanding learners and also motivates underperforming learners to improve their performance. Instilling a sense of extrinsic motivation in employees boosts motivation which further enhances the gamified microlearning experience.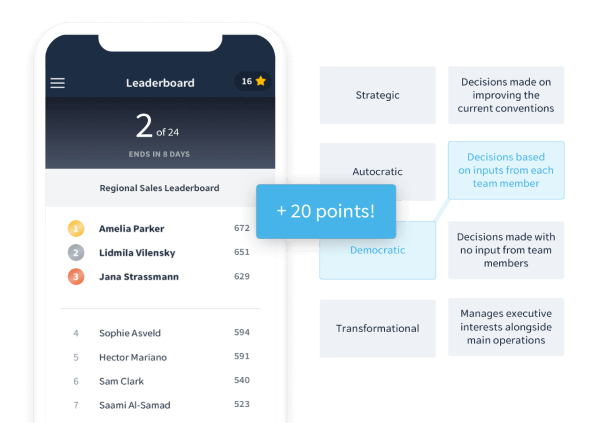 Dunhill, another EdApp client, was able to implement leaderboards as part of their gamification strategy. Through EdApp's cloud based Leaderboards feature, they were able to build a sense of community among different regional teams by creating friendly competition. It also helped Dunhill organize groups of learners into teams and have a straightforward overview of the participation and completion rates on an individual and group level.
6. Recognize employee learning progress
Another tip for gamification in corporate training is by recognizing employee achievements for their time, effort, and hard work in completing their online courses. To keep employees engaged and motivated, allow them to earn certificates, incentives, and badges for their learning progress. This strategy gives learners the opportunity to further step up in their training and beat their own progress.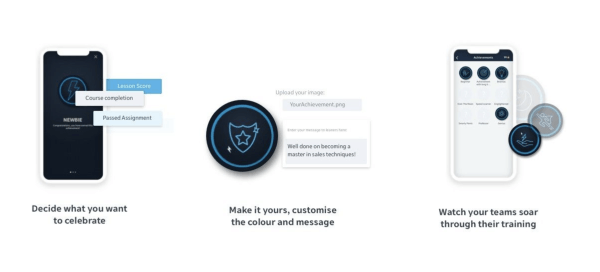 EdApp's LMS software makes this easy with its certificate management feature. With this tool, you can reward learners with course completion certificates that they can easily save and download. Aside from certificates, EdApp developed the world's first-ever customizable Achievements feature which is a reward system to help level up your engagement game by awarding and incentivizing superb learning habits. It allows you to congratulate, motivate, and inspire learners with customizable banners and badges for every learning milestone.
7. Reward learners with real prizing/rewards
Another way to leverage gamification results and recognize outstanding learners is to reward them with real prizing/awards. Rewards and incentives help employees narrow their focus as they have their eyes on a certain prize. Real prizing/rewards serve as a strong motivator that drives learners to complete lessons and earn more points. This helps further boost competence and encourages employees to achieve better learning results. It also serves as an effective way to combat resistance to training.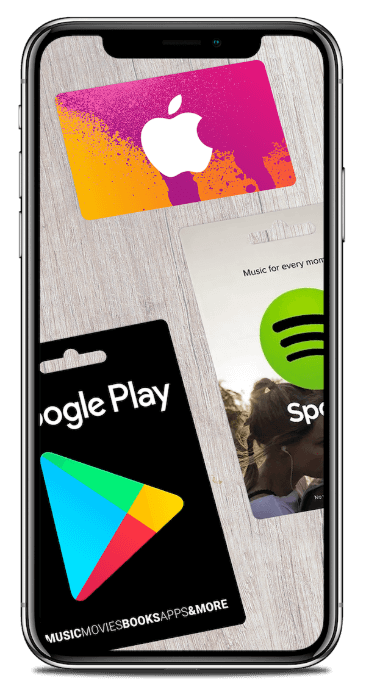 One gamification rewards example is EdApp's Star Bar functionality which enables employees to earn stars upon training completion.  They can then use these stars on Prizing Draws like Gift Grab, Spin to Win, Star Bids, and Lucky Dip to win a prize that's set by your company, whether it's voucher codes, discounts, and more. These can come in the form of movie tickets, food, and many others.
8. Apply gamification in quizzes
Another employee training idea to enhance the memory retention of your employees is by applying a gamification strategy to your quizzes. Administering quizzes allow you to efficiently assess your employees' level of knowledge and expertise, knowledge gaps, and learning progress. It also enables you to reinforce key information after a training session or a company general meeting.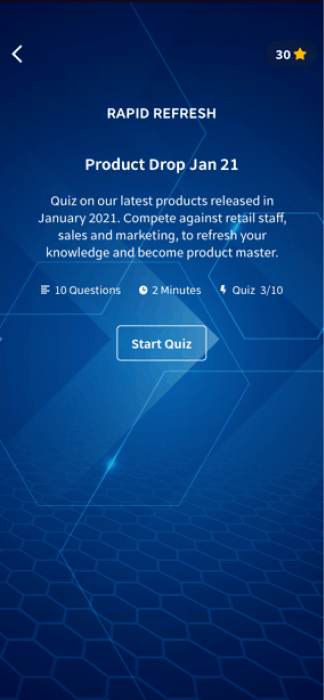 By leveraging online quiz creators like EdApp's Rapid Refresh, you can easily create quizzes that can be conveniently accessed by your employees.  It serves as an efficient tool for creating interactive gamified quizzes to assess and reinforce learner knowledge, even without any prior existing content in EdApp. Questions are set up using an easy-to-complete template, and quizzes are deployed for single or multiple sessions or delivered at regular intervals, whether daily or weekly. To help you understand the performance of learners or user groups, Edapp can instantly deliver granular reports once a quiz is completed. 
9. Use gamification to get feedback
Gamification is traditionally applied to eLearning modules. But, you can also incorporate gamification to elicit learner feedback and measure the learner's experience. This allows you to encourage learners to access surveys and provides valuable feedback that will help you improve your training programs to address their needs. Typical surveys are usually long and boring which makes it feel like such a mundane task. By using gamification in surveys, providing feedback becomes fun and less overwhelming.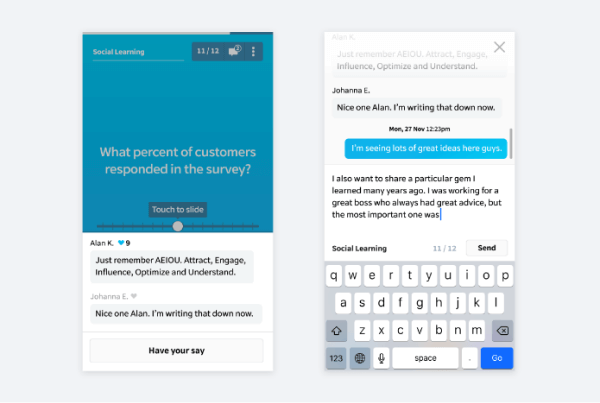 EdApp facilitates this concept with a built-in survey template. Along with other intuitively-designed templates found in the platform's extensive template library, surveys exist so you can easily gather feedback from your learners about your lessons. To continuously ensure that you're providing the best training possible for your learners, this type of feedback empowers your learners to add ratings or offer suggestions for future lessons. EdApp enables users to continuously improve learning content and delivery while simultaneously making learners feel valued.
10. Create a scenario-based simulation training with gamification
Scenario training, also known as scenario-based training, is a powerful method that uses immersive simulations like eLearning gamification, virtual reality, role-play training, and the like to help employees apply knowledge and skills in real-life situations. Scenario training uses a more practical approach to learning where employees can explore consequences and see the impact of their decisions at work. Employees use and practice skills that they'll need for their role, in a controlled and simulated environment. 
Among other templates in EdApp's template library, the Chat template is your best choice for creating scenario-based training with gamification. The template allows you to simulate real-life/workplace conversations using speech bubbles, and ask learners to pick the most appropriate response for a given situation. This highly engaging multiple-choice template can be used to contextualize training for retail, sales, and other related industries.