Companies that are looking to grow their teams should consider getting an onboarding LMS. This will streamline your onboarding and training process so that your new hires can be prepared for their roles and contribute to workplace productivity faster. In this list, we've gathered 10 onboarding LMS that will help you improve your onboarding process' effectiveness. 
Onboarding LMS #1 – EdApp
Our first onboarding LMS on this list is EdApp, an award-winning, free microlearning platform that can help you train new hires and existing employees. EdApp features an authoring tool and an extensive, editable course library with over 800 courses available. You'll surely find a course suitable to your organization's needs with varied training topics for employees ranging from management, marketing, healthcare, finance, leadership, and more. These courses can be accessed from any device, so you and your teams can take their courses from their phones while at a coffee shop or on their computers at their office desks.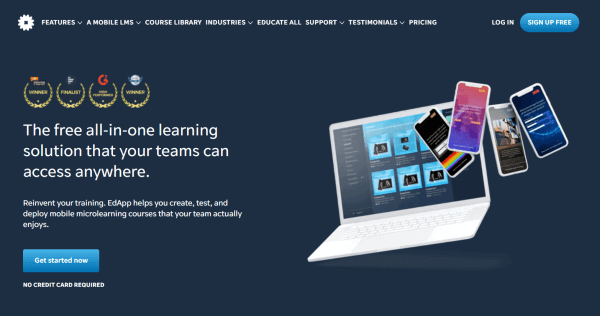 These courses and lessons are made to be engaging with gamification. With game-inspired templates, boring lesson slides have been transformed into a fun, gaming experience. This strategy helps in improving information retention and increasing course completion rates. You can see these completion rates and other learner progress information such as log-in dates, lesson progression, and more with a user-friendly data and analytics dashboard. You can take this data even further and integrate any of your existing tools with EdApp's public API to make reporting more efficient.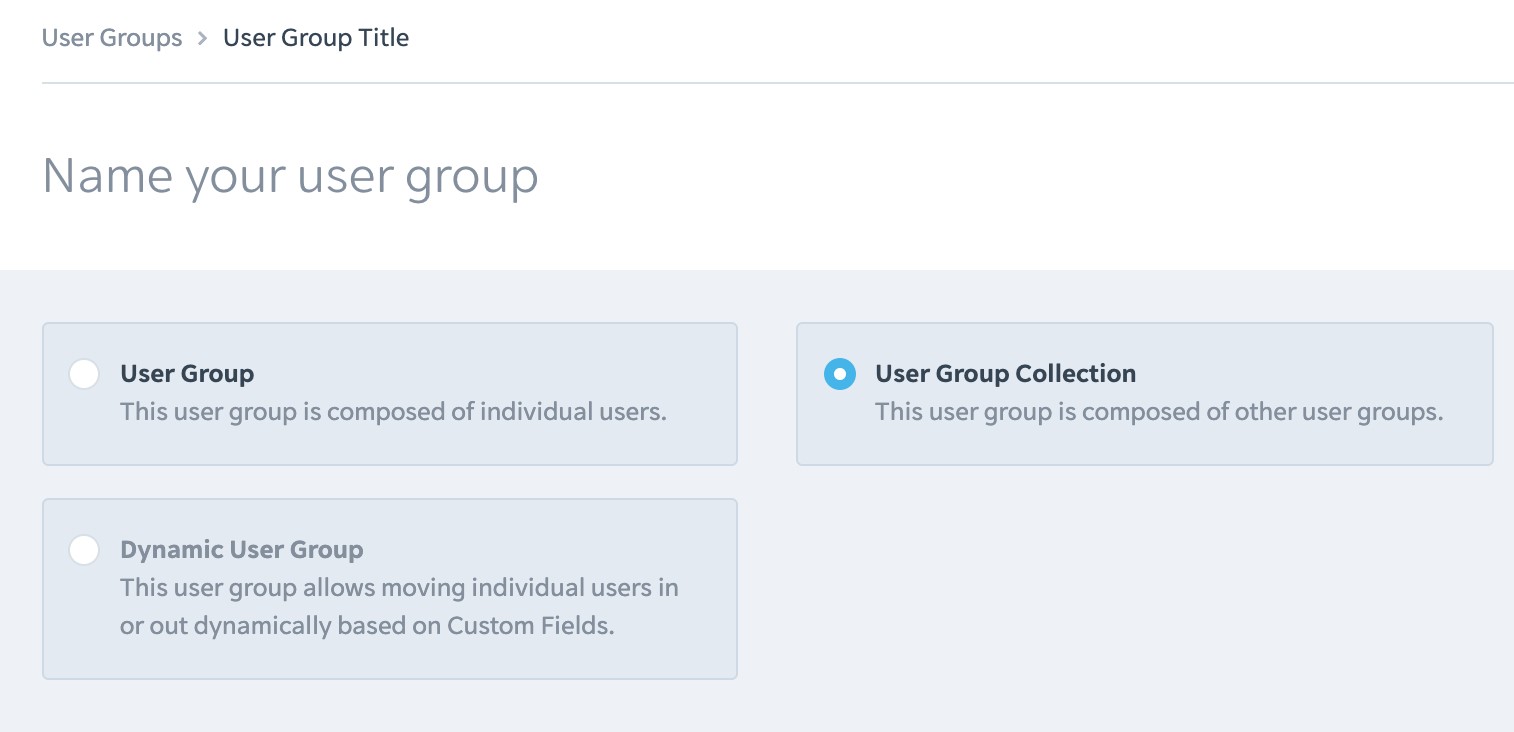 EdApp also has an intuitive user management feature where you can group users for relevant training according to role, team, or seniority. Start your employees' training in minutes by sending out emails or inviting links in bulk. You can even remind them to complete their courses with embedded push notifications. These features ensure that your managers or team leaders are up-to-date on the learning progress of their new hires and team members. 
Cost:

Free, starts at $1.95 per active user per month
Features:

Authoring tool, editable course library, cross-platform, gamification, data and analytics, API integration, user management, invite links, push notifications
Onboarding LMS #2 – AcademyOcean
AcademyOcean is a great way to onboard and educate new hires with their roles. Its biggest feature is the ability to automate the entire onboarding process for your employees. From day one, your new hires will have access to structured content in interactive formats such as images and videos, including different assessments like quizzes and assignments. This platform also includes portals and libraries to easily and effectively share company information. This can all be accessed through their phones, making your onboarding process more accessible.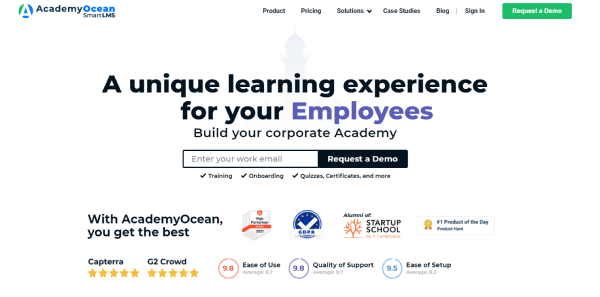 While AcademyOcean does promote its easy-to-use creation tool, it doesn't have an existing course library that can be edited. This requires you to create content from scratch which can take up time and resources. Additionally, this onboarding software isn't available for free.
Cost:

Starts at US$225 per month
Features:

Automation, interactive content, assessments, knowledge portals and libraries, mobile app
Onboarding LMS #3 – WorkRamp
WorkRamp is designed as an all-in-one corporate learning platform and onboarding tool for your personnel, especially those in sales, support, retail, marketing, and HR. You can build onboarding programs with customized learning paths based on role, team, or seniority. Learner progress and performance can also be tracked with their data dashboards and analytics. WorkRamp features customizable calendar templates too, making it easy to onboard multiple new hires.

However, WorkRamp is a digital training management system that doesn't work on mobile. But with its many integrations and existing features, it's still possible to streamline the onboarding experience for your new hires on a computer or laptop. 
Cost:

Request for a quote
Features:

Customized learning paths, data and analytics dashboards, customizable calendar templates, integrations
Onboarding LMS #4 – AdaptiveU
You can grow your team and foster a culture of individual and company growth with AdaptiveU. This course management tool allows you to create onboarding training courses and training paths for new employees, as well as host compliance training for existing employees. AdaptiveU encourages collaboration with its ability to share content and check peer performance, allowing learners to share any relevant and helpful information. You can also generate learning reports to track individual performance.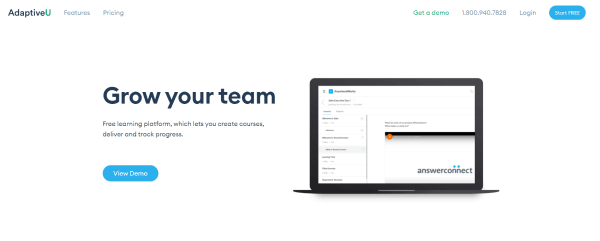 While AdaptiveU promotes cloud-based and shared learning, this tool doesn't support gamification. Without gamification, your onboarding process might feel like any other mundane task and not feel as engaging or interactive as it could be. 
Cost:

Free, starts at US$25 per month
Features:

Course creation, training paths, content sharing, peer performance, reports
Onboarding LMS #5 – Academy LMS
Academy LMS is an onboarding LMS that allows you to create online course modules, set up multiple online quizzes, build lessons with different content formats, and communicate with learners with a built-in messaging feature. With their course management feature, you can easily create and deploy training materials for onboarding in different formats such as videos, PDFs, documents, or images. Also, new hires can download the Academy app to access their training content anytime, anywhere. This LMS software supports additional add-ons such as analytics, forums, SCORM compatibility, and more, but these additional features are being offered at additional prices.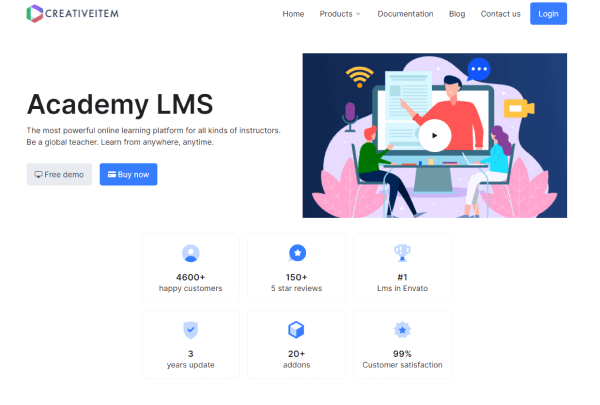 Features:

Course creation and management, quizzes and assessments, different content formats, built-in messaging, mobile app, add-ons
Onboarding LMS #6 – Administrate
Administrate makes it possible to plan, organize, deliver, scale, and track all your onboarding resources in a single-centralized system. It includes features such as course templates, event management, integrations, and learner data and analytics. Additionally, it features virtual instructor-led training, allowing you to convert face-to-face training programs into virtual training sessions.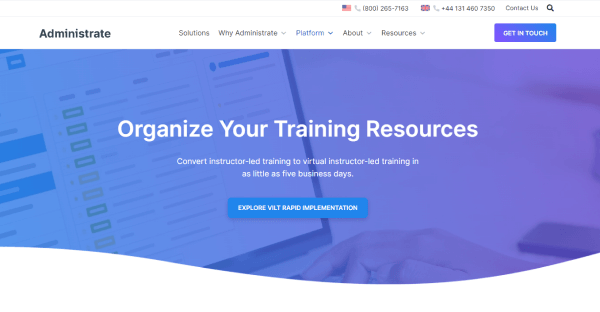 Administrate doesn't have an editable course library that you and your team can make use of, so all onboarding and training material would have to be created from scratch. Not to mention the interface may be intimidating for first-time users and will have to take some tinkering to get used to.
Cost:

Request for a quote
Features:

Course templates, event management, integrations, data and analytics, virtual instructor-led training
Onboarding LMS #7 – Cloud Academy
If you need a top training portal that allows businesses to create comprehensive learning content for both new hires and current employees, then Cloud Academy might be the right fit for your organization. This training tool features a content library that you can easily clone and customize directly from their platform. It also includes learning paths, training plans, quizzes, and exams. You can even create specific content for your organization with their content engine. Training and testing of skills can even be done offline, making your onboarding flexible. 

In case this is relevant to your company's training and onboarding, Cloud Academy's course library focuses on technical skills rather than soft skills. The course library is limited to certain subjects like technology, cloud-based software, web services, and programming, and lacks courses for management, retail, and sales for example. 
Cost:

7-day free trial, stars at US$39 per month
Features:

Content library, learning paths, training plans, quizzes and exams, content engine, offline mode
Onboarding LMS #8 – 360Learning
360Learning is another LMS that promotes collaborative learning. The tool offers a collaborative authoring feature that supports course templates, video recordings, and cheat sheets. These add-ons help speed up the creation process. Similarly, the creation tool features different types of questions, such as multiple-choice, fill-in-the-blank, and true/false questions to encourage, engagement. With discussion forums, you can use social learning to help improve your learners' knowledge and address knowledge gaps.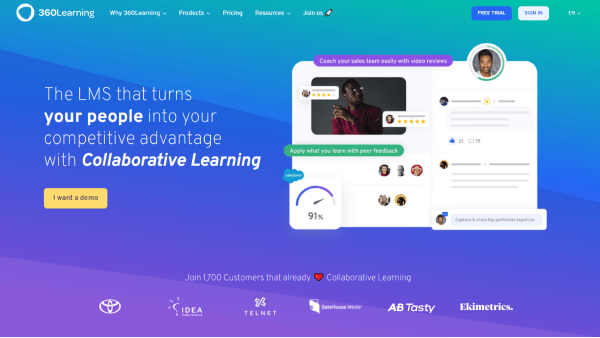 360Learning also supports mobile learning and an offline mode, taking your onboarding learning experience to another level. However, this LMS isn't free and doesn't feature an existing, editable course library like other tools on this list. 
Cost:

Starts at US$8 per user per month
Features:

Collaborative authoring tool, course templates, videos, cheat sheets, different questions, discussion forums, mobile app, offline mode
Onboarding LMS #9 – Auzmor Learn
Auzmor Learn helps simplify employee training. With its course and lesson library, you and your team can have easy access to third-party content. Learning progress and performance can easily be tracked as well with customized analytics. You can use analytics to monitor learning trends, identify issues, and validate lesson completion. Similarly, you can have access to real-time results and insights that can help you improve learner performance. Auzmor Learn also supports mobile learning, with their software being compatible with screens of all sizes.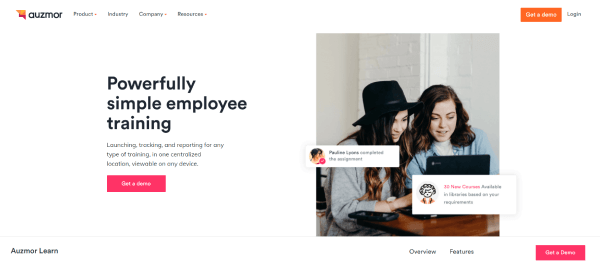 However, Auzmor Learn doesn't support gamification for a mobile training app. Additionally, the software also isn't free despite its limited features and add-ons. 
Cost:

Request for a quote
Features:

Course and lesson library, customized analytics, mobile learning, real-time results and insights
Onboarding LMS #10 – Coassemble
The last onboarding LMS on this list is Coassemble. Coassemble allows you to transform static documents such as PDFs and Word documents into beautiful and engaging courses. With their course builder, you can choose from 30 lesson screen templates and make your content engaging with images, text, and other interactive elements. Additionally, Coassemble features advanced branding and workspace customization so that your training contents promote brand recognition and consistency.

With integrations, you can connect Coassemble with your existing tools and streamline daily tasks. Unfortunately, this tool isn't free, and although it has a course builder, it doesn't have an existing course library. 
Cost:

Starts at US$49 per month
Features:

Document conversion, course builder, lesson screen templates, advanced branding, workspace customization, integrations