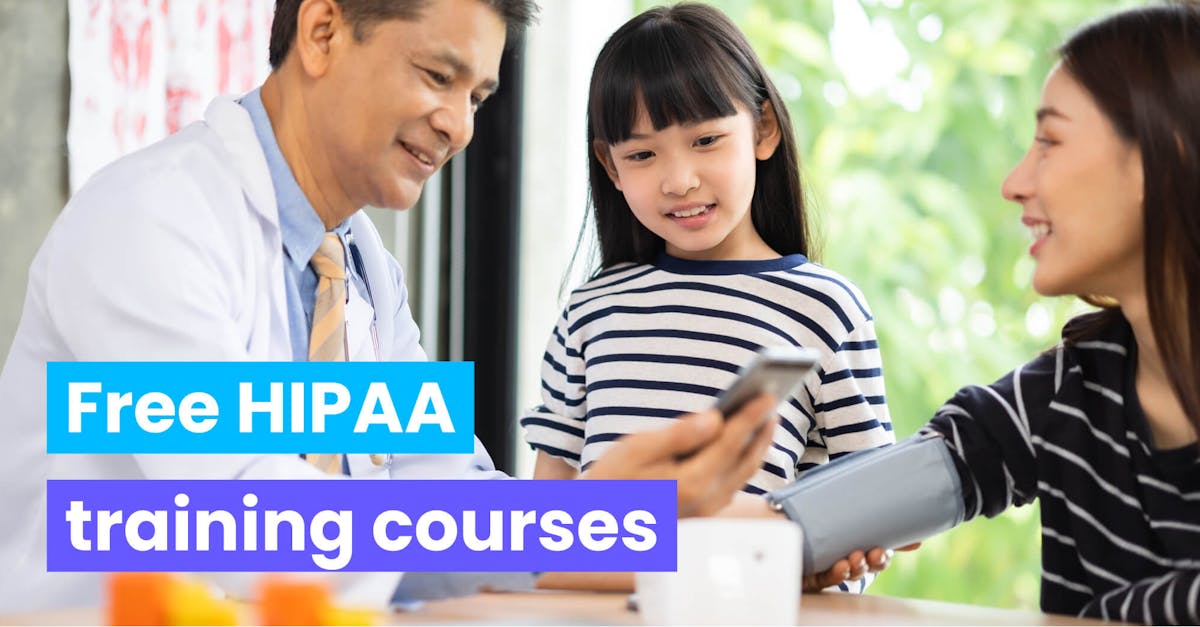 The Health Insurance Portability and Accountability Act (HIPAA) ensures the security, privacy, and integrity of health information of patients across the US. Failing to protect patient privacy can lead to fines and even jail time. We've compiled a list of online HIPAA courses to keep your teams up-to-date on the latest regulations.
What is HIPAA training?
The goal of HIPAA is to reform the field of healthcare by lowering costs, streamlining administrative processes and burdens, and protecting patient privacy and security. Today, HIPAA training is primarily focused on: ensuring the privacy and security of patients' health information. Regularly training and refreshing your healthcare workers' HIPAA training educates them on the details, guidelines, and standards of HIPAA.
1. HIPAA Compliance Training by EdApp
Get your entire team to be completely HIPAA-compliant with EdApp's HIPAA Compliance Training course. The course defines what HIPAA is and why it was established. It educates learners about patient privacy, such as best practices in HIPAA compliance scenarios, threats and remedies, as well as privacy, breach, and security rules. For example, a common vulnerability for healthcare professionals you might be familiar with nowadays is patient online data, which you'll learn how to keep secure in online communication (i.e. HIPAA compliant emails should be both encrypted and decrypted to NIST standards).
It also provides knowledge checks and sample scenarios where learning can be immediately applied and evaluated. At the end of this course, learners have access to a full resource library that they can refer back to anytime, anywhere.
As a mobile-first platform, learners can complete their free HIPPA training course on the go – leading to higher completion rates and message retention. This course is perfect for busy healthcare professionals so they can learn at their own convenience. And with built-in analytics, it's easy to remind learners who haven't completed their training with automatic push notifications. You won't ever need to go back to using those wordy free HIPAA training PowerPoint presentations you find around the web.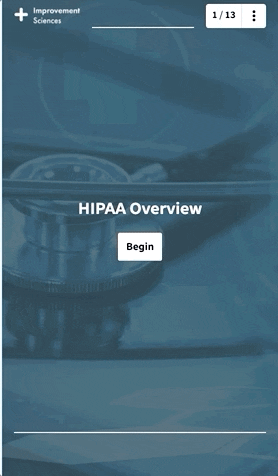 You can also use EdApp as a great HIPAA refresher through the Rapid Refresh feature. The feature allows you to create quick quizzes (like HIPAA compliance quizzes) either from scratch or with templates for your team to take after their courses. You can then set how often you'll be sending these refresher tests. Think of them as convenient HIPAA practice tests free for you to use at any time. And you can easily upload any kind of content you have. For example, if you have some HIPAA policy and procedure manual templates that you can freely download, you can add learning questions from those and then immediately have a refresher quiz ready to go!
Additionally, with EdApp's AI create feature, you can cut down the time you'll need to spend building quizzes and courses from scratch. It allows you to transform your ideas into compelling and effective training in just seconds.
Ensure your team is becoming HIPAA compliant with EdApp's free HIPAA training courses. Sign up for free today.
2. Accountable HQ
A more accessible guide to HIPAA is HIPAA Training – Intro to HIPAA, which is hosted at Accountable HQ. They offer a free basic training module on their website for general HIPAA training or even for HIPAA privacy officer training.
Their guide includes a series of instructional videos and ends with a cumulative quiz. Successfully completing the quiz will reward you with a printable certificate. Additionally, they offer extra reading content related to various aspects of HIPAA, although it's not integrated into the learning module. Getting more in-depth training, however, requires a monthly subscription.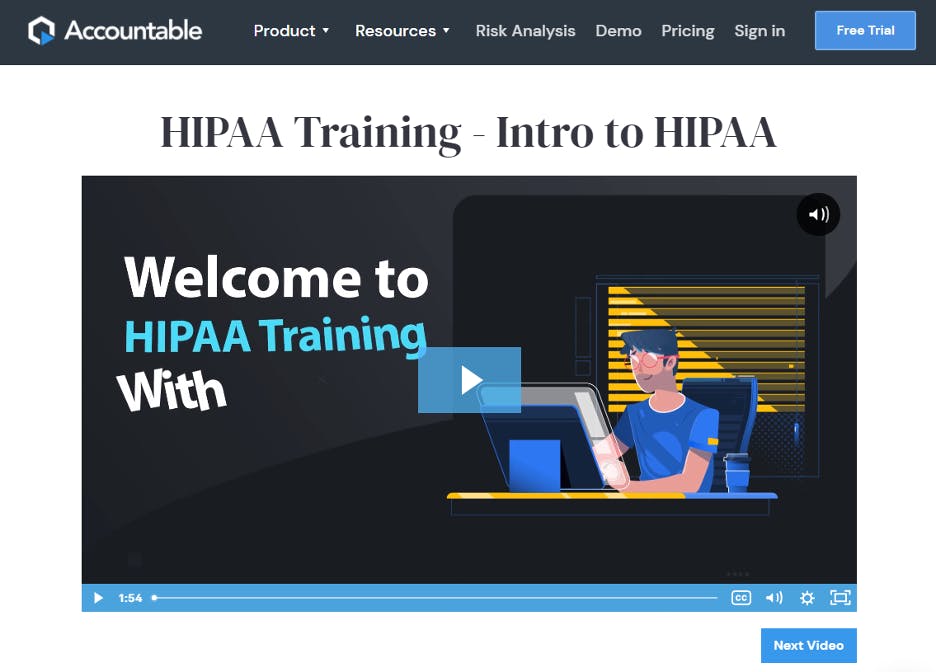 3. OSHAcademy Certificate
The OSHAcademy offers up another free online HIPAA training course called HIPAA Privacy Training. This is a well-organized course with all of its navigation and options available at all times. If you're looking for HIPAA compliance officer certificate or just HIPAA EDI training (Electronic Data Interchange), this is the resource for you. The course will cover everything from HIPAA law components, privacy/security rules, filing complaints to privacy practices, training requirements, and personal rights.
The OSHAcademy course is in three separate modules, and each one includes multimedia content and quizzes. The first module is a general overview of HIPAA, the second module is about personal rights guaranteed under HIPAA, and the last module covers the responsibilities of healthcare providers. Passing the final exam will earn you a certificate, although it's a purchasable certificate.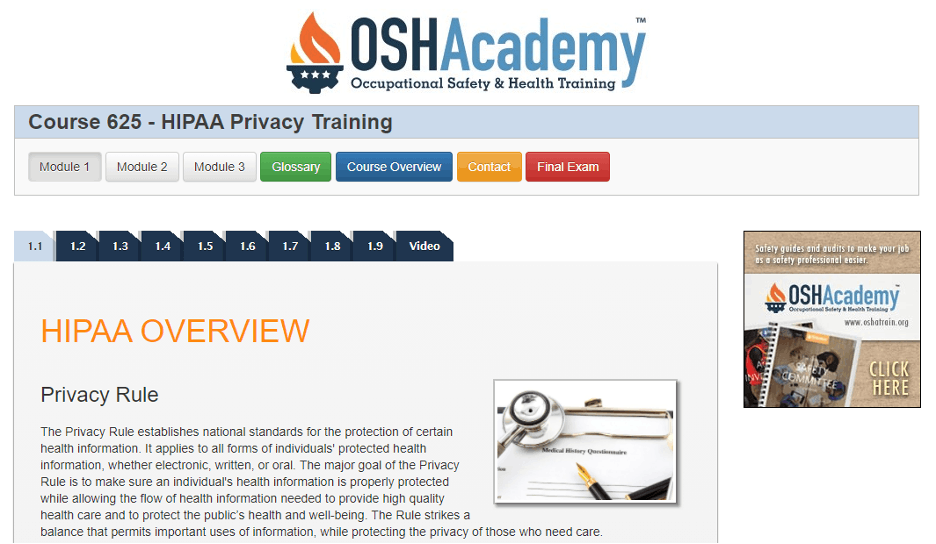 4. Compliancy Group
Some free training is also available from the Compliancy Group. The training, called HIPAA 101, is presented mainly in one long HIPAA training video for employees.
The training video covers numerous topics including compliance, security, and risk analysis and assessment. It also discusses the importance of total compliance versus only partial compliance. The free training includes a quiz, but most other information requires requesting it from the site's web form which asks for an email and phone number.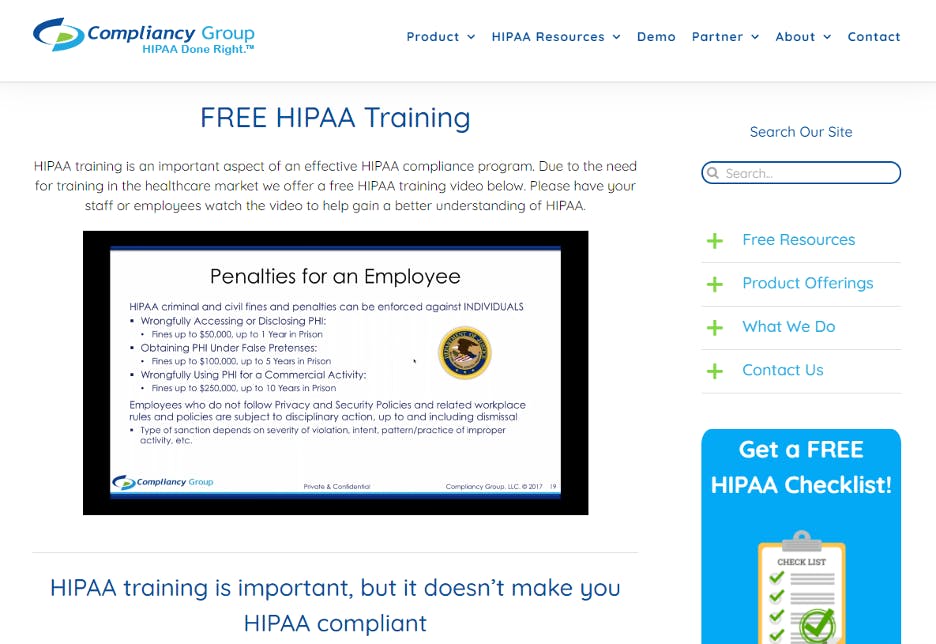 5. ProProfs HIPAA training course
The ProProfs HIPAA training course aligns with all the requirements and regulations of HIPAA and follows national standards. The course is for both covered employees and entities. It allows you to effectively educate your employees on recognizing and safeguarding the privacy and security of personal health information.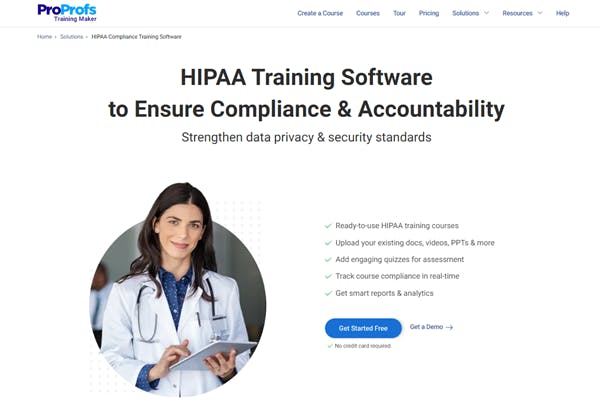 The course accommodates self-paced microlearning, allowing your employees the flexibility to learn at their convenience, regardless of time, location, or device. The course has quizzes, flashcards, and scenarios to keep your learners engaged. 
In addition to the course itself, ProProfs provides robust online training software that offers extensive customization options. This allows you to tailor the course according to your specific needs, easily share it with others, and conveniently track its progress, all from a single centralized location.
6. U.S. Department of Health & Human Services
One of the most obvious places to visit in order to find free HIPAA internal training is the official website of the U.S. Department of Health & Human Services. Their site links to several computer-based training modules which need to be downloaded in order to access.
As it turns out, however, these materials are not the most accessible. Getting the modules to work involves having Flash on your system, which is an older technology that's not very well-supported these days. The downloadable zip file does include many PDF files, though, which can be useful if you already know what you're looking for and don't need the information presented in a course format.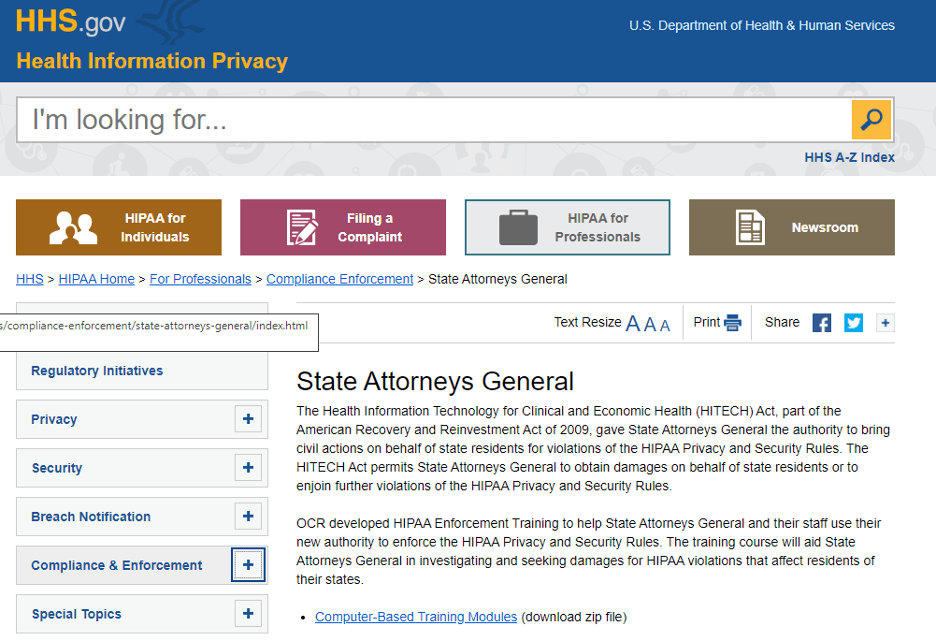 7. Medscape
Another place to get free training from is Medscape. There are tons of online educational activities on their site. One that relates to HIPAA is called An Individual's Right to Access and Obtain Their Health Information Under HIPAA. Completing training objectives on this site transmit you credit, although some activities expire after a while. Even though this activity has expired, it can still be completed for the educational content.
Activities in Medscape include quizzes, slides, and additional information. Using the Medscape site requires registration. Finishing an activity that hasn't expired gives a user credits which can be used for various certificates.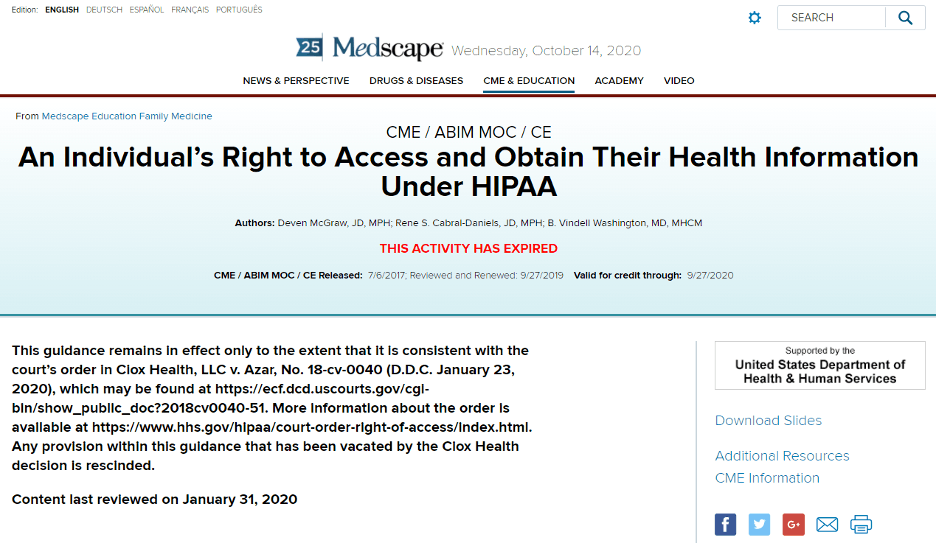 8. ProTraining
The ProHIPAA training course at ProTraining is another free way to get HIPAA training. Although the training is free, the resulting certificate has to be purchased in order to be recognized.
The course is a 35-minute video that includes knowledge reviews, a final test, and review material. The curriculum covers all the essential HIPAA elements, including covered entities, PHI, privacy policies and security rules, and patients' rights.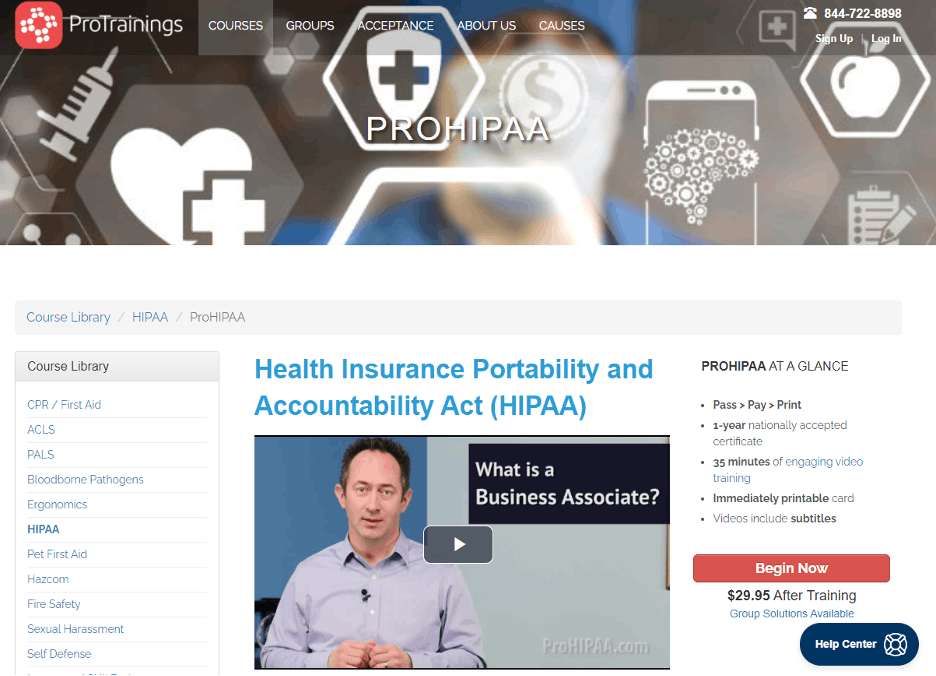 9. Secure Now!
Another free online course is HIPAA Secure Now! You will need to sign up first before accessing the free training course.
This course takes from 60 to 90 minutes and focuses on phishing and ransomware scams. The free course includes 14 days of access to the training and compliance portal, and is available for all members of your organization.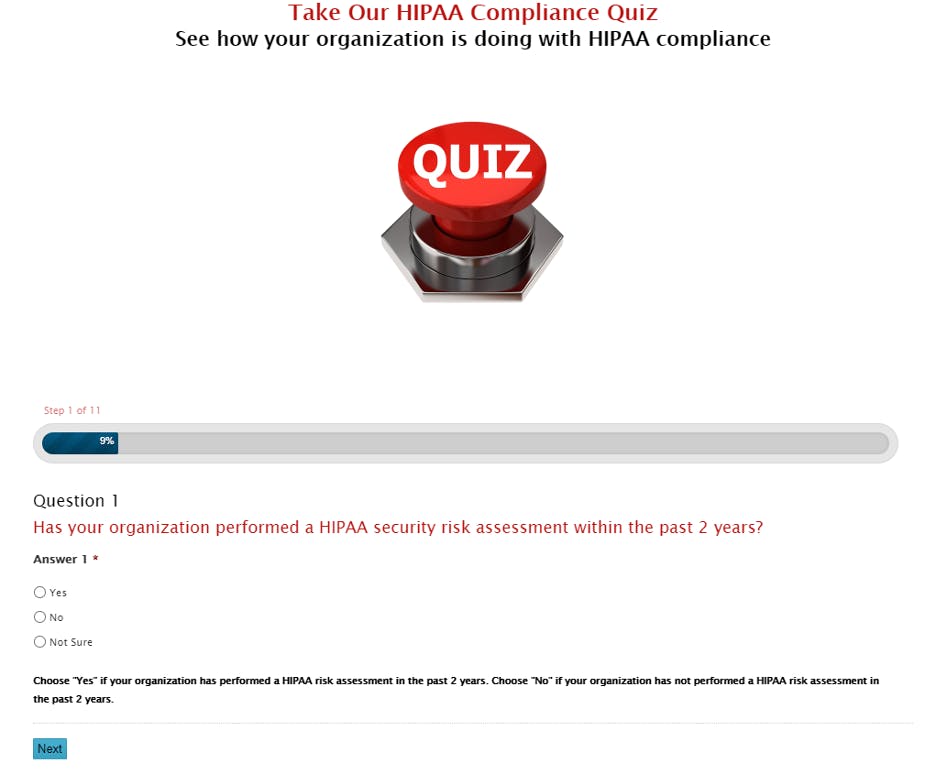 10. HIPAAtrek
Another place to get free HIPAA Training is from HIPAAtrek. They offer a series of six videos for free on various aspects of HIPAA.
Their videos include topics such as disposing of PHI, patient privacy on social media, covered entity, defining PHI, phishing basics, BYOD, and smart home devices. The videos are not integrated into any sort of eLearning system, so there are no quizzes or assessments. On the positive side, they do, however, regularly make new videos.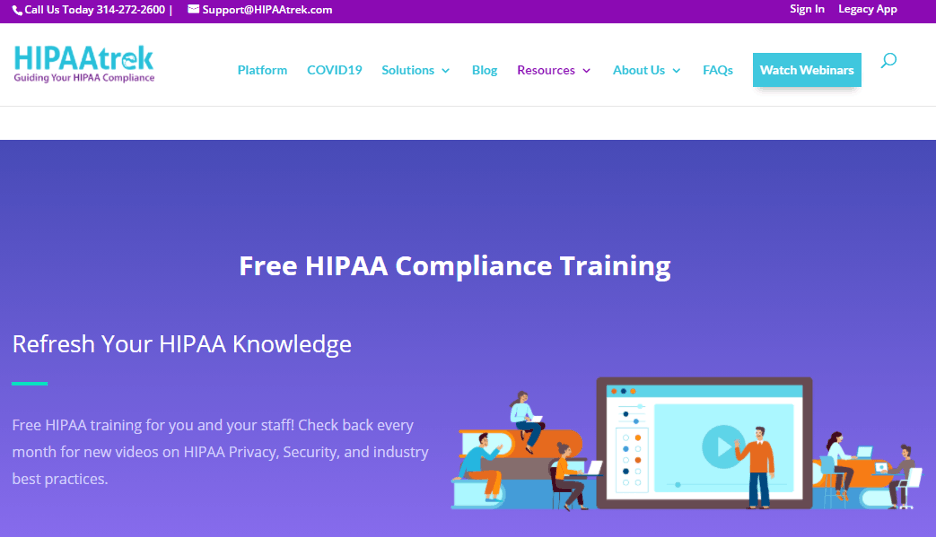 11. AMA
One more free HIPAA course is The Nuts and Bolts of Achieving HIPAA Security Rule Compliance through Effective Risk Assessment, available from the AMA. This site requires registration before being able to attempt the activities on the site. Like the Medscape site mentioned above, users can receive credits for completing activities.
This short course on the AMA website includes a 10-minute audio presentation that is reinforced with a quiz at the end. There are also many resources added for users that wish to seek out additional information. The credits received after completing an activity are tracked and can be counted towards a certificate.
12. Coursera
Coursera is also a great place to find a range of free HIPAA training courses. They come 100% online and can be taken and completed at your own convenience. They also offer shareable certificates upon completion, which you can add to your credentials. 
Its most recommended HIPAA training course is the Healthcare Data Security, Privacy, and Compliance, hosted by experts from John Hopkins University. This course touches on topics such as the types of healthcare data sources, ways to keep them secure, the danger of security breaches, different cyber attacks, and how you can avoid and mitigate them. Modern electronic protected approaches to protecting sensitive health data, such as encryption and cloud computing, will also be discussed in detail.
13. HIPAATraining.com
If you're looking for a reliable platform with a full range of HIPAA compliance training and certificate programs, then HIPAATraining.com is the place for you. This training space has been in the business for over 18+ years, helping several individuals and small to midsize organizations to achieve HIPAA compliance in the most affordable and fastest way possible.
HIPAATraining.com offers separate courses for individuals and organizations. Both of these classes will define the HIPAA privacy rule and security regulations, the importance of having formal documents, and electronic tools that can help protect PHI from disasters, hackers, and identity theft. Upon completion, a certificate of compliance is provided, which is valid for two years.
14. HIPAA Associates
HIPAA Associates' HIPAA IT Security is designed specifically for IT professionals, security officers, and privacy offices whose goal is to secure protected health patient information. Security regulation is the focal point of this course, which concentrates on protecting electronic data. The three safeguards that make up the security regulation are discussed in detail, which are Administrative Safeguards, Physical Safeguards, and Technical Safeguards. It also educates learners about the national standards, organizational requirements, policies, and procedures as part of the HIPAA compliance training. You'll have to pay to enroll in this course, and you will only have 90 days to complete it.
15. HIPAA Exams
You can also avoid any violations or breaches by taking the HIPAA compliance courses by HIPAA Exams. This organization is deemed as one of the most trusted training sources in the field and is one of the IACET accredited providers. Their free HIPAA training courses are offered 100% online, perfect for busy professionals who barely have time to spare for training as they can access and complete their training anytime and anywhere. 
Most of their HIPAA courses are role-based, meaning, they are designed based on a person's role within an organization. They offer HIPAA courses for business associates, dental offices, HCIRs (Sales professionals), health care workers, human resources, medical office staff, and more. 
16. Biologix Solutions
Biologix Solutions' course on HIPAA provides an overview of the HIPAA privacy and security rules and their role in protecting personal healthcare information (PHI). It discusses what PHI is and its possible use cases. Learners will also gain knowledge when it comes to enforcement and compliance with HIPAA regulations in the workplace. This course includes practical applications, scenarios, and concepts that can be easily understood and applied right away. It takes an hour to complete this course, which is in an all-digital format.
17. HIPAA for Leaders
This HIPAA compliance training course is ideal for compliance or privacy officers responsible for ensuring HIPAA compliance in their organization. It provides a background to learners on the significance of cybersecurity to protect PHI. It also discusses the current state of HIPAA compliance since there have been changes made to it over the years. As learners progress through this course, they will understand why risk assessments are required and gain knowledge on the various types of violations. As a leader, handling complaints will be part of the job which is also covered in this course. This training makes use of video learning, which is suitable for visual learners for more context and clarity. The videos are free to access, but you'll have to pay to get a certificate of completion.
18. HIPAA for Human Resources Professionals
HR professionals handle and store information about people, which is why they must be HIPAA-compliant. You must be wondering how to get HIPAA compliant? This HIPAA course by HIPAA Exams is intended for HR professionals to help the company avoid any associated violations or breaches. It will provide learners an understanding of what HIPAA is and its role in safeguarding protected health information. They will also know when, how, and what information to disclose, and what to do when a breach notification or unauthorized access happens. It also highlights the importance of ensuring compliance within the HR department as they have firsthand access to protected health information.
19. HIPAA for Organizations
It's critical that HIPAA compliance training is given to every employee with access to PHI as part of organizational learning. This HIPAA course starts by defining the HIPAA privacy and security regulations, which can help organizations determine which ones they must follow. This course also teaches the importance of having formal documents and controls to further protect and safeguard PHI. Furthermore, it includes training for compliance officers who are responsible for HIPAA compliance in the workplace. Upon completion, a certificate of compliance is provided, which is valid for two years.
20. Handling Children In A Healthcare Setting
When it comes to health care, children, as compared to adults, must be approached with more grace and friendliness. The primary purpose of Handling Children In A Healthcare Setting HIPAA course by edX is to help care providers get a clear grasp of the fundamentals and skills required when managing children's medical and dental health.
Expect to learn more about a HIPAA overview on the different stages of child development, communication challenges in pediatrics, and some basic behavioral management techniques to connect and speak with child patients as confidently as possible. While this course is free to take, you'll only have limited time to access it. This also means that you won't have access to graded assignments and exams, and not have the chance to earn a medical compliance certificate.
21. Online HIPAA Training Class for Employees
The North American Learning Institute's HIPAA training class is one of the lowest-priced HIPAA employee Training classes at just 5. It consists of lessons about the General Administrative Requirements, Administrative Requirements, and the Security and Privacy provisions of regulation text 45 CFR Parts 160, 162, and 164. It's a self-paced course that can be taken on a number of devices, such as desktops, laptops, tablets, and even smartphones.
You can even start off from one device and finish it on another if you choose. This online training course comes with a certificate and is backed by a 100% money-back guarantee so you can try out their course risk-free.
Why Online HIPAA Training?
Receiving HIPAA training online has many advantages over attending offline training sessions. Some of these advantages include:
Convenient microlearning that fits in with busy work schedules

Better knowledge retention from algorithms that use spaced repetition

Engaging multisensory lessons that keep learners actively participating
With the importance of HIPAA training and the advantages of receiving it online in mind, this article will take a look at some of the free online HIPAA training options that are available. Not all online HIPAA training is equal, however, so it's important to consider the good and bad aspects of the different training platforms.
Conclusion
We have seen that there is an abundance of free HIPAA training for healthcare workers out there on the Internet. Some of the free HIPAA training materials are very short and serve mainly to sell another product. On the other hand, some free HIPAA training is more in-depth and keeps learners engaged for hours and even longer, such as with all the content on Medscape and the AMA website.
If you're looking for free HIPAA training, sign up to EdApp for free to see all we have to offer!
Other free course lists
Subscribe to our blog newsletter