HIPAA is an acronym for the Health Insurance Portability and Accountability Act, and it is one of the most in-demand types of training. The act is a law that was passed in 1996 with the purpose of protecting an individual's personally identifiable information in the healthcare industry.
It's extremely important that employees in the healthcare industry are aware of the various aspects of HIPAA, as failing to comply with them can lead to serious fines. When searching for a HIPAA course, however, you don't need to just look for expensive offline training. There are many online alternatives to choose from.
1. EdApp
HIPAA Compliance Training course gives users free training. It is hosted at EdApp, which is a service that allows organizations to easily create their own custom eLearning lessons.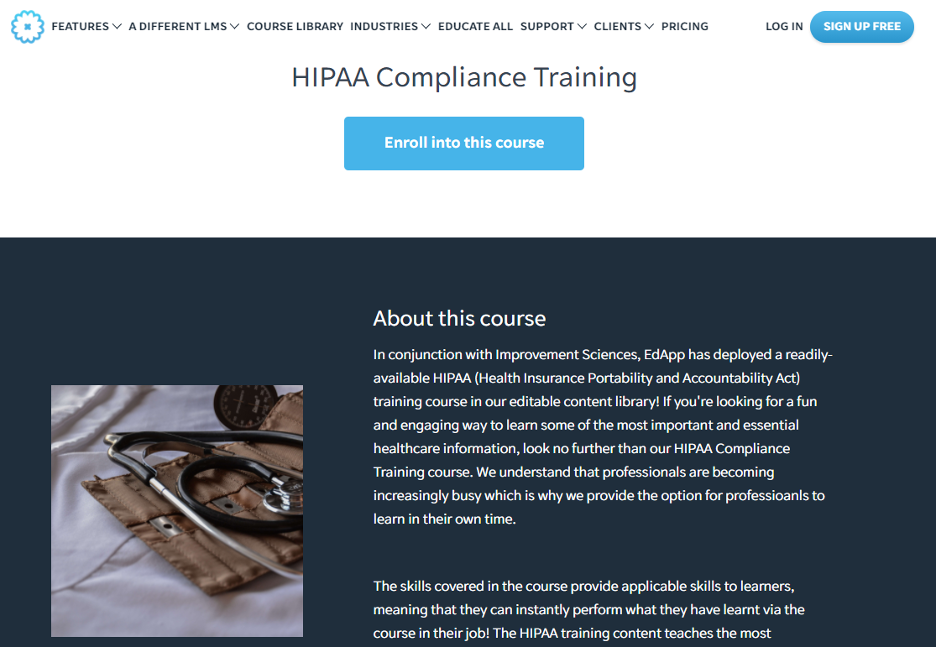 This course covers all the essential HIPAA compliance issues, such as protecting personal information, dealing with threats and breaches, and using best practices. The learning is reinforced with knowledge checks and the course offers a certificate upon completion.
One of best advantages of using EdApp is that it makes good use of the concept of Microlearning, which involves presenting materials in easy-to-digest chunks. This is a great way for busy professionals to retain the information they've learned, as they don't become overwhelmed, and are also reminded of things they've previously learned through regular reviews.
Another positive point worth mentioning about EdApp is that it the eLearning lessons look amazing on any device because they are responsive by default. That way, learners can study from any device they want, and the material will still look great.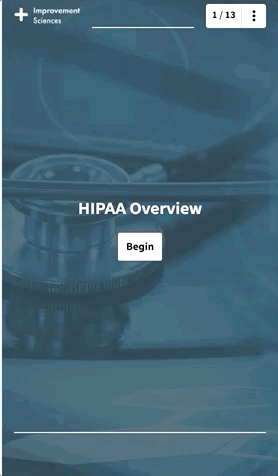 2. Accountable HQ
A more accessible guide to HIPAA is HIPAA Training – Intro to HIPAA, which is hosted at Accountable HQ. They offer a free basic training module on their website. Getting more in-depth training, however, requires a monthly subscription.
Their guide includes a series of instructional videos and ends with a cumulative quiz. Successfully completing the quiz will reward you with a printable certificate. Additionally, they offer extra reading content related to various aspects of HIPAA, although it's not integrated into the learning module.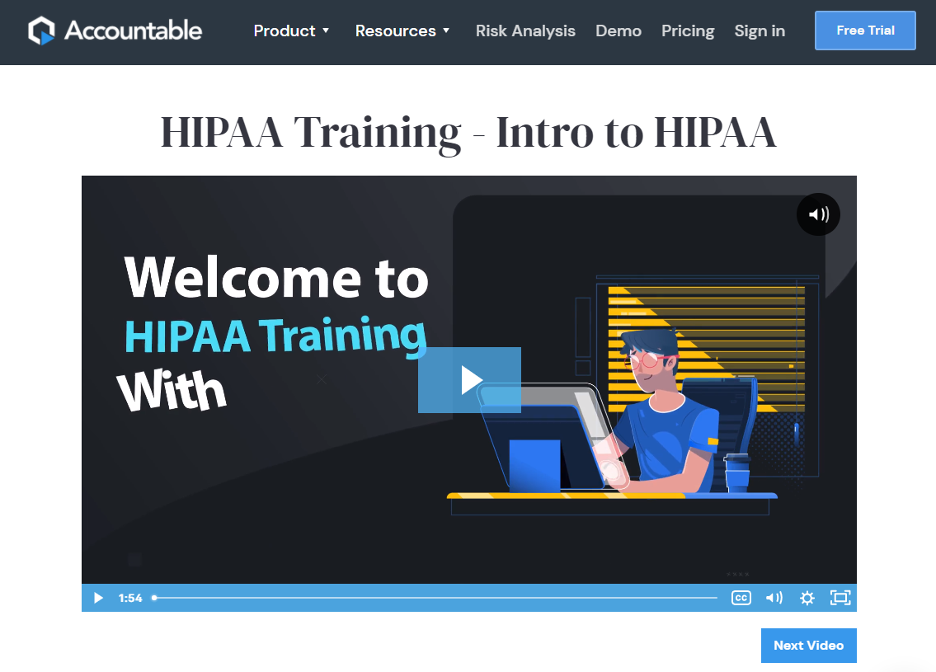 3. OSH Academy
The OSH Academy offers up another free online HIPAA training course called HIPAA Privacy Training. This is a well-organized course with all of its navigation and options available at all times.
The OSH Academy course is in three separate modules, and each one includes multimedia content and quizzes. The first module is a general overview of HIPAA, the second module is about personal rights guaranteed under HIPAA, and the last module covers the responsibilities of health care providers. Passing the final exam will earn you a certificate, although it must be purchased.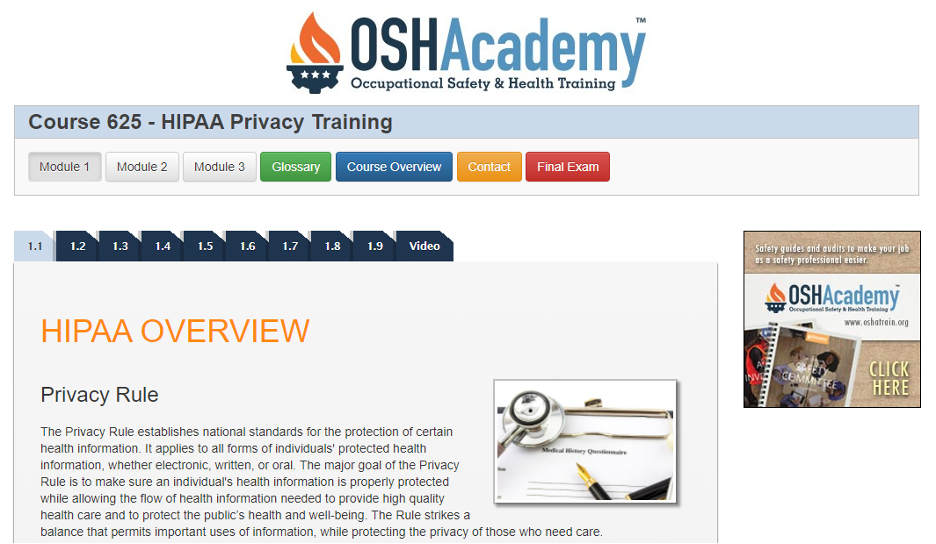 4. Compliancy Group
Some free training is also available from the Compliancy Group. The training, called HIPAA 101, is presented mainly in one long video.
The training video covers numerous topics including compliance, security, and risk assessment. It also discusses the importance of total compliance versus only partial compliance. The free training includes a quiz, but most other information requires requesting it from the site's web form which asks for an email and phone number.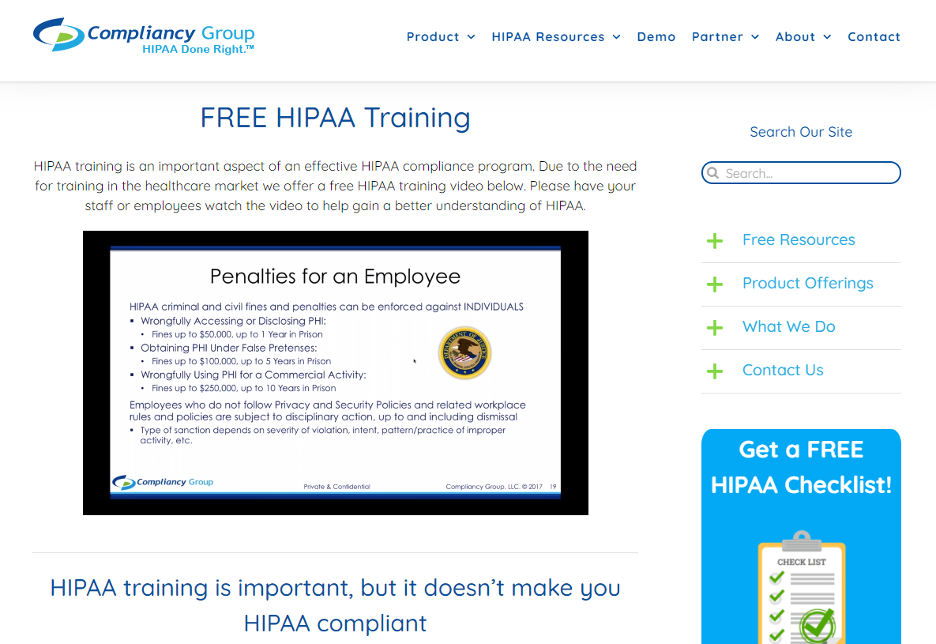 5. U.S. Department of Health & Human Services
One of the most obvious places to visit in order to find free HIPAA internal training is the official website of the U.S. Department of Health & Human Services. Their site links to several computer-based training modules which need to be downloaded in order to access.
As it turns out, however, these materials are not the most accessible. Getting the modules to work involves having Flash on your system, which is an older technology that's not very well-supported these days. The downloadable zip file does include many PDF files, though, which can be useful if you already know what you're looking for and don't need the information presented in a course format.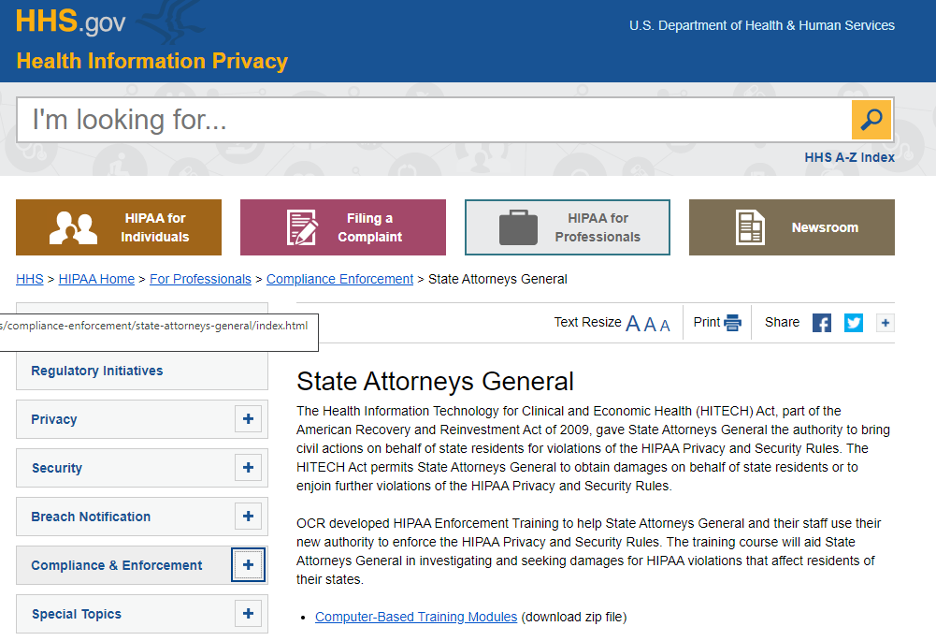 6. Medscape
Another place to get free training from is Medscape. There are tons of online educational activities on their site. One that relates to HIPAA is called An Individual's Right to Access and Obtain Their Health Information Under HIPAA. Completing training objectives on this site earns you credit, although some activities expire after a while. Even though this activity has expired, it can still be completed for the educational content.
Activities in Medscape include quizzes, slides, and additional information. Using the Medscape site requires registration. Finishing an activity that hasn't expired gives a user credits which can be used for various certificates.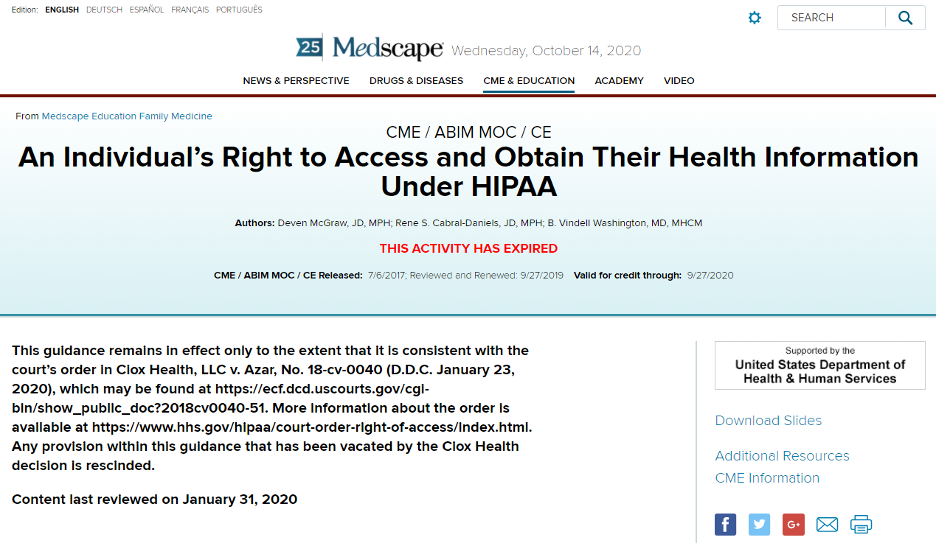 7. ProTraining
The ProHIPAA training course at ProTraining is another free way to get HIPAA training. Although the training is free, the resulting certificate has to be purchased in order to be recognized.
The course is a 35-minute video that includes knowledge reviews, a final test, and review material. The curriculum covers all the essential HIPAA elements, including covered entities, PHI, privacy and security rules, and patients' rights.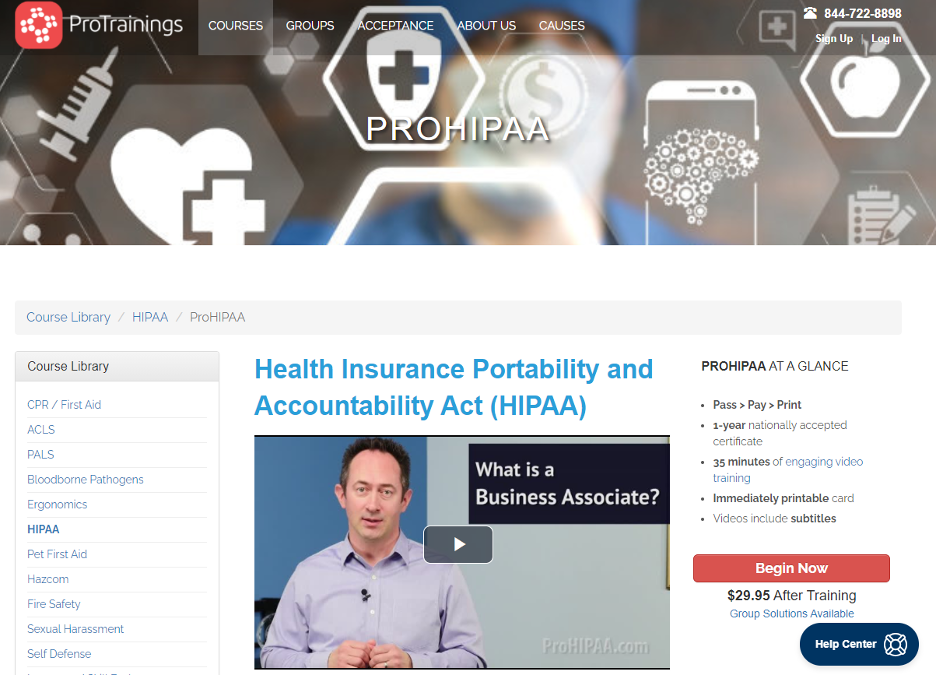 8. Secure Now!
Another free online course is HIPAA Secure Now! You will need to sign up first before accessing the free training course.
This course takes from 60 to 90 minutes and focuses on phishing and ransomware scams. The free course includes 14 days of access to the training and compliance portal, and is available for all members of your organization.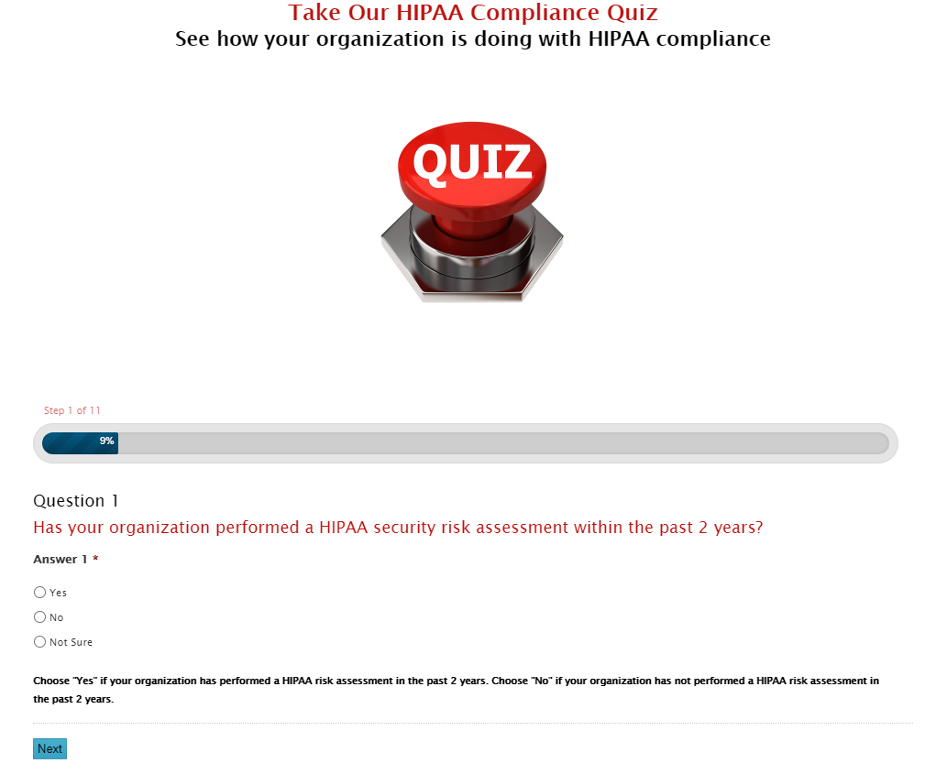 9. HIPAAtrek
Another place to get free HIPAA Training is from HIPAAtrek. They offer a series of six videos for free on various aspects of HIPAA.
Their videos include topics such as disposing of PHI, patient privacy on social media, defining PHI, phishing basics, BYOD, and smart home devices. The videos are not integrated into any sort of eLearning system, so there are no quizzes or assessments. On the positive side, they do, however, regularly make new videos.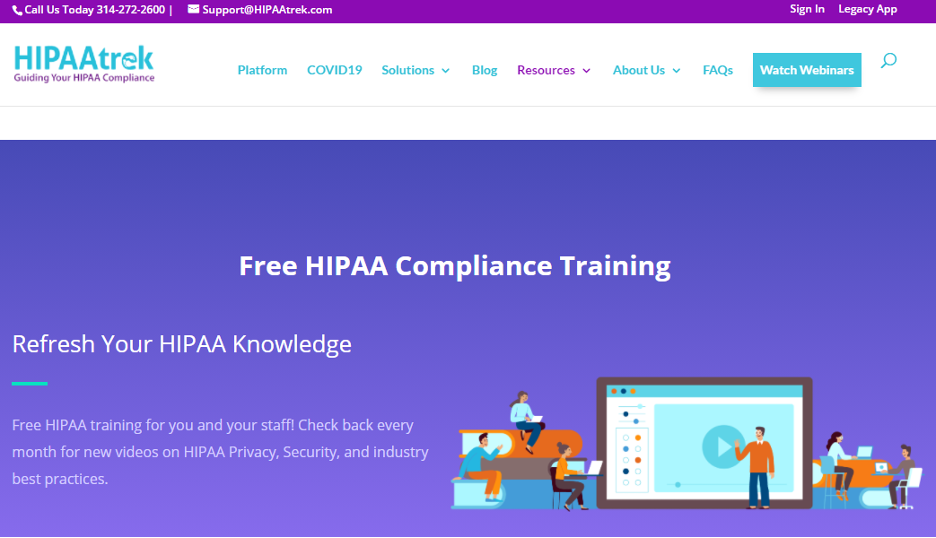 10. AMA
One more free HIPAA course is The Nuts and Bolts of Achieving HIPAA Security Rule Compliance through Effective Risk Assessment, available from the AMA. This site requires registration before being able to attempt the activities on the site. Like the Medscape site mentioned above, users can receive credits for completing activities.
This short course on the AMA website includes a 10-minute audio presentation that is reinforced with a quiz at the end. There are also many resources added for users that wish to seek out additional information. The credits received after completing an activity are tracked and can be counted towards a certificate.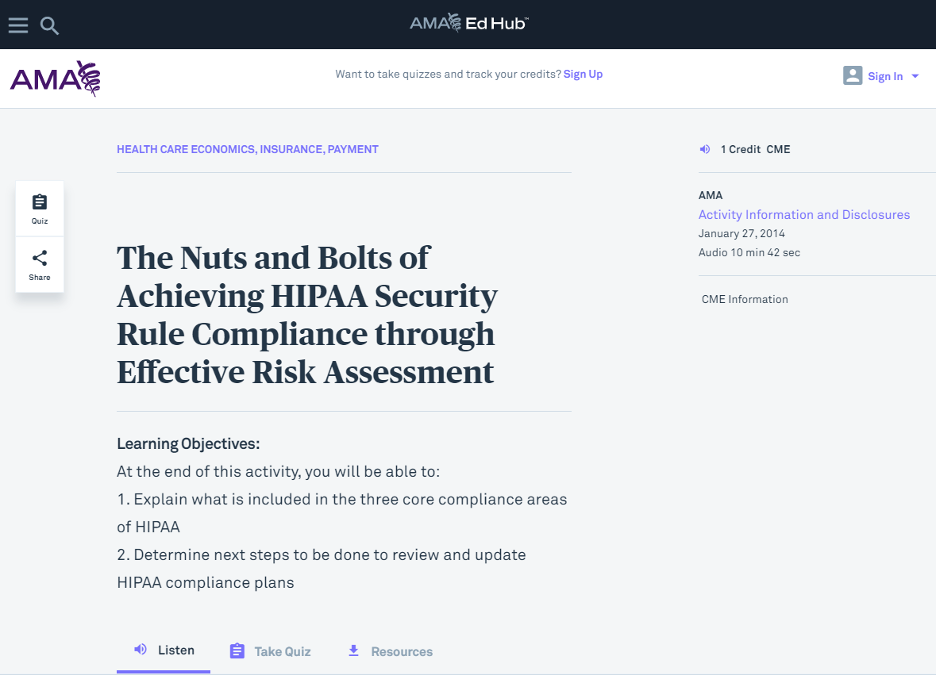 Why Online HIPAA Training?
Receiving HIPAA training online has many advantages over attending offline training sessions. Some of these advantages include:
Convenient microlearning that fits in with busy work schedules
Better knowledge retention from algorithms that use spaced repetition
Engaging multisensory lessons that keep learners actively participating
With the importance of HIPAA training and the advantages of receiving it online in mind, this article will take a look at some of the free online HIPAA training options that are available. Not all online HIPAA training is equal, however, so it's important to consider the good and bad aspects of the different training platforms.
Conclusion
We have seen that there is an abundance of free HIPAA training for healthcare workers out there on the Internet. Some of the free HIPAA training materials are very short and serve mainly to sell another product. On the other hand, some free HIPAA training is more in-depth and keeps learners engaged for hours and even longer, such as with all the content on Medscape and the AMA website.
If you're looking for free HIPAA training, sign up to EdApp for free to see all we have to offer!