Adaptive learning technology tools are gaining popularity as it makes personalized learning easier to curate. Through this, employees learn at different paces and every team has its own specialized training. By using an adaptive learning approach, learners are able to absorb information better which results in improved performance.
Here are 10 adaptive learning technology tools to help you with your training.
Adaptive Learning Technology Tool #1 – EdApp
EdApp is an award-winning adaptive learning technology tool that showcases user-friendly features to enhance your training experience. This mobile-first training solution is used by leading organizations and trainers across the globe to develop their teams.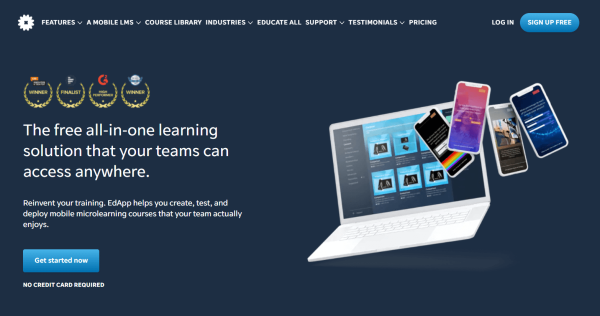 Building personalized training is now made easier with EdApp's no-coding authoring tool that allows you to create mobile learning courses hassle-free, especially with their fully editable course library that houses hundreds of ready-made courses. You can import any course and customize it anytime to tailor it to your training. This feature also allows you to seamlessly select from hundreds of high-quality, ready-made e learning templates to suit your teams' training needs, then effortlessly edit and deploy in no time. There are also several templates with gamification to make the courseware interactive and engaging. When it comes to adaptive learning, built-in features like spaced repetition makes it possible for the information to be embedded in every learner's memory by distributing lessons at increasing intervals. 
Features:
Authoring tool

Fully editable course library

Gamification & microlearning template

Spaced repetition

Mobile compatible
Cost: Free
Adaptive Learning Technology Tool #2 – Whatfix
Whatfix makes it easy for learners to digest training material no matter what learning style they have. When logging in for the first time to the adaptive learning technology tool, they'll be greeted with a personalized message and will be given a tour to introduce them to the application. With Whatfix, you can create interactive training material with its straightforward, no code authoring tool. To further personalize the online learning experience, you can create condition-based walkthroughs that fit a learner's role, competence, and location. It's also SCORM-compliant so you can easily construct training programs at scale. Whatfix provides advanced real-time analytics as well so you can measure the effectiveness of your training program.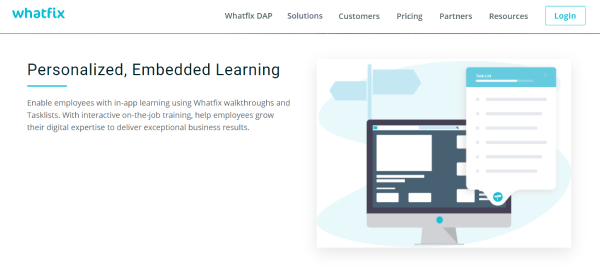 Features:
No code authoring tool

Smart user targeting

SCORM-compliant

Real-time analytics
Cost: Paid plans
Adaptive Learning Technology Tool #3 – Continu
Continu prides itself as a learning platform built for today's modern workforce. With its powerful course authoring tools, you can build courses and create training and development tracks to suit each learner's needs. You can tailor learning experiences through its Smart Segmentation feature, which allows you to filter by geography, department, or by using custom variables. Continu also comes with custom reporting so you can fine-tune reports to gain insights on the performance of your employees. On the other hand, learners will have access to their unique dashboard so they can stay on top of their training and progress.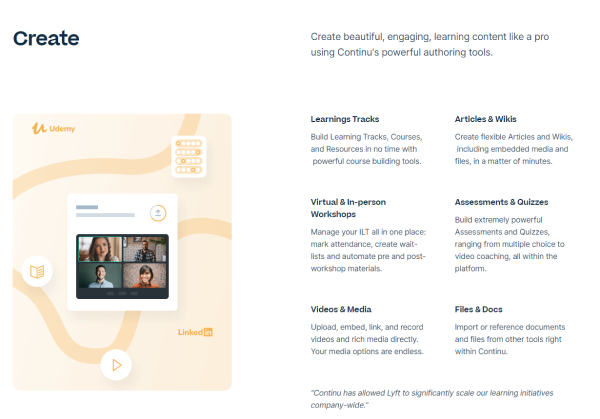 Features:
Personalized learning tracks

Smart segmentation

Custom reporting

Learner dashboard
Cost: Paid plans
Adaptive Learning Technology Tool #4 – Composica
Composica is also a recommended adaptive learning technology tool that can help you go above and beyond your traditional and monotonous online training. With content authoring freedom as its hallmark, you'll have complete control over your course design and behavior. There's no need to worry about limited, form-based authoring or restrictive course templates—any content can be easily styled and modified to your heart's content. For higher engagement and interactivity, you can also use this platform to launch online quizzes and fun games and collaborate on a project with your team.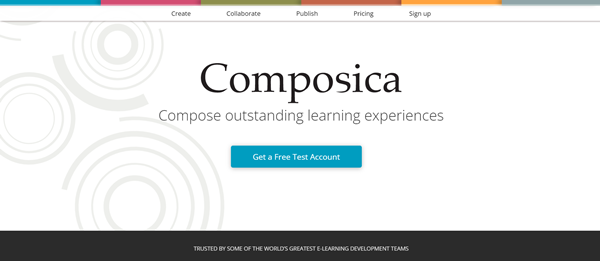 All Composica-authored and published courses are also compatible with any modern platform and browser. This gives you the ultimate peace of mind knowing that your content will look functional and visually pleasing, whether your learner is using a desktop or mobile device. 
Features:
Flexible authoring

Quizzes and games

Collaboration capabilities

Course compatibility
Cost: Starts at $99 USD/ month
Adaptive Learning Technology Tool #5 – Explain Everything
Explain Everything leverages the use of digital whiteboards to create a personalized learning experience, especially for visual learners. It goes beyond the typical whiteboard as learners can fully interact during instructor led training sessions through drawings, GIFs, animations, audio files, and many more. Explain Everything's tools are not just limited to a simple whiteboard as it allows you to create dynamic visual lectures, animated illustrations, and even games to engage learners with your training content. To make sure everyone is on the same page, you can summarize each session with a short video that learners can revisit as often as needed.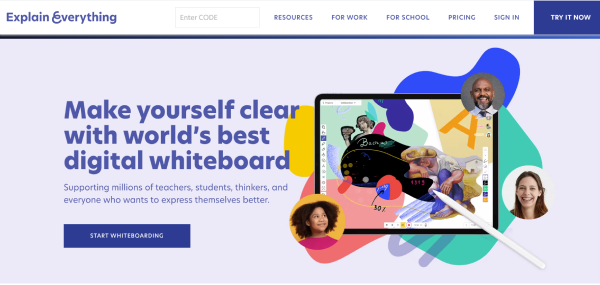 Features:
Digital whiteboard

Gamification

Video summaries
Cost: Free, paid plans
Adaptive Learning Technology Tool #6 – Degreed
Degreed is an adaptive learning management system for skill development and career growth. Their upskilling platform makes it possible for businesses to profile employees' skills and talent insights for personalized training and social learning experiences. It integrates all learning materials that your workforce needs to grow and upskill – online courses, videos, podcasts, news, and blog articles. And by using its real-time data on each employee's unique strengths and interests, these resources will automatically find the right team who needs them the most. Do take note that there are no readily available materials free for everyone to use. Request a demo to know more about their pricing and services.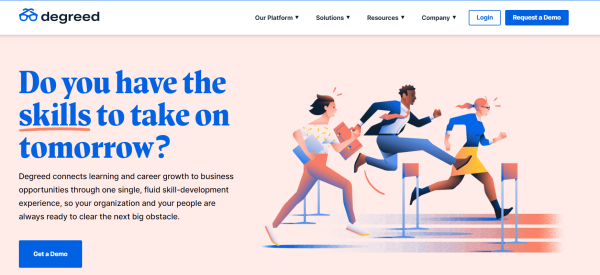 Features:
Instructional material for skill-building and development

Resource curation tool

Easy integration of internal and external resources

Analytics & learner's progress tracker
Cost: Demo, paid plans
Adaptive Learning Technology Tool #7 – Hoopla
Hoopla is an adaptive learning technology tool designed to motivate sales teams to increase performance through contests, leaderboards, and real-time recognition. Through this mobile-enabled eLearning platform, you can identify sales goals and create tournament-style or race-style contests for friendly competition between employees and accelerate overall team productivity. Both trainers and team members can track their individual performance through the tool's built-in leaderboards system.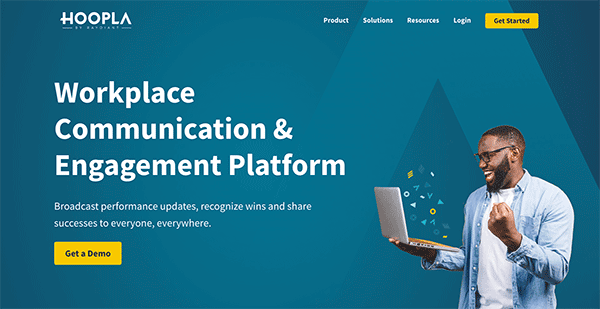 Features:
Sales gamification

Contests

Leaderboards

Real-time recognition
Cost: Free trial, paid plans
Adaptive Learning Technology Tool #8 – 360Learning
360Learning is a collaborative adaptive learning technology tool for institutional training. With their collaborative training tool, the creation of courses is easier and faster, with an average development time of 11 minutes. It's best used for organizations that are already using multiple existing solutions for better integration of tools. 360Learning has a free trial for 14 days and should you want to subscribe, there are three plans to choose from: team, business, and enterprise.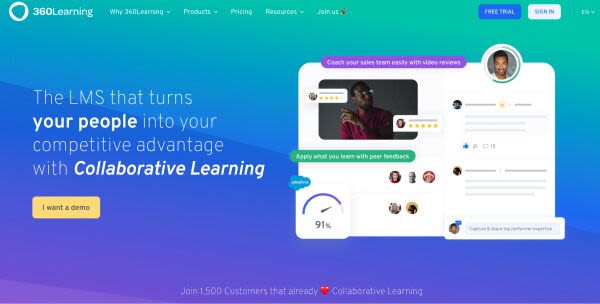 Features:
Authoring tools, content integrations, collaborative editing

Gamification

Collaborative hub

Mobile friendly, offline mode supported
Cost: Free trial, paid plans
Adaptive Learning Technology Tool #9 – Lectora
Lectora is a powerful adaptive learning platform that is part of eLearning Brothers' authoring package. It works like a course-authoring playground where you can have fun creating online courses and designing them to your liking. You can enhance them with images, audio, and video, add screen recordings or short video clips, or even leverage animation for higher learning engagement. If you want to spice it up even further, this tool also offers a VR authoring tool, which you can use to build immersive learning activities. Feel free to embed them within your Lectora training courses to secure the best learning experience for your learners.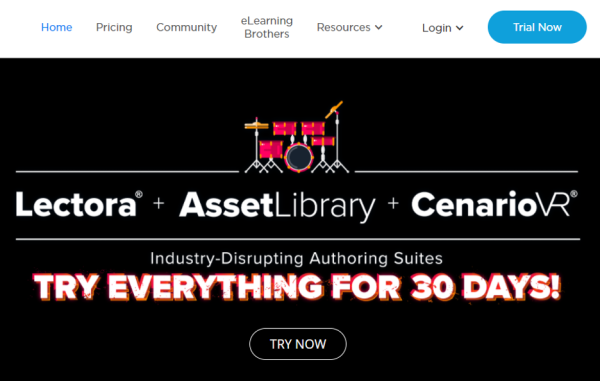 Features:
Flexible course creation

Interactive elements

Screen recording

Webcam recording

Animation

VR-format courses
Cost: Paid plans
Adaptive Learning Technology Tool #10 – Learnworlds
Making your information more engaging and interactive, rather than providing them a static module created in a PDF file or PowerPoint presentation, is a great way to capture your learners' attention. This strategy is not only possible but easily attainable with LearnWorlds. Just write your content once and use this learning management platform's eye-catching themes and styles to turn it into a nice-looking online course that your learners will surely enjoy. You can also combine your lessons with self-improvement quizzes, formal tests, and assignments to boost their confidence and drive learning retention.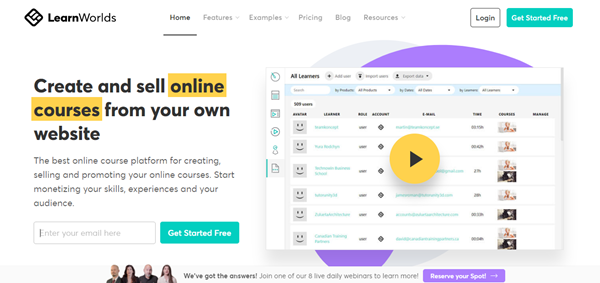 If needed, you can create a beautiful course player and schedule the delivery of these training materials with ease. To improve their scanning and reading, this platform also allows casual reading with note taking and highlighting. 
Features:
Course building

Engaging templates

Quizzes, assignments

Course player (with note-taking and highlighting)
Cost: Starts at $24 USD/month