Effective onboarding paves the way for high-performing teams. By deploying well-curated training materials to new hires, it ensures good performance even during the first few months of their employment. Courses take a lot of time to build but there are several online platforms that streamline the process. To make things easier for managers, here are 10 tools to improve your onboarding process.
Tool to Improve your Onboarding Process #1 – EdApp
EdApp is the leading tool to improve your onboarding process, designed to help HR professionals author and deploy informative and engaging microlearning courses. Packed with easy-to-use features, it's the perfect software to use for your employee training and management processes. Among its key features is gamification, where their game-inspired templates turn otherwise boring learning content into a fun gaming experience. Game design elements and principles, such as leaderboards, rewards, and scoring, are used in the course content to promote user engagement.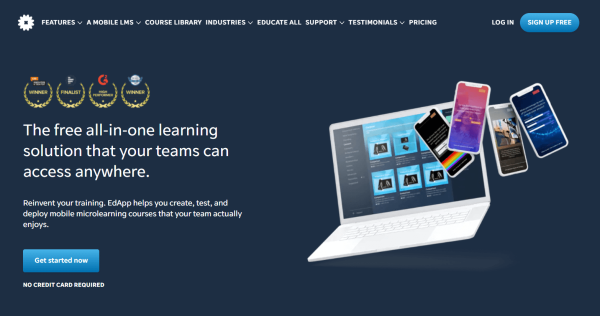 You can get started easily with EdApp's template-driven course library, filled with hundreds of editable courses on a range of topics. Anyone can adopt or build beautiful and interactive course content, even without any coding knowledge. It's straightforward and intuitive – all you need to do is select a pre-made course you wish to deliver to your team and press send. You also have the option to use EdApp's authoring tool that allows you to design your micro-lessons from scratch.
To reinforce learning, EdApp has an online quiz maker called Rapid Refresh that can help HR professionals increase learner retention by delivering quizzes at scheduled intervals. 
Features:
Authoring tool

Fully editable course library

800+ high-quality courses

Gamification 

Highly customizable 80+ microlearning templates

Quiz maker
Cost: Free
Tool to Improve your Onboarding Process #2 – WalkMe
The need for in-person training can be eliminated through WalkMe's self-service feature called Walk-Thrus. Learners can go through their training content on their own from start to finish by following clear and simple directions provided in the Walk-Thrus on their screen. These Walk-Thrus take the form of tooltips, pop-up messages, and notifications that you can fully customize. This self-serve feature empowers learners and lessens any unnecessary back and forth which speeds up and increases completion rates. WalkMe is also invested in the user experience which is why it allows you to create engaging and personalized on-screen content with its no-code authoring tool.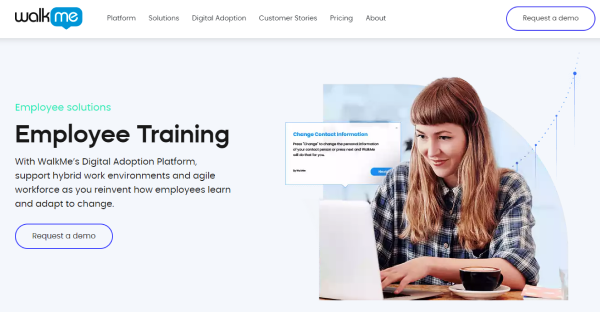 Features:
No-code authoring tool

On-screen guidance

Self-serve tools
Price: Paid plans
Tool to Improve your Onboarding Process #3 – Slack
Slack is a workplace communication application that allows for real-time communication. For better organization of interactions, you can create different channels for different teams, subjects, or projects. It's also great for creating social channels for topics outside of work so employees can collaborate, engage, and get to know each other better. Slack allows employees to stay up to date without having to sort through a slew of emails or schedule a meeting. It also supports file sharing, allowing employees to exchange photos, videos, and documents with ease. One-on-one conversations are also made easier through direct messaging or video calls.

Features:
Communication channels

App integrations

File sharing
Price: Starts at $6.67 USD/user monthly
Tool to Improve your Onboarding Process #4 – aNewSpring
aNewSpring is an onboarding tool that allows you to make training courses more impactful and engaging. Whether you're running blended training, adaptive learning, or social learning, you can facilitate various types of onboarding or training programs within the platform, without any hassle. With their onboarding tool that manages courses and content in one place, HR professionals can easily organize onboarding materials for different employees. Thanks to its easy online authoring editor and course templates, you have the freedom to build online lessons just the way you like. Plus, you can mix your course content with videos, images, blogs, and even external content from Youtube or Prezi. The courses you create are all yours, stored and secured in top-tier data centers in Europe.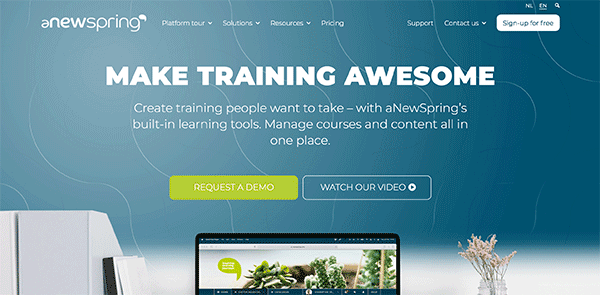 Features:
Onboarding training tool

Centralized course management

Online authoring editor

Training courses

Interactive course templates
Cost: Starts at $17 USD
Tool to Improve your Onboarding Process #5 – Whatfix
Whatfix makes it easy for learners to digest training material no matter what learning style they have. When logging in for the first time to the onboarding platform, they'll be greeted with a personalized message and will be given a tour to introduce them to the application. With Whatfix, you can create interactive training material with its straightforward, no code authoring tool. To further personalize the learning experience, you can create condition-based walkthroughs that fit a learner's role, competence, and location. It's SCORM-compliant so you can easily construct training programs at scale. Whatfix provides advanced real-time analytics as well so you can measure the effectiveness of your training program.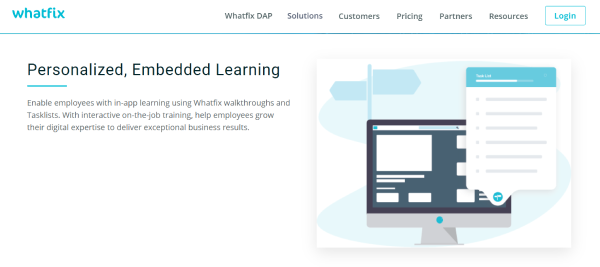 Features:
No code authoring tool

Smart user targeting

SCORM-compliant

Real-time analytics
Price: Paid plans
Tool to Improve your Onboarding Process #6 – WorkRamp
Designed as an all-in-one tool to improve your onboarding process, WorkRamp can be customized for different types of employee training, more specifically for sales, support, retail, marketing, and HR. It can even be used to train your clients on product adoption, to increase customer engagement, or drive more revenue to the business. Some of the platforms' notable features include a specialized onboarding software process, custom reports, virtual instructor-led training events, and compliance training. By combining all of these tools, WorkRamp enables you to create a streamlined training experience for your employees.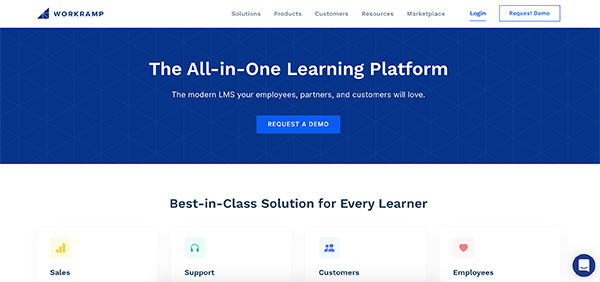 Features: 
Customizable courses

Support training

Customer training

Virtual events

Compliance training
Cost: Paid plans
Tool to Improve your Onboarding Process #7 – GoBrunch
GoBrunch is the online onboarding software for you if you want your learners to feel like they're in a real seminar room taking their training. You can create an educational atmosphere by selecting a layout for your room and integrating your logo. Learners can then add images and even select seats in your virtual classroom, making the experience more realistic. You may easily send a link to a course catalog where your learners can access their classes and other learning tools to share the courses with them. Unlike other platforms, their free version has no time limit, and you can host webinars for up to 409 people for as long as you like.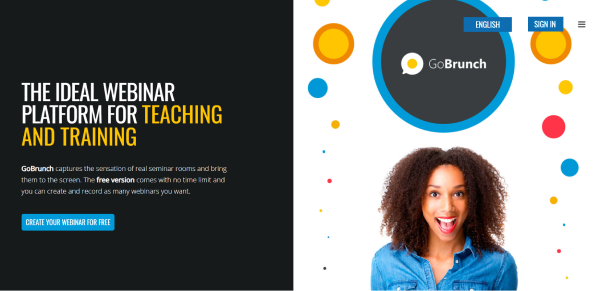 Features: 
Virtual seminar rooms

Unlimited webinars

Course catalog
Cost: Free, paid plans
Tool to Improve your Onboarding Process #8 – Officevibe
Officevibe is a great engaging onboarding tool for gathering feedback from your employees. You can send out weekly, anonymous surveys, which are automatically deployed to them. It uses pulse surveys to measure employee engagement using different formats, such as numerical scales, text boxes, and custom polls. Managers can respond to feedback and continue an anonymous correspondence, or even set a 1-on-1 for further discussion. It boosts employee engagement as employees can let management know any challenges or issues that wouldn't normally be addressed in a typical conversation, so they can be fixed or improved upon. Officevibe offers a free basic plan but to get better features, a paid subscription is recommended.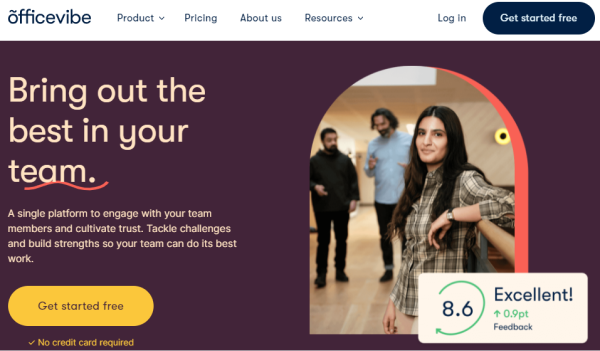 Features:
Automated pulse surveys

Anonymous feedback

1-on-1 discussions
Price: Free, paid plans
Tool to Improve your Onboarding Process #9 – Axonify
Axonify is an onboarding solution whose goal is to deliver quick, valuable training content to get employees up to speed with the knowledge and skills needed for their roles. To help them reach their goals, you can set up structured learning paths and deliver relevant training content in as little as three minutes per day. You can create training content, repurpose existing materials, or choose from their vast content marketplace. Learners are also given the flexibility to pursue additional training activities that they can complete in their own time to drive continuous learning.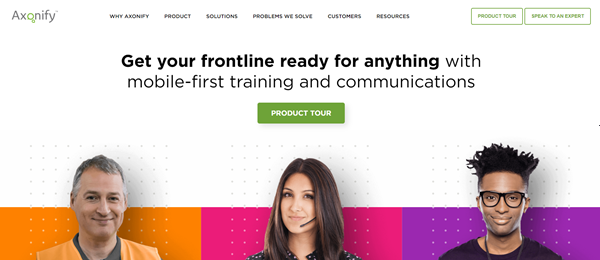 Features:
Bite-sized training

Structured learning paths

Content marketplace
Price: Paid plans
Tool to Improve your Onboarding Process #10 – Eloomi
Eloomi is an onboarding LMS that aims to simplify digital learning through its online training platform that you can readily access from any device. It provides flexibility with content creation as it allows you to make custom training courses or select from hundreds of their pre-built programs. It also has a 360-degree feedback system wherein peer reviews can be given for a more purposeful evaluation to close any skill gaps. Eloomi also allows you to set learning paths to direct your employees to training content that's most relevant to them for a personalized path to career advancement and success.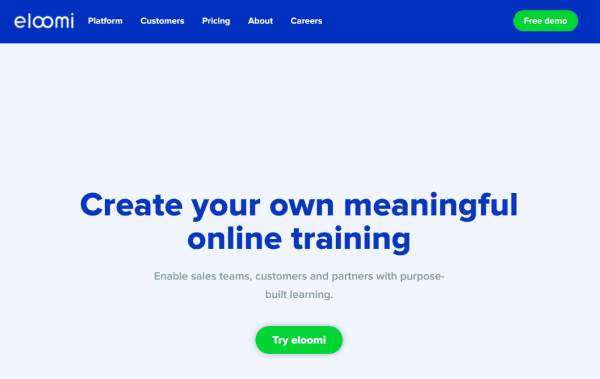 Features:
Built-in course authoring

360-degree feedback

Learning paths
Price: Paid plans