Nowadays, organizations are shifting to mobile learning apps for corporate training as these tools allow them to deploy training materials without hassle while also allowing learners to complete courses at their own convenience. Check out our list of mobile learning apps below to get started with your own corporate training initiatives. 
Mobile Learning App #1 – EdApp
EdApp is an award-winning mobile learning app for corporate training and it has been recognized by industry-leading organizations such as Unitar and Dunhill for its engaging and user-friendly mobile microlearning features. It gives L&D professionals the flexibility to create, manage, and deploy courses with ease, all in just a few clicks.
One of the platform's key features is its powerful cloud-based authoring tool that allows you to simply choose from a wide range of mobile-friendly templates, drag and drop your content, customize the design, and instantly deploy the completed course to your employees. You can also import courses directly from EdApp's comprehensive course library if you're short on time. Some of their ready-made courses include retail training programs, corporate training courses, healthcare training courses, and construction safety training programs, all of which can be accessed through EdApp's microlearning app. Whether your learners are taking a quick lunch break or commuting to and from work, this direct mobile access gives them the flexibility to complete lessons at their best convenience.
Rapid Refresh, EdApp's built-in online test maker, is another amazing tool that allows you to reinforce lessons and boost knowledge retention by delivering quizzes in bite-sized bursts at scheduled intervals. You can also take advantage of the software's spaced repetition feature called Brain Boost to embed training concepts in your learners' long-term memory. On top of these features, EdApp also incorporates gamification elements like letter jumble and image/word match to transform assessments and knowledge reinforcements into smartphone-like games, making them more fun and engaging for learners.
Cost:

Free

Highlights:

Drag and drop authoring tool, e learning templates, course library, gamification, Rapid Refresh, Brain Boost
Mobile Learning App #2 – Quizlet
Quizlet is a mobile learning app that is well known for its customizable flashcards and e learning gamification examples. While it's mostly used in schools, you can also use this platform in the workplace to assess your employees' knowledge retention levels.  Visual learners will find this mobile learning tool highly useful for increased comprehension and recall, as most information and key concepts are taught through images. All you have to do to get started is choose a flashcard stack from their comprehensive library of pre-made flashcards and customize it according to your teams' corporate training needs.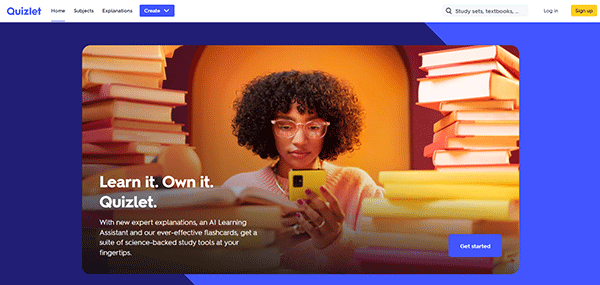 Aside from its customizable flashcards, Quizlet also allows you to set up live gamified contests to foster healthy competition among your employees. Some of its other notable features include adaptive questions, practice tests, and timed games. Depending on your training needs, you can try out this mobile training app's free tier or unlock additional features like analytics and customization through their paid subscription plans.
Cost:

Free, Paid plans

Highlights:

Pre-made and customizable flashcard stacks, gamified contests, adaptive questions, practice tests, timed games
Mobile Learning App #3 – Qstream
Qstream is another mobile learning app that can help you scale your corporate training programs and track each workers' learning progress. Through its gamification elements, micro-explanations, challenges, scenario-based Q&A, and spaced repetition features, you can also increase your learner's knowledge retention and overall productivity. Worry not as Qstream provides you with hassle-free access to all these features through their mobile learning app. 
Managers can determine training efficacy, address knowledge gaps, and track overall employee performance in real-time with useful tool components like proficiency heat maps, leaderboards, team comparisons, and analytics dashboards. The coaching hub feature enables training managers to create content from a template library and a set of guide questions, engage with learners who need additional assistance, and facilitate real-time practice through videos submitted by their personnel. The best part? Qstream even allows you to reinforce product knowledge among customers. Once they're enrolled in the platform, all you need to do is deploy the courses directly to their mobile devices.
Cost:

Request a price

quote

Highlights:

Micro-explanations, scenario-based Q&A, leaderboards, analytics dashboards, coaching hub, heat maps, video sharing, knowledge reinforcement for customers
Mobile Learning App #4 – WizIQ
WizIQ is an all-in-one learning management system that you can use to easily develop and manage mobile-friendly training programs. To get started, simply set up your learning portal, upload and customize your learning content, and then deploy. The elearning platform also offers an online test builder, allowing you to conduct assessments for your teams with just a few clicks. There's even a handy analytics tool that's perfect for monitoring each learners' overall training performance. Through the mobile learning app's virtual classroom and HD video conferencing features, learners can participate in synchronous online classes, discuss group assignments, and collaborate with their peers in real-time. To further boost engagement, you can also give learners access to interactive whiteboards and polls.

Cost:

Starts at $25 per month

Highlights:

Customizable learning portal, online test builder, analytics, virtual classroom and HD conferencing, interactive whiteboards and polls
Mobile Learning App #5 – Kahoot!
Spice up your corporate training sessions with Kahoot!. This game-based mobile learning app lets you create different kinds of learning materials, such as interactive games, quizzes, and flashcards. Aside from helping you design and deliver training programs, you can also use the mobile platform to conduct remote training demonstrations and events. Learners can also choose from Kahoot!'s different Study Modes, which include flashcards, practice, test yourself, and challenge friends, to train in their own time or collaborate with their colleagues. 
Another way to keep your teams connected and engaged with their lessons is by hosting live Kahoots! over any video conferencing platform of your choice. Kahoot! also provides reporting and analytics features to help you spot knowledge gaps and provide feedback, giving learners a more holistic training experience.
Cost:

Free, Paid plans start at $17 USD per month

Highlights:

Gamified training materials, remote training, study modes, live Kahoots!, reporting and analytics
Mobile Learning App #6 – Yarno
As a mobile learning app, Yarno helps you effectively train your employees wherever they're located. The platform features a learning library where your learners can store all their training materials for easy access. It also has a unique feature called Embed campaigns wherein you can quickly roll out quizzes over a certain period and track your teams' completion rates and overall training outcomes. 
Through the mobile-friendly tool, you can also deliver training through a simple question-explanation approach, which strengthens each learners' recall of new knowledge. It's then followed up by explanations where they can receive feedback from their answers. If you're pressed for time or simply have no time to create training materials from scratch, you can even request the team at Yarno to help you create custom-made training videos.
Cost:

Request a price

quote

Highlights:

Learning library, embed campaigns, question-explanation format, mobile-ready, custom-made videos
Mobile Learning App #7 – Hoopla
Hoopla is a mobile learning app and gamification training software designed to help you boost your team's overall performance through contests, leaderboards, and real-time recognition. Through this interactive eLearning tool, you can identify team goals and create tournament-style or race-style contests for friendly competition between employees, accelerating overall team productivity. Team members can even track their individual performance through the mobile training app's built-in leaderboards system. 
Deliver recognition instantly with no manual intervention needed through Hoopla's Newsflash feature. Every time an employee reaches their target, the elearning platform automatically sends a live news update to fellow team members so that everyone can celebrate their win. By fostering a competitive and encouraging atmosphere, your teams can have fun while hitting their targets.
Cost:

Request a

14-day free trial

Highlights:

Gamification elements, contests, leaderboards, Newsflash real-time recognition
Mobile Learning App #8 – Kitaboo Insight
Compatible with iOS and Android devices, Kitaboo Insight is a mobile-first platform that allows you to seamlessly integrate with a learning management system that you currently use, allowing a smooth transition to their software. Using Kitaboo Insight is as easy as uploading your existing training content and adding quizzes & knowledge checks with their pre-built templates. You can then upload training material securely with DRM protection and provide both online and offline access to your content through Kitaboo Insight's very own mobile app. One of its unique features is the ability to convert static PDF, PowerPoint, and text files into interactive digital content. This is perfect for learners with short attention spans who may have trouble going through long documents. Through its robust built-in analytics tool, you can track your teams' courseware utilization and address their learning challenges.
Cost:

Request a price

quote

Highlights:

Mobile accessibility, offline content accessibility, static file conversion, DRM protection, reporting dashboard
Mobile Learning App #9 – dominKnow
dominKnow is a cloud-based mobile learning app that comes complete with an authoring tool and a content management system. It has been used for more than a decade by both small and large organizations to meet their training and collaboration needs. The system is designed to help you collaborate as a team in real-time and create well-optimized learning content with just one tool. Design interactive content compatible on any device using a range of templates and digital assets and deploy learning materials directly to your employees' mobile devices. 
Alternatively, the platform also provides translation and localization capabilities that allow you to choose from over 50 languages to translate learning content for learners from a specific region. Similar to other m learning tools, you do need internet connectivity if you want to work on your courses. Editing learning content on the go might prove difficult if you have an unstable internet connection while traveling.
Cost:

Starts at $997 USD per year for solo plan, $1,497 USD per year for team plan

Highlights:

Mobile learning, interactive templates, real-time collaboration, translation, and localization 
Mobile Learning App #10 – EduBrite
EduBrite is an LMS platform and mobile learning app designed for professional onboarding, support, and training of your employees, customers, and partners. It allows you to create self-paced online courses and certification programs through a user-friendly course editor. This feature supports various types of learning materials, such as video, audio, presentation, documents, PDF, Youtube, and Vimeo, perfect for creating highly comprehensive and engaging training programs. Other useful features include a comprehensive knowledge base and integrations like Okta and GoToMeeting. Edubrite's biggest advantage is that lessons are deployed through their eLearning mobile app, making training accessible and convenient for learners. 
Cost:

Starts at $399 USD per month

Highlights: Course editor, mobile accessibility, knowledge base, Okta and GoToMeeting integrations