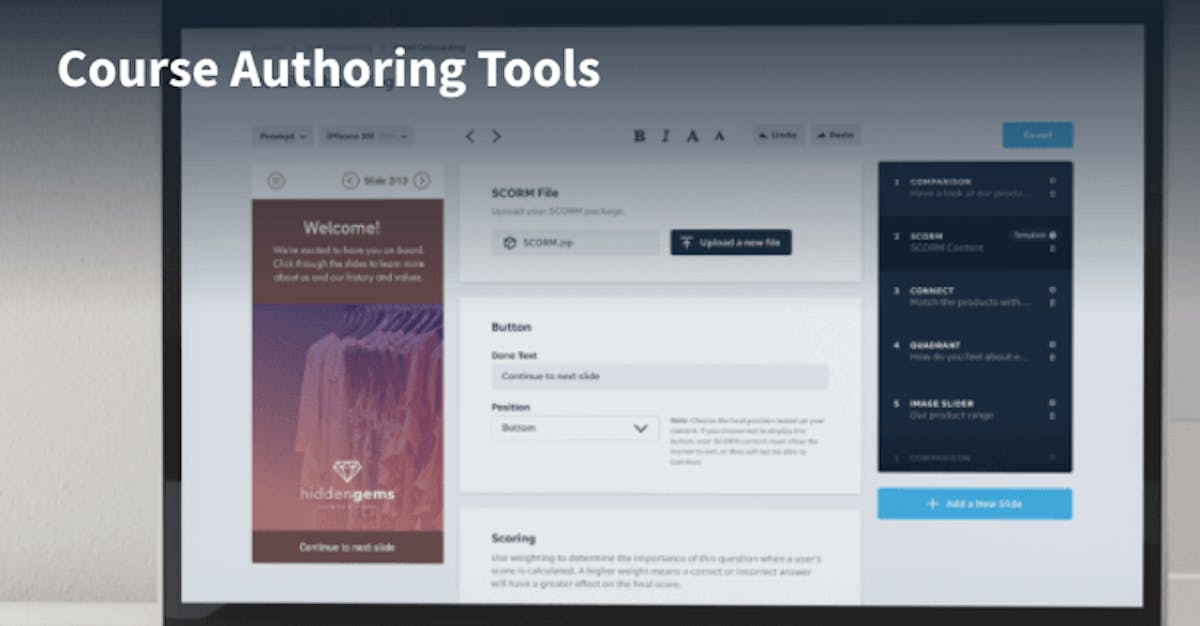 There is no need to worry about how to build your training program with course authoring tools that can be found online. Course creation is now made easier and faster for busy managers and the best part is you can find any tool that fits your budget. By bringing training online, learners are allowed to take their courses anywhere, resulting in higher completion rates. 
Course Authoring Tool #1 – EdApp
EdApp is an award-winning free course authoring tool that makes course creation for managers a breeze. The learning platform prides itself on its intuitive authoring tool, which will surely streamline the process of creating your training materials. To make things interesting, there are different microlearning and gamification templates that you can use to make your courseware interactive.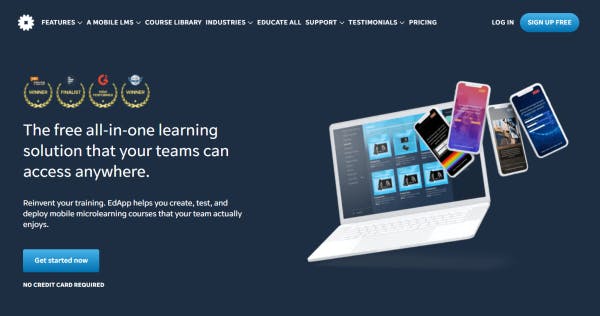 And the best part? EdApp has a fully editable course library, which houses hundreds of ready-made courses. This feature allows you to easily select from hundreds of high-quality, ready-to-deploy training material that is relevant for your teams, then deliver it in no time. Developed using the most latest learning and development approaches. Hundreds of engaging courses have been created by EdApp's instructional designers for organizations like yours.
You can also alter any course at any moment to meet your training requirements. Not only can you add or edit the content, but you can also upload your brand image and logo or even include slides of gamified quizzes from its Rapid Refresh quiz maker to make the courses more engaging and enjoyable. With EdApp mobile learning, learners can take their training anytime, anywhere.
Features:
Course authoring

Editable course library

Microlearning

Gamification

Customizable templates

Quiz maker

Mobile learning
Cost: Free
Course Authoring Tool #2 – Bridge
Bridge is a course authoring tool that focuses on upskilling employees through an individualized learning experience. Apart from being able to upload and edit SCORM content, you can also create your courses, design onboarding programs, or deliver compliance training content, thanks to its native authoring tool. You can also incorporate social learning and peer engagement into your team's training through Bridge's video role-playing feature. In addition, the analytics dashboards give you insight into your employees' performance data in PDF files, allowing you to come up with strategies to address possible learning gaps and evaluate current knowledge levels.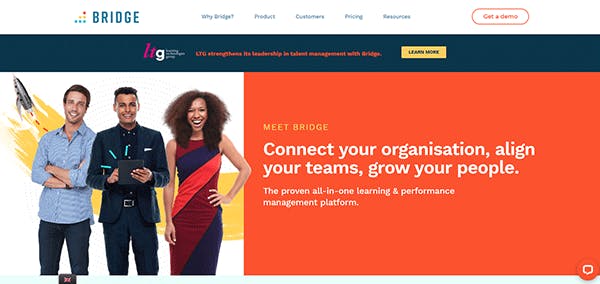 Features:
Course creator

Video role-playing

Insights & analytics

Learning paths
Cost: Starts at USD/month
Course Authoring Tool #3 – AdaptiveU
AdaptiveU enables you to create responsive web-page-like courses through their all-in-one cloud-based authoring software. Designing your course is easy, intuitive, and requires no advanced tech skills. Create a course in seconds by just copying and pasting your lesson's text, adding links to relevant articles, and attaching documents, images, or videos. While AdaptiveU has a free plan, you can only create 2 courses for 5 users. It also has a 1 GB storage limitation, which may not be enough for courses with many assets.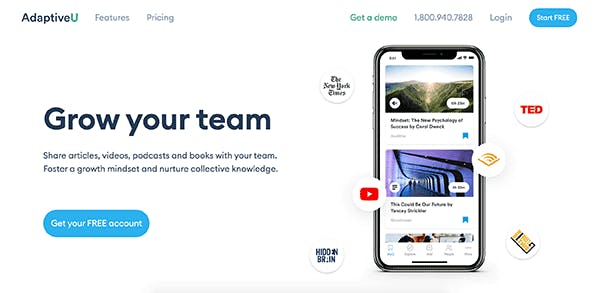 Features:
Cloud-based authoring

Responsive design

Simple user interface
Cost: Free, paid plans
Course Authoring Tool #4 – Itacit
If you're looking for an all-in-one course authoring tool that you can use for your skill and compliance training, then you don't have to look further than Itacit. This course software eliminates the costly expense of in-person training, allowing trainers like you to easily build SCORM-compliant online training in just a few easy steps. Just drag and drop your SCORM content, add text, links, or video content, format the design, and hit publish. You can even create a personalized learning path for specific user groups and then automatically enroll them in the training course that they need the most.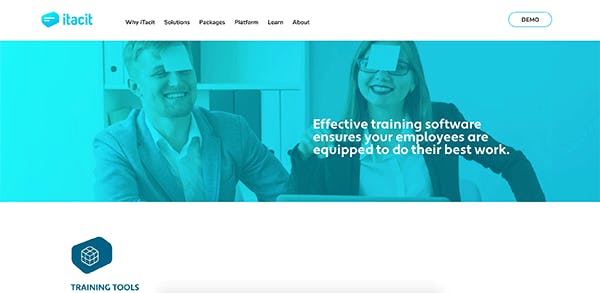 Unfortunately, this platform has no content library. You can only import courses from a third-party source or start from scratch, meaning, you might have to spend extra hours building your training program. 
Features:
Course builder

SCORM-compliance

Learning paths
Cost: Paid plans
Course Authoring Tool #5 – Chameleon Creator
Chameleon Creator is another rapid course authoring tool that you can use to create fully-responsive learning content quickly, easily, and beautifully. It has a simple and intuitive user interface (UI) that allows you to choose dynamic interactions, where you can enter text, videos, animations, and more. You can even customize each interaction to match your branding by choosing different color themes. If you want to recycle or edit any assets you've previously used, Chameleon Creator features a built-in library to store your content safely in the cloud. Lessons that you create can be used in a different LMS since they're SCORM-compliant but you can also rely on their native platform to deliver your training.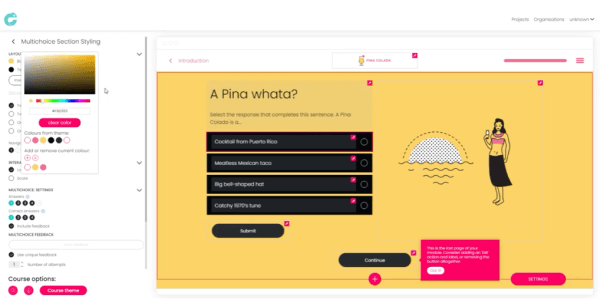 Features:
Cost: Free trial, paid plans
Course Authoring Tool #6 – Coassemble
Coassemble is a user-friendly course authoring tool that makes the creation of interactive learning materials quicker and easier for training managers like you. This employee training software allows you to transform your old presentations, PDFs, and other documents into engaging online courses. All is made possible by its available screen templates that support various media forms and provide interactive elements. You can also assess your personnel's knowledge retention through pop quizzes or activity-based challenges. A certificate will be given to your employees upon course completion.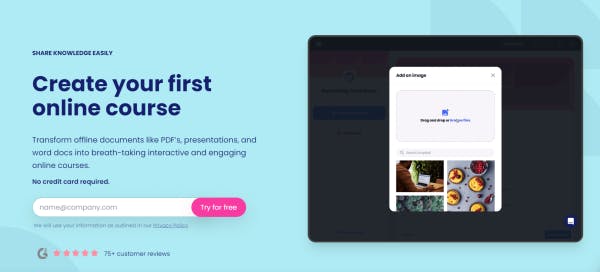 Features:
Cost: Starts at 99 USD/month
Course Authoring Tool #7 – Thinkific
Thinkific enables you to quickly develop professional-looking learning content for any kind of audience. Its user-friendly course builder doesn't need any coding knowledge or technical expertise as Thinkific provides ready-to-use templates at your disposal. Courses can include live lessons, quizzes, assignments, certificates, and more so you'll have plenty of options to create your content. Like other course authoring tools, Thinkific offers a variety of media you can add to your courses, such as video, audio, images, PDFs, or presentations. One unique selling point about this platform is that you can sell the courses you've created and they don't take a cut off the sales you make.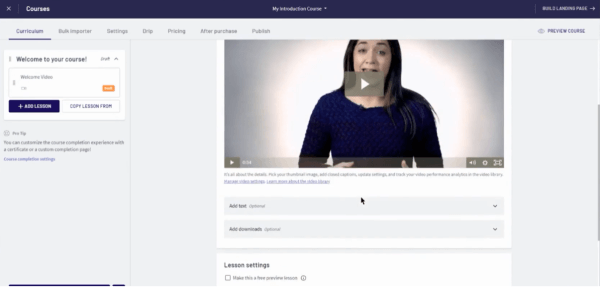 Features:
Course authoring

Course templates

Dynamic lesson types

Course selling
Cost: Free, paid plans
Course Authoring Tool #8 – Lectora
With Lectora, you don't have to choose between fast or powerful – you can get both with this course authoring tool. To quickly build learning content, just choose from their starter templates, which include course frameworks, themes, style packs, and more. To enhance the look of your lessons, you can rely on Lectora's built-in asset library where you can find a plethora of icons, characters, stock images, audio clips, or videos. Working in teams is also made simple and easy with their collaborative authoring feature, which tracks any revisions and automatically communicates them to all members so you won't miss a beat. If you're on a tight budget, try getting Lectora's free trial first since their plans can get quite steep. Additionally, their lowest tier only offers an online version and is marketed for individual use and not for enterprise.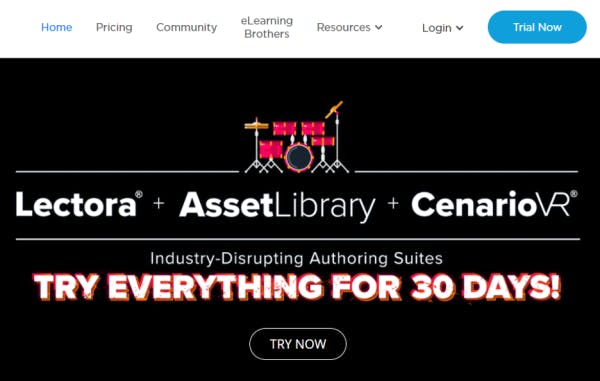 Features:
Template library

Built-in asset library

Collaborative authoring
Cost: Starts at 99 USD/year
Course Authoring Tool #9 – BrainCert
BrainCert is an LMS that features its very own SCORM authoring tool. Its modern and user-friendly UI makes it easy for anyone to navigate different features such as the course creation wizard, testing platform, custom theme design, and virtual classroom. The course creation wizard allows you to import, customize, and deliver courses with ease. On the other hand, you can use the virtual classroom capability to conduct live online training sessions, which is perfect for your remote workers. Other notable BrainCert features include video streaming & chat, analytics, reporting, and e-commerce integration, which allows instructors to sell their online courses, quizzes, and even live classes through the platform's built-in global marketplace.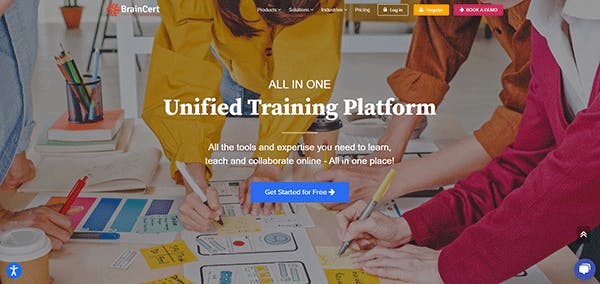 Features:
Course creation wizard

Custom theme design

Virtual classroom

Video streaming & chat

E-commerce integration
Cost: Free, paid plans
Course Authoring Tool #10 – Code of Talent
Code of Talent is an online course authoring tool best suited for managers and training officers. Trainers can use this to create, customize, and deploy microlearning courses for their teams. To promote self-paced training, social learning, and content engagement, Code of Talent's courses are designed to be mobile-friendly and easy to digest. You can also use its gamification function to build interactive quizzes comparable to games to encourage learners to immerse themselves in the learning materials.
Features:
Content building tool

Social learning

Gamification

Mobile-friendly
Cost: Paid plans