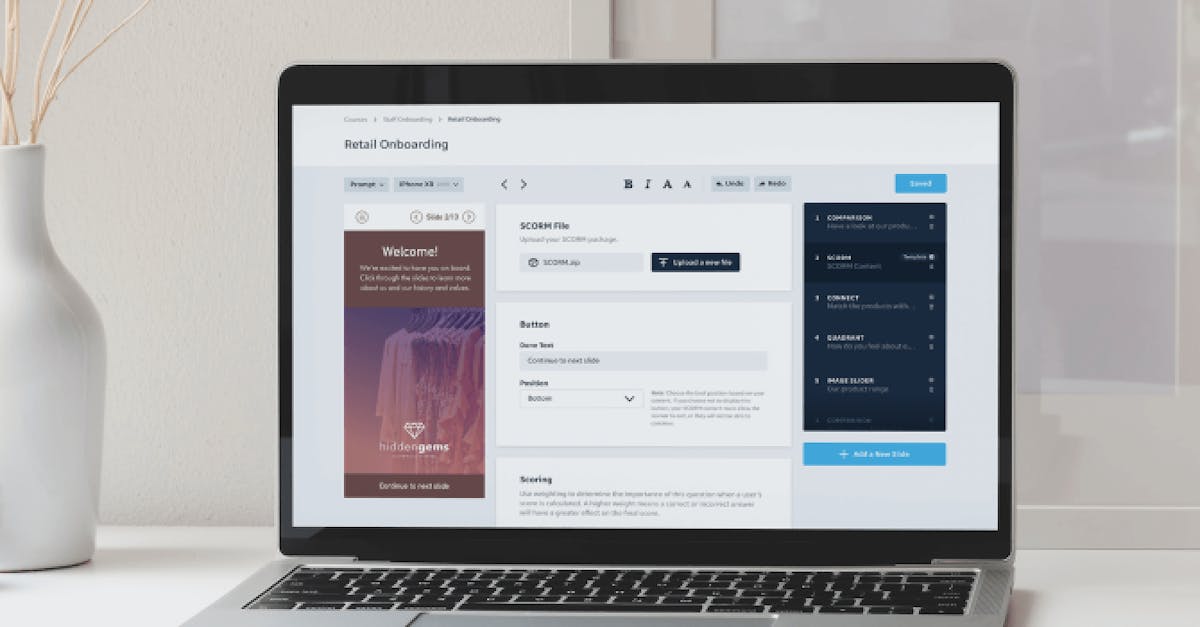 With the proper tools, creating learning content from scratch can be easier and more convenient. Thankfully, there are many available course creator software that simplifies and accelerates this process. To guide you in your search, we've listed the best course creator software to easily get course creation done.
1. EdApp
EdApp is a mobile-first microlearning platform that lets you create, personalize, and deliver high-quality learning content through a user-friendly course creator. This free software creator offers a library of 80+ fully interactive and immersive course creator template templates that are readily available for you. This allows you to easily create engaging microlearning courses which are proven to have an average of 80 percent completion rate.
Its built-in AI translation tool even allows you to deliver courses in multiple languages at scale, in just a few clicks. Create a course online for free with its intuitive authoring feature. Here, creating and customizing courses only takes hours or days, instead of dreadful weeks or months. You'll easily learn how to create an ecourse in only one day.
EdApp even has its own course library that houses fully-customizable microlearning courses across different categories. Some examples include hospitality training courses, HIPAA training courses, active listening training courses, free marketing courses, and inclusive leadership training courses.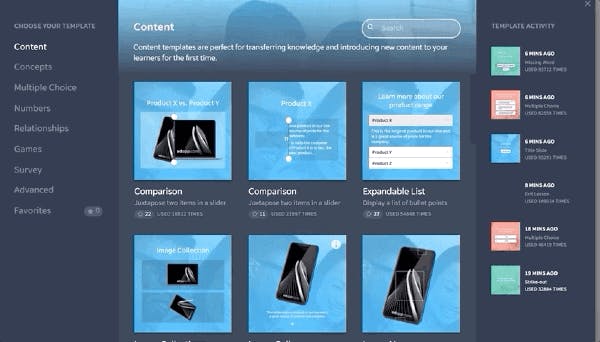 Aside from being a free online course software, EdApp is also a data-driven authoring tool that gives insights on the most used templates by other authors, the most effective sequence of templates for maximum retention, and the best placements of multiple-choice questions within a lesson. Through these data, you'll have an in-depth view of how the structure of your impacts the average scores of your learners.
working from home training courses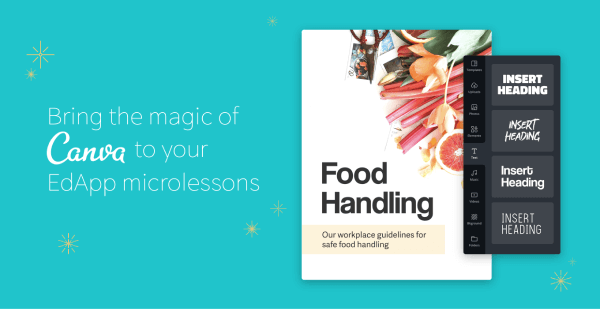 This course creator software also integrates with Canva which is a designing platform that lets users easily create any kind of visual content using a simple drag-and-drop tool. It offers free and paid stock photography, fonts, illustrations, and templates in just one platform, which helps users easily design visually engaging content – even with little to no knowledge or having taken creator classes, or experience in graphic design. With well-designed and visually informative lessons, your learners are able to have a better grasp and retention of your training content.
Deliver engaging workplace learning that has been properly crafted with EdApp's course creation services. If you need an online course creation consultant, just give your training materials to EdApp's instructional design team if you've no time, and they'll turn them into dynamic and captivating courses.
Highlights:
Price: Free
Sign Up For Free now so you can start creating beautiful and engaging courses with EdApp's intuitive authoring tool!
2. isEazy
Build professional eLearning courses with isEazy's powerful cloud-based authoring tool and free online training generator. With its simple interface and intuitive editing system, you can quickly design polished learning materials without needing technical design skills. The online course creation software enables you to choose from a range of well-designed slide templates and course layouts, personalize your images, and translate courses with ease. You can also customize your course by adding interactive elements like quizzes, catalogs, and timelines. But, with the free version, courses are published with an isEazy watermark. To deploy courses more efficiently, the collaborative tool is a handy feature that allows different users to simultaneously edit a single course.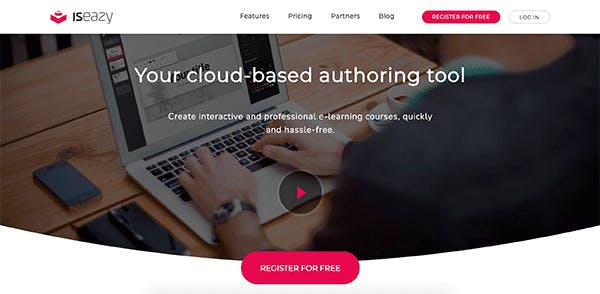 Highlights:
Slide templates

Collaborative tool

Course translation
Price: Free basic plan, 9 USD pro plan, and 00 USD business plan
3. ProProfs
As a SaaS LMS platform, ProProfs Training Maker is designed to help training consultants ease up the process of creating training content. Its online course creator allows you to create courses and quizzes with hundreds of available templates and media content. It provides a premium course library available with pre-made courses on topics such as compliance, customer service, inclusive leadership training courses, and many more that you can easily deploy to your personnel. A collaborative learning environment is also promoted through features like discussion forums and virtual classrooms. Through its training management system, you're able to efficiently streamline processes in developing training materials as well as track the progress of each employee.
Highlights:
Authoring templates

Premium course library

Virtual classroom

Learning management
Price: Free (within a 15-day trial), paid subscription starts at 4.96 (per feature monthly) 
4. CourseLab
CourseLab version 2.4 is another free authoring software and online course development software for building interactive eLearning courses that can be published on the web or a learning management platform. You can make slide-based courses with images, videos, complex multi-object interactions, and quizzes. It also comes with a set of eLearning templates. However, this program creator isn't as intuitive so it can be a complicated tool for beginners on authoring tools for eLearning. This tool is better suited to more experienced developers who have an idea of how LMS authoring tools work and are more comfortable navigating the platform.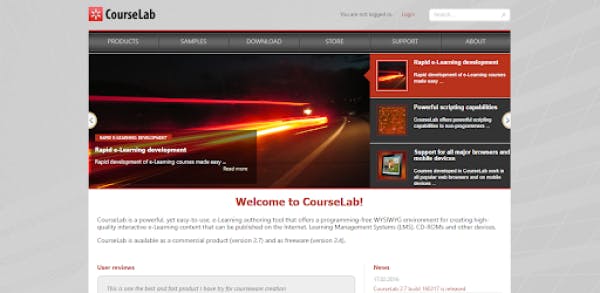 Highlights:
Price: License starts at 49 USD (annually)
5. Coassemble
Coassemble is an eLearning creator software designed to provide a user-friendly course creator that makes the creation of interactive learning materials easier for managers and effective for your personnel. This training software allows you to transform your old presentations as well as PDFs and documents into engaging online courses with its available screen templates that support various media forms and provide interactive elements. You can assess your personnel's knowledge retention through pop quizzes or activity-based challenges. A certificate is also given to your employees upon course completion.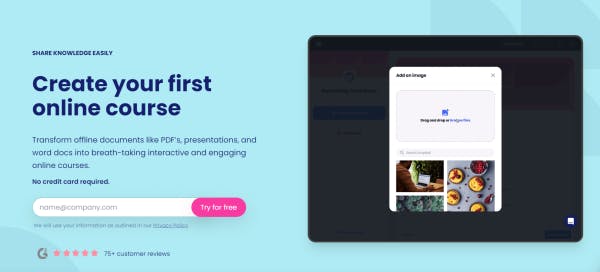 Highlights:
Price: Paid subscription starts at 99 USD (monthly)
6. domiKnow
domiKnow is an all-in-one cloud-based eLearning LMS that comes complete with a course creator and a content management system. The web-based software is designed to help you collaborate as a team in real-time and create well-optimized learning content with just one tool. This platform allows you to design interactive content on any device using a range of templates and digital assets and deploy completed learning materials on any device. It also provides translation and localization capabilities that allow you to choose from over 50 languages to translate learning content for learners from a specific region.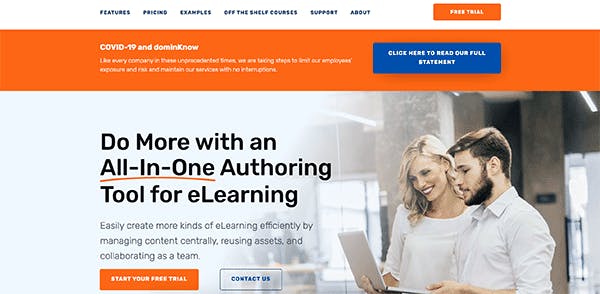 Highlights: 
Mobile learning

Real-time collaboration

Translation

Localization
Price: Starts at 97 USD per year for solo plan, ,497 USD per year for team plan
7. Tovuti LMS
Tovuti LMS is another learning management platform that you can use to streamline your employee training process. Creating online training programs is easy with its built-in course creator suite where you can create, schedule, and deploy interactive courses in just a few easy steps. You can also include gamification and leaderboard features to encourage them to complete their assigned learning tasks. If you want to integrate synchronous learning sessions into your training, Tovuti LMS's live virtual classroom allows you to meet with your team members in real-time and discuss learning content through third-party online video conference platforms like Zoom and GoToMeeting.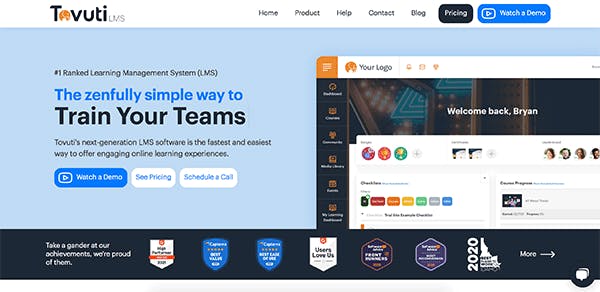 Highlights:
Course authoring

Notifications

Leaderboards

Virtual classroom
Price: Price available through a quote request
8. AdaptiveU
AdaptiveU is a course creator software that allows you to create simple lessons and combine them into courses. The free plan allows you to create up to 10 challenges and invite 10 active users to take them. The start page can be customized to be more personalized to your training, and courses are created using a simple, easy-to-use editing tool that contains various media options, such as files, documents, and pop quizzes. It also gives you access to reports and allows you to track data.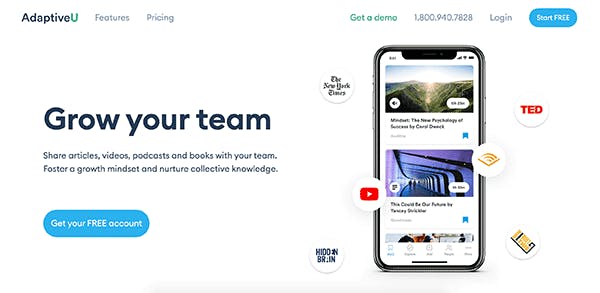 Highlights:
Price: Free
9. 360 Learning
360Learning is an LMS and collaborative eLearning platform designed with a course creator, a content integration system, and an analytics dashboard. Their intuitive course authoring suite requires no technical skills to use and enables you to create courses in just a few minutes. Whether you're creating a new leadership training program or an active listening training course, designing lessons only takes a few clicks. You can also include learning resources like videos, images, blog articles, and research into your course to keep training content up-to-date and engaging. With 360Learning, your workers also have access to collaborative learning features like discussion boards and group pages that allow them to participate in meetings with both you and their fellow employees.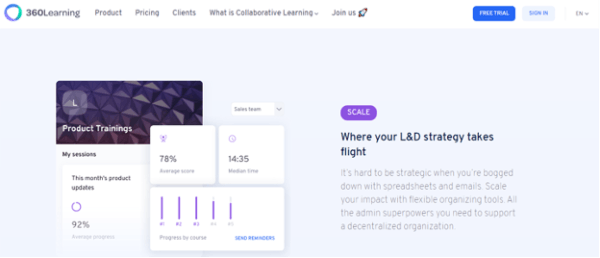 Highlights:
Authoring tool

Integrations

Dashboard

Collaborative learning
Price: 14-day free trial, Price available through a quote request
10. Talentsoft
Primarily focused on talent management strategies and learning, Talentsoft is a mobile-friendly cloud-based eLearning software that allows you to train your workforce and boost employee performance at scale. Through its course & SCORM creator software, you can create SCORM-compliant learning programs and provide learners with highly engaging gamified content. It also includes a digital content platform that gives you access to training content created by Talentsoft's partners.
Highlights:
Authoring tool

Gamification

Mobile access
Price: Free trial upon request