If you're looking to develop your agents into an exceptional frontline for customer support, then our call training guide will help you ensure that you are well prepared to train them. By the end of this call center training guide, you'll be convinced of its importance and be equipped with tips and resources for creating the best call center training programs for your agents. 
What is call center training?
Call center training is a learning and development program that equips your agents with the knowledge to handle phone calls, along with the standard skills for interacting with your customers. Aside from learning phone call etiquette and techniques through call center training, your agents will also be able to stay in the know with product or service details, like product expansions and new features or services. It shouldn't stop after onboarding new agents. Even as they settle into your company and become experienced agents, a refresher training course is still very much needed. 
Sign up for free and make your training call center training fun and easy with EdApp!
No credit card required.
Why is call center training important?
Your agents serve as a helping hand that assists your customers with their concerns or problems. They directly represent your brand or service to your customers, so they're very crucial to your reputation and customer loyalty. Customer demands are ever-changing, especially as your brand or service makes continuous changes or improvements. If your agents are not able to keep up with the growing concerns of your customers, then you might as well prepare to potentially lose customers. But of course, we shouldn't allow that.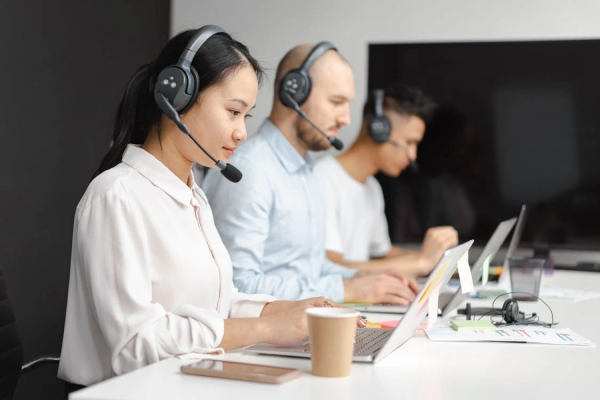 By investing in constant call center training, even after onboarding and initial training, you'll be able to continuously foster growth and competence among your agents. This way, they'll have the confidence to take on any kind of situation with customers, no matter how challenging it can be. It's easy to get overwhelmed with stress, especially when your agents have to deal with difficult and agitated customers. That's a tough one. But with the right knowledge and skills, they'll still be able to lead smooth sailing call interactions with your customers.
Overall, call center training helps boost the performance of your agents, which will result in higher customer satisfaction. And when your customers experience high-quality service from your agents, they'll have more trust and reassurance in using your product or service. That's because even if they encounter issues along the way, they know that they can easily turn to your agents for support.  
Call center training methods
In this section, you can explore various call center training methods to develop the skills of your agents, especially the new ones. You can choose the most relevant to the nature of the work of your agents or opt to combine these techniques to create a blended learning experience for them.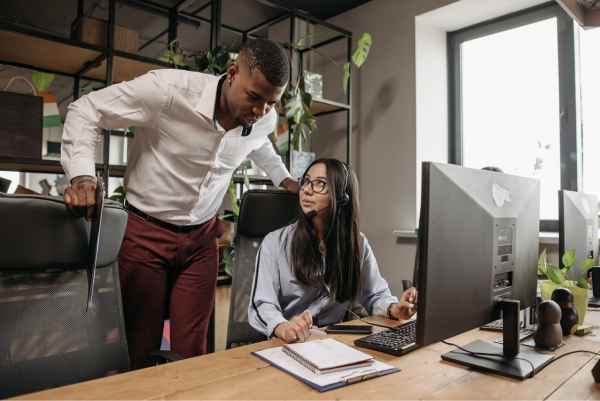 With in-person training, your agents are able to have a more practical learning experience. To make learning on-site more meaningful for your agents, you can implement learning activities where they can have more active participation in learning. This is an ideal method for training new agents, especially if they have no prior experience working in a call center. It allows them to observe how the processes work and even put their knowledge into practice.
In a call center role, your agents should be able to listen to a call and talk to the customer while also typing as necessary. These are crucial skills to have, especially when they are dealing with stressful customers or situations. This works by learning from a mentor or an experienced call center agent. First, the mentor will handle the calls and talk to the customers while your new agent is the one navigating the system on-screen and typing in real-time, giving them a hands-on training activity. Then, after mastering how to navigate the system while controlling the keyboard, they'll take over the task of handling the calls while the mentor does the typing. Once they master both skills, they'll finally be able to do the talking and the typing simultaneously.
Shadowing is a more passive kind of in-person training, but it allows your new agents to familiarize themselves with the nature of call center operations by observing how existing call center agents work. This way, they'll learn how your experienced agents deal with and adapt to different situations. Through shadowing, your new agents can also learn how the other agents navigate and use the different call center software and tools in your company. 
Classroom training is a more traditional and formal training approach where a coach or facilitator leads the discussion. This is a good introductory training program to lay down the basics first, like your standard call procedures, along with rules and regulations for handling customer calls. But, it doesn't have to be a bore and it isn't only applicable to new hires either. Even your existing agents can participate in this type of training. But to make classroom training more exciting and interactive for them, you can facilitate workshops and group activities to hone certain skills they would need to have productive calls with customers. 
Online training is a good supplement to in-person training. It's also an efficient way to introduce new learning and reinforce key information among both new and existing agents. As most courses are designed for self-paced learning in this type of call center training, you won't need to halt your operations and take your agents out for long training sessions. 
There are many available free and paid call center training courses online in various forms, such as videos, PDFs, microlessons, and many more. As your agents are able to take their training in the comfort of their own devices, they have more time to process information as they go through their lessons. It's also a good way to keep their skills in check despite the hectic nature of their work. 
A customer call library is where you can store or archive customer satisfaction and dissatisfaction calls, which can serve as learning materials for your new agents and even existing ones. Having the recordings of these calls, including all their relevant information, will help new agents set their expectations for the different types of situations that they will encounter. It will also guide them on best practices on how to resolve various customer issues.
Mentorship allows for a more personal and hands-on training experience for a new agent. Your agents will not be merely observers in this type of call center training. Here, they can ask for tips and techniques from their mentors. Having a mentor will also guide them in thinking of strategies to deal with the different challenges they face. 
A scenario-based training applies immersive learning activities, such as virtual reality and role-plays training. This allows your new agents to apply their knowledge and practice their skills in a simulated interaction with a customer. By training them in a controlled environment, they'll be able to explore the repercussions and impact of their decisions in handling customer calls before they step out into the field. 
In EdApp, you can easily apply this training using its Chat Template, which is available in its user-friendly authoring tool. This template lets you use speech bubbles to replicate real customer interactions, such as common questions for crisis management. Then, your agents will be asked to choose the best response for a given scenario. It's a highly engaging and fun way for your agents to learn about customer queries.
Examples of call center training topics
Product or service training
Training your agents on your product or service's main characteristics, strengths, and weaknesses will give them the fundamental knowledge to assist your customers with any concerns. Knowing the ins and outs of your product or service is critical in a customer support role as it will help them better identify the causes and solutions to your customers' issues. This way, your agents will be more clear and concise in their responses to the customers' questions or concerns.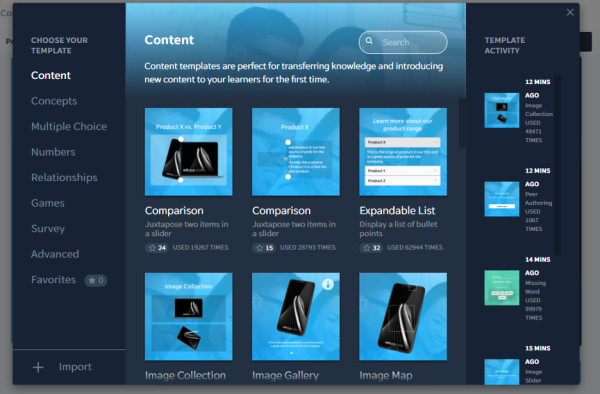 This is a piece of core knowledge for your agents, so you want to make it easy to understand and remember. Thankfully, you can create fun, short-form lessons using EdApp's authoring tool, which includes 80+ interactive microlearning and gamification templates. This enables you to highlight key messages and make them stick better instead of just making them read really long texts.
Call center guidelines, processes, and tools
For new agents, especially those new to the role, this is the most important training. Before stepping out into the field, it's crucial that they fully understand the guidelines and processes for handling customer calls, as well as how to navigate your systems and tools for supporting your customers while on the call. Having this knowledge will ensure that your agents are able to accurately represent your brand to your customers according to standards. 
With this topic, you can also boost their telephone skills and teach them about the proper phone call etiquette and techniques, so you can ensure that your customers will have satisfactory calls with your agents. We don't want your customers to be even more agitated than they already are if an agent shows bad behavior on a call. Training them on this topic will help your agents make a good impression and converse confidently over the phone.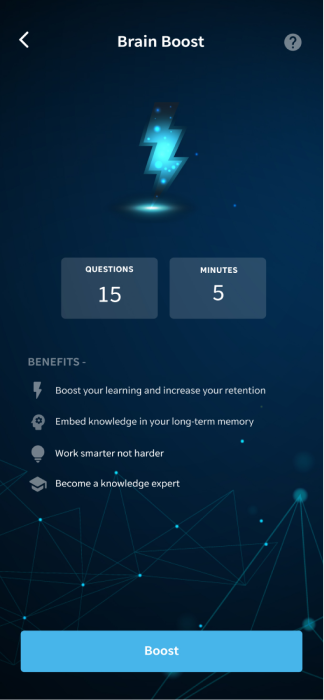 We want to make sure that your agents never get complacent. To reinforce your standard customer call guidelines, you can reinforce them through refresher quizzes that are deployed at spaced-out intervals. Then, EdApp's Brain Boost feature is your buddy here—this feature can automatically create personalized quizzes for your agents and test their knowledge until all the information is well-remembered. 
Your agents' role entails constant communication and interaction with your customers through calls. So, it's important that they have the right communication skills to deliver the right message to your customers while being mindful of their tone and delivery. This helps avoid misunderstandings with the customers. Whether it's leading customers through a procedure or giving good or bad news, great communication skills come in handy.
Thankfully, you can help your agents improve their communication skills with EdApp's Excellent Customer Service Through Communication. It's designed to help them improve their enunciation, active listening skills, and speaking confidence. These skills are especially useful when dealing with customers over the phone. 
Problem-solving is another essential skill for your agents as they serve as customer guides and support for any pain point. Developing this skill among your agents helps improve their decision-making process and enables them to logically deal with customer problems. When your agents are excellent problem solvers, they can quickly identify the underlying issue, even when the customer is unable to communicate it clearly. As a result, it can speed up the call while maintaining the high-quality service and solutions given. 
With EdApp's Problem Solver course, your agents will learn how to solve challenges in a systematic and logical manner. It also covers the many principles and styles of creative problem-solving, as well as various decision-making scenarios.
When crises arise, customers turn to your agents so they can get immediate answers and solutions to their concerns. So, it's critical to train your workers on how to respond to all possible customer issues and how to handle unanticipated crises. Training your agents in crisis management even before any problem emerges will give them the confidence to handle such unexpected and stressful situations. It will also help them calm down and better handle worried or angry customers. If your agents aren't well-prepared in this aspect, it'll be easy to lose to stress and pressure, which can then also lead to churn.