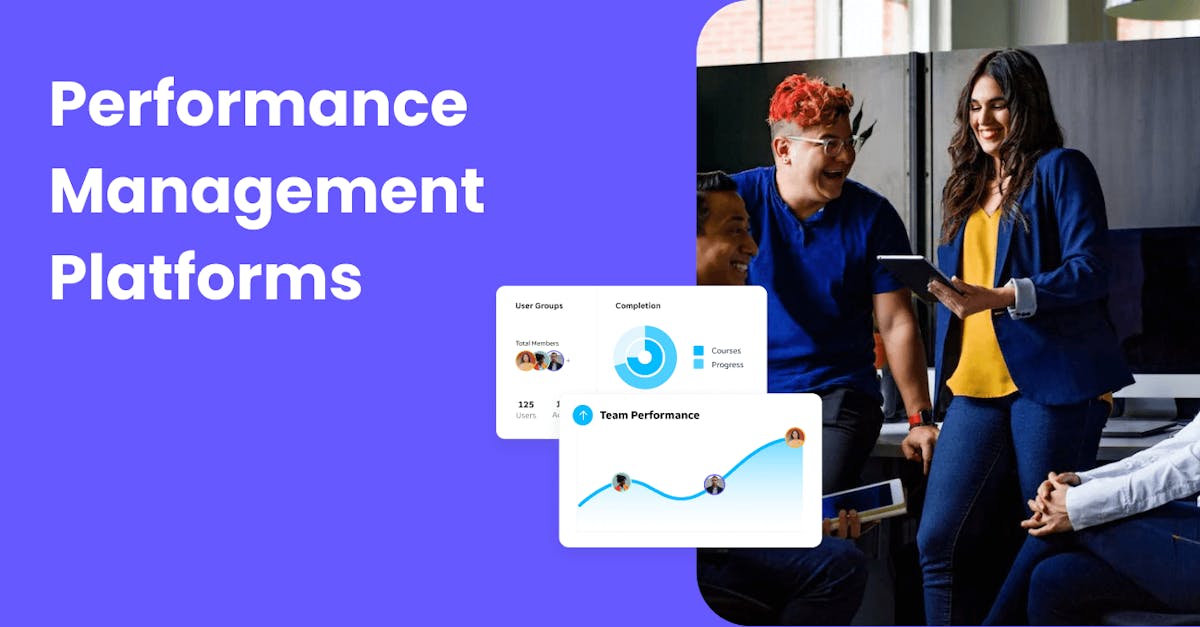 Performance management platforms are designed to boost productivity and help your team hit its goals and objectives. These platforms' features and tools can help you streamline training processes and track and manage employee performance and development at any level.
Performance Management Platform #1 – EdApp 
EdApp is a learning management system that works perfectly as an agile performance management platform. It takes training to another level, which can boost not only your team's motivation but their overall performance as well.
It boasts an editable course library with over 800 courses that you can deploy right away or customize as needed for your business needs. Learners can also freely enroll themselves in courses that they like for personal development.
With EdApp, you won't have to hound your learners to finish their lessons. For managers, you can set up customizable push notifications to remind them to take their corporate training and nudge those who haven't opened their courses yet.
On the other hand, EdApp's reporting and analytics suite also has an in-built tool to help admins, supervisors, and human-resource managers monitor each aspect of the training. Specifically, you can track key employee performance evaluation metrics such as each learner's progress, their ability to correctly answer in-lesson questions, and how long it takes for them to progress past each slide and in your lesson or course overall. You can do this for any course available on EdApp such as cyber security training courses, retail training programs, and GMP training courses.
This can be seen at a glance through the performance and engagement dashboards available. It enables you to easily uncover challenging sections and quickly update your courses for a seamless learning experience for your teams. 
If you want a more customized learning experience to boost performance, EdApp can also produce your first five-lesson course for you, allowing your learners to get more out of their training.
Cost: Free
Key features:
Editable course library

Customizable push notifications

Performance and engagement dashboards

Reporting and analytics
Sign up for Free and Start Using the Best Performance Management Platform Now!
Performance Management Platform #2 – Clear Review
Clear Review was designed to help you set effective goals, provide instant feedback, and have meaningful conversations with your teams through human resource management. With this performance management system, you'll get a weekly report that shows the status of everyone on your team, saving you a lot of time. Its goal-setting feature allows you to choose from different types, such as performance goals, OKRs, personal-development, career-development, and more. Clear Review's advanced analytics also enables you to view detailed metrics and insights designed to help you understand your people and share data across the entire organization.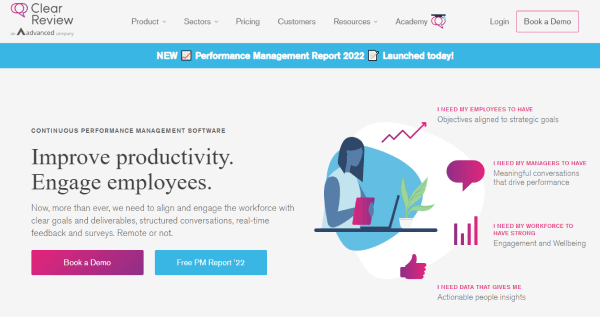 Cost: Starts at £4,000
Key features:
Automated weekly report

Goal setting

Analytics
Performance Management Platform #3 – Eloomi
Eloomi aims to simplify training through its platform that can be readily accessed from any device. It provides flexibility with content creation as it allows you to make custom courses or select from hundreds of pre-built programs. It also has a 360-degree feedback system wherein peer reviews can be given for a more purposeful evaluation and performance- appraisal to close any skill gaps and identify training challenges. Eloomi also allows you to set learning paths to direct your employees to the training content that's most relevant to them for a personalized path to career advancement and success.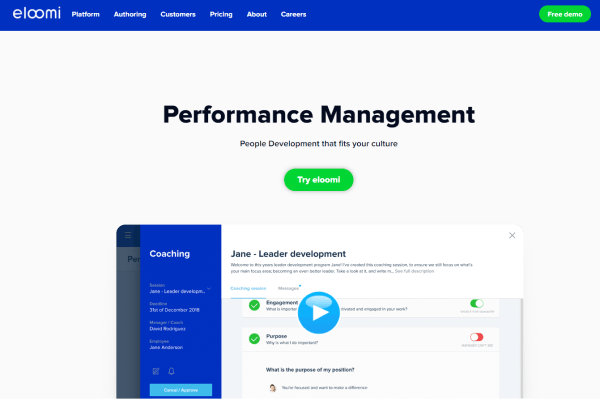 Cost: Available upon request
Key features:
Performance Management Platform #4 – Engagedly
Engagedly is a performance management platform developed based on decades of employee engagement research. Its goal management feature allows you to align and track performance outcomes across the organization. Engagedly also has an informative skills matrix and real-time dashboards to help you track your employees' competency, which even include a talent management dashboard for succession planning and future leader identification. If you want to perform regular check-ins with your teams, this platform also offers an easy-to-complete form that you can roll out to see their progress.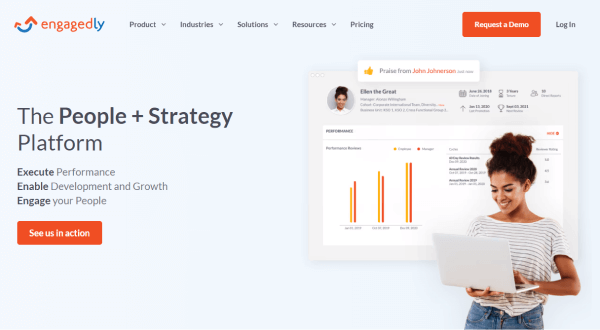 Cost: Starts at US  ,000
Key features:
Goal management

Real-time dashboards

Performance check-ins
Performance Management Platform #5 – VAIRKKO
Bringing effective training results to organizations, VAIRKKO has been intelligently designed with easy-to-use features that can help guarantee the quality and effectiveness of learning training programs. Here, you can create learning courses with no limits, seamlessly distribute them to your workforce, and check the training progress with ease. It can help identify who has already completed and who has yet to unlock their courses, as well as how long it took them to complete all of the required lessons. You can also evaluate your staff by creating multiple choice quizzes or gamified training materials with custom badges and points on the HR software.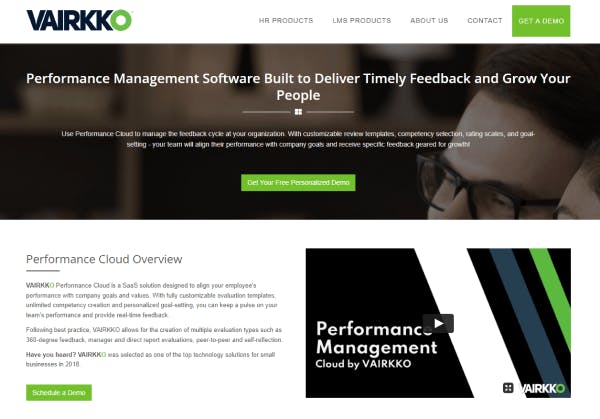 Cost: Available upon request
Key features:
Performance Management Platform #6 – Sharepoint
With Sharepoint, anyone from training and development can manage employee training programs like a pro. From creating your courses and organizing events to gathering employee feedback, you'll discover a range of helpful templates that can make administrative tasks a breeze. It also serves as a friendly platform where you can customize training events and keep track of the dates, including course deadlines. After completing training courses, the expertise and skill level of the learner will be updated in the database, making it easier for leaders and administrators to find the most qualified person for a specific task.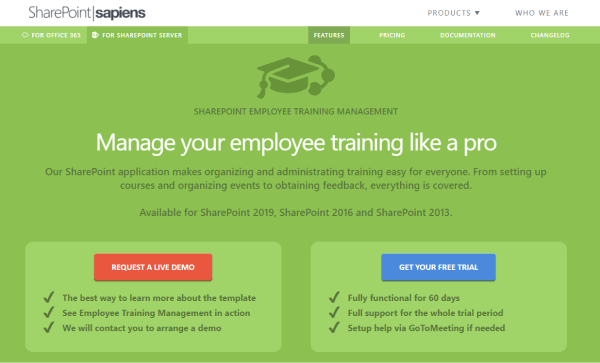 Cost: Starts at US ,799
Key features:
Training development and monitoring

Feedback collection and analysis

Accessible training history database
Performance Management Platform #7 – Peoplebox
Peoplebox is a performance management platform dedicated to driving business results faster and building high-performing teams. It features automatic tracking of OKRs and provides you with a weekly review with its detailed dashboard. Its native integration with resource-management and project management tools, such as JIRA, Google Sheets, and Notion, allows you to sync tasks and connect them with your set objectives. So you can get insights and feedback from your team, Peoplebox also comes with multiple feedback options, such as anonymous messaging, automated surveys, heatmaps, and many more.
Cost: Starts at US /month/employee
Key features:
Performance Management Platform #8 – Lattice
Lattice is another performance management solution designed to empower and support your workforce. It provides templates, workflows, and administrative dashboards that let you easily design, launch, and run performance reviews and appraisals. Its powerful analytics tools can then help you make the best decisions about your teams, determine strong performers, and manage your workforce talent. To keep your teams up to date and make sure everyone is aligned with current objectives, Lattice has an Update feature that allows managers to provide status updates where employees can respond to inform them how they're progressing or if they need help in certain areas.
unconscious bias training course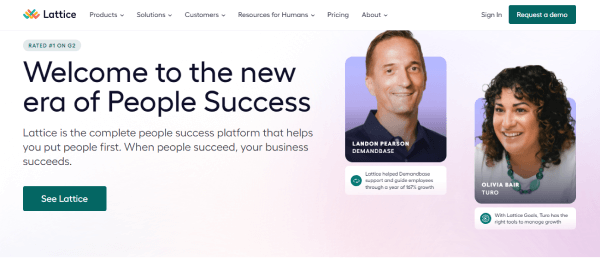 Cost: Starts at US person/month
Key features:
Performance Management Platform #9 – 15five
15five was designed for both managers and for employees so that they could own their performance and produce their best work. Its multifaceted performance review program can be launched in as little as 15 minutes and provides you with different templates and survey questions. Its custom reports also enable you to easily filter, analyze, and export learning measurement data when needed. 15five can be integrated with other apps that you already use, such as Slack, Microsoft Teams, and Jira, to easily sync and align goals all in one place.

Cost: Starts at /user/month
Key features:
Multifaceted performance review

Custom reports

Third-party app integration
Performance Management Platform #10 – Easy Training Tracker 
Easy Training Tracker offers a convenient and practical way to automate and simplify your training tracking, as well as reduce the time that you'll likely spend managing your training program. There's no need to spend hours interrupting your employees to check their training progress or bore yourself with spreadsheet tracking. Thanks to Easy Training Tracker, you can now digitally monitor the attendance of all the training classes, run post-assessments, and also notify new employees about classes that must be taken, have expired, or are just about to expire.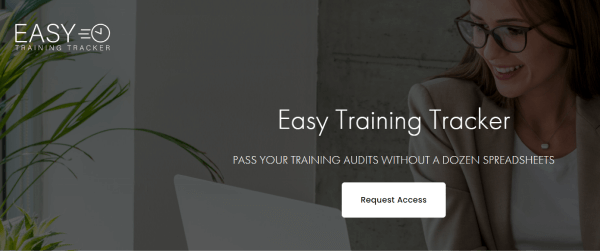 Cost: Available upon request
Key features:
Cloud-based training tracking

Uniquely designed training format types

Laser-focused reporting

Compliance alert system
Performance Management Platform #11 – Timely
Timely is an advanced and user-friendly time management platform designed to simplify and eliminate the hassle of time tracking and task management. Using Timely, your mobile workforce will get a daily record of everything they've spent in every web and desktop app. From documents to emails, even video calls and virtual meetings, their tasks will be captured without the need to manually record and input everything. And, with Timely's intuitive controls, they have complete control over how they want to arrange and format their timesheets, as well as how they manage their own productivity.
Cost: Free trial
Key features:
Performance Management Platform #12 – Salesmate
Salesmate is a performance management platform that helps streamline sales, marketing, and CS processes. From managing the contact information, creating sales pipeline, workflow management, to automating various processes, Salesmate does it all! Moreover, Salesmate Mobile CRM provides access to all the data even when you're on the go. You can check conversation history, manage deals, and exchange documents while on a field trip or in a meeting.
Cost: Free trial, paid plans
Key features: