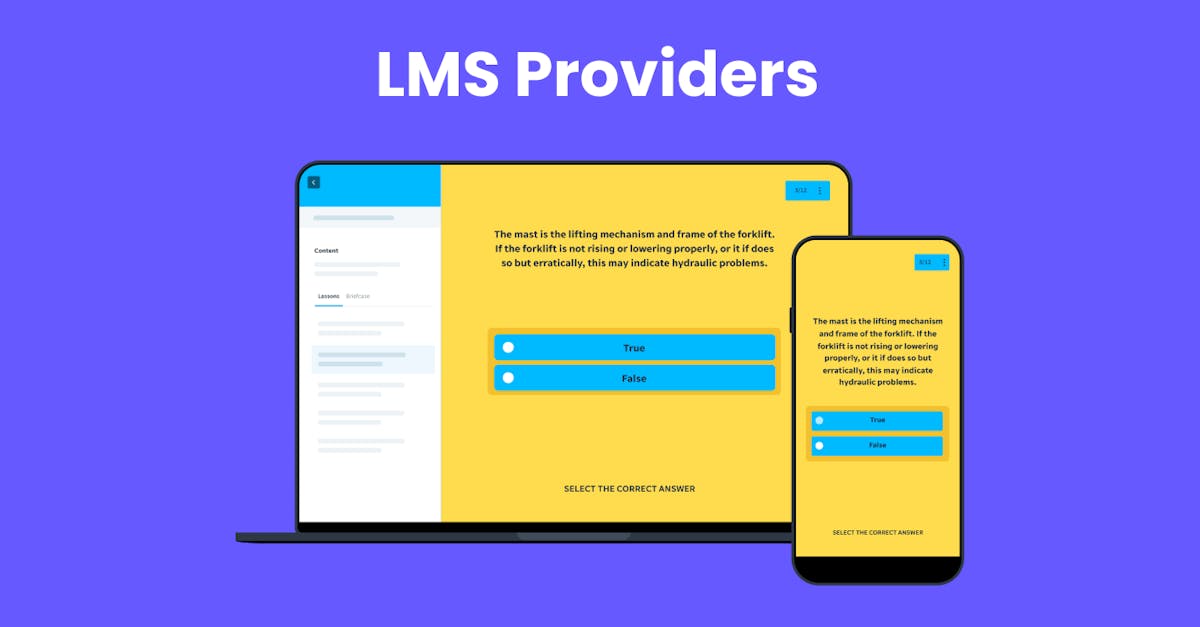 To create the best workplace learning experience, your LMS provider should offer amazing features and tools for streamlining, simplifying, and automating your tasks. We did the work and compiled some of the best LMS providers you can consider. Now let's explore them!
10 LMS Provider #1 – EdApp
EdApp is your best LMS provider choice if you're looking for an all-in-one training platform that offers features for easy training management, learning engagement, and performance tracking. All that while making sure they are relevant and effective.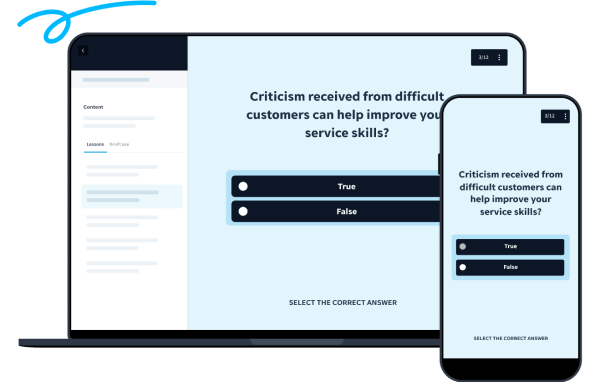 To stay on top of learning demands, you can quickly create courses using EdApp's authoring tool. You don't have to design courses from scratch here. Since you have access to a library of 80+ ready-made interactive templates, you have more time to focus on the content of the relevant courses themselves.
You can also explore EdApp's course library and instantly share timely learning materials for your learners. Here, there are courses covering almost any topics, of which include marketing, sales, healthcare, construction, and CNC training courses, among many others. 
The best part here is that your learners can learn new knowledge or skills in just a couple of minutes! All thanks to the microlearning design in EdApp courses, which prioritizes delivering highly-targeted lessons and removes all the unnecessary, overwhelming information.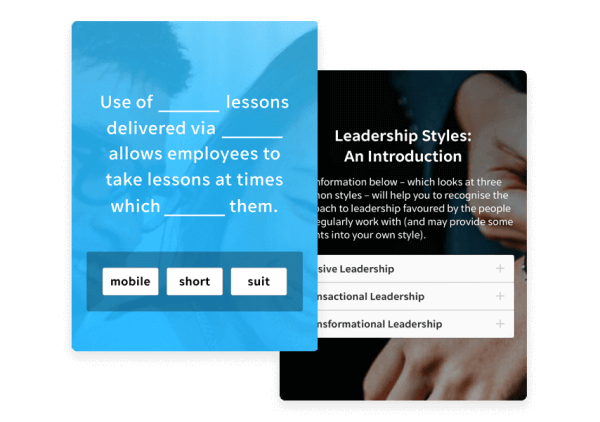 On top of that, you can engage your learners more through games and prizes. Gamification in EdApp lets you apply exciting game elements to your lessons, add leaderboards for friendly competition, and give rewards to boost motivation. 
Now that learning and development have been made convenient and fun, the next thing to do is watch course completion rates soar. Celebrate learning milestones with Custom Achievements—whether that's completing a lesson or a course, scoring specific points, earning Stars, or even just opening the learner app!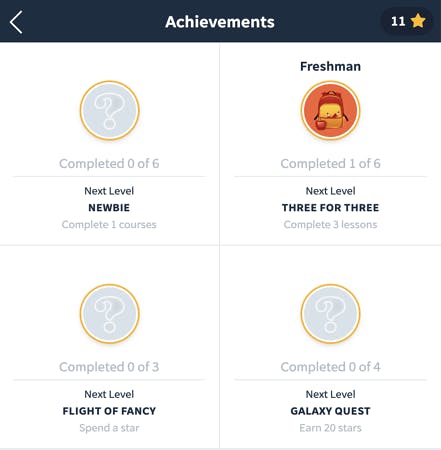 Not only that, but you also have access to an actionable analytics dashboard so you can track learner progress. It doesn't only show you data, but it also lets you take instant action, like targeting inactive or disengaged learners. This way, no one gets left behind and everyone stays on top of their game.
What's more interesting with EdApp is that you can manage not only online training but also in-person training sessions using Practical Assessments. Say goodbye to your paper checklists. With this tool, you can assess your learners' performance on the job with your mobile device and monitor their progress in the training analytics seamlessly.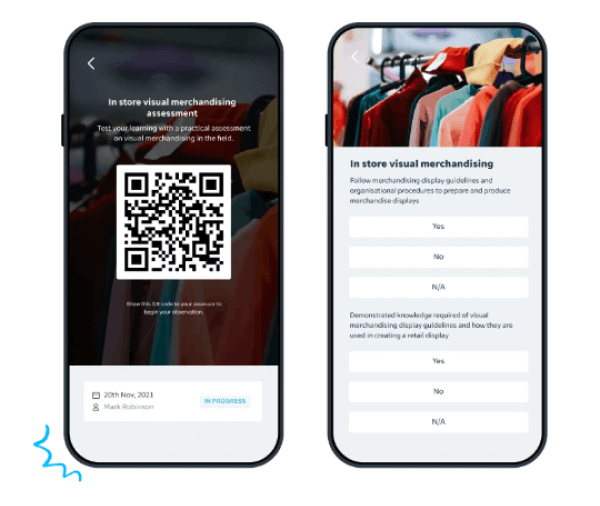 Key features:
Authoring tool

Interactive templates

Course library

Microlearning 

Gamification 

Custom achievements

Actionable reports

Practical Assessments
Cost: Free
Interested in using EdApp as your LMS provider to help you boost workplace learning and development? Then join EdApp at no cost now!
LMS Provider #2 – Violet LMS
Violet LMS is another LMS provider that can adapt to all your training needs—whether that's for onboarding, employee training, compliance training, sales training, distributor training, or even customer training.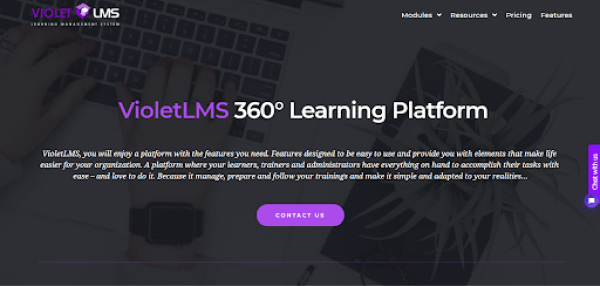 Here, you can create personalized learning paths for each learner and set specific goals depending on their needs. You can also create interactive courses and videos that your learners specifically need using its authoring tool. Live online classroom training sessions are also possible here, thanks to its integrations with video hosting platforms like Zoom, MS Team, and many more. 
You also have access to a visual calendar where you can organize your priorities and tasks. Its reporting tool lets you keep track of learning performance as well as provide timely feedback.
Key features: 
Cost: Price available upon request
LMS Provider #3 – Academy LMS
No matter what your expertise is, if you're an instructor wanting to build and sell courses all on one platform, the Academy LMS by CreativeItem is the LMS for you. With this LMS product, you'll have your own course website where your learners can purchase courses.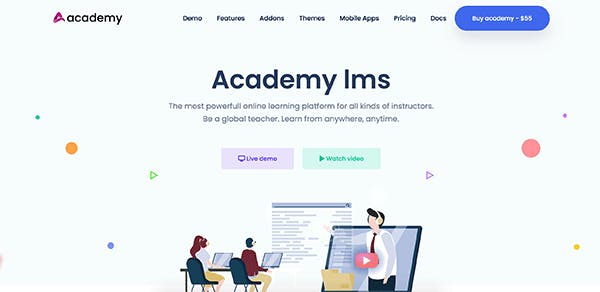 Using its course manager, you won't need any programming knowledge to build courses, create ebooks, and even set up your own coupon codes. Sorting and organizing lessons and sections is made easy with a drag and drop feature. You can include quizzes in your courses to reinforce learning. Its reporting tools also help you keep track of your course enrollments and revenue.     
Key features:
Course creation and management

Quizzes and assessments

Different content formats

Reporting tools
Cost: 55 USD
LMS Provider #4 – Create LMS
Create LMS offers various learning solutions like augmented reality, video 360, immersive learning, and many more to help you create the best training programs at an affordable cost.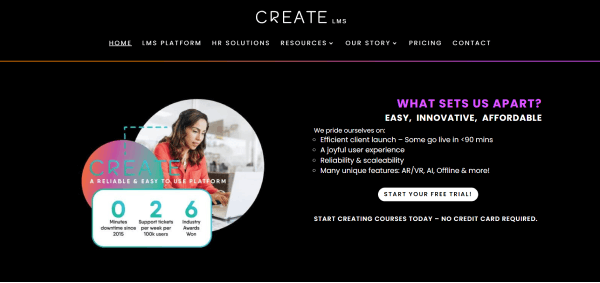 This LMS provider gives you an advanced course builder where you can create and manage self-paced courses, assessments, webinars, quizzes, and even instructor-led training. Or, you can simply share ready-made courses suitable for your team's learning needs from its course catalog. You also have full control over training records, where you can track learning progress, monitor compliance, and manage certification. 
Key features:
Course builder

Course catalog

Training records
Cost: 12 USD/user (annually)
LMS Provider #5 – Looop
Looop helps you automate your tasks so you can efficiently make an impact on your learners just at the right time. It provides you with a simple user experience on its platform, so you can create timely learning materials with ease.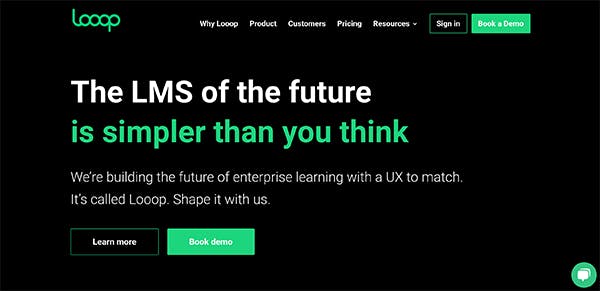 You have many options for how you can deliver learning directly to your learners—Slack, Teams, SMS, you name it. This training software also offers enhanced reporting features so you can keep track of your team's learning performance, learning gaps, and completion rates.
Key features:
Resource builder

Easy communication

Reporting features
Cost: 299 USD/50 users (monthly)
LMS Provider #6 – Administrate
Administrate is an LMS provider that gives you a centralized platform where you can plan, manage, and share your learning materials, as well as track performance.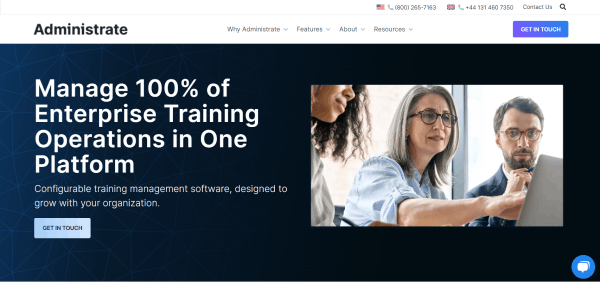 Explore its course templates to create courses more easily. You can also opt for virtual instructor-led training sessions for topics that need to be covered by a facilitator. Once your training programs are already running, you can gain insight into whether they're working or not through this platform's analytics tool. The downside, though, is that the interface can be a little intimidating for first-time users.  
Key features:
Cost: Price available upon request
LMS Provider #7 – ExpertusONE LMS
ExpertusONE LMS gives you a friendly interface to make your digital training process simple and straightforward. Here, you have an integrated digital content player where you can create courses and include audio, visual, and video formats all in one place.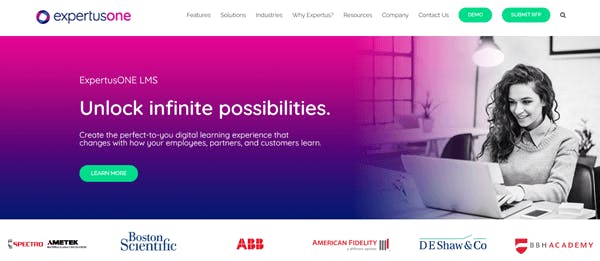 To further reinforce knowledge and engage learners, you can add polls, quizzes, and games. You can even launch virtual classes and meetings as well in the app with just a click. You also have access to key analytics on demand, so you can gather insights on their course progress, and social learning quality, which you can all export to Excel. 
Key features:
Cost: Price available upon request
LMS Provider #8 – Learn Amp
Learn Amp is an LMS provider designed to help you improve the professional skills of your learners on one platform. Even in a digital learning environment, you can create an interactive learning experience through peer-to-peer learning and social learning tools.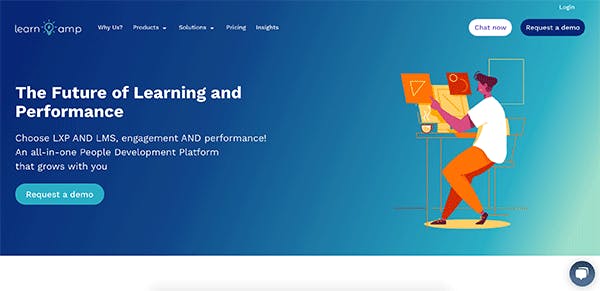 These tools include in-app messaging, user-generated material, discussion threads, event management, and group assignments. Performance reports can be viewed through its internal visual dashboard. Based on your data insights, you can plan learning pathways for more effective learner development. 
Key features:
Social learning

Learning pathways

Visual dashboards
Cost: Price available upon quote request
LMS Provider #9 – Forma LMS
With Forma LMS, you can shorten the learning curve by creating a simple and enjoyable learning experience. This LMS has a modern and responsive layout, so it's easy to build courses in different formats, including SCORM multimedia, HTML pages, videos, and potent assessments. Rest assured that this platform provides a range of automation options, so you can save time in managing courses and users.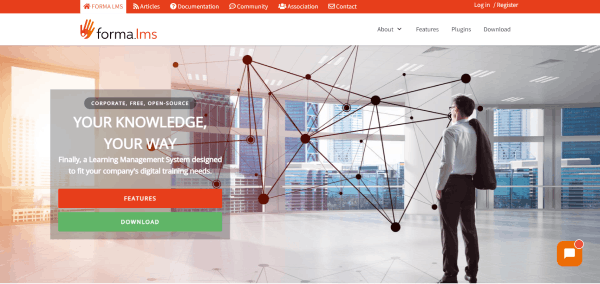 Thanks to its unique reports, you'll be able to closely identify knowledge and skills gaps. What makes this LMS stand out is that it's an open-source type of LMS so you can further customize its features. But, since you have full control, even on the back-end of this LMS, it can be time-demanding. 
Key features:
Intranet integration

Modern and responsive layout

Different eLearning formats

Automation options
Cost: Free
LMS Provider #10 – Zoho Showtime
Using Zoho Showtime will help you smoothly run learning and development for a mobile workforce with its intuitive features. In this LMS, you can use recordings, videos, and other forms of content and share them as self-paced courses for your learners. You can also add tests or quizzes to check the understanding of your learners or reinforce important concepts.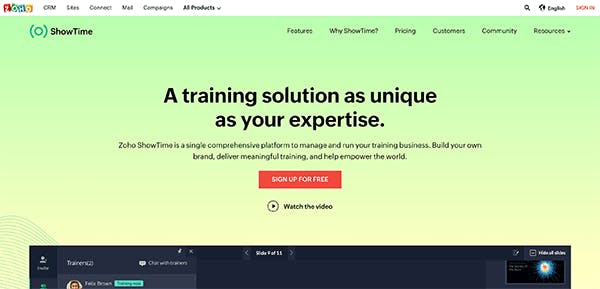 To create a collaborative learning environment, you have many options to choose from, such as virtual classrooms, Q&As, whiteboards, and many more. Overall, this platform lets you stay on top of every aspect of your sessions. 
Key features: 
Whiteboards

Virtual classroom

In-app messaging, polls 
Cost: 5.83 USD/user (monthly)