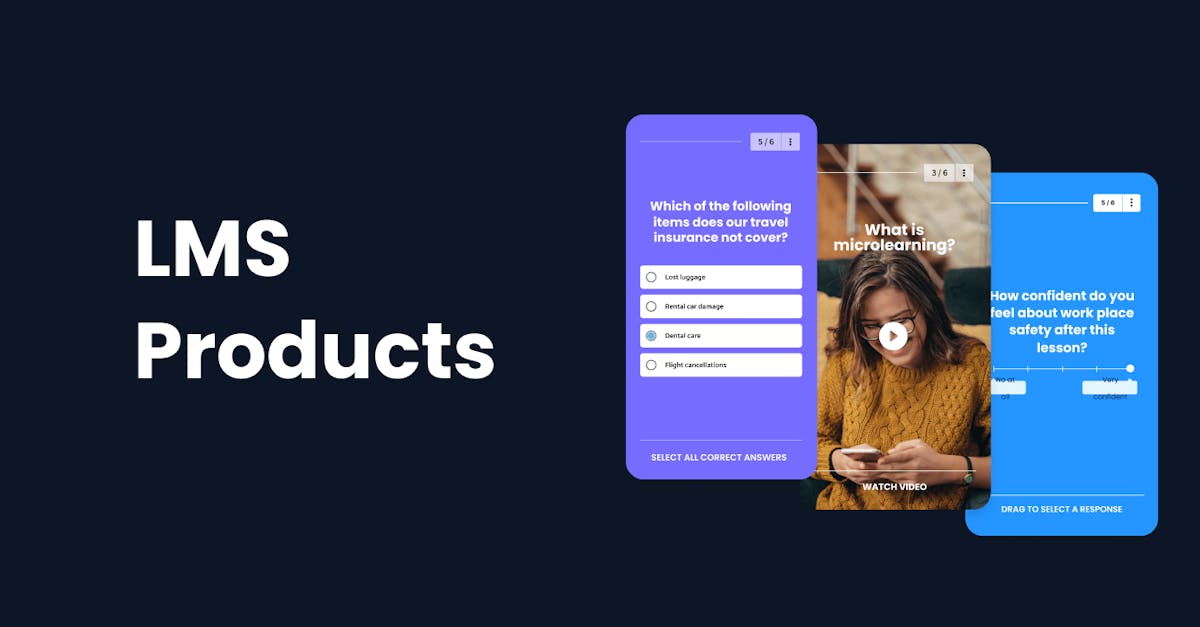 Learning management system (LMS) products are tools that help facilitate training through content creation, management, and more. They make training cost-efficient as well. In this article, we'll look at 10 LMS products that your organization can use to easily meet your training goals.
LMS Product #1 – EdApp 
EdApp is an LMS product that aims to democratize learning through its free platform. It offers a content library with 800+ courses that you roll out to your teams right away. These courses include task management training courses. The SCORM-compliant authoring tool allows you to transform training content into your own by customizing and personalizing courses to reflect your organization's tone and branding. Training material is presented through a microlearning approach, which turns key concepts into digestible chunks to ensure knowledge retention and avoid information overload.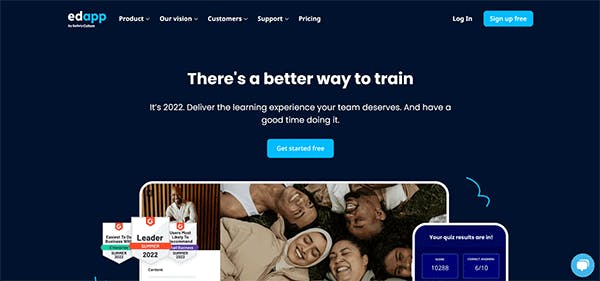 To check on learner understanding and reinforce key concepts, EdApp has a spaced repetition tool called Brain Boost. Here, learners receive different questions to establish what they remember and what they don't. The more they get right, the less frequently they'll need to be tested. You can also create your own quiz through its online test maker called Rapid Refresh, which allows you to create a quiz in minutes with its easy-to-complete spreadsheet. You can also view and export performance data & results by course and even drill down for user and slide level details for a more comprehensive view of your team's learning measurement.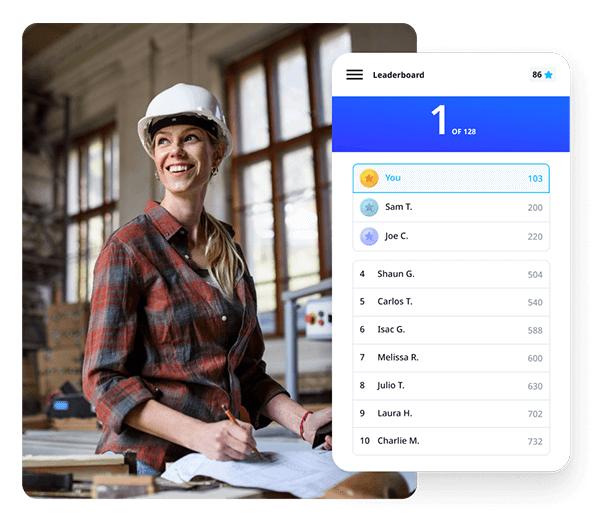 If you need some help when it comes to creating training content, then EdApp has you covered. They have a team of experts ready to give you additional onboarding and account support, plus course creation services.
Cost: Free
Key features:
Editable course library

SCORM compliant authoring tool

Brain Boost spaced repetition tool

Rapid Refresh quiz maker

Analytics and reporting
Sign up for free and start using the best LMS product today!
LMS Product #2 – TopClass
TopClass is an award-winning LMS for product training that serves as a technology partner in providing a comprehensive and flexible learning experience for employees. It helps organizations provide skills development and career advancement for learners through a personalized learning experience, as well as a wide range of educational programs for employees (such as mini-courses, learning pathways, apprentice programs, certification programs, discussion forums, interactive videos, different types of assessments, and many more). With this robust learning platform, you can integrate a blended learning approach into your training program. Learners will have the ability to can access online learning materials before an event and explore more content in the LMS after to extend their learning experience.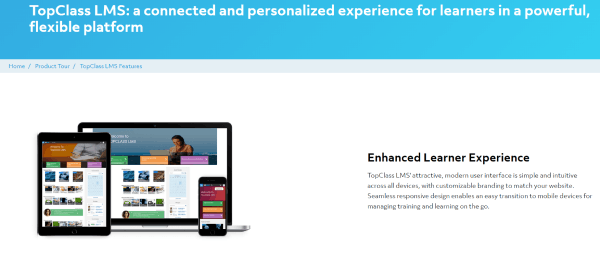 Cost: Available upon request
Key features:
Virtual conferences and events, such as discussion forums and interactive videos

Online testing tools which include timed assessments, randomized question pools, proctored exams, quizzes, and surveys

Social learning through discussion forums, social sharing, and online communities
LMS Product #3 – Arlo
Arlo is an LMS software specifically for training providers that focus on delivering a learning journey to empower learners through self-paced learning, live online learning, and blended learning. This LMS product can also be used for blended learning as it extends training with digital learning incorporated on live and interactive webinars, eLearning modules discussion forums, recorded videos, and assignments. Testing your employee's knowledge can also be done through quizzes. Its innovative training management system design streamlines processes and simplifies tasks, enabling training providers to save time while still effectively increasing course registrations.
Task management training courses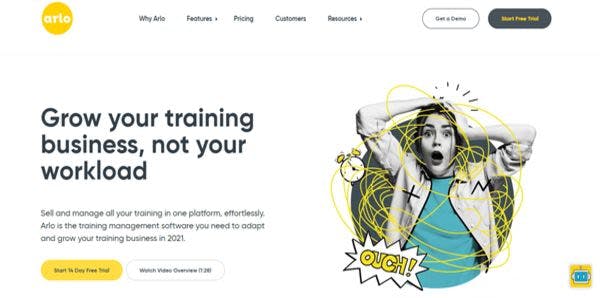 Cost: Starts at US 9/month
Key features:
Self-paced modules, classroom sessions, discussions

Live online sessions such as web conferences and webinars

Assignments and quizzes
LMS Product #4 – Tovuti
Tovuti is another LMS product that you can use to streamline your employee training process. With its built-in course creator suite, you can create, schedule, and deploy interactive courses in just a few easy steps. You can also include gamification and leaderboard features to encourage learners to complete their assigned learning tasks. If you want to integrate synchronous learning sessions into your training, Tovuti LMS's live virtual classroom allows you to meet with your team members in real-time and discuss learning content through third-party online video conference platforms like Zoom and GoToMeeting.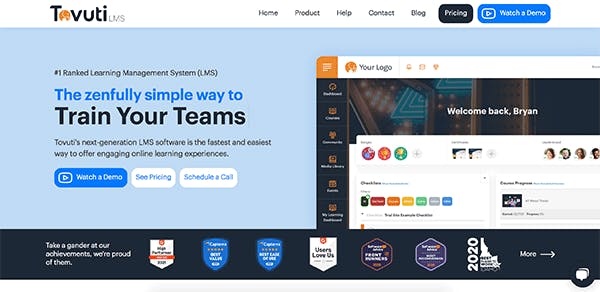 Cost: Available upon request
Key features:
Notifications

Leaderboards

Virtual classroom
LMS Product #5 – Academy LMS
With Academy LMS, you can create simple yet well-designed online course modules, set up multiple online quizzes, build lessons using different content formats like youtube, pdf, doc, or image files, and communicate with learners via a built-in interactive messaging feature. Instructors can use the course management feature within the tool to easily create and deploy training materials to their teams. Meanwhile, learners can download the Academy app to access their learning content anytime and anywhere.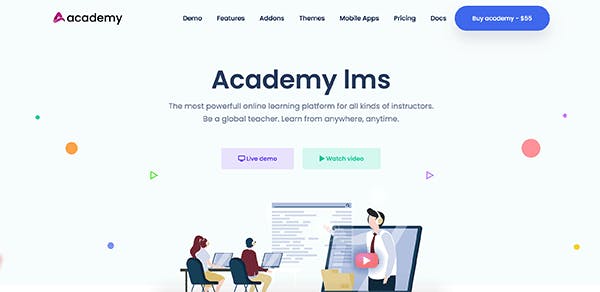 Cost: Starts at US 5
Key features:
Course builder

Quiz creator

Interactive messaging
LMS Product #6 – Learner Mobile
Learner Mobile is an LMS product built for modern learners with mobile accessibility in mind. With its built-in authoring tool, you can easily build courses and update content whenever you need it. Through its predictive algorithms, learners will have access to personalized training programs and will be directed to training that's relevant to them. Learner Mobile provides real-time data on different metrics for learning measurement so you're never amiss on each individual's performance.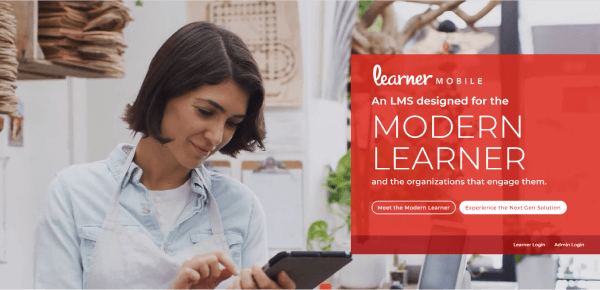 Cost: Available upon request
Key features:
Mobile accessibility

Built-in authoring tool

Predictive algorithms

Performance insights
LMS Product #7 – Traineaze
Traineaze is an LMS product, focused on ease of use, that includes all of the tools you'll need to make your online training successful. You can create unlimited training content from existing materials that you have such as PowerPoint slides, videos, PDFs, images, audio, and more. Learners can also enroll themselves in any course available in Traineaze's library and you can then award certificates as they go beyond the extra mile to complete unrequired training. To get insights on your team's performance, progress reports are delivered to your inbox daily.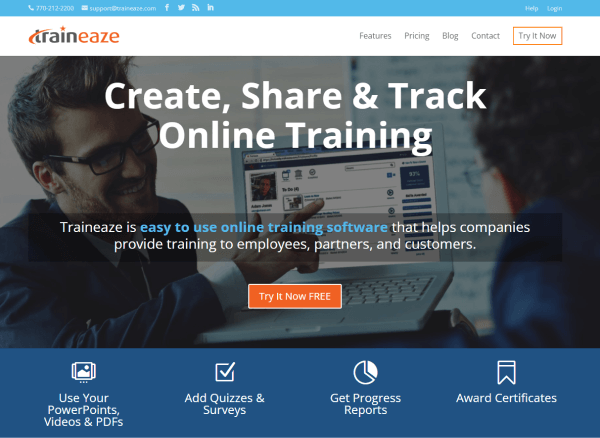 Cost: Starts at US 9/month
Key features:
LMS Product #8 – WorkRamp
WorkRamp is an LMS product that serves as an all-in-one corporate learning platform for your personnel, especially those in sales, support, retail, marketing, and HR. This centralized LMS gives you a streamlined process in creating customized learning pathways for your personnel based on their role, teams, skills, or seniority. It provides a specialized onboarding process, advanced training content creation, and learning progress tracking through dashboards and analytics. It also gives a blended learning experience with support for virtual instructor-led sessions. WorkRamp can also be connected to other platforms, such as BambooHR, Okta, and Gsuite so that you can manage all the apps you use in one place.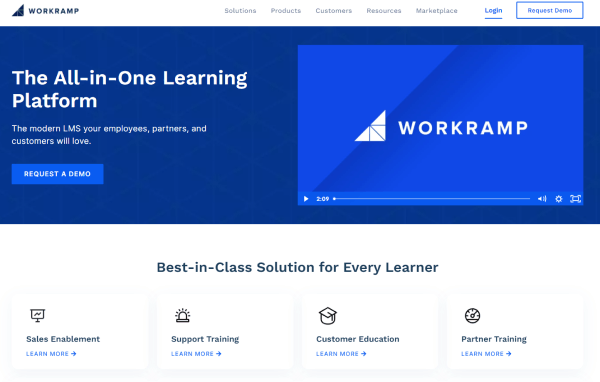 Cost: Available upon request
Key features:
LMS Product #9 – ProProfs
ProProfs is an LMS product that easily combines online and offline training, providing a blended learning solution. This LMS enables training managers to create new educational content made from scratch, or, existing courses from its online training course library. It features gamification elements which include brain games, learning paths, and quizzes. Task management training courses can be easily blended with ProProfs' LMS, providing a comprehensive learning solution. Aside from increasing engagement, it allows learners to have control of what, when, and how they want to learn. For training managers, this reduces time in conducting instructor-led learning sessions. Instead, employees are allowed to learn at their own pace while still fostering collaborative learning through virtual classrooms.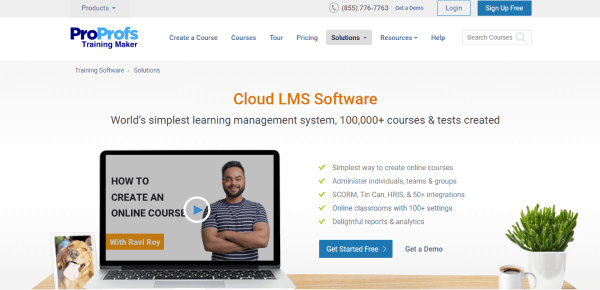 Cost: Starts at 5/month
Key features:
LMS Product #10 – Gyrus
Gyrus is a cloud-based LMS designed with AI-driven intuitive features helping you bring world-class training and development objectives for your employees. This LMS product allows you to develop training materials delivered through various digital formats – such as eLearning videos, webinars and documents, and virtual classrooms – which provides support in traditional onboarding and training activities, as well as accessibility anytime and anywhere across any device. Its smart learning features are optimized for building customized learning programs for various groups of employees, and streamlining organizational compliance becomes easier for training managers.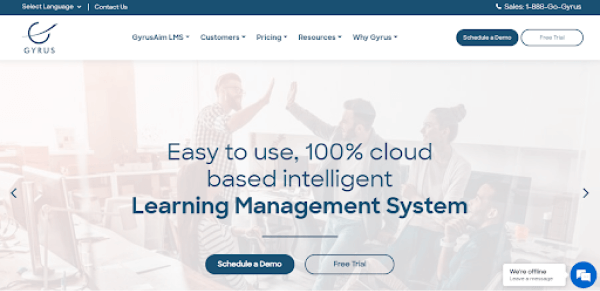 Cost: Starts at US 00/month
Key features:
Various eLearning options: Online, instructor-led, webinars, and file-based courses

Assessment and feedback evaluation

Case studies, simulations, coaching sessions, and joint projects

Real-time data visualization and reporting