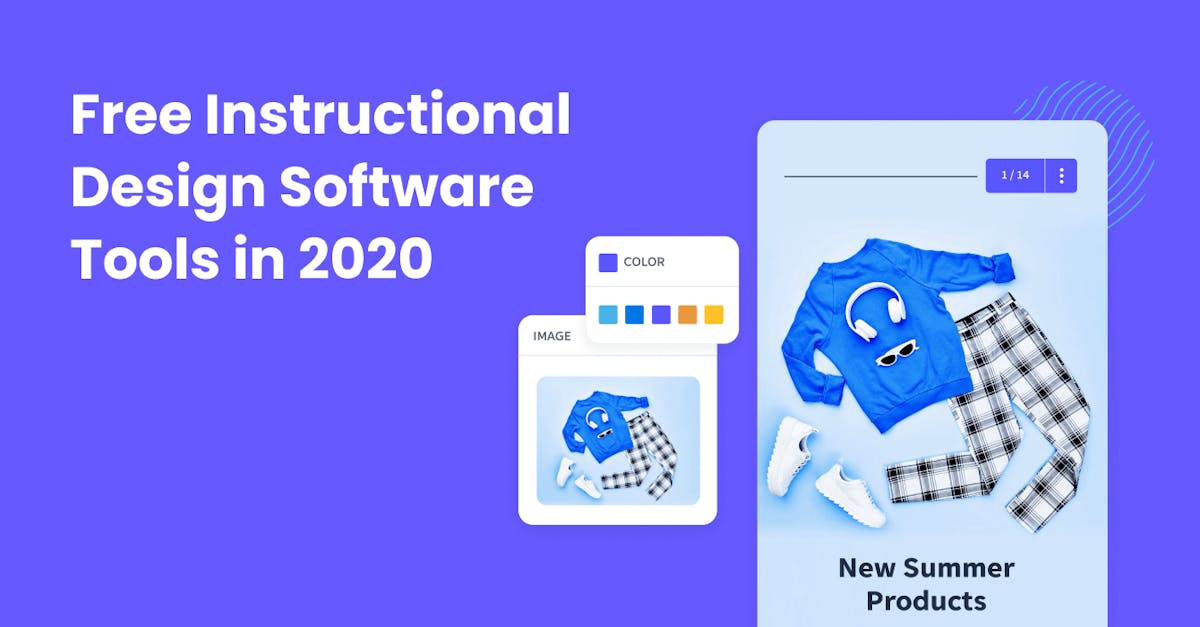 With the integral role that technology plays in every aspect of our lives, technology in learning and corporate training should be no exception. With the growing number of free instructional design software tools, tight budgets are no longer a factor and there are now many options to choose from. To help you select the best tool to create your learning content, we've compiled the top free instructional design software tools.
1. EdApp
EdApp is a fully-equipped, completely free instructional design software. It offers support for every part of the elearning development process – designing the content, delivering it to the users, and monitoring and assessing their progress.
The award-winning platform has a user-friendly, results-driven library full of microlearning templates to help provide the best content and rapid learning programs to your teams. Simply add your training or onboarding content into EdApp's templates that incorporate interactive gamification elements like videos, multiple-choice, comparison, numbers, click and drag to match, and more. All of EdApp's templates are intuitively designed and suited to a diverse set of blended-learning methodologies, meaning they cater to every one of your learners.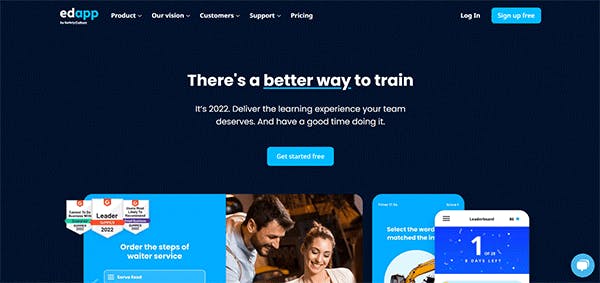 EdApp is also focused on mobile learning, or m learning, and microlearning, which truly empowers learning on the go. Since microlessons are taken in as little as 5 or 10 minutes, this snappy learning content is ideal for the modern learner to not only complete content when their schedule allows but it also means better learning results and learning experience.
By delivering new information in small, bite-sized amounts,  by not overwhelming the learners' brains with too much information at once. This, in turn, means that the concepts learned are embedded into long-term memory, rather than traditional learning with an influx of new information, which sees participation and retention rates as low as 15% compared to microlearning which regularly sees completion and retention of 90% and above.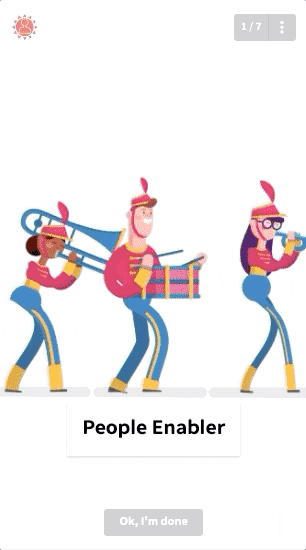 It is based on the principle of mix and match – so combine your own content with pre-designed templates to create easily "biteable" microlessons. What's more, EdApp offers a completely free, editable SCORM course library that boasts hundreds of ready-made microlessons for you to browse, edit, and deploy to your teams. Creating courses doesn't have to be troublesome. Tell EdApp what you need, and they'll be able to deliver your first course that looks and feels like it was built by your brand.
Sign up to EdApp now and start using the best free instructional design software tool!
2. Brainshark
Brainshark offers a variety of tools that support the corporate learning process. Its presentations include music, videos, and attachments that can be used for sales presentations, training, and other purposes from any computer or wireless device through a web browser.
One advantage of the service is that it makes it easier for users to make and distribute presentations and then send notifications about who accessed the submitted material.
Brainshark is not a free software. But, you can request a demo and try out some of the features.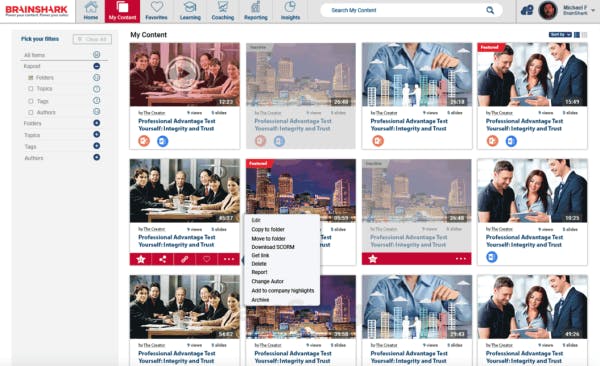 You can start with the readiness scorecards – providing a colorful and trackable sight of your employees' competency. In this way, you get a better overview of who is capable of what, and where to focus your training efforts.
3. Lectora
Lectora is fully LMS compatible. It offers an interactive multimedia content package you can integrate into any part of your teaching process. It is quite a costly platform for an add-on, but there is a free trial available.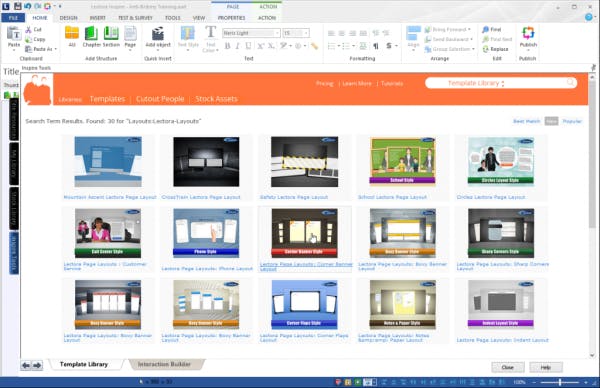 While the platform is geared more toward classroom learning, you can use Lectora's built-in screen recording and editing tool to enhance your video courses/presentations with images and text, or record and mix sounds and add them to your content.
4. Whatfix
Whatfix comes as a complement to an LMS system, looking to cover those learning needs where your LMS might be lacking. As with the tools presented thus far, it is not a permanently free app, but you can sign up for their free trial version.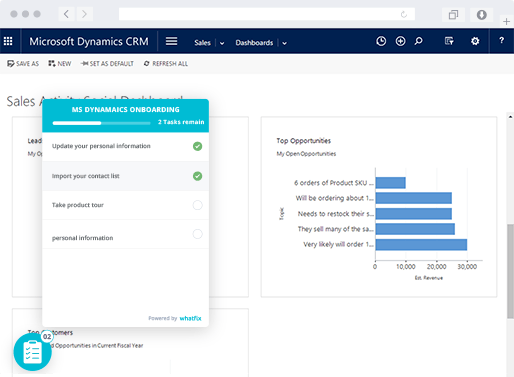 With Whatfix you can prepare your training material in just a few minutes. The platform promotes easy-to-create, no-code-needed tools you can use to prepare the content and start learning immediately. The platform also automatically saves the finished result into several formats – PDF, videos, slideshows, and smart URLs.
5. Camtasia
Advances in modern technology have contributed to multimedia content gaining significantly more importance in teaching than before. Today, when the camera is available to every PC/ smartphone user, video recording has become a mass phenomenon at every turn. All this has influenced audio and video recordings to become the main learning materials.
Camtasia is solely a video recording and editing tool, which can be used to design multimedia training packages, so it works if you're only looking to create video content for your learning plan. The software contains avatars and interactive scenarios in which audio and text files, photos, deep focus frames, etc. can be inserted. You can also use special effects and filters or just work on their pre-build video templates.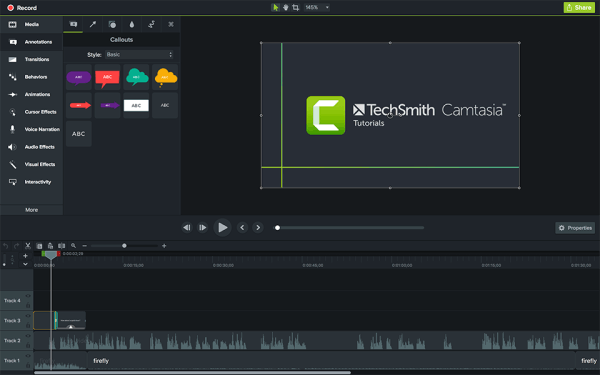 So, with a little time spent, a minimum of financial resources, and great desire and will, you can become a true master in video editing.
6. CloudApp
You can use some of CloudApp's features in the free version, or request a demo and check out the full version. Similar to Camtasia, CloudApp is a screen-recording tool that enables you to record your screen movements alongside your voice and face or insert annotated text, animations, and Gifs that will appear during the lecture.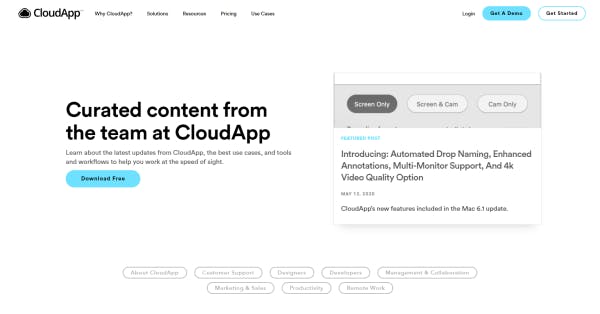 7. Kahoot
Kahoot is a tool you can use to spice up your evaluation and assessment process. It is a game-based learning platform, with a focus on trivia, quizzes, and tests from different subject matter experts. The goal is to encourage active learning and make tests more exciting and motivate users to do better. You can choose the format of the quizzes, insert videos, diagrams, and images, or even make a live test that can be taken by remote users at the same time.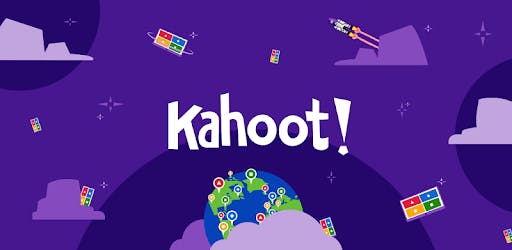 8.Vyond
Vyond presents you with a bunch of tools to decorate your video-animated elearning courseware. You can make your presentations and lectures truly unique with this LMS platform's templates and sounds, and add dialogues and movements. As they advertise – you can create dynamic content for every occasion.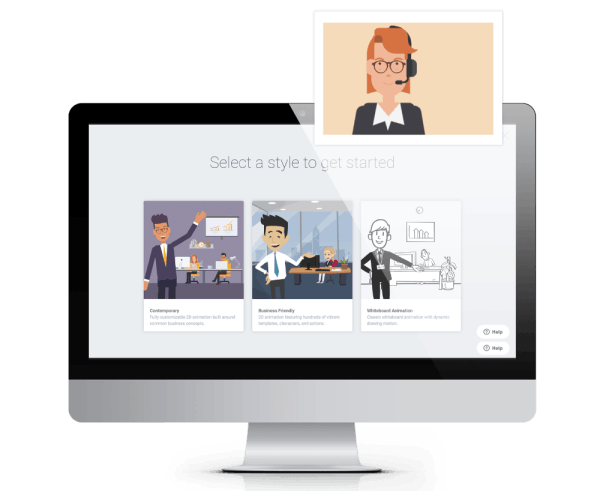 9. Poll Everywhere
Poll Everywhere facilitates every live or virtual training session that can help workers boost their knowledge and skills. It supports interaction and enables getting feedback right away. You can post polls that participants can answer at any time through their phones or web, or start discussions and dialogues. In this way, everyone is included and can contribute to the learning process. The paid accounts get additional features, but the platform offers a lot of free options regardless.
10. SoftChalk Cloud
As their home page says SoftChalk Cloud is "A Great Companion Product for Your LMS". We recommend starting with Create Online – you don't need to install an add-on – it works straight from the browser. It provides you with all the basic tools for editing lessons – and at the same time easy as a pie! It is not technically a free SAAS software, but it offers a 30-day free trial. We have to mention that SoftChalk Cloud is not an LMS, so you can't rely on it as the only solution for your learning needs. However, its subscription is cheap in case you find the tools helpful.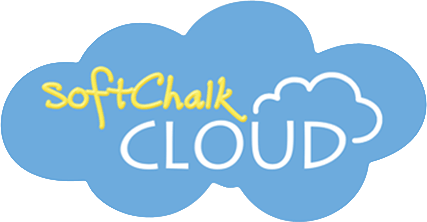 Sign up for free to EdApp and start using the best free instructional design software tool today!