Stephen King once said that "Talent is cheaper than table salt. What separates the talented individual from the successful one is a lot of hard work." While employers are always on the lookout for individuals with top-notch talent, it's undeniable that this isn't enough in finding the right person for the job. As skills can be taught and honed through experience and continuous learning, the proof of the pudding is in its application and an individual's work ethic. Having a strong work ethic ensures that the caliber of performance that companies seek is achieved with your employment.
What is a Work Ethic?
Work ethic refers to the set of values and beliefs based on the ideals of integrity and hard work. Having a strong work ethic is manifested through honoring the terms of your employment and doing your job to the best of your abilities. On the other hand, a weak work ethic can be characterized by a lack of a can-do attitude and professionalism, which is a red flag for the organization.
Sign up for Free and Start Using The Best Platform to Develop a Strong Work Ethic
Benefits
According to research, a strong work ethic leads to excellent work performance which also sets your company up for success. Let's look into the other benefits that come with it.
Career Development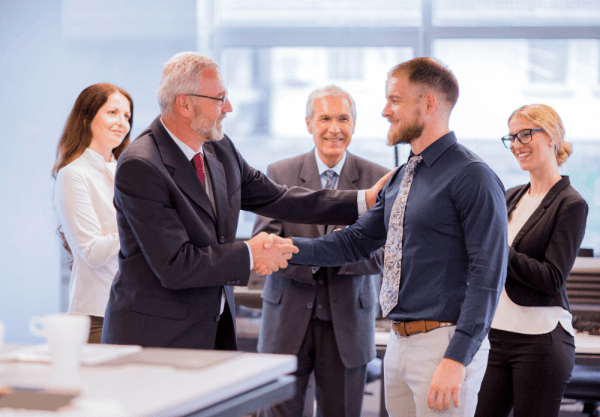 Employees who perform well and take pride in their work have higher chances of succeeding in their careers. Having a strong work ethic makes you more marketable, gives you better opportunities, and a more competitive paycheck. This also means increasing the odds of landing your dream job, retaining your employment, and even climbing up the company ladder. This is what will set you apart from the competition.
Harmonious Working Environment
When all employees have a strong work ethic and are dedicated to their jobs, this results in a great working environment. This is because when everyone understands what is asked of them and does it well, work is easier and more efficient. This leads to increased productivity and teamwork. When employees are also aligned with the company's values and of their peers, conflicts and misunderstandings are avoided. This also puts employers on the map for like-minded job seekers and elevates the organization.
Work-Life Balance
Having a strong work ethic means that you're productive and are therefore able to finish quality work promptly. This eliminates procrastination and stress brought about by deadlines and pressure from your higher-ups. Knowing that you've accomplished your work also gives a sense of fulfillment and satisfaction. This allows you to truly enjoy your life outside work. Attaining a work-life balance lets you take advantage of other activities and protects your overall health and well-being.
Skills to Develop
Discipline
Having discipline is the ability to stay focused on your goals till the end and not giving in to any short-term gratification. While this might sound like a herculean task due to many distractions, with most people working remotely, this can be achieved with the right motivation and mindset. For example, writing down your goals and placing them somewhere you can always see will make you more likely to work towards them. Sharing what you're working on with your co-workers also helps as they can provide you with support and encouragement to keep you going.
Professionalism
Professionalism goes beyond showing up at work according to your company's dress code. It's about treating everyone with mutual respect and showing appropriate behavior. Being professional means that you can be depended on to fulfill your duties and take responsibility when needed. Having your emotions in check is also important as it gives you a positive outlook towards work and helps avoid any negativity. This gives you a good impression in the workplace and lets people know that you're someone they can rely on. It sets a strong example to others which makes collaboration and teamwork come naturally. 
Integrity
Integrity is doing the right thing consistently even without any eyes on you. It can come in a lot of forms, such as being accountable and owning up to your mistakes even before being called out. On the other hand, it could also be as simple as working at the hours you're supposed to or using company resources only when needed. Showing integrity extends to having a strong work ethic as this means that you're trustworthy, transparent, and considerate of others.
Steps
No one is born with a strong work ethic, but building new habits to work towards it is a personal choice. Let's take a look at the steps you can start taking today to make this happen.
Practice punctuality
Being on time might sound simple but is most often neglected. It shows respect and proves you are driven to work. Arriving at the office on time allows you to start fresh and sets a precedent for how the rest of your day will unfold. Being punctual also ensures that you can adequately do your work within the designated time. Also, remember that preparedness goes hand in hand with punctuality. With that in mind, here are some tips for you to try out:
Shift your mindset and make a conscious decision to be on time

Determine how long it takes to do certain tasks, like getting ready in the morning and planning your commute or driving route to work

Set alarms and reminder notifications

Always allot cushions of time for unforeseen instances that may cause tardiness
Set clear goals and objectives
Determining our goals and objectives sets us on the right foot. Identifying what we need to achieve and how to reach them gives us direction and boosts our motivation. After all, nobody starts a journey without knowing how to get to their destination.
Below are some pointers you can follow:
Use

SMART goals

(Specific, Measurable, Attainable, Relevant, Time-bound) in creating your action plan

Track your progress and milestones (even the small ones!)

Acknowledge any setbacks and recalibrate goals when needed

Write down

your goals and objectives
Learn time management
Work smart, not harder! Having a strong work ethic means that you're able to use your time wisely. While we can't be fully in control of time, we can determine where it goes and how we spend it. Time management is the practice of using your time effectively to increase productivity. It eliminates procrastination and ensures that you're producing quality work.
Here are some steps you can take:
Plan ahead based on your goals

Track your time and get rid of distractions

Create a timetable using productivity tools, such as Google Keep and Google Calendar

Group together similar assignments and tasks 

Take short breaks to avoid burnout
Aside from taking those steps and making a personal commitment, a strong work ethic can also be developed through soft skills training.
EdApp is the leading mobile learning solution perfect for training your employees anytime and anywhere. It focuses on a microlearning design model which is proven to be the most effective way to learn. It takes chunks of information and turns them into bite-sized lessons to assure that your learners get the relevant information they need. Delivered in short bursts, it also ensures they're engaged with your training which increases the likelihood of retaining information.
EdApp has a free course library containing hundreds of regularly updated content for you to immediately deploy or customize to your heart's content. With its easy-to-use authoring tool, you can put together courses by selecting one of the platform's ready-to-use templates. You can even use your existing content through Powerpoint conversion and SCORM uploads if you don't want to start from scratch.
You may also be interested in:
10 Strategies for Improving Employees Performance