The rapid increase of English training tools on the market has made it easier for teams all over the world to learn the English language. But here's the thing – looking for the right tool can sometimes be overwhelming. To make things easier for you, we've done the research and compiled a list of the top English training tools you can use to help your team gain fluency in the English language.
English Training Tool #1 – EdApp
EdApp currently ranks as the best English training tool today, and that's for good reason. It takes pride in its array of blended learning solutions, which can help you train your teams around the world. They have an intuitive course creation tool that can be used to create online English courses, as well as a virtual classroom for holding live training programs.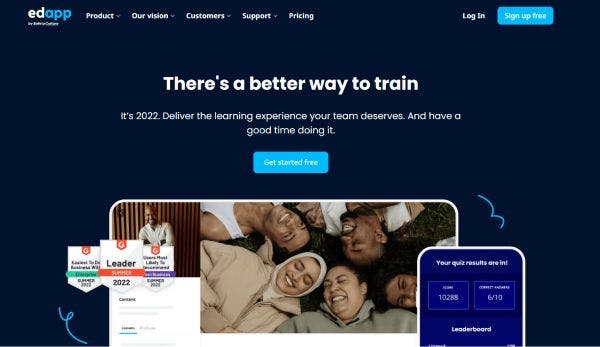 But what makes EdApp the best tool to consider is its list of training courses that you can instantly share with your team for free. For one, it offers an Effective Communication course that includes a range of communication tips. Use this course to train your team on how they can apply the English terms and phrases they've learned into practice. There's also an Effective E-mail Communication course that will guide them through the best email best practices and communication strategies.

These English courses can be edited to suit your training requirements. You can tweak the content and even include additional media and English learning resources. If needed, you can also take advantage of EdApp's built-in AI Translation feature to easily deliver your course in your learners' preferred language.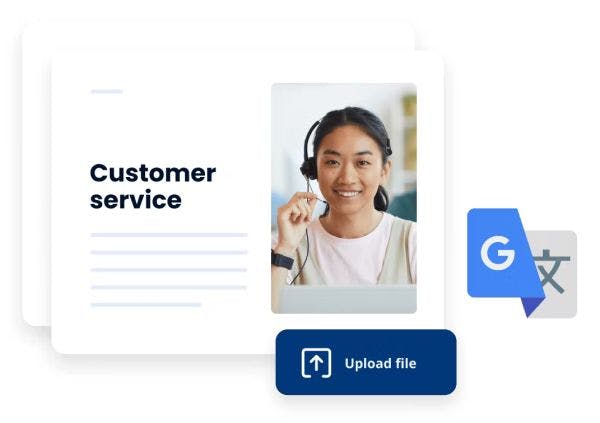 Cost: Free
Key features:
Blended learning solutions

Intuitive course creation tool

Virtual classroom

Ready-made and editable English courses

AI Translation
Train your team around the world with the best English training tool! Join EdApp for free. 
English Training Tool #2 – Memrise 
Memrise is a popular language learning app that will help your team learn the English language through immersive learning techniques. It uses video examples led by native speakers, which will show how certain words and practical phrases are used in real life. Gamified tests are also included to make sure that your team is learning the most needed English language skills in a fun and exciting way.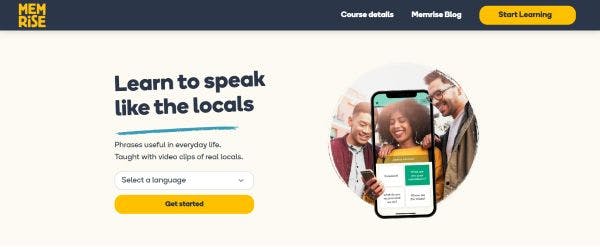 After learning some words and phrases, this English training tool will allow your team to practice their speaking skills in a safe space without the fear of failure. They can use their iPhones and Android devices to access Memrise, but they can also log in directly through their website.
Cost: Free
Key features:
English Training Tool #3 – Anki
Anki uses flashcards to make it easier for learners to learn vocabulary and master a language. With this technique, words and phrases will be presented in short bursts and delivered through a spaced repetition strategy. You can even add audio clips, images, and videos within the flashcards to better engage your team. The best part? You can also set a review time to make sure the delivery of your interactive training is seamless.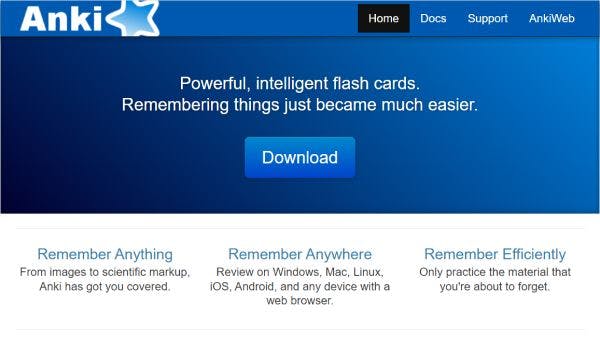 Anki is accessible on both iOS and Android devices, which gives your team the ultimate flexibility to learn on the go. 
Cost: Free
Key features:
Flashcards

Spaced repetition

Review timing

Mobile accessibility
English Training Tool #4 – Quizlet
Quizlet can also help train your team using a flashcard format. But, what makes this English training tool a little different from its counterparts is that it has a library of pre-made flashcard stacks that can help you easily get started in creating your English courses. They also have templates for multiple-choice quizzes and timed games to foster healthy competition among your team.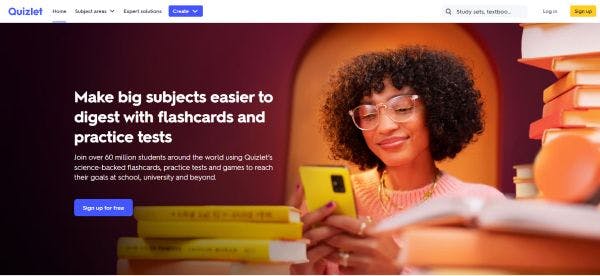 The only catch is that the free version of this English training tool contains ads on every page, which can be quite distracting for learners. Reporting and analytics are also only available in paid versions.
Cost: Free
Key features:
Flashcard training format

Pre-made flashcard stacks

Multiple-choice quizzes

Timed games
English Training Tool #5 – Kahoot!
Kahoot! is a great tool to consider if you want to spice up your English training and deliver it in a fun and exciting way. This platform is heavily based on the science of gamification, and you can create game-based quizzes and flashcards that will definitely drive learner engagement. Within these quizzes, you can activate a Quiz+Audio feature, which will prompt a text-to-speech bot to read texts aloud. This feature is particularly useful for teaching English vocabulary, phrases, and speeches.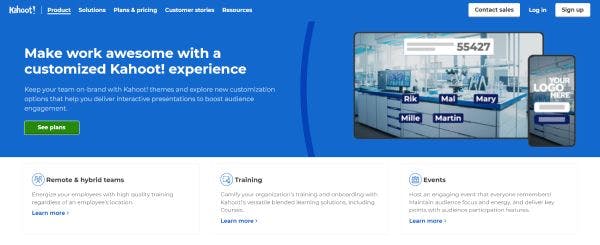 With Kahoot!, you can present your quizzes on a shared screen through any video conferencing platform. This makes it possible for remote teams to take part in your English training regardless of their location.
Cost: Free
Key features:
Game-based quizzes

Flashcards

Quiz+Audio feature

Remote training
English Training Tool #6 – FluentU
FluentU offers an immersive learning experience that will help your team naturally learn the English language and remember new vocabulary. They use movie trailers, news clips, and cartoons to show how the words and phrases are used in a real context. These video clips come with subtitles and translations. Learners can even click on the words to see their definitions and see some example sentences.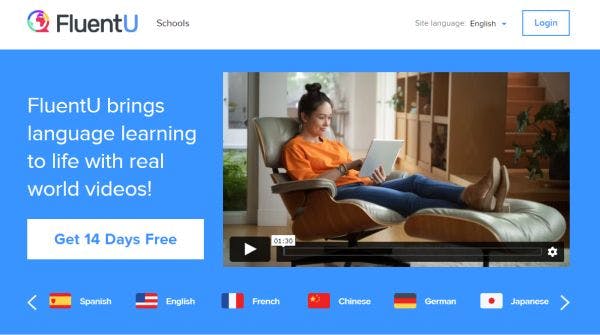 Learning the English language with FluentU is convenient since this tool can be easily accessed through mobile devices. Some audio dialogues can even be downloaded for offline listening. 
Cost: 29.99 USD
Key features:
Immersive learning solutions 

Movie trailers, news clips, and cartoons 

Interactive subtitles and translation

Mobile accessibility
English Training Tool #7 – LearnEnglish
LearnEnglish is an English training tool that's designed specifically for adult language learners. What's great about this platform is that you will no longer have to create lessons or organize webinars – their team will already handle everything for you. Even better, your team will be learning directly from the world's renowned teaching experts, British Council.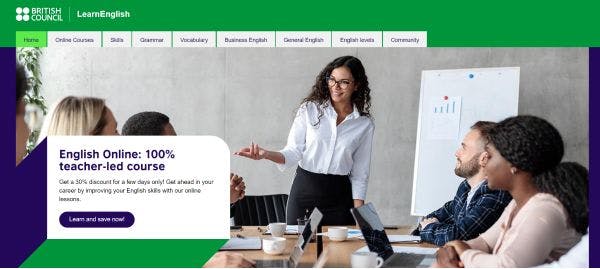 LearnEnglish can help your team to learn English in three ways. There are live online classes and personal one-to-one English tutoring sessions, which are all run by expert teachers. It also offers a range of self-paced courses that will improve your team's English speaking, listening, reading, and writing skills. The only issue with using this tool is that it's not free, and there's a fee for each service they offer. 
Cost: Starts at 1 USD per user
Key features:
Live online classes run by British Council experts

One-to-one English tutoring

Self-paced online courses
English Training Tool #8 – Padlet
If you're looking for a tool that will allow your team to learn the basics of the English language in a collaborative environment, then you might want to consider Padlet. This training tool works like an online bulletin board where you can post sticky notes with your English lessons, questions, and additional learning resources like a Youtube video or PDF. Learners, on the other hand, can comment, share their thoughts, or add files and links that they think will help their peers get a better grasp of the English language. 

Padlet has a free version, although you're only limited to creating three boards, which they call "padlets". They also have a Gold plan where you can run 20 padlets at once, and a Platinum plan allowing you to manage unlimited padlets.
Cost: Free; paid plans start at 6.99 USD a month
Key features:
Online bulletin boards

Sticky notes with lessons

A comment section for collaborative learning
English Training Tool #9 – Animoto
Animoto is more like a video creation tool that can help you build high-quality videos. You don't need to be an expert to get started. Through its easy customization tool, you can easily drag and drop your media content and make video lessons with subtitles, font, and design elements that fit your branding needs. They also have stock images and music that you can apply to your English lessons to make your learning even better for your learners.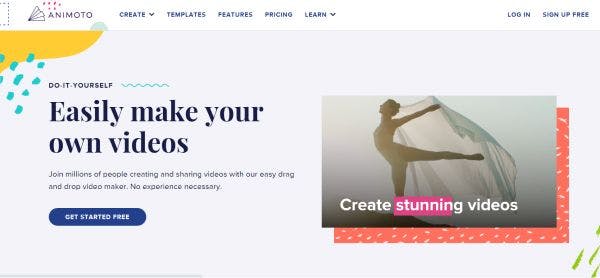 Cost: Free
Key features:
English Training Tool #10 – QuizGame
As an English training tool, QuizGame can help transform your English courses in the form of games, making sure that learners are enjoying themselves and fully engaging with the material. You don't need to be a professional coder or have an expensive tool to gamify your training. They already have a list of templates like Prison Break, Tic Toc, and Do or Die, so all you need to do is bring your content. QuizGame also gives access to its data analytics to help you monitor the learning progress of your team.
This English training tool isn't exactly free, but they do offer a free demo should you want to test the waters before purchasing. 
Cost: Available upon request
Key features:
Game templates

Course analytics