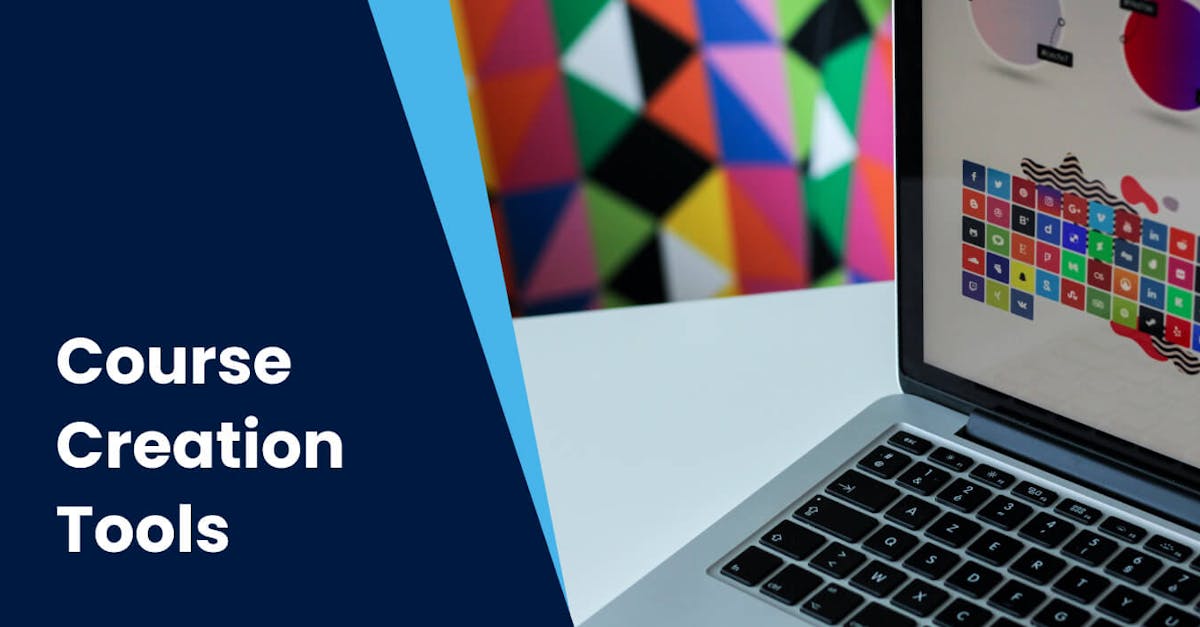 Course creation tools allow you to create and deliver courses to your employees. It's important that your organization selects a great platform to do this important task. Here, you'll find some of the best ones to help simplify the process of course creation and give you all the tools you need on one single platform.
Course Creation Tool #1 – EdApp
The EdApp course creation tool is a complete learning content management system (LCMS) capable of delivering the best content in a way that is useful for them. Create the most interactive content and deliver it to any employee's device, in any location on any internet connection. This mobile-friendly approach allows your team to access the courses you create whenever it's convenient and beneficial to them. 
EdApp has an editable course library that is very simple to use when editing pre-made courses to fit the needs of your organization. This simplifies the course creation process, freeing up more time that can be used on other tasks. EdApp has over 80 proven templates that promote learning with games, quizzes, multimedia, and more. Your students stay engaged for longer periods and learn more from the targeted lessons, thus learning more at a faster rate which boosts production.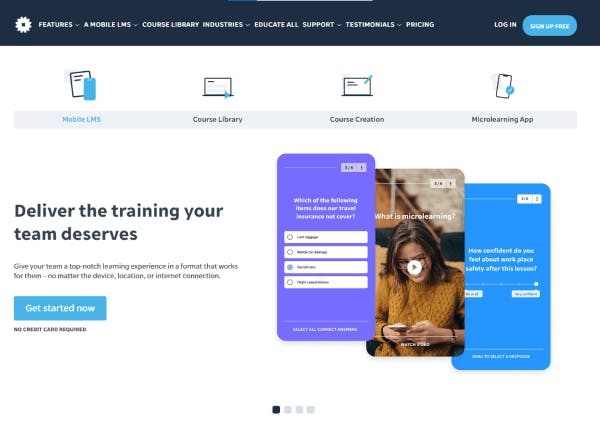 So, you've created and delivered the course your team needs to work on, what's next? It's time to analyze the impact of your work. You need an easy way to see who's learning and who's not. EdApp provides detailed analytics so you can understand what needs to change for your course material to be the most effective it can be.
Course Creation Tool #2 – Tovuti
Tovuti is a comprehensive, cloud-based course creation tool created to help organizations realize their full potential by designing, delivering, and tracking online training and education. Whether users are teaching their employees, partners, or clients, the end-to-end solution provides them with everything they need to construct amazing eLearning programs.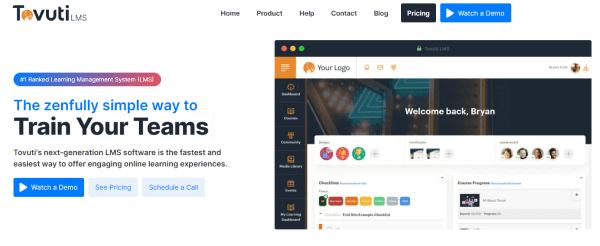 Through its brand manager, Tovuti also provides a complete content management system (CMS) and the capacity to host one or more websites with various branding. You'll save time and money and be able to report on your learners' complete journey because everything is contained in one simple-to-use solution. However, the price may be an issue for startups as it's quite pricey.
Course Creation Tool #3 – Bridge
Bridge is a course creation tool platform for employee development that was created with both staff and employers in mind. Peer-to-peer learning, live in-person training, outside learning, online courses, mentorship, manager one-on-one meetings, goal tracking, and peer evaluation are all provided. Off-the-shelf training, memory retention, interactive videos, continuous performance management, skills testing, and reporting are further benefits.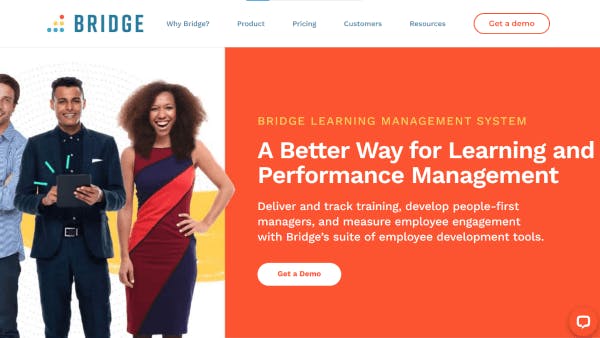 Bridge allows for the customization of learning pathways and course offerings to suit unique user profiles. Even if they're using a different device to access the system, the solution allows users to pause in the middle of courses and resume where they left off. The software lacks gamification features, so it might be difficult to get your learners to engage with the courses.
Course Creation Tool #4 – Mykacademy
Mykademy is utilized to manage all an organization's training needs. To increase efficiency, this single-suite e-learning course creation tool will assist in monitoring and managing the progress and activities of learners. Any sort of organization, regardless of size, can use Mykademy's learning management system (LMS) to transform its training into outstanding learning objectives. Mykademy provides a ton of helpful tools that will make training easier. Simply drag and drop the parts to create training courseware that's unique.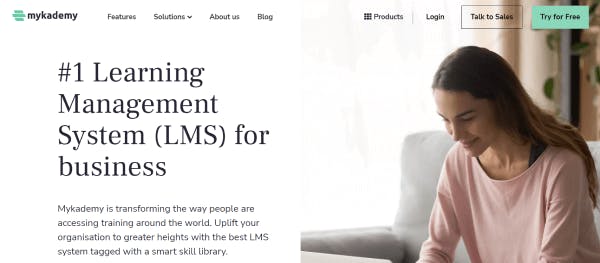 White-labeling your website will increase the credibility and worth of your brand. You may start training right away without having to struggle with creating a course from zero thanks to the built-in skill library, which has hundreds of prepared courses. Unfortunately, the software isn't free. This also isn't really a mobile LMS so it could be difficult to deliver training.
Course Creation Tool #5 – Travitor
Training can be easily created, delivered, and tracked with Travitor. Moreover, you'll also have access to hundreds of highly regarded courses in compliance, business, safety, and personal development. With featured courses including "Harassment Prevention for Employees and Managers," "Workplace Security," "Active Shooter," "Health & Safety," "HIPPA," "OSHA," and more, you can support your teams in producing outstanding work.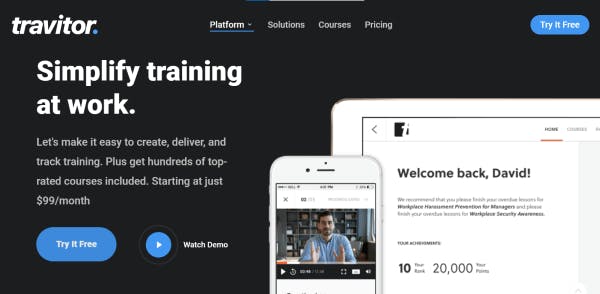 By combining classes, videos, slides, and homework assignments, you can construct personalized learning paths that are instantly searchable and accessible from any location with this course creation tool. However, Travitor lacks gamification features to keep learners engaged.
Course Creation Tool #6 – Coassemble
Coassemble is a course creation tool that enables you to design top-notch learning experiences that have a positive influence on your company's bottom line. It was created for expanding teams and organizations searching for their first online training platform. Using this program, you can design online training that has a genuine impact by considering each stage of the employee training process. 

Share training materials with your employees in the places where they'll find the most value, interest them with visually attractive training, and support the entire process with comprehensive data to connect training results to business effects. Coassemble lacks integration options, so you can't combine this tool seamlessly with the rest of your software stack.
Course Creation Tool #7 – MapleLMS
MapleLMS offers limitless online and on-demand training. This course creation tool facilitates continuous education and is simple for non-technical users to use and manage. This system is fully connected with the Salesforce® eco-system with an emphasis on staff training, non-dues revenue for member-based organizations, customer training, and partner training. 
With its anytime, anywhere access on any device, MapleLMS gives teachers and students the ability to manage training on the go. The software, however, isn't free and the requested quote might be too expensive for certain companies.  
Price: Contact for Pricing

Features: on-demand training, easy to use, Salesforce® eco-system
Course Creation Tool #8 – Schoology
Schoology is a cloud-based learning management system that focuses on managing courses, collaborating, and sharing resources across the entire system. Users can develop their own websites on this system by uploading course materials and homework projects into the database. The production of content and lessons is possible thanks to its dynamic content creation tools and powerful text editor.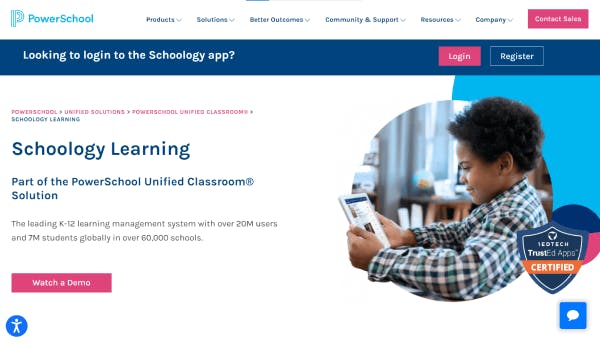 This course creation tool keeps lectures as visually straightforward or sophisticated as required, using HTML and CSS tools. The platform is designed for the education sector, so it might not fit the needs of corporate training.  
Price: Contact for pricing

Features: cloud-based, text editor, HTML and CSS
Course Creation Tool #9- Memberpress
MemberPress is a course creation tool developed to assist businesses in selling online courses, securely accepting credit cards, selling digital downloads, controlling who can access their content, and creating WordPress membership sites. You can design and market online courses thanks to the LMS plugin.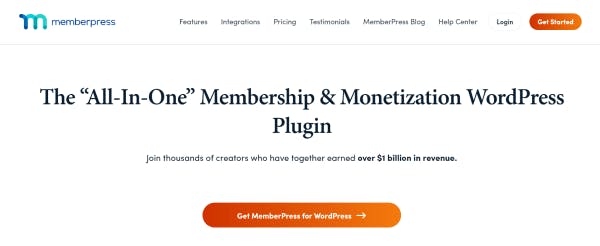 Managers can manage their users by controlling access to videos, posts, pages, categories, communities, digital assets, tags, feeds, and more based on the type of membership. Managers can also use the platform to create password-protected online communities by combining it with other forums like BBPress. The price for the software isn't start-up friendly as their paid plans start from 79.
Course Creation Tool #10- Ventture
Ventture enables expert trainers to create websites and provide online courses to customers. Teams can use this course creation tool to develop and edit content, add files to the adaptable site layout, and save updates instantly. Businesses can maintain a consistent corporate image by preserving and reusing generated designs by using built-in website themes and custom fonts, colors, or sizes.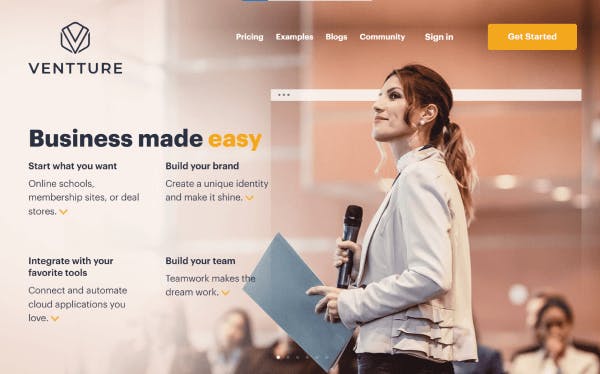 The technology also enables administrators to manage numerous projects from a single dashboard, translate content, plan upcoming changes, and create tailored communications. Unlike other tools on this list, Venture doesn't support a pre-made editable course library to help speed up the course creation process.