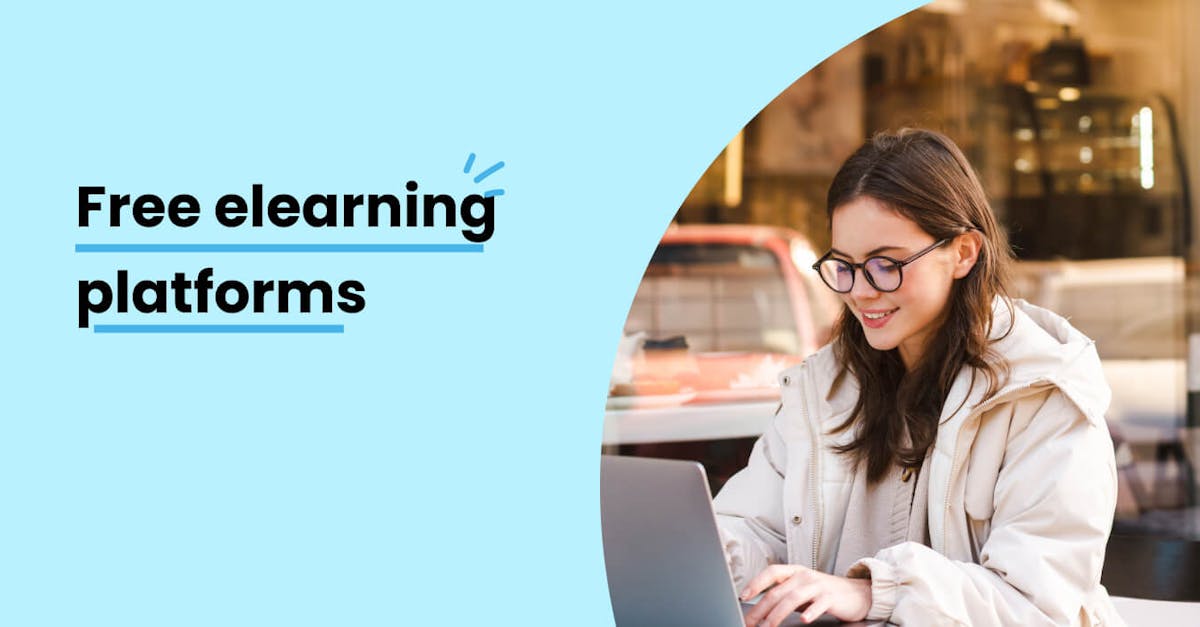 Elearning platforms can be used for delivering online courses, conducting virtual classrooms, and providing resources and support for employees. In this article, we'll look at ten free elearning platforms to help you with training your workforce without breaking the bank.
1. EdApp
EdApp is the most versatile and rich among innovative elearning tools and is completely free to train teams of any size. It's an award-winning and mobile-accessible learning platform that caters to the most demanding among corporate clients. The platform is used by industry leaders around the globe, like Shell, Marley Spoon, Mars, and the United Nations to provide a superior adaptive learning experience for their teams. EdApp takes m learning and microlearning to the next level: accurately portioned knowledge is delivered in digestible chunks over a period of time.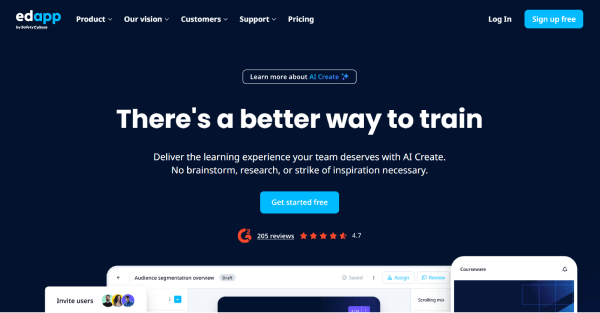 Part of EdApp's popularity with large organizations is its collection of built-in tools, all of which boost engagement and knowledge retention rates, and make the whole process as smooth as possible for both the instructional designers and their teams. One such feature is EdApp's completely free, editable course library, which is a collection of ever-growing ready-made courseware that's there for you to browse, edit, and deploy to your teams within minutes. The courseware is contributed by world-class organizations so you can expect high-quality content in every industry, ranging from retail and manufacturing to food and hospitality, safety and risk management, healthcare, and more. At EdApp, you could even hire an expert team to create the courses for you.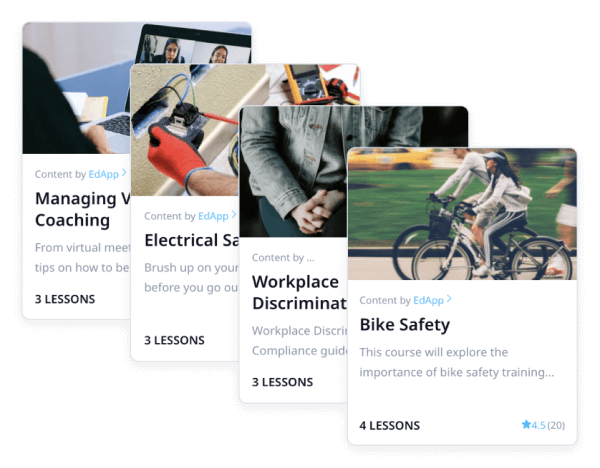 EdApp also leads the way for innovative cloud-based learning platforms because of its built-in PowerPoint converter and Canva integration. The team at EdApp recognizes that training by PowerPoint (PPT) is just as much uninspiring as it is ineffective. As such, they've created a free tool that will transform your dated PPT slides into beautiful and interactive microlessons. EdApp has also teamed up with Canva, the world's leading graphic design program, to provide access to millions of graphics. Once you've created your unique image(s), they are seamlessly added to your lesson. Cameron Adams, Co-Founder & CPO of Canva believes that EdApp is pushing the boundaries when he notes, "Helping innovative tools like EdApp bring a better experience to educators is an integral part of Canva's mission." 
Sign Up for Free and Train your teams using the best free elearning platform today!
2. LinkedIn Learning
LinkedIn Learning is the newest addition to the premium program for LinkedIn users. It's an eLearning platform focused mostly on business and technology, offering more than 15 000 expert-led courses. This training software is one of the most sought-after instructional eLearning platforms in the industry – its video courses are available in seven different languages all around the world. Courses proposed on LinkedIn Learning are aimed at enhancing employability among LinkedIn users. New qualifications are immediately recognized as badges pinned to public LinkedIn profiles. To access the courses, one has to become a premium user which comes at a minimal cost of 0 a month. Not all the courses are of the same quality and the process of being accepted as a coach is long and tedious.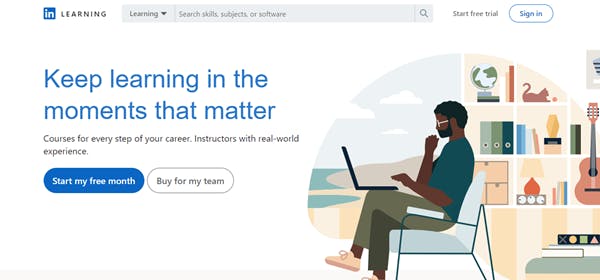 3. CourseSites
CourseSites is a learning platform option that's built for formal education. It gives teachers the ability to connect and engage with their students instantly, which is beneficial for any learning environment but is especially useful in the age of COVID-19 and remote learning. The learning experience platform enables teachers to deliver their courses for free and includes features like class details, registered students, discussion forums, and videos.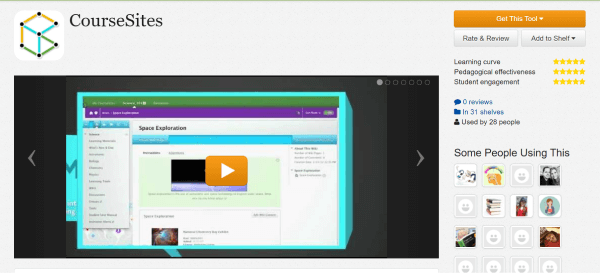 CourseSites is also mobile-friendly but can be accessed from a desktop as well. One of the best things about this learning platform is embedded insights, which is highly beneficial for teachers. This means that teachers can assess learner engagement and academic performance with a clear breakdown of metrics, including course completion, marks, attendance, and more. While CourseSites is only suited for academics rather than professional training, it's an innovative option for the classroom.
4. Thinkific
Thinkific offers an elearning platform for coaches, trainers, and individual experts to create a solid course base for their audience. Whether it's sports, brand management, or photography, Thinkific offers easy and powerful tools to create comprehensive online courses. With this platform, you can create courses and promote them through memberships and bundles. Thinkific also offers individual client support and the possibility to build a website to promote your work. Thinkific is easy and intuitive to use and offers a range of business tools to promote your brand. Growing with Thinkific can get pretty expensive though: from the Pro offer (cheaper programs soon don't pay off) at 9 to 99 per month for a Premier option, one needs to sell a lot of courses to balance the costs.
5. Learning Bank
Learning Bank is a relatively new elearning platform offering building courses primarily to corporate clients. With their preboarding and onboarding programs, they aim at hiring and L&D departments, wanting to prep their fresh catch already before they start working. LB is mobile-friendly and delivers most of its products as smartphone applications, which is handy. Learning Bank has mastered microlearning through gamification: its courses are broken down into short quizzes and puzzles equipped with memory tracking. Aiming primarily to upskill workers, LB offers multiple short video courses covering topics from service to leadership skills. They also provide webinars and eBooks to spice up the learning offer. Within the platform, learners can even share insights with one another through a social learning wall. Unfortunately, all those features come for 99 a month and require 100 users from the beginning. Therefore, this corporate learning platform won't suit smaller companies and individual entrepreneurs.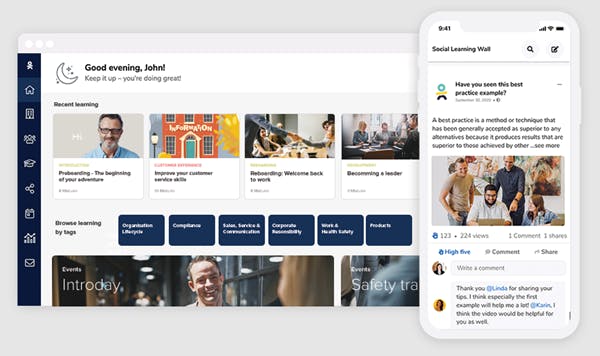 6. Rise Up
Rise Up deliver a platform dedicated to the blended learning experience. Offering both LMS, LXP, and content design solutions, they cater mainly to international, multilingual corporate clients' needs. With Rise Up Academy, an eLearning program dedicated to training system administrators, they are offering a training program designed with the help of digital pedagogical engineering. Rise Up is very much community-oriented: forums and clubs (like Beta-Testers Club) available with almost every elearning course are supposed to facilitate peer support. Their flagship product, LMS software, combines face-to-face and eLearning training from the same interface – a sort of online campus available in multiple languages. Rise Up also provides authoring tools to create your own products. As various and multifaceted, the whole Rise Up package comes for per user. Unfortunately, there's no free version here.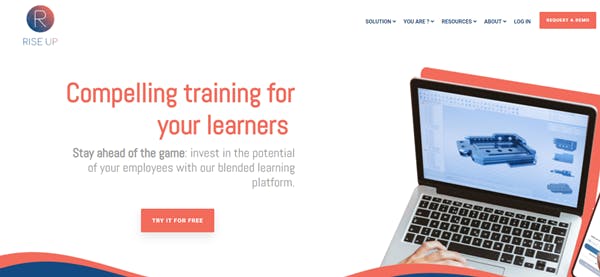 7. eloomi
eloomi, similar to Learning Bank, is an onboarding lms that focuses on onboarding courses for corporate workers. It offers simple solutions to elearning development and onsite training covering the preboarding, onboarding, and compliance modules. The platform includes a custom builder to import and create your content, blended learning experience, and easily accessible development tracking. eloomi is available on mobile devices, which makes it easily accessible for all workers in training. The trainer's overview provides comprehensive data and statistics. eloomi's interface is pretty basic and covers only limited scope of themes. Individual customers and small-scale entrepreneurs might not find the offer particularly interesting.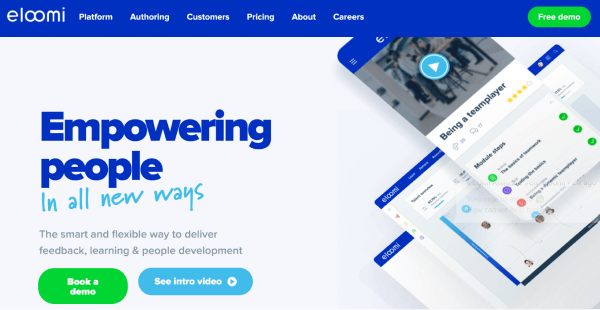 8. Skillshare
A well-known platform for creators, designers, and beginners of all sorts, Skillshare caters to everyone who wishes to learn something new, not necessarily to find new employment or enhance their professional skills. Yet, one can find a good handful of courses dealing with basic business strategies, e-marketing, and even programming. Skillshare is a highly competitive platform delivering only selected content, therefore the courses are usually of high quality.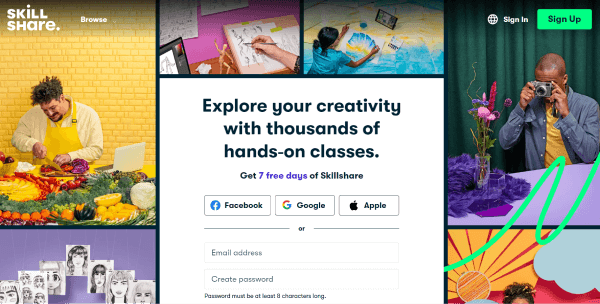 This platform is available through a monthly subscription (the first two months come as a free trial) and could be of use to smaller companies in the creative industry. It's not an LMS per se, however, we think it can provide a good balance for eLearning in a purely business environment, be it only to take care of the mental health of the employees.
9. Firmwater
Firmwater LMS delivers a white-label solution to compile eLearning courses for small and big brands. They partner with Shopify, the biggest e-commerce platform, to sell and promote the courses. The platform offers a range of top-notch authoring tools, including module assembly for quick and easy course design. Firmwater LMS can be easily connected to other LMS systems, making the transition of products quick and seamless. Additionally, the platform is available in four languages: English, Spanish, French, and German, catering to clients around the world, especially multilingual global corporations.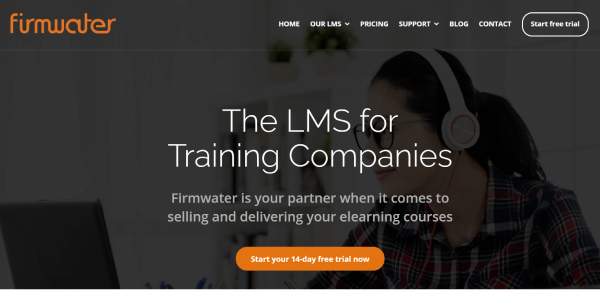 Firmwater is a good solution for those who want simple, quick solutions and don't pay much attention to detailed and rich design. This platform doesn't offer gamification tools nor is it free.
10. CEC Global
CEC Global is chiefly an elearning platform allowing for automatizing training, providing reports, and delivering e-learning for organizations and working professionals. CEC provides authoring tools for creating engaging learning activities and interactive courses, as well as conversion and redesign of legacy training materials into digital learning content. This way, they are available through a variety of LMS products. All courses and learning materials are available through the cloud, making them accessible anytime, anywhere. A strong point of this platform is its focus on the multilingual diversity of learners – with AI solutions, it allows to creation of IVR flows in regional languages. CEC Global doesn't focus on the mobile eLearning solution and doesn't provide more information on the authoring tools.