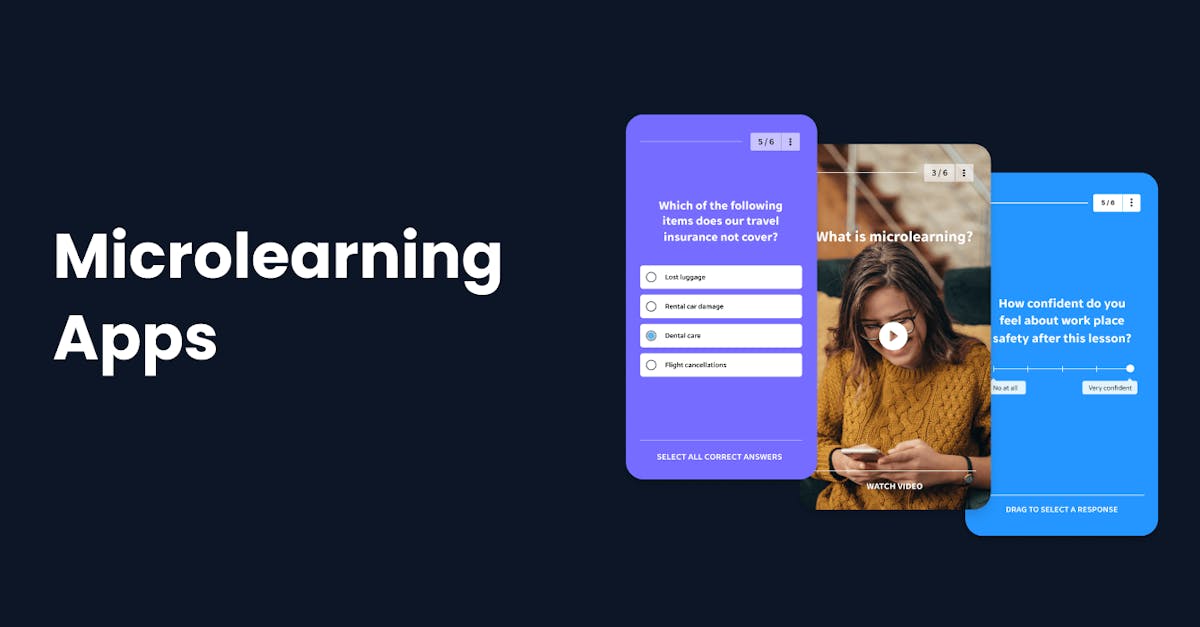 Microlearning apps are training tools that help make information easier to digest and more engaging by delivering lessons in bite-sized form. With the compact nature of microlessons, they become more accessible and convenient through microlearning apps. Check out our recommended microlearning apps below.
1. EdApp
EdApp is a free online training platform that provides a microlearning app for teams of all sizes and any nature of work – whether they're office-based, remote-based, or even on-site. This cloud-based platform's microlearning feature allows you to convert your training content into bite-sized lessons that focus only on key elements. Its microlearning strategy is combined with gamification elements which enables you to transform dull lessons into interactive games. When learning doesn't feel like another mundane task, gamified microlessons are proven to result in 90% (or higher) completion rates compared to typical eLearning courseware. You can also reinforce key points through a system-automated quiz called Brain Boost or test knowledge through a quiz maker called Rapid refresh.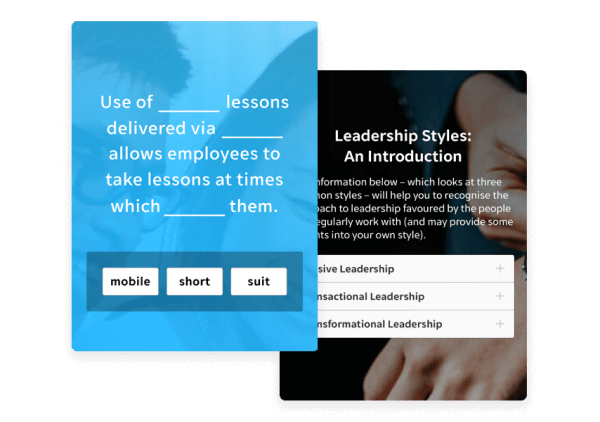 As a mobile-first microlearning app, EdApp makes learning easily accessible and convenient by delivering training with a mobile learning approach in mind. It's not simply making training content available on any device. But rather, it means that EdApp's SCORM compliant microlessons optimizes its learning strategies into smartphone technology so your learners can achieve the best learning outcomes. As a result, your learners are given control over their learning experience and decide when and where they are most susceptible to learning.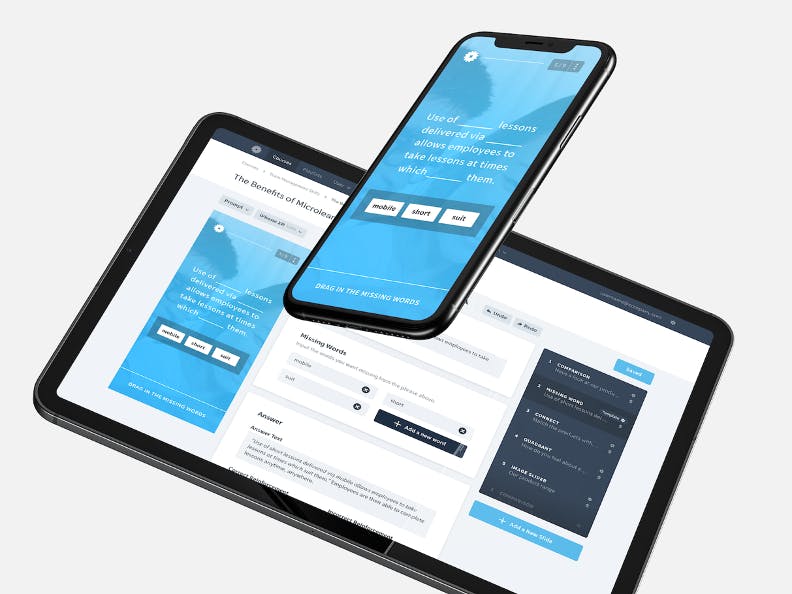 You don't have to worry if you're new to the microlearning approach in training. You can just simply deploy and edit readily available courses from EdApp's free course library, then tailor content with your organization's specific standards or information. They have courses like internal audit training courses, OSHA, fall safety, and aerial lift certification courses for constructions workers, and HIPAA, bloodborne safety, and first aid courses for healthcare workers like. They also offer soft skill training courses you can share with the majority of your organization, like diversity and inclusion, anti-bullying, and empathy courses. 
But if you need to start from scratch, EdApp's user-friendly authoring tool makes it easy to create courses with the help of 80 intuitively designed microlearning templates. EdApp also provides an analytics dashboard, actionable reports, and push notification features, you can have full control over user and course management and get a comprehensive overview of the learning progress and outcomes of your training. A speedy and seamless rollout is feasible when you have access to EdApp's team of talented instructional designers who are available to create outstanding courses for you.
Key features: 
Microlearning

Mobile learning

Gamification

Brain Boost

Rapid Refresh

Free editable course library

User and course management system

Push notifications

Learning metrics dashboard & reporting
Cost: Free
Sign Up for Free and use EdApp as your microlearning app for free–forever!
2. Qstream
Qstream is another microlearning app dedicated to delivering learning programs that help combat the forgetting curve and improve knowledge retention among remote employees. Like other learning solutions, this training software reinforces knowledge, develops skills, and enhances productivity with microlearning content delivered on mobile devices. It even allows off-cycle microlearning where learners who missed a program can self-enroll and catch up on their training. Its Content Hub feature also enables training managers to create blended learning content and tutorials with its template library and set of guide questions found on its online training website. This learning management system can also help you automate and track learning progress through an analytics dashboard and proficiency heatmaps.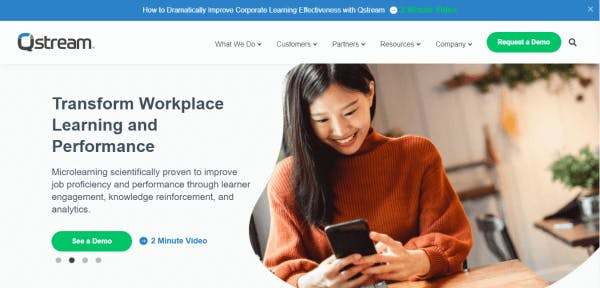 Key features:
Microlearning

Content hub

Analytics dashboard
Cost: Price available through a quote request
3. GoSkills
GoSkills is a flexible LMS and microlearning app that supports small-scale businesses in enhancing engagement rates. They do this by breaking down courses into short-form modules and applying gamification techniques. It provides an authoring tool so you can easily create and customize the branding of your courses, free of charge. This platform also includes a library of ready-made courses, like sales, marketing, customer service, and digital transformation online courses, among others. While access to GoSkills is free, courses are only available for purchase.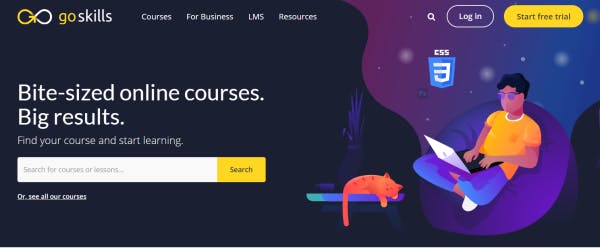 Key features:
Microlearning

Gamification

Content library
Cost: Free, paid plans
4. 7taps
7taps is a browser-based tool that allows you to deliver mobile-first microlearning experiences in just 7 taps. On this platform, you can simply create courses like marketing, cybersecurity, HR training, and digital transformation online courses, without going through time-consuming process. 
using templates. You can also add GIFs, soundbites and quizzes to improve engagement. Then, you can readily share courses through a link, SMS, QR-code, or email. Learners don't even have to download any app or sign up to get started on their training. Even without these steps, you can guarantee that you can still track and analyze the learning progress of your employees. While this tool isn't exactly a microlearning app, courses are optimized for mobile devices while also being adaptive to a desktop environment.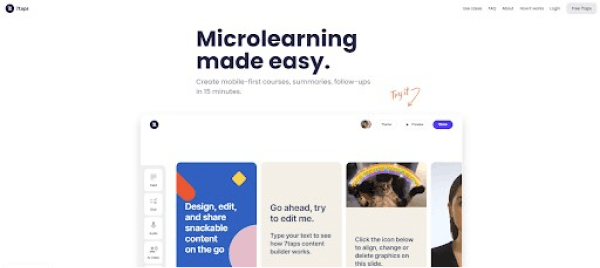 Key features: 
Cost: Free
5. Learnie
Learnie is a community microlearning app that enables you to deliver training materials in a fast-paced but still engaging approach, just like TikTok. This is done by allowing you to create a sequence of microlearning bursts where each learner can also discuss lessons. A training manager, instructional designer, and even the learner themself can create user-generated videos to facilitate a collaborative learning experience. This way, anyone in the organization, especially the experienced onese, can easily share unique and relevant knowledge or skills in a seamless and quick process. Learner is essentially a free app for everyone, but if you're an enterprise, you can have access to private spaces, analytics, and more upon subscription to a paid version.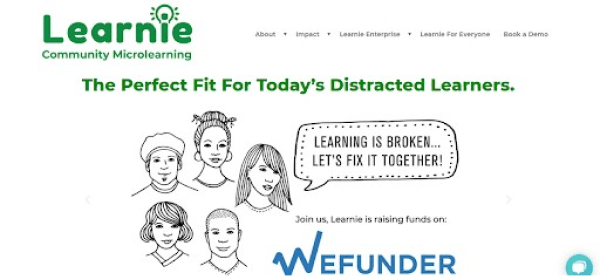 Key features: 
Mobile-based

User-generated

Microlearning-focused
Cost: Free
6. Edgagement
Edgagement is a training tool that enables you to build gamified microlearning content, quizzes, and surveys through a simple drag and drop authoring tool. Even with little to no knowledge of graphic design, you can easily create interactive training materials with the help of over 15 game templates like Spin to Win, Fact or Fiction, Double Match, Connect the Dots, Jumble Pic, and many more. Edgagement also includes a data center that provides you with complete reports on game engagement, completion rates, and knowledge gains so that you can assess overall performance, address knowledge gaps, and optimize your training content for better results in the future.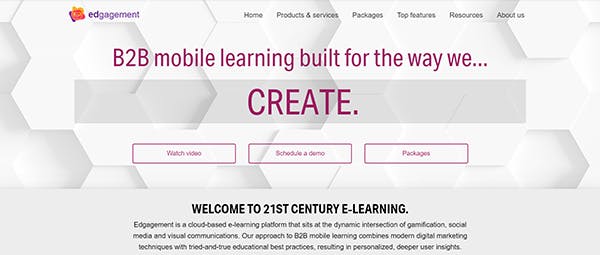 Key features: 
Cost: Price available upon quote request
7. Code of Talent
Another microlearning app, Code of Talent addresses learning needs through personalized learning experiences. Its microlearning journeys can be completed anytime and anywhere in just three to seven minutes. To promote self-paced training, social learning, and content engagement, Code of Talent's courses are designed to be mobile and easy to digest. Through its gamification feature, you can also create interactive quizzes similar to games to motivate and engage learners in their training. 
Key features:
Personalized learning

Microlearning

Social learning

Gamification
Cost: Paid plans
8. Centrical
Centrical is a powerful gamification training software that allows you to design personalized microlearning content. This SAAS platform delivers relevant and timely microlearning by assessing the knowledge level, engagement, and performance of your employees. It also makes learning a habit by integrating gamification into their learning experience. With its intuitive user interface, you'll be able to create polished game-based learning materials without any technical design skills. This platform also provides learners with a real-time performance management feature, which they can use to access their performance data and training feedback. 
Key features: 
Personalized microlearning

Gamification

Real-time performance management
Cost: Price upon quote request
9. EduMe
EduMe is an employee training tool that gives learners convenient training access in a microlearning format through the standalone EduMe mobile app. It also includes a content creation tool where you can quickly create courses that capitalize on images and videos rather than long texts. Lessons in EduMe can be categorized into two types: Conversational for activities and Slideshow for slides. To help you get started, you can take advantage of the services of EduMe's in-house learning design team to help you create professionally designed courses suited for your organization's needs.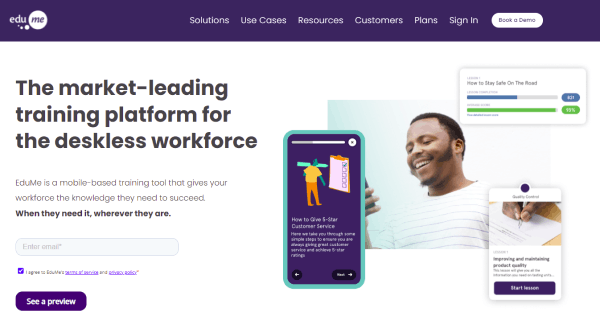 Key features:
Standalone mobile app 

Easy-to-use creation tool

Professional content creation – EduMe can create bespoke training content suited to your organization's needs

Easy-to-use creation tool – Easily import videos, images, quizzes in your lessons with its user-friendly content creation tool
Cost: Price available upon quote request
10. Kahoot!
Kahoot! is primarily an online quiz maker that also works as a microlearning app. This M learning software uses visually appealing gamification elements to maximize engagement and ensure higher completion rates among learners. Microlearning in this learning management software is presented with interactive template-based games and quizzes, which are uniquely called "Kahoots". Learners can access these Kahoots via a mobile app or a web browser. The best part is that they can be presented on a shared screen and answered by a group of "players" all at the same time through any video conferencing platform. Alternatively, you can also set Kahoots as a self-paced challenge to be completed by each team member asynchronously. This platform also provides trainers with reporting and analytics so that knowledge gaps can be addressed and micro learning feedback can be provided.

Key features: 
Gamified quizzes

Live Kahoots

Asynchronous Kahoots

Multiple game templates
Cost: Free, Paid plans start at 7 USD (monthly)