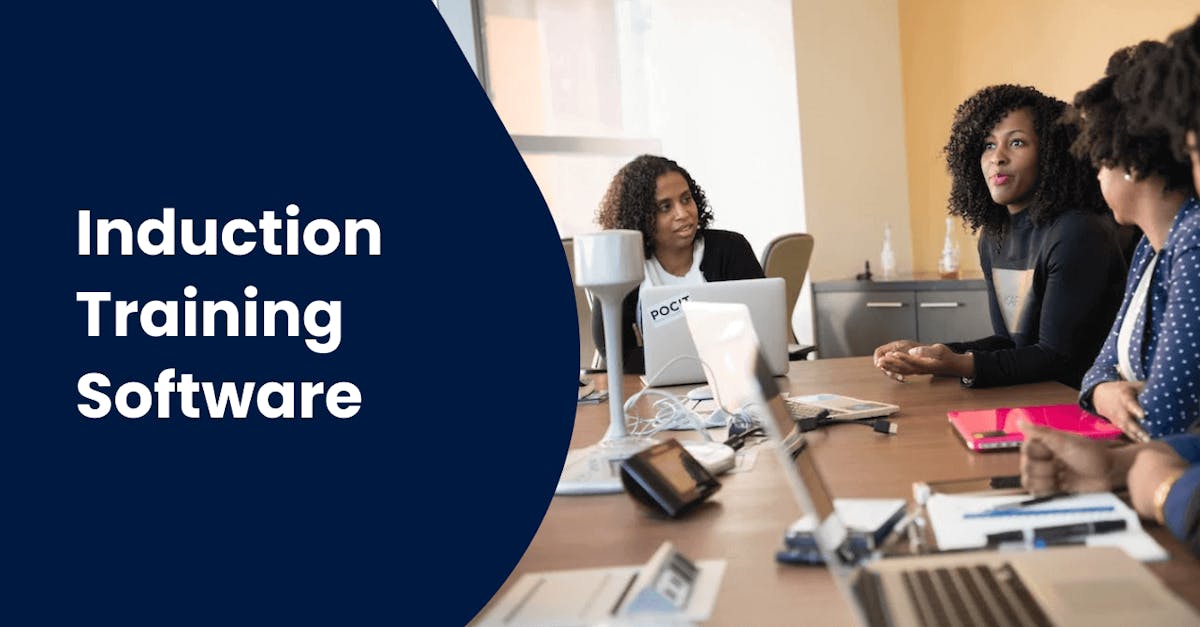 Induction training introduces new employees to the organization and informs them about what their job entails. It's used to efficiently deliver and manage induction training programs for new hires. The software typically includes features such as training modules, orientation materials, compliance documents, interactive learning content, quizzes, and progress tracking.
When done correctly, induction training software can guarantee that employees are productive and can do their jobs effectively since they're equipped with everything they need.
In this article, we'll look at induction training software programs to help keep new employees up to speed about their roles and responsibilities.
How do you create an effective induction training program?
Creating an effective induction training program involves careful planning, thoughtful design, and a focus on the needs of the new employees and the organization. Here's a step-by-step guide to help you create an impactful induction training program:
Define Objectives: Start by clarifying the objectives of the induction training program. Identify the key knowledge, skills, and behaviors that new employees should acquire during the onboarding process.
Customize for Roles: Tailor the program to suit the specific roles and responsibilities of the new hires. Different departments may require different training materials and orientations.
Design Engaging Content: Develop interactive and engaging content that includes videos, presentations, quizzes, and activities. Use multimedia elements to keep new employees interested and involved in the induction program for new employees.
Introduce Company Culture: Emphasize the organization's values, mission, and culture. Help new employees understand the company's work environment, expectations, and long-term vision.
Include Compliance Training: Verify that the induction program covers essential compliance topics, such as safety regulations, data privacy, and anti-discrimination policies.
Assign Mentors or Buddies: Pair new employees with experienced mentors or buddies who can give guidance, answer questions, and help them integrate into the team.
Schedule Wisely: Plan the induction training schedule carefully, spreading the training over several days or weeks to avoid overwhelming new hires. Allow time for practice and reflection.
Feedback Mechanism: Incorporate a feedback mechanism for new employees to express their thoughts on the induction process and suggest improvements.
Track Progress: Use a learning management system or tracking tools to monitor the progress of new employees and guarantee they complete all required training modules.
Continued Learning: Consider offering ongoing training and development opportunities beyond the initial induction period to support employees' long-term growth.
Evaluation and Improvement: Regularly evaluate the effectiveness of the induction training program. Analyze feedback, assess employee performance, and make necessary improvements to enhance the onboarding process continually.
Social Integration: Encourage social interactions among new hires and existing employees. Organize team-building activities to foster a sense of camaraderie and belonging.
By following these steps, you can create an effective induction training program that allows new employees to quickly adapt to their roles, feel welcomed in the organization, and become productive members of the team. An engaging and well-structured induction training program can also contribute to higher employee satisfaction and retention rates.
1. EdApp
EdApp is the leading induction training software that allows you to create and deploy training content anytime, anywhere. With the help of its free authoring tool and editable course library, you can customize courses and lessons specific to your organization's needs. Find courses like free online medical laboratory courses, corporate compliance, and so on. Feel free to rebrand them, tweak the lessons, add pictures, exercises, and even games, and quizzes to increase your courses' engagement.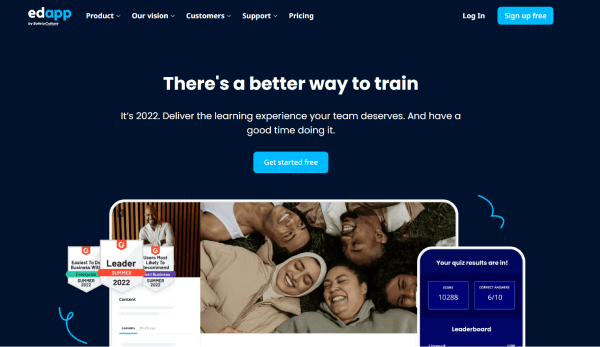 To ensure that the effectiveness of training isn't compromised even in a remote setting, the Virtual Classroom feature was designed to boost social interaction and secure success in an online learning environment. It integrates smoothly with 3rd party video conferencing apps like Zoom or Google Meet, and you can set a video meeting on this platform without the need to jump from one tool to another. The meeting code can be linked directly to a course for discussion to foster collaboration through the exchange of ideas, knowledge, and experiences. In addition, technical training programs like first aid training certificate, forklift training courses, aerial lift certificate courses, and construction training programs can be developed through this platform with ease.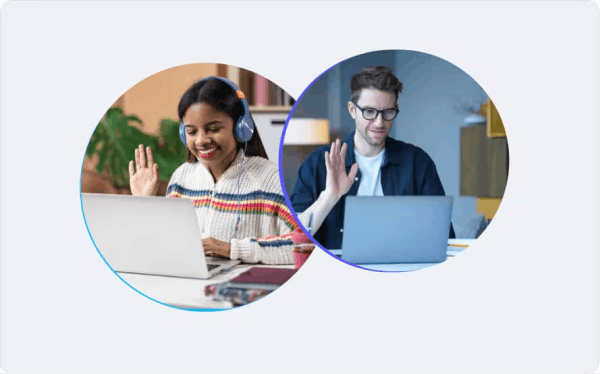 EdApp allows your learners to receive training through their smartphones, increasing course progress and completion rates. Although keep in mind that all EdApp courses respond perfectly to all devices, including laptops and tablets. Meaning, your team is allowed to read their materials on a larger screen if they prefer.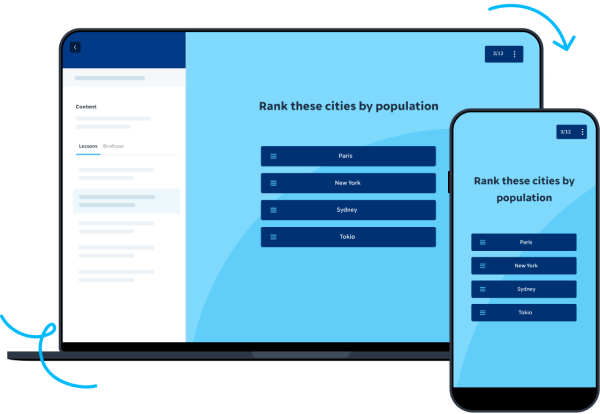 Key features:
Mobile-first – Lessons run seamlessly on both iOS and Android devices. They are also fully responsive and perfectly formatted for any web browser of your choice.

Editable microlearning content library – EdApp has partnered with the best in the business to develop a growing course library filled with expertly designed lessons. They're yours to personalize and rebrand as you see fit.

Virtual classroom – Conferences are also easy to set up and can be hosted on your preferred third-party platforms such as Zoom and Microsoft Teams
Pros:
Learners can access lessons on any mobile device and download them for offline learning

Short, bite-sized lessons to absorb and digest information better

Easily create lessons without any coding knowledge or instructional design background

Choose from over 100 microlearning courses that can be deployed right out of the box

Create SCORM-compliant courses straight from the authoring tool without the need for any developer resources
And if you don't want to start from scratch, your first five lessons of your course can be created by EdApp, saving you time on the administrative side of training.
Cost: Free
Sign up for Free and Use The Best Induction Training Software
2. Cloud Academy
Cloud Academy is an induction training software solution that allows businesses to create highly comprehensive and targeted tech learning content for both new hires and current employees. It has a Team Activities panel that HR can use to onboard their new hires and provide them with onboarding assessments. Also, some of the other ways you can maximize this training platform include customizing exams using pre-built questions and giving users access to a vast content library on technology fundamentals.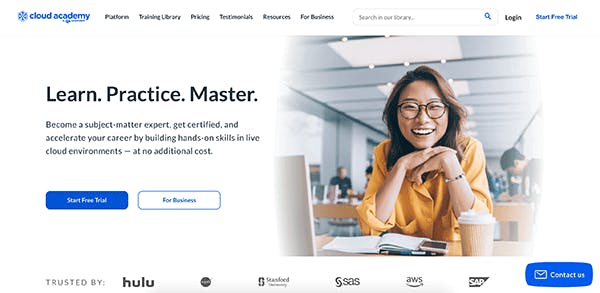 This training tool also allows your employees to access learning resources even while offline and also comes with a Cloud Roster feature that encourages users to learn what skills they should train for by exploring in-demand skills from specific job roles.
Key features:
Training Plans – Assign role-based or custom learning paths to track progress and completion

Role-Based Exams – Multiple-question exams built to reflect the roles and skills you need

Content Engine – All-in-one content customization to build training that mirrors your production environment
Pros:
Has a free plan with regularly updated, hand-picked content 

Study on-the-go with offline access in their mobile apps

Learners can put what they've learned into practice through hands-on lab environments
Cost: Free and paid plans
3. Administrate
Administrate makes it possible to organize, deliver, and track all your course resources in a single-centralized system. With this product knowledge training tool, managers can schedule an instructor for onboarding, take command of the essential course documents, and automate email communications to the new hires with ease.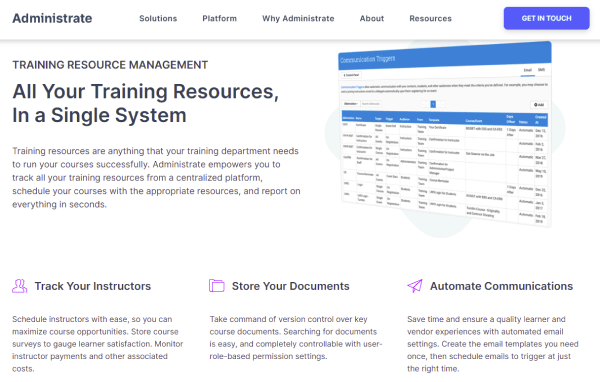 Built with maximum flexibility, it can manage virtually any form of training delivery, from online to blending learning, even face-to-face, and virtual instructor-led training. It also features a unique vILT Rapid Implementation should you need to transform your instructor-led training to online training.
Key features:
Mobile-Friendly – Fully responsive user interface that seamlessly supports any screen size

Turnkey Integrations – Integrate with systems like CloudShare, Zoom, SurveyMonkey, and Xero

Course Templates – Reuse course templates to save time
Pros:
Pay only for features you need

Convert instructor-led training to virtual instructor-led training in as little as five business days

Schedule and publish courses in just a few clicks
Cost: Available upon request
4. AcademyOcean
AcademyOcean is a great way to acquaint new hires with their new jobs. Its biggest feature is that it can automate the entire onboarding process of your employees, reducing the onboarding preparation time by 60%. Instead of sending them PDF or PPT files of training courses, you can use this onboarding software to build interactive content with images, videos, and assessments. Course tailoring is available so trainers can customize the content according to their needs, but branding options are limited.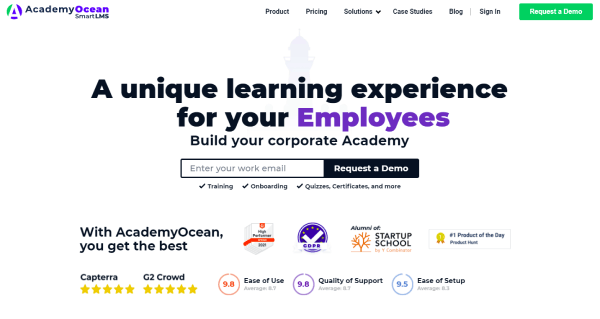 AcademyOcean offers certificates for your team members at the end of a course as proof of training completion. They can also download AcademyOcean's app on their mobile device to access the courses anytime, anywhere.
Key features:
Quizzes and Testing –  Use the tool's built-in testing features to check how familiar a new hire is with specific material

Gamification – Gamify the learning experience with badges, awards, and ratings

WYSIWYG Editor – The content you enter is what learners see in the final version
Pros:
Offers creation of a custom plan

Unlimited number of courses and content

White label branding
Cost: Starts at 00 USD/month
5. Rapid
Rapid aims to train employees quickly but effectively through their adaptive learning platform. It allows you to create customized courses. With its user-friendly authoring tool, you can create questionnaires or surveys, and change images and document links. They also have free courses that you can use for your induction training.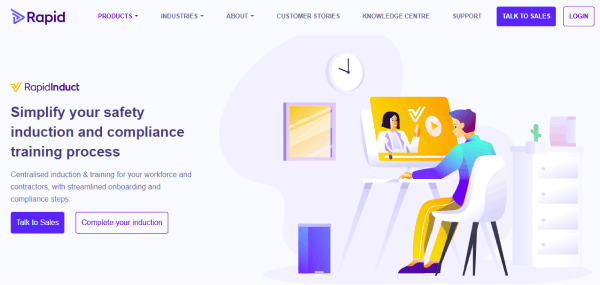 Rapid also includes a training matrix so you can easily direct learners to courses suited to their roles and needs.
Key features:
Media-rich content – Include video, audio, images, links, and text in your courses

Mobile compatibility  – Works on any device with a browser. Rapid also has apps for iOS and Android

Certificate of completion – Send a certificate for each learner
Pros:
Create and edit unlimited course content

Fully customize courses to your brand

Fits on any screen size and appears as an app functioning within the browser
Cost: Available upon request
6. Auzmor Learn
Auzmor Learn's simple user interface was designed to help you easily develop online training courses and deploy learning content even without any technical expertise. With their customized course builder, you can import courses, create new training content, or edit courses from their vast lesson library. You can also track employee training progress and identify learning trends through Auzmor Learn's real-time analytics dashboard and robust reporting.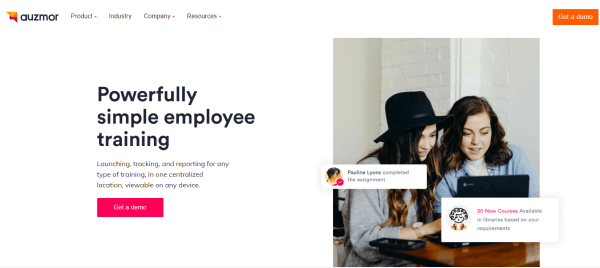 Auzmor Learn can be used to create hard-skill training programs like construction training programs, manufacturing training courses, and aerial lift certificate courses or it can also be used to develop more soft-skill-focused training courses like communication skills training courses and active listening training courses. The best part? It works on screens of all sizes and is optimized for taking and completing training on the go. 
Key features:
Lesson library – Have access to Auzmor's partner-created content

Reporting dashboard – Monitor learner progress and identify trends across teams

Mobile-friendly – Learners can take lessons thanks to its responsive design that works on any screen size
Pros:
Simple user-friendly interface

Lesson library supports the addition of third-party courses that allow learners to customize their learning experience

See real-time results and insights through customized analytics
Cost: Available upon request
7. Trainual
Trainual is another induction training software that you can use to onboard new employees or train current team members. You can easily customize learning materials by choosing from the platform's free templates. And once your training courses have been deployed, your employees can access them through multiple online platforms that include iOS, Android, Chrome extension, and web browser.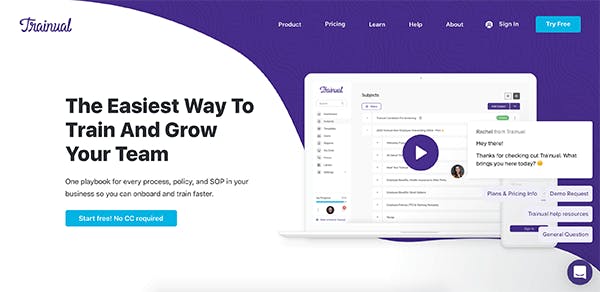 However, you'll have to spend at least 9 USD per month to get access to the tool's basic features.
Key features:
Unlimited documentation – Document all your processes and procedures in one centralized, searchable place

Template Library – Access 125+ customizable SOP and policy templates

Mobile learning – Access training on laptops, tablets, and mobile devices
Pros:
Cost: Starts at 9 USD/learner/month
8. ProProfs
ProProfs allows you to create online training and even get access to professionally created online courses that you can customize as you wish. Add quizzes, surveys, and polls to assess understanding and information retention. It also has a knowledge base feature where you can store and share manuals, documentation, processes, and resources with learners as a reference during and even after training.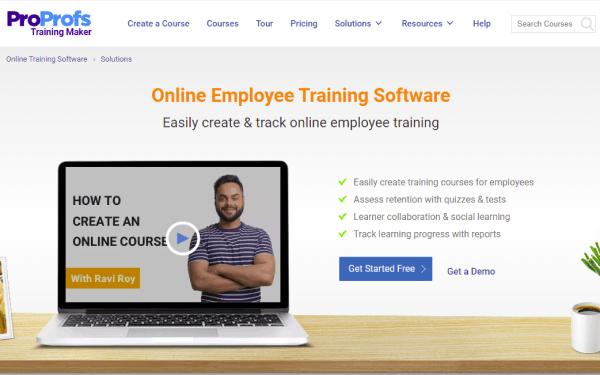 ProProfs also includes detailed reports and analytics to gain insight on learner progress, learner participation, course engagement, and completion rates.
Key features:
Gamification – Add brain games, learning paths, quizzes, and certificates

Templates – choose from a wide range of professionally designed templates

Premium course library – Find courses for any topic, such as HR, customer service, compliance, employee education, and more
Pros:
Cost: Starts at 0 USD/month
9. Coassemble
With Coassemble, you can transform static documents, such as PDFs and word documents, into beautiful and engaging courses. Choose from 30 lesson screen templates and populate your content including images, text, and other interactive elements. You can also create a training hub to house all your courses, processes, and procedures for easy access for your teams.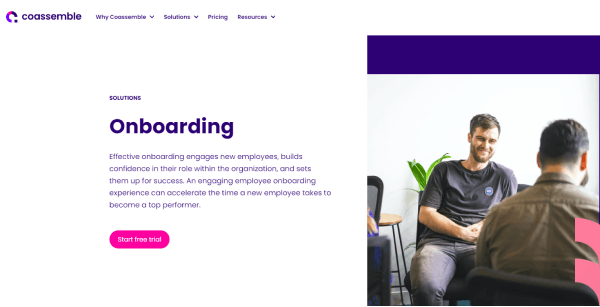 To enhance the learner experience, Coassemble features a certificate builder that you can customize with your brand colors, badges, and more.
Key features:
Document converter – Convert boring training material into engaging courses

Workspace customization – choose your branding, logo, color, and themes

Premium course library – Find courses for any topic, such as HR, customer service, compliance, employee education, and more
Pros:
Free trial with guidance from an expert

Supports 70+ languages

Courses are SCORM and Tin Can-compliant
Cost: Starts at 0 USD/month
10. Google Classroom
Google Classroom is mostly used in education but can also be used for conducting workplace training. You can create classes to assign course materials, distribute assignments, deploy quizzes, and more. As it's integrated with other Google apps, it creates streamlined training allowing you to have all your resources in one place. This also means that you can create quizzes, set up video meetings, and schedule events all within Classroom.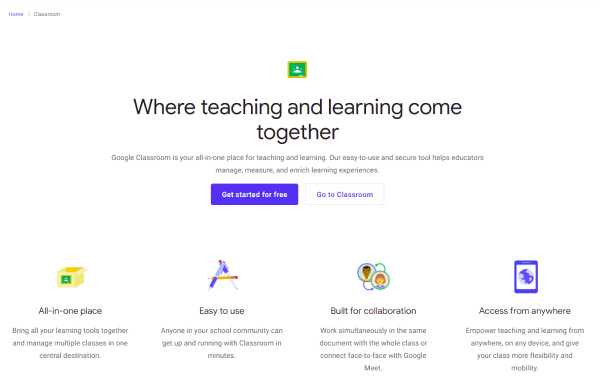 Google Classroom is free to use. While they also have additional paid features, the free plan is more than sufficient for your training needs.
Key features:
G Suite integration – Can be used alongside other Google Suite tools, such as Sheets, Drive, Meet, Calendar

Platform independent – Can be accessed from any computer via Google Chrome or from any mobile device regardless of platform

Automatic grading – Have grades automatically calculated by setting up a grading system
Pros:
Quickly add learners to a new course by sharing a link or code

Easily set up a classroom in a few minutes

Can be accessed on any device offline or even with low bandwidth
Cost: Free