Sales training software helps your sales reps become the best that they can be, allowing your organization to stay on top of a very competitive market. To help you get there, we've compiled a list of the best sales training software that's available in the market today.
Sales Training Software #1 – EdApp
EdApp makes it to the top of our list as the best sales training software because of its user-friendly tools and features. With their massive and advanced features list, their LMS can help you get your sales training up and running in no time.
Among the most useful tools that you'll find is its drag-and-drop authoring tool. It's backed by 80+ intuitively designed microlearning templates, so you'll never have to start with a blank page. All you need to do is choose from these pre-built templates, add your sales content and processes, apply your branding, and hit publish. You can also include quizzes and games to make your sales training more engaging.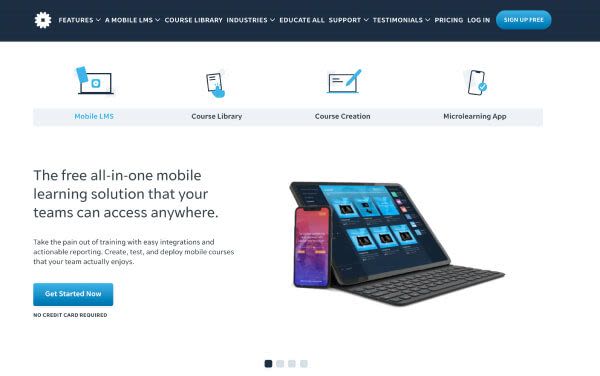 If you're short on resources, there are several sales courses that can be imported from their course library. There's a microlearning course on prospecting, improving your sales forecast, closing deals, short training courses, and so many more. Feel free to use these resources to draw specific examples and some helpful tips to ramp up the sales skills of your team, although you can also deploy them right away. All courses are editable too, so you can tailor their content to make them work for your teams. Yet the best thing? These EdApp sales courses are mobile-responsive, making them ideal for sales reps who are typically out of the office to meet with clients. Accessible using their hand-held pocket devices, they can take their training courses anytime and anywhere they prefer.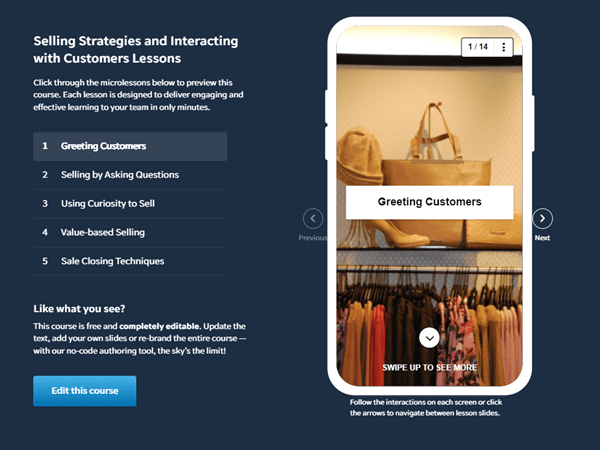 Another useful EdApp feature to explore is the course analytics. Here, you can drill down further into your sales training course and monitor key interactions, like how many users viewed your courses, the duration it took them to complete a lesson, and the average amount of time spent on specific slides. It can also track learners who successfully passed your sales quizzes and assessments, and calculate results as a percentage. The data will help you easily identify the key areas where your sales team might be lacking, and from there provide them with the assistance they need.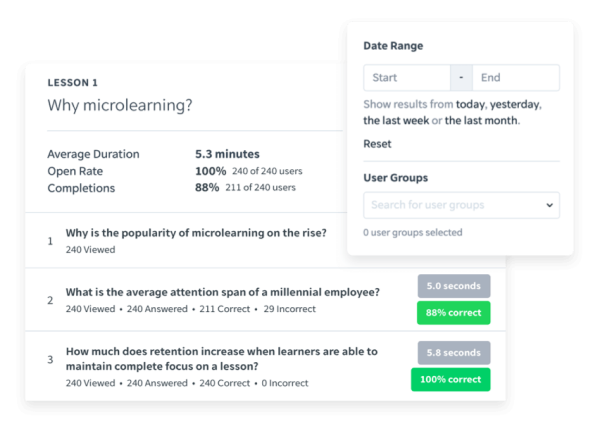 Spend more time on where you'll have the most impact. Simply tell us what you need and your EdApp team will create custom content that looks and feels like you built it.
Convert leads into sales better by signing up for EdApp today.
Cost: Free
Key features: 
Drag-and-drop authoring tool

Microlearning templates

Games and quizzes

Editable sales courses

Mobile accessibility

Course analytics
Sales Training Software #2 – Zoho Learn
Zoho Learn is also a good place to manage your sales training initiatives and equip your salesforce with all the interpersonal and technical skills they need to do their job well. Its course editor follows a drag-and-drop approach, giving you the convenience to curate your sales courses quickly without extensive coding and design expertise. If you want to make it more engaging and interactive, you can also upload videos, images, and other multimedia content to your lessons.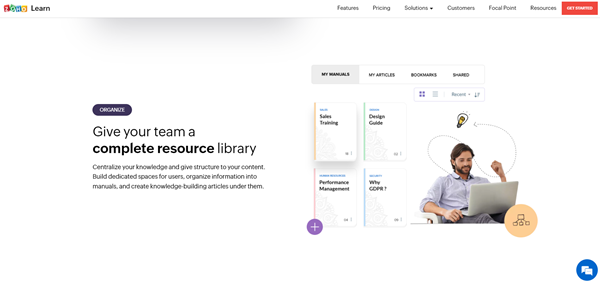 Another great thing about this sales training software is that it allows you to create a resource library for your salesforce. Centralize your standard sales techniques and processes, so it's simple for your team to access it anytime they need it. You can also add users to your knowledge base and assign them different access privileges. 
Cost: Free; Paid plans start at $1 USD per user per month
Key features: 
Drag and drop course editor

Multimedia content builder

Resource library

Flexible user permission
Sales Training Software #3 – Brainshark
Brainshark is popular for its powerful sales enablement solutions designed to empower client-facing teams with the skills and knowledge they need to win more deals. Similar to most sales training software, it comes with an easy content authoring tool that can help you build professional sales training videos. You can upload a video of yourself, or record your screen to present certain processes. Attachments, hyperlinks, as well as quizzes, surveys, and polls, can also be added to better engage your learners. Once published, your sales reps can access them offline using any mobile device they prefer. 
Brainshark also offers a video sales coaching tool that can help your reps master and practice their selling skills and techniques in a safe, comfortable environment. To make it work, you can set specific tasks or assignments, and then ask them to complete a recording of themselves (e.g. pitching for a product or handling a client objection). From there, a machine analysis can be used to automatically analyze their answers. Say, for example, it can help you identify the types of emotions portrayed, the words they used the most, the clarity of their message, and more. 
Cost: Available upon request
Key features: 
Content authoring

Mobile accessibility

Video coaching

Machine analysis
Sales Training Software #4 – Allego
Allego is equipped with powerful tools and features that can assist in honing the skills of your sales force and make sure that they're crushing their goals. Here, you can create, deploy, and scale programs with ease, and reinforce best practices to boost your team's selling potential and drive sales success. You can even include interactive video content and gamified quizzes to tap into their competitive drive and boost their learning motivation. Built for today's distributed workforce, all resources are made accessible using any Android or iOS mobile device.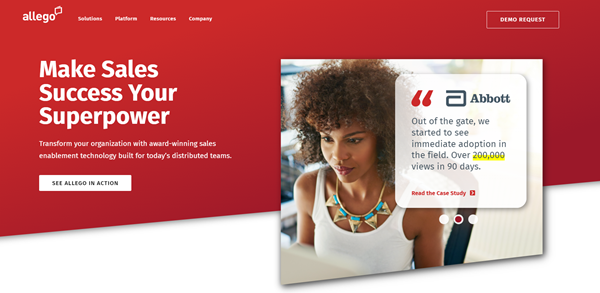 This sales training software can also help you monitor your employees' training progress and get insights into their strengths and weaknesses. These analytics will help you identify the training and support your employees need the most to deliver higher sales results. 
Cost: Available upon request
Key features: 
Course authoring

Mobile-friendly video content and gamified quizzes

Sales training analytics
Sales Training Software #5 – Violet LMS
Violet LMS has a range of sales training tools that you can use to upskill your sales reps and optimize their strategies. Among the most useful ones is its content authoring tool, which can be used to curate sales learning materials in different formats, like online courses and videos. You can also increase course engagement and add value to your training by reinforcing gamification elements, like leaderboards, badges, and course completion certificates. Designed to make learning easy and convenient, your sales reps can easily access your training programs through their mobile devices anywhere they are located.
Should you wish to share specific sales strategies and processes with your team in real-time, you can also use this sales training software to hold live training sessions. Its classroom training feature is integrated with Zoom, WebX, BigBlueButton, and MS Team, so you no longer have to jump from one tool to another to meet virtually with your team.
Cost: Available upon request
Key features: 
Content authoring tool

Gamification elements

Mobile accessibility

Classroom training
Sales Training Software #6 – Axonify 
Axonify's specialty is delivering quick and valuable training content that gets your client-facing employees to deliver services faster and provide higher-level customer experiences. You can curate your training content from scratch, although you may also opt to import from their vast content marketplace or have their instructional designers create a custom course for your team. There's also an option to create customized learning paths for your employees and collate the right mix of topics, events, and activities to help them crush their sales goals. Axonify can even provide your sales team with actionable data and give them an update regarding their course completion rates, scores, compliance progress, and milestones. This data can be used to identify and address any skill gaps in your team.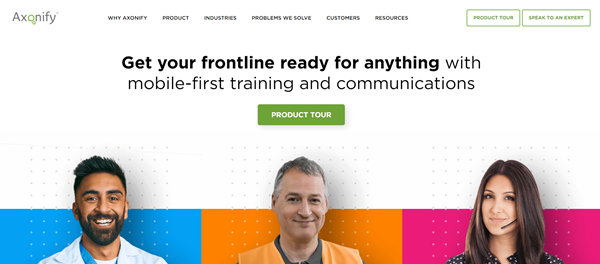 Cost: Available upon request
Key features: 
Content creator 

Content marketplace

Custom learning path

Actionable data
Sales Training Software #7 – CenarioVR
If you're looking for a unique way to train your salesforce, then you may want to check out CenarioVR. This powerful VR authoring tool can help you initiate a virtual reality (VR) training where your team can build better familiarity with your business products or services, or exercise their sales pitch in a safe environment. You can put your employees in the most difficult circumstances possible, and allow them to make all of their mistakes without worrying about losing your investment or damaging your brand reputation. You don't even have to navigate complex authoring and coding practices to build your VR-based sales training. All you need to do is upload an equirectangular image or 360-degree video, and customize it in a way that fits your sales training requirements. Engage your learners further by adding other functions like quizzes, object timer, linked scenes, and more. You can also add audio to your VR videos so it feels more realistic.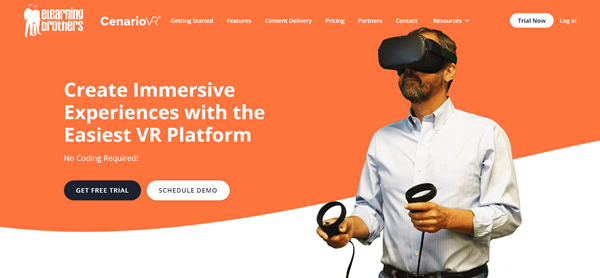 Cost: Starts at $146 USD per month
Key features:
Virtual Reality (VR) authoring tool

Risk-free sales training programs

Quizzes, timers, and linked scenes within your VR training

Spatial audio
Sales Training Software #8 – uQualio
uQualio is an all-in-one sales training software where you can build and manage sales courses without the need to jump from one tool to another. It acts as a centralized digital learning platform where you can create courses from scratch, upload, and edit videos, manage course deployment and structure, and even communicate directly with your sales team. It also facilitates a sales training toolbox where you can outline and store your sales methods, sales process, and sales strategies that your team can follow to achieve maximum results. You can also edit all your resources in real-time, giving you peace of mind that your sales team is always up to date with the latest tools, trends, and strategies, as well as the changes to your department, organization, or product.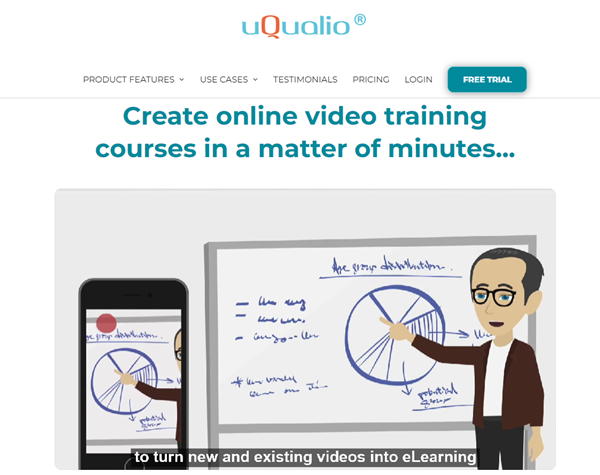 Cost: Starts at $89 USD per month
Key features: 
Course authoring and management

Video editing 

In-built communication system

Sales training toolbox
Sales Training Software #9 – MindTickle
MindTickle is primarily focused on providing sales training managers with a user-friendly space where they can seamlessly onboard and track their new hires, as well as train and manage their existing sales team. Here, you are equipped with the right coaching tools and rubrics that can help you connect and engage effectively with your workforce and close the gaps in their knowledge, skills, and field execution for higher quota attainment. You can improve their selling and communication skills through online coaching, virtual role-plays, simulated sales scenarios, or even AI-based feedback, making sure that they are fully skilled and knowledgeable for any sales situation.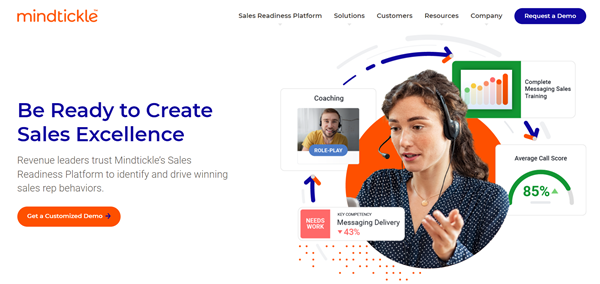 If you don't have enough resources on hand, you can also jump-start your sales coaching with their downloadable Quick Start Kits. They offer instructional guides on Field Communications, Remote Coaching, Sales Onboarding, and Virtual Sales Kickoff. 
Cost: Paid plans
Key features: 
Onboarding and tracking tool

Coaching tool and rubrics

Virtual role-plays and simulated scenarios

AI-based feedback

Quick Start kits
Sales Training Software #10 – Action Selling
Action Selling can help overcome a weak sales culture with its self-paced online sales training courses, which are mostly focused on improving the three most critical factors that make up a winning sales team: product knowledge, selling techniques, and competitive mindset. With this platform for online sales training, learning takes place through a series of video examples, eLearning modules and books, interactive quizzes, and certification assessments. Most of these training materials are also designed with an exclusive open architecture, where you can add your unique selling situations, products, and custom settings. If needed, you may also approach them about co-branding their online courses to fit your company's goals.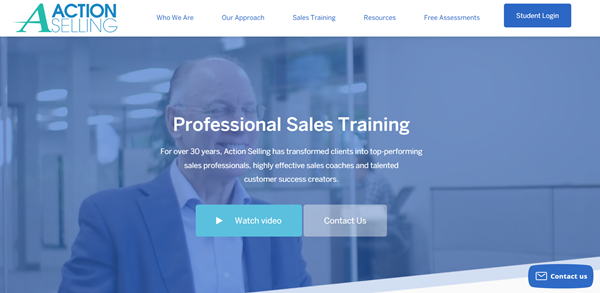 Cost: Paid plans
Key Features: 
Video courses

eLearning modules and books

Interactive quizzes

Certification assessment

Open-source course authoring