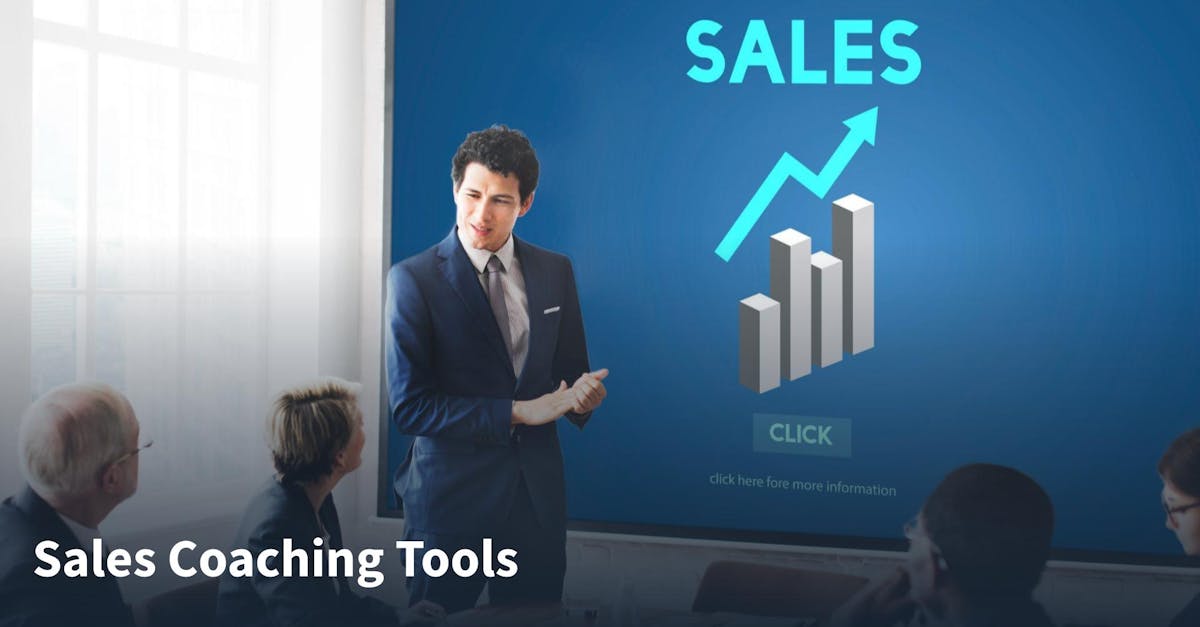 With companies wanting to close more deals and increase revenue, a variety of sales coaching tools are available for sales managers to develop lessons, improve performance, correct ineffective sales techniques, and mentor their sales representatives. Ongoing and individualized teaching is an important part of the training process in order to develop the skills necessary to achieve personal and company goals. To help you find the best tool for your needs, we've gathered the top 10 sales coaching tools available. 
Coaching Tools #1 – EdApp
EdApp is a free, all-purpose LMS that can also function as a mobile sales coaching tool. This tool is packed with significant features that will allow you to teach your sales team in an effective way without using time that could be spent in achieving sales targets, talking to customers, and closing deals either through call or chat.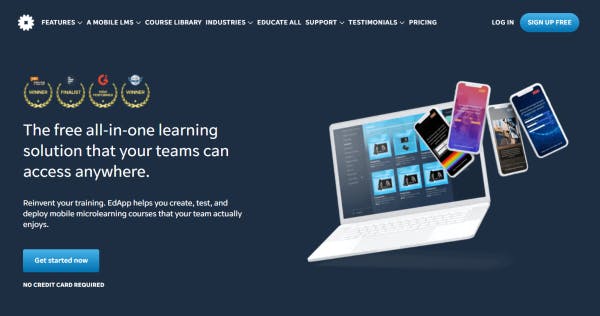 One of the most time-saving features is the ability to no longer create your lessons from scratch. EdApp features an extensive course library containing different types of courses like cyber security training programs, health and safety instructor courses, and sales coaching courses such as Selling Strategies and Interacting with Customers that you can deploy to your teams instantly. There are also corporate sales training courses for other topics like prospecting, increasing sales success, B2B selling, consultative selling, closing techniques, and many more. And the good thing is that these courses can even be edited to fully suit your company's specific needs and processes. Alongside EdApp's built-in authoring tool, you are free to add in your company branding and even tweak the content to be more aligned with your business' practices. 
training courses to improve adaptability and flexibility skills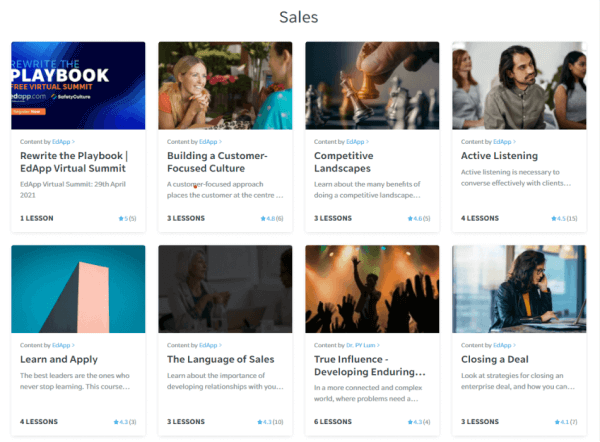 Your salespeople can easily complete their in between prospect meetings or even in as little as 5 minutes on their desktop, tablet or via smartphone on the microlearning app. Using active learning, your team can engage with bite-sized lessons that are easier to digest and to retain. With Rapid Refresh, you can also regularly deliver quizzes for your team to answer to reinforce the content learned, since they will be presented with challenges to solve alongside their learnings. You can send out your quizzes instantly, strengthening, determining, and analyzing the level of understanding your team has with the courses.
Cost: Free

Features: Course library, authoring tool, cross-platform, microlearning, active learning, rapid refresh
Sales Coaching #2 – uQualio
Our second tool on this list is uQualio, a centralized platform where you can create, edit, and upload course videos, manage course deployment, and even communicate with your sales team directly. This all-in-one software also features a sales training toolbox where you can store your company's methods, processes, and strategies that are relevant to achieve top results. All the information can stay updated with the platform's ability to do real-time resource editing.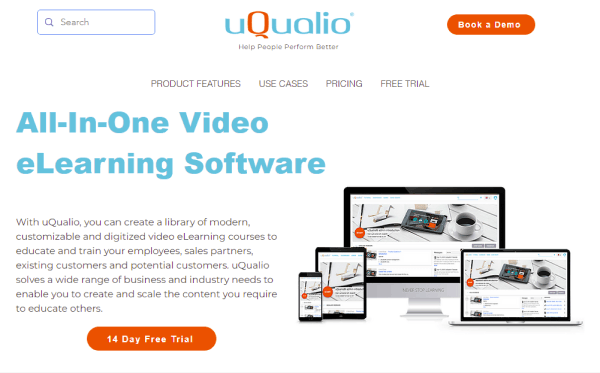 However, it's important to note that uQualio has no free service plan and the resources available are mainly videos, with pictures and documents only added to support the videos. 
Cost: Paid plans

Features: Course creation, upload and edit video lessons, manage course deployment, in-built communication system, sales training toolbox, real-time resource editing
Sales Coaching Tool #3 – Chorus.ai
Another available tool is Chorus.ai. This sales coaching tool is a conversation intelligence platform that analyzes the conversations and performance of their sales reps from their sales meetings and delivers data-driven insights that will show you the most effective sales strategies and methods that your team can take advantage of. This allows you to improve the content of your sales coaching methods to better the cold-calling and selling skills of your team.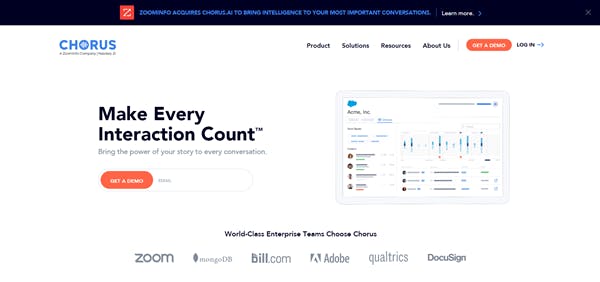 Chorus.ai is also only available as a paid plan, with no free ways to access the tool. The platform also has no course or authoring tool.
Cost: Paid plans

Features: Calls and meeting analysis, delivers data-driven insights, data gathered can be used to improve the skills of your team
Sales Coaching Tool #4 – FutureLearn
FutureLearn has consistently received high levels of engagement from sales coaches looking for a coaching tool with various online courses. The courses come in different formats that can help advance the skills of their sales representatives and help them boost their sales effectiveness. Their sales courses are effective and credible, as they are led and put together by industry experts and leading educational institutions around the world. FutureLearn allows learners to learn at their own pace with its asynchronous learning function, while also allowing them to directly interact with others by allowing them to join conversations and interacting with comments to promote peer-to-peer learning. 

While the courses offered are free, they would have to be accomplished within a time limit of five weeks and have no mobile-friendly support. To extend your time access, you will have to pay an upgrade fee or subscribe to a paid plan.
Cost: Free and paid plans

Features: 2,000+ online courses in different formats, courses led by industry experts and leading educational institutions, asynchronous and peer-based learning
Sales Coaching Tool #5 – Alison
If you're looking for a tool with the best sales training programs that are online, free, fun, and partnered with universities, foundations, and industry-leading companies and experts, then Alison is the one for you. All of their courses are short and can be finished in less than 3 hours in order to promote higher knowledge retention rates. In addition, the courses can be accessed and finished anytime and anywhere using almost any device, including desktops, laptops, tablets, and mobile devices. 

In case this is relevant to you, courses from Alison frequently contain advertisements, which can be distracting, especially when you're trying to concentrate and focus on learning. Removing these would require a monthly payment per account of €7.99. This tool also doesn't feature any course creation tool and doesn't provide analytics or data.
Cost: Free and paid plans

Features: Short and manageable courses, cross-platform, partnerships with universities, foundations, and industry-leading experts
Sales Coaching Tool #6 – Sales Hacker
Sales Hacker is an online community where you can find hundreds of free elearning resources that you can use to upgrade your sales representatives' skills and performance. From blogs to podcasts, even webinars and conferences, this coaching tool has everything you need. The sales topics that they discuss typically cover sales introductions, functions, techniques, strategies, and tools that your sales team can use to learn, grow, and solve the unique challenges they would encounter. It even encourages peer-to-peer connections with its online discussion forum where anyone can share experiences and engage in discussions.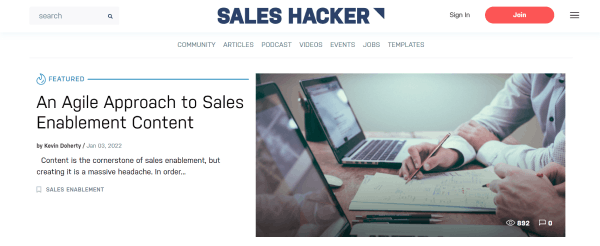 Even with such a wide range of resources available though, it can get a little overwhelming, especially if your team isn't well-versed on how to navigate through the topics that they need to focus on. There is also no app for Sales Hacker and it's only accessible through their website. 
Cost: Free

Features: Wide range of resources from blogs, articles, podcasts, webinars, conferences, and videos, peer-to-peer online discussion
Sales Coaching Tool #7 – Develoop
Next up is Develoop, an adaptive sales coaching tool that can help upskill and align the performance of your sales representatives to your business' objectives using an innovative artificial intelligence (AI) tool and recommendation engine. This tool also makes use of surveys, assessments, analytics, business-measured results, social collaboration, and learning journeys to help you coach your team in innovative and varied ways that can improve sales outcomes. 

While this platform has a mix of inventive tools and solutions that can support your sales coaching, it doesn't have a ready-made course library, unlike other tools in this list. It is also not free, so that is something you might want to consider before subscribing to any of their plans. 
Cost: Paid plans

Features: AI tool, recommendation engine, surveys, assessments, analytics, business-measure results, social collaboration, learning journeys
Sales Coaching Tool #8 – VirtualSpeech
VirtualSpeech is a virtual training platform that uses a combination of virtual reality (VR) and AI to improve communication skills that would help your sales representatives more effectively close deals. The platform has realistic immersive training scenarios that enables your team to develop skills like public speaking, presentation skills, sales pitching, and many more public communication skills. It even features real-time automated feedback and on-demand repetition to ensure information retention.

Unfortunately, you would need a VR headset to make use of some of the VR programs and simulations, which is something to consider when you already have to pay a monthly plan to use the platform. However, they also have web-based simulations available to go alongside with their VR training courses.
Cost: Paid plans

Features: Online courses with web-based simulations and VR training, immersive training scenarios, real-time automated feedback, on-demand repetition
Sales Coaching Tool #9 – Gong
If you're in need of a platform that captures communication, analyzes data, delivers insights, and provides coaching to your sales representatives, then Gong is the one for you. Gong can assist you all throughout your onboarding and training at the start of your coaching process up until deal execution and strategic initiatives, basically providing you with actionable steps that can help each sales-rep align their sales strategy and quickly accomplish their goals.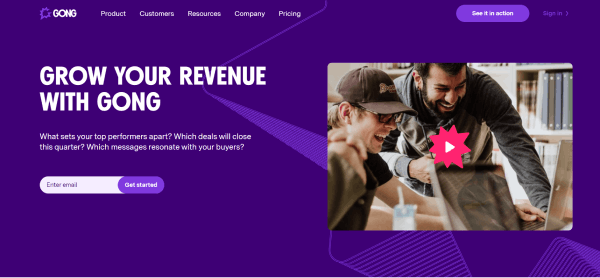 With this in mind, Gong is only available as a paid service and isn't a mobile-friendly platform. It also mainly works as a revenue intelligence tool although it can support you in both your sales coaching and overall sales process with its feature to be integrated into various systems and applications. 
Cost: Paid plans

Features: Captures communication, analyzes data, delivers insights, deal execution, strategic initiatives, onboarding
Sales Coaching Tool #10 – Salesken
Our last sales coaching tool on this list is Salesken, a conversational intelligence tool for sales teams that makes use of AI and data sciences to increase sales performance. Just like the other conversational intelligence tools on this list, Salesken can capture conversations held in calls, emails, conferences, and chats, and provide real-time talking points for representatives to take advantage of in their conversations. The platform can also provide advanced analytics post-call to aid in employee development.
It should be noted that Salesken isn't free, although it is available with affordable price plans. Although it can integrate with some of your existing tools, Salesken has no course library that can be used for asynchronous learning, and is mostly used alongside operations.
Cost: Paid plans

Features: Conversational intelligence, Al and data sciences, real-time talking points, advanced analytics post-call, integrates with your tools