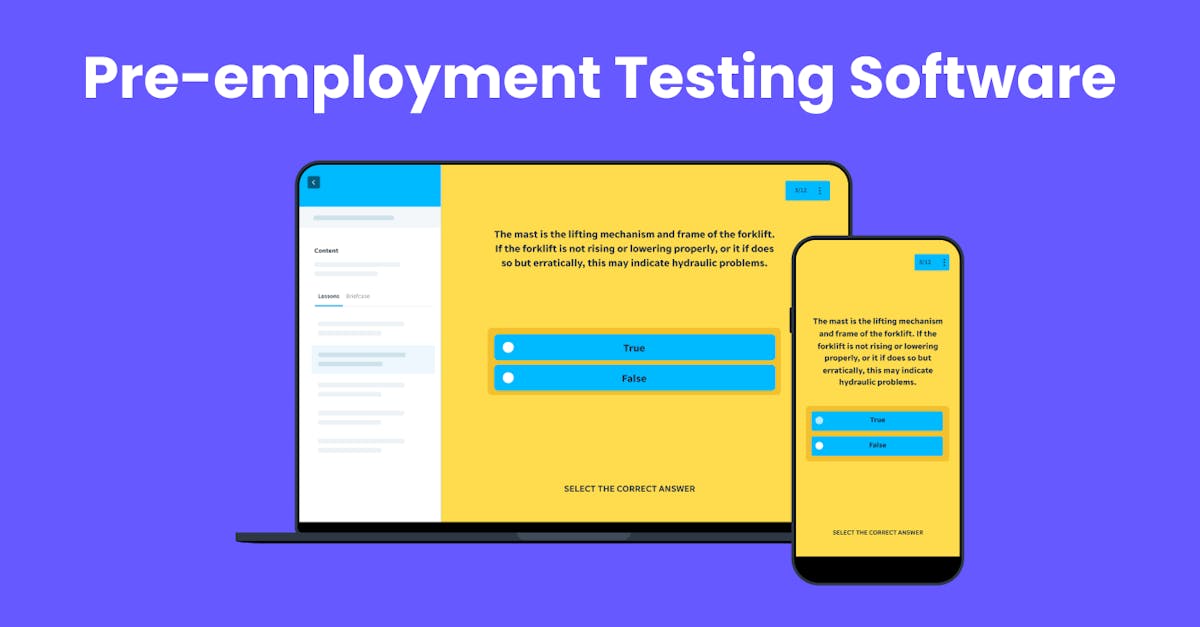 Using pre-employment testing software to check for applicants' skills is essential to find out if they fit the role before recruiting them. This type of software streamlines the different processes that come with testing, such as user management and assessment creation to make the hiring and recruitment process more efficient.
Pre-employment Testing Software #1 – EdApp
EdApp is the best pre-employment testing software as it comes with robust features at no cost. The biggest strength of this platform is that it offers different tools to check for skills and competency all in one place. If you're looking to create tests and quizzes for grading your candidates, then EdApp's Rapid Refresh will come in handy. Just fill out the easy-to-complete spreadsheet and it will automatically be transformed into a quiz in just a few clicks.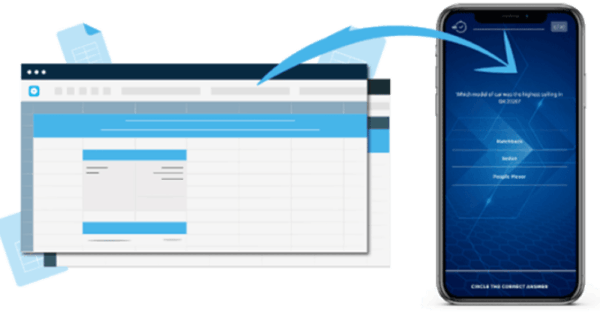 On the other hand, if you need to assess skills on the job in person, then the Practical Assessments feature is just what you'll need. Simply scan your team member's QR code to access Practical Assessments, and easily mark off items, leave comments, and pass or fail your trainee – all in real-time.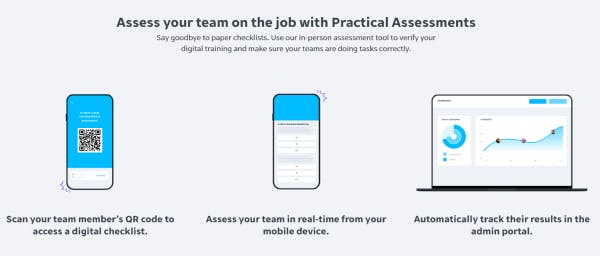 Additionally, EdApp's analytics suite and in-built reporting that standardize the entire process of monitoring an applicant's progress, identify knowledge gaps, and send push notifications and emails all in one place. This tool includes actionable results for both courses and employment assessments with four criteria of users with partial completions, logged in but not started any course, users who have never logged in, and inactive with low completion. 
Features:
Rapid Refresh quiz maker

Practical assessments

Analytics
Cost: Free
Sign up for Free and Start Using The Best Pre-employment Testing Software!
Pre-employment Testing Software #2 – Edbase
Edbase is a user-friendly pre-employment testing software that lets you create online tests in a short amount of time. You can add items from your question list to your quizzes by dragging and dropping them there in any sequence you like. Thanks to its quiz question editor, you can also insert images and clips into topics that need clarification.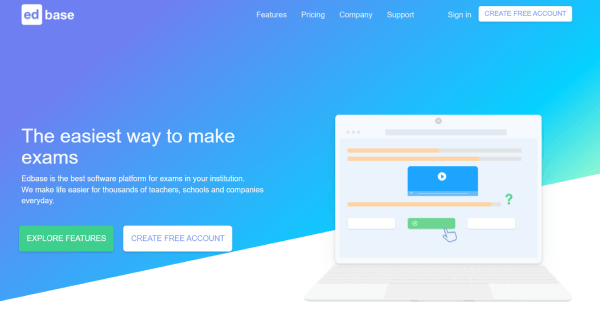 To ensure honesty, you can also set a time restriction, generate questions at random, and even lock participants' screen displays. The free plan offered by Edbase has a monthly cap of 10 participants and 20 test attempts.
Features:
Cost: Free, paid plans
Pre-employment Testing Software #3 – Proprofs
Proprofs is a pre-employment testing software that can be used in the hiring and selection process. When constructing your online exams, you can choose from more than 100,000 freely available questions. In addition, you can design training courses and programs to help your new hires develop their skills.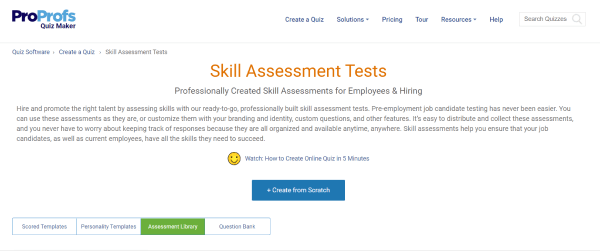 Once your tests and lessons have been created and distributed to the applicants, you can access reports and analytics to evaluate them afterward. This online training tool saves a lot of time by reducing the number of steps needed to complete applicant evaluations.
Features:
Cost: Free basic plan, paid plans
Pre-employment Testing Software #4 – FlexiQuiz
FlexiQuiz is an online assessment tool that you can use to create pre-employment assessments. With this tool, you can create test questions in minutes using different formatting options. You can then either publish the quiz publicly or privately to a specific group to organize your applicants. FlexiQuiz automatically grades your tests, so all you have to do is sit and wait for the results and check the analytics report.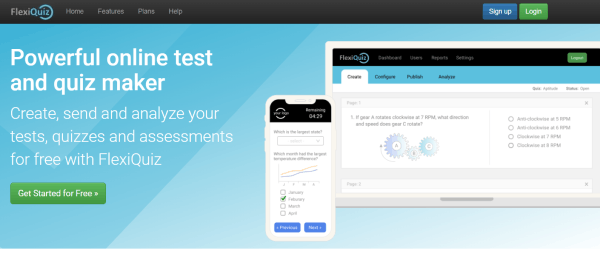 Features: 
Quiz maker

Private testing

Analytics
Cost: Free
Pre-employment Testing Software #5 – Nearpod
Nearpod is another great option as a pre-employment testing software to evaluate if a candidate is fit for the job. Here, you'll have a wide array of assessment question-type templates to select from, such as multiple-choice, polls, open-ended questions, and fill-in-the-blank questions.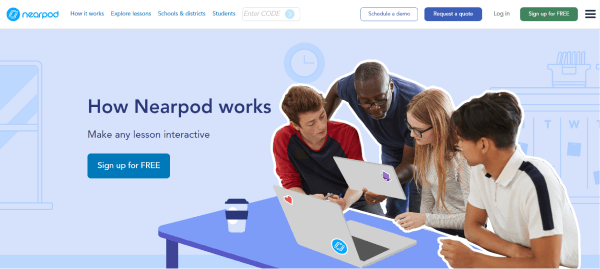 To add more context and more engaging elements, you can even add images, videos, or audio voice-overs to your assessments. Additionally, you'll get real-time feedback and post-session reports to make analysis a breeze.
Features: 
Flexible assessment customization

Creative themes and templates

Real-time reports
Cost: Free, paid plans
Pre-employment Testing Software #6 – ClassMarker
If you're looking for a customizable solution when creating pre-employment tests, then ClassMarker is another good option to look into. There's no need to install any extra software, and you can create quizzes online with its easy-to-use test settings and branding options.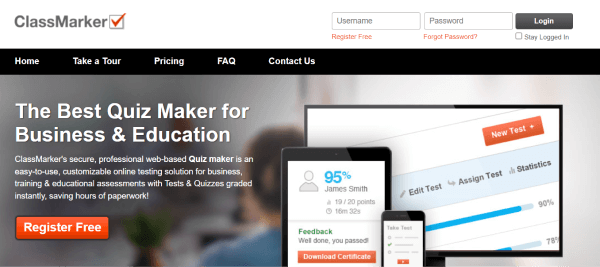 Your questions can be highly customizable, allowing you to show schedule availability, the number of attempts allowed, and the required passing scores. Like other software, tests are automatically graded except for essay-type questions.
Features:
No software installation

Branding options

Customizable questions
Cost: Free, paid plans
Pre-employment Testing Software #7 – iMocha
iMocha prides itself on being the #1 skills assessment software. This pre-employment testing software promises to hire skill-fit candidates through custom skills assessments based on your unique requirements that are created by subject matter experts. 
You can choose from over 2500 skill tests, which will then give you a benchmark report where you can highlight areas to focus on. Candidates can then take assessments in-person or even remotely, which is perfect for companies that have operations across the globe.
Features:
2500+ skill tests

Assessment customization

Reporting
Cost: Paid plans
Pre-employment Testing Software #8 – eSkill
eSkill is a talent assessment platform that allows you to build customizable assessments that meet your job requirements. You can choose from skill tests, behavioral assessments, cognitive assessments, and even video-response questions. There are also pre-made job-based assessments specific to certain job positions, such as for customer service representatives, office managers, and more. You can also opt to consult an Assessment Expert to guide you in building the perfect assessment for your candidates.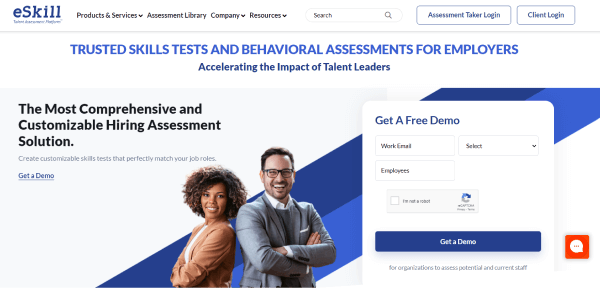 Features: 
Customizable assessments

Wide range of assessment types

Dedicated assessment expert
Cost: Paid plans
Pre-employment Testing Software #9 – TestGorilla
TestGorilla boasts a library consisting of 238 scientifically validated tests that include a mix of job-specific assessments and personality tests. You'll also have access to custom question types, such as essay, multiple-choice, and file upload.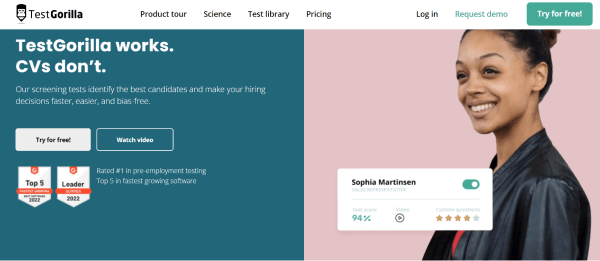 To make things easier when screening candidates, it has a screening process automation that evaluates CVs and will automatically rank candidates. TestGorilla has a free plan, but you need to take note that there are limitations, such as the number of tests you can use and the number of users allowed.
Features:
Cost: Free, paid plans
Pre-employment Testing Software #10 – Vervoe
Last but not least is Vervoe which allows you to carefully select candidates using pre-employment tests that showcase their talent. Like other pre-employment testing software, it comes with ready-to-use customizable assessments for both technical and soft skills.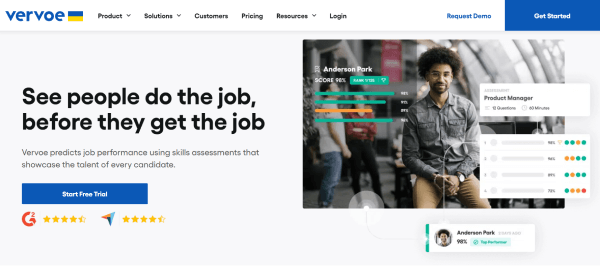 If you want to create an assessment from scratch, just use the built-in assessment builder, which will automatically suggest questions based on the job role you indicate. Another unique feature of Vervoe is its anti-cheating measures, such as question randomization, so applicants see a different order from others.
Features:
Cost: Free, paid plans