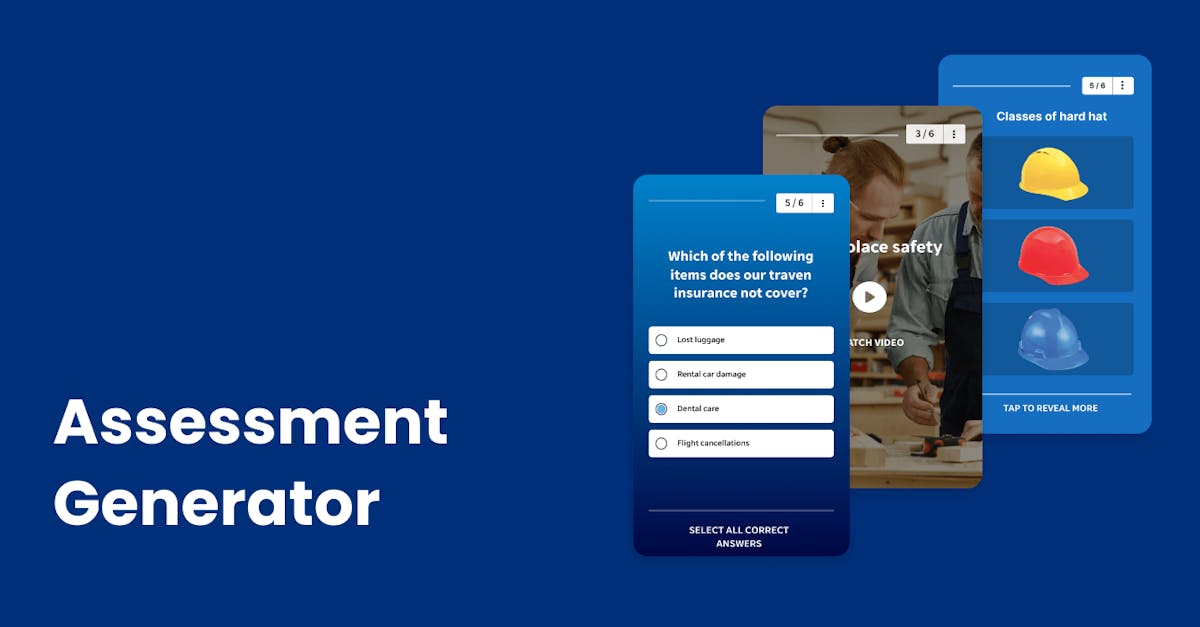 Do you want to deploy multiple assessments in a short period of time? With assessment generators, you can create and customize your quizzes easily, as well as deploy those to a number of employees in just a click. It saves you time and money which is perfect for corporate trainers and L&D professionals. Here are 10 assessment generators to help you create your first assessment.
Assessment Generator #1 – EdApp
Are looking for a tool to create your corporate assessments? Mobile learning training platform, EdApp has got you covered with its Rapid Refresh feature, an assessment generator. It's so easy to use that you can make a full test in minutes. All you have to do is encode or upload your questions into their spreadsheet template, and the tool will automatically convert them into gamified questions for you. The Rapid Refresh assessment generator can transform your quizzes into bite-size assessments at regular intervals to help your learners not only assess their understanding but also reinforce what they've learned. It also has a spaced repetition option that allows you to arrange the test delivery on a daily or weekly basis. You only need to set the interval, and the software will handle the rest.
Created with the most up-to-date learning techniques and trends in mind. EdApp's instructional designers have created thousands of engaging courses for leading companies all around the world.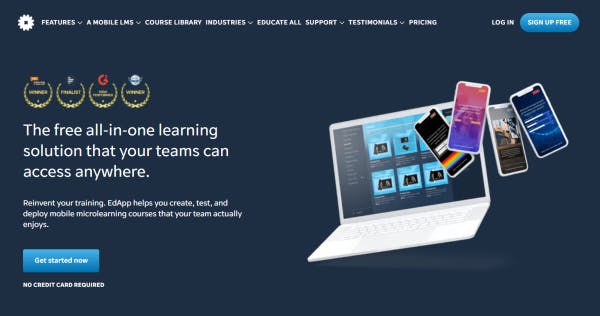 EdApp employs the technique of gamification to help students absorb knowledge more effectively. With its selection of interactive gamified templates, it makes learning and quiz assessments a lot more engaging than traditional learning content. Because of its bite-sized reinforced information and interactive nature, it has a high completion rate of over 90%. With that, EdApp can undoubtedly meet your learning needs in terms of knowledge retention and microlearning.
Features: 
Cost: Free
Sign up for Free and Start Using The Best Assessment Generator!
Assessment Generator #2 – Nearpod
If you're searching for an assessment generator, Nearpod might just be what you're looking for. To create a quiz, you can leverage numerous assessment questions such as multiple-choice, polls, open-ended questions, and fill-in-the-blank questions, which can all be used to evaluate your employees' current skill level and measure their learning retention from previous online courses. You can also add various media like images, videos, or audio voice-overs alongside the quizzes to make them more engaging. As soon as learners complete their assessments, real-time feedback and reports are provided so you can easily identify those who have retained their online courses well and those who still need additional training.  The tool can be used to create different types of courses including, communication skills training courses, team training courses, safety training courses, and emergency preparedness training courses.

With Nearpod's free version, you'll only get around 100MB of storage space to create online courses and quizzes, but you also can upgrade to their paid plans if you want to acquire more storage space.
Features: 
Flexible assessment customization

Creative themes and templates

Real-time reports
Cost: Free, paid plans
Assessment Generator #3 – Quizlet
Quizlet is an assessment generator that enables users to create quizzes in a flashcard format. It's mostly used by educators but can also be used by corporate trainers. You can choose from a collection of pre-made flashcard stacks to make writing easier, or you can construct your own with audio and video material.  It also offers standard multiple-choice quizzes and game-show-style competitions to foster healthy competition between learners. Its quizzing approach encourages your employees to retain information in a new and exciting way. This software is available for free but features such as analytics and customization are only available through a paid subscription.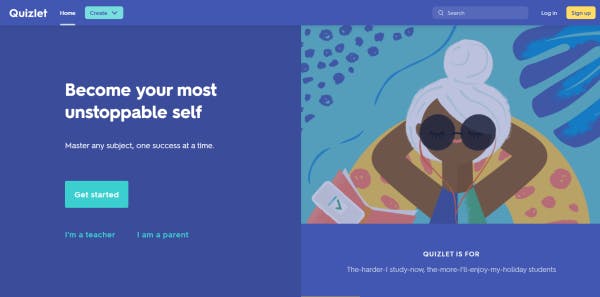 Features:
Cost: Free
Assessment Generator #4 – Fyrebox
Fyrebox is yet another excellent assessment generator for building interactive and colorful tests. The single correct answer and multiple correct answers are two categories you can pick from. You can also specify how many points each response is worth to the user. With Fyrebox, you can customize the appearance of your quiz, move buttons & change their color, choose your preferred font, and even upload your background image. To add to that, there are several customizable templates you can use to get started if you get stuck somewhere along the way.

Features: 
Assessment generator

Interactive interface

Quiz templates

Multi-scoring
Cost: Free, paid plans
Assessment Generator #5 – Typeform
Typeform is an online assessment generator for making clean and professional quizzes. Like other quiz makers, it has a wide selection of templates that can be used to get you started. It also has a variety of question formats to choose from, and you can alter them right in the preview. Additionally, Typeform makes editing your quiz test easy with its drag and drop tool.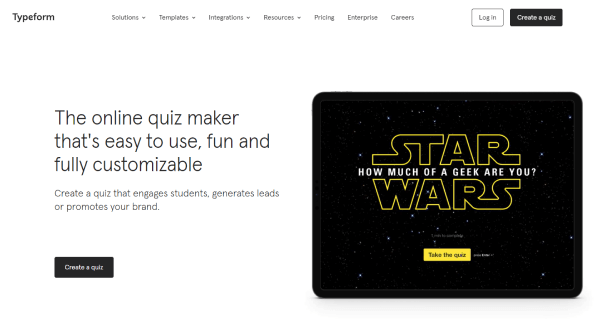 The free trial only allows for three assessment forms with up to ten questions and 100 replies each month. To go beyond that, you'll need to upgrade to a paid plan. Filling out one question at a time which can be tedious for some users is one of its downsides. Also, reports may only be exported as an Excel file, which is extremely limited when it comes to viewing quiz results.
Features: 
Assessment creator

Drag and drop editing tool

Intuitive interface

Creative themes and templates

Real-time reports
Cost: Free, paid plans
Assessment Generator #6 – FlexiQuiz
FlexiQuiz is a free assessment generator that makes creating, distributing, and evaluating tests a breeze.  Users can create respondent profiles and custom email invites on the site. Both assessment authors and takers can use their mobile devices to access quizzes at any time because the platform is mobile-ready.

Multiple-choice, image choice, short answer, matching, file uploads, fill in the gaps, and essays are among the question types supported by this software. You can also choose whether a question is optional or mandatory. Administrators can provide immediate feedback to test takers at the end of each test.
Features: 
Quiz maker

Mobile-ready

Private testing

Analytics
Cost: Free
Assessment Generator #7 –  123 Form Builder
123 Form Builder is an assessment generator developed to help you build multiple-choice tests seamlessly and conveniently. It comes with a variety of templates into which you can easily insert your questions and make them into quizzes. You can also add graphic elements to your quizzes to make them more engaging for your learners. What sets this test creator apart is that it includes a conditional logic feature that allows a field to be triggered when a specific action is performed. If a learner selects the incorrect answer, for example, you can show the correct answer instead. You can even add a countdown timer after a predetermined time frame for taking the test to limit the amount of time the learners are taking.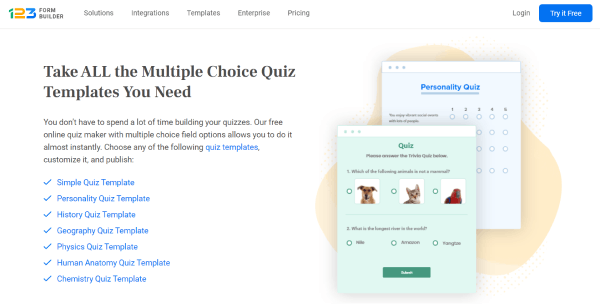 Features: 
Assessment generator

Countdown timer

Conditional logic

Intuitive interface
Cost: Free, paid plans
Assessment Generator #8 – Testmoz
Testmoz is the next assessment generator on our list. This platform's free plan allows you to distribute your tests online and receive test results immediately after they are completed. Additionally, the quiz maker performs all of the gradings for you, saving you time and energy that may be better spent on more important activities.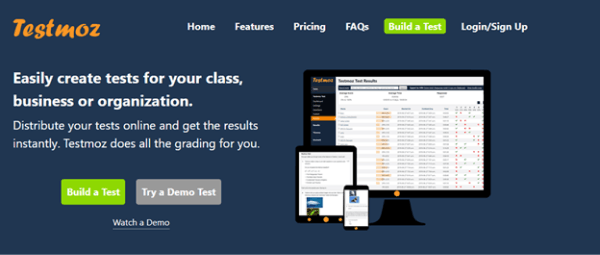 You can also customize the assessments you build by adding photos and videos, establishing time limitations for each quiz, as well as selecting the language in which students will participate. 
Features: 
Assessment maker

Customization options

Analytics
Cost: Free
Assessment Generator #9 – Edbase
Edbase is a user-friendly assessment generator that lets you build assessments in a matter of minutes. You can drag and drop entries from your list of questions into your quizzes and rearrange them in whatever order you choose. You can even add images and videos to more complex topics, thanks to its question editor. Adding to that, you can establish a time limit, randomize questions, and even lock learners' screens to ensure honesty. Edbase offers a free plan with a monthly limit of 10 candidates and 20 exam attempts.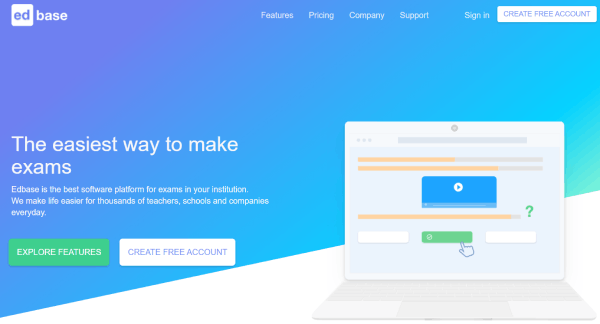 Features: 
Cost: Free, paid plans
Assessment Generator #10 – Interact
With Interact's online free assessment generator, you can create an unlimited number of tests in no time. With over 800 pre-made quizzes, you can choose among Personality, Scored, and Assessment quiz types that you can edit and customize to your liking.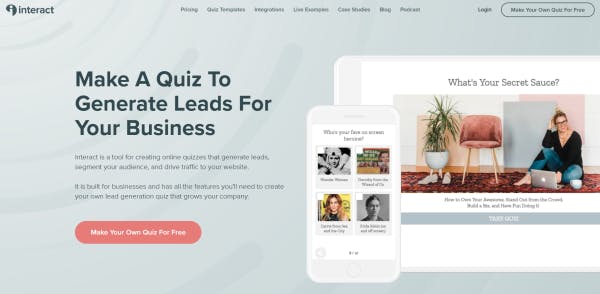 Interact, which is primarily intended for lead generation, can be constrained, given the limited amount of quiz varieties. In addition, only those who are subscribed to the paid version have access to the platform's extensive analytics and integrations. However, if all you need is a simple online quiz maker that allows you to create as many quizzes as you like and distribute them to any number of individuals, Interact would suffice.
Features: 
Cost: Free, paid plans