Online Learning Platform for Business # 2 - GoToTraining
GoToTraining is known for its inventive features that can revolutionize your team's uninspiring traditional training sessions. It offers uncomplicated solutions that guide you through every step of the learning process, from registration and information sharing to quizzes and polls.
With this online learning platform for business, you can create tailored registrations with personalized questions even before you start developing your course. This information can be used to gain insight into your learners' needs and preferences, empowering you to design the perfect training courses for them.
Cost: Starts at 109 USD monthly per team
Key features:
Registration

Information Sharing

Quizzes

Polls
Online Learning Platform for Business # 3 - 360Learning
360Learning is a reliable solution to manage your team's training. This versatile platform offers a range of tools to help you impart new skills, design courses, and track your learners' progress.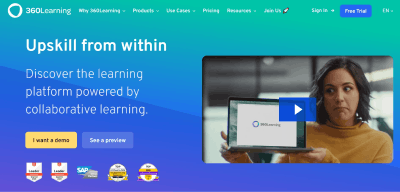 Also, 360Learning has various features such as group pages and discussion boards that foster collaborative learning among your team members. And you don't even need to be a technical whiz to use any of these tools, so it's ideal if you're new to online training.
Cost: Starts at 8 USD monthly per user
Key features:
Course Designing

Progress Tracking

Group Pages

Discussion Boards
Online Learning Platform for Business # 4 - Cloud Academy
Cloud Academy is a corporate training platform that delivers personalized and in-depth technology-focused learning content for your team. With this web-based training solution, you can create tests with pre-built questions and grant your learners access to an extensive library of technological fundamentals.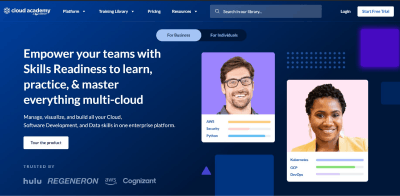 This online learning platform for business also allows your learners to access the learning content even when they're offline. It also comes equipped with a Cloud Roster feature that prompts them to master the most essential skills needed for their work responsibilities.
Cost: Starts at 39 USD monthly
Key features:
Test Creator

Tech Library

Offline Access

Cloud Roster
Online Learning Platform for Business # 5 - GoSkills
GoSkills is a learning management system (LMS) that caters to businesses of every size. It comes with gamification features for a friendly sense of competition among your learners. This LMS also supports various types of content and files to keep your learners engaged.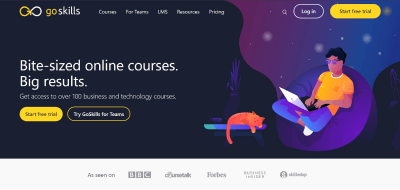 As a cloud-based platform, GoSkills is also mobile-friendly. This corporate LMS lets your learners access training content from anywhere. It even includes tools that allow you to monitor your learners' progress.
Cost: 20 USD monthly
Key features:
Online Learning Platform for Business # 6 - SharePoint
SharePoint's corporate training platform empowers anyone on your team to manage and structure staff training programs. This platform comes with multiple templates that help in various aspects of course creation, event organization, and employee feedback collection.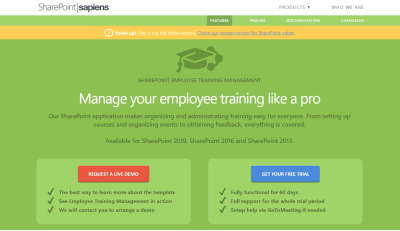 Plus, SharePoint's online learning platform for business gives a seamless and user-friendly experience for designing training activities and tracking critical dates like course completion deadlines. The platform automatically updates the experience and skill levels of learners upon course completion.
Cost: Starts at 5,760 USD
Key features:
Training Management

Course Creation

Employee Feedback
Online Learning Platform for Business # 7 - Persona Learning
Persona Learning is an innovative elearning platform that offers an array of cost-effective features designed to make sure that your learners adapt to corporate standards. One of the platform's standout LMS products is its elearning creator tool, which comes with built-in course design features such as graphics and audio to create engaging learning experiences.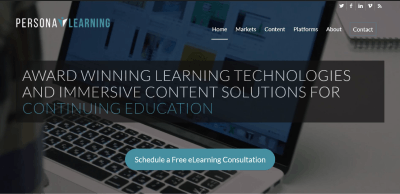 You can also use their style sheets to customize the platform with your branding. This lets you tweak design elements to make sure that your training materials are consistent with your organization's identity.
Cost: Contact Persona Learning
Key features:
Creator Tool

Course Design

Style Sheets
Online Learning Platform for Business # 8 - Trainual
Trainual is an elearning platform that offers a wide range of resources for employee training and onboarding. It has pre-made lesson and HR policy templates, which will make it easier for you to create training materials.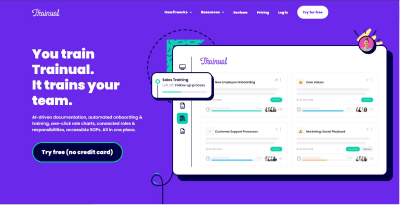 With Trainual, you can customize courses by adding various files and media for your specific training needs. This onboarding LMS also lets you organize your company's onboarding materials, making it easy for new hires to access critical documents. The platform also has several tools for managing teams, delegating tasks, and creating organizational charts.
Cost: Starts at 8 USD monthly per user
Key features:
Online Learning Platform for Business # 9 - Violet LMS
Violet LMS is a comprehensive LMS that can support various types of LMS programs such as employee training, sales training, compliance training, customer training, and more. Its approach includes creating courses with interactive elements and virtual training sessions.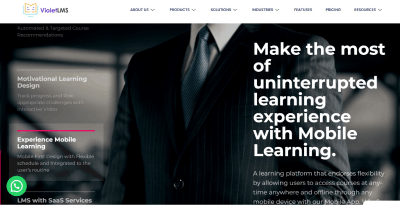 This online learning platform for business also has certification management and templates. With its numerous advanced features, this LMS is perfect for large organizations.
Cost: Free
Key features:
Online Learning Platform for Business # 10 - LearnAmp
Another great LMS to consider is LearnAmp. Its personalized learning pathway empowers you to create a growth plan for your learners and assign them training materials ahead of their official start date. You can also establish future learning objectives for them.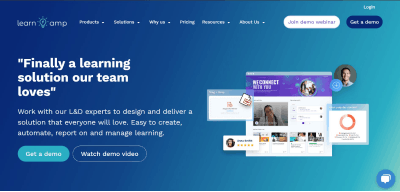 LearnAmp's pre-made compliance content also saves you the trouble of creating your own. Also, the elearning platform has the ability to automate training delivery, which helps you make sure that your team is meeting compliance requirements.
Cost: Contact LearnAmp
Key features:
Personalized Learning

Premade Compliance Content

Automated Training Deployment