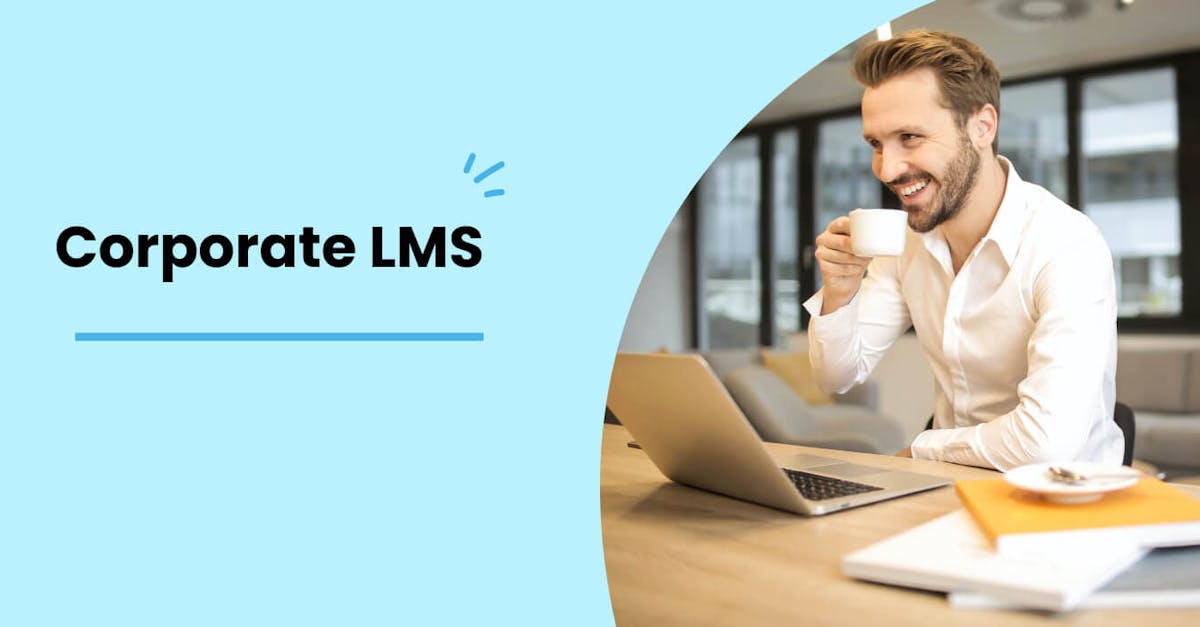 When people think of learning management systems (LMS) they often think of them in the academic context of K-12 and universities. They don't realize the LMS can also be used to solve the day-to-day training issues that appear in the corporate environment.
Corporate learning management systems (LMS) are corporate learning platforms used by organizations to deliver, manage, and track their training and learning initiatives. It serves as a centralized hub for training content, courses, assessments, and learning resources.
Corporate LMS systems are designed to support employee training and development, guaranteeing that employees receive the necessary knowledge and skills to excel in their roles.
In this article, we'll take a look at the top corporate LMS out there. Before we start looking at the LMS, though, let's consider what it takes to make an LMS effective for learning and development.
What are the two types of LMS?
The two main types of Learning Management Systems (LMS) are:
Cloud-based LMS (Software as a Service - SaaS)
Cloud-based LMS is hosted on external servers and accessed through the internet. It does not require any installation or maintenance on the client's side. Users can access the LMS through a web browser from any device with an internet connection. Cloud-based LMS offers the advantage of scalability, as it can easily accommodate a growing number of users. It also provides automatic updates and data backups, reducing the burden on the organization's IT department.
Self-Hosted LMS (On-Premise)
Self-hosted LMS, also known as on-premise LMS, is installed and managed on the organization's internal servers. The organization is responsible for the LMS's maintenance, updates, and security. With a self-hosted LMS, the organization has more control over the system's configuration and customization. However, it requires a higher initial investment and ongoing IT resources for maintenance and support.
Both types of LMS have their advantages and considerations. Cloud-based LMS offers convenience, ease of use, and lower initial costs, making it suitable for organizations without extensive IT resources. On the other hand, self-hosted LMS provides greater control and customization possibilities, making it a preferred choice for organizations with specific security or integration requirements. The choice between the two types depends on an organization's specific needs, budget, and IT capabilities.
1. Bridge
Another LMS for corporate purposes is Bridge. This LMS focuses on upskilling your employees in the easiest way possible.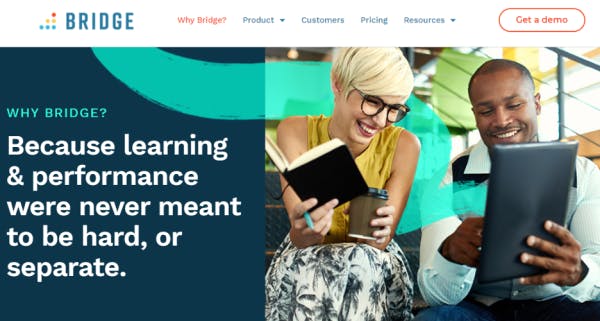 It features a native authoring tool that can get courses up and running in minutes. Learner engagement is also amplified by its unique offering of video role-playing. Learner assessment also has its uniqueness, including the ability to track how much your learners procrastinate.
2. Thinkific
Thinkific is another LMS useful in the corporate context. It's also useful for individual educational entrepreneurs who want to sell their courses easily.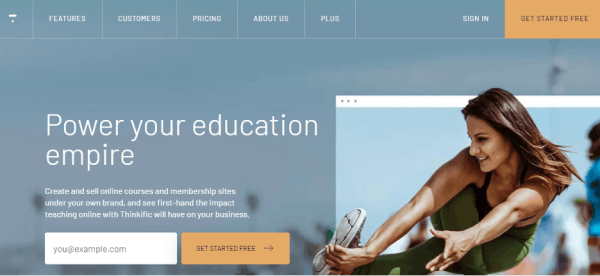 It also features easy authoring with the ability to drag and drop your preexisting documents into new lessons without needing to code anything. There are also numerous content types including video, surveys, and the ability to add Adobe Captivate or Articulate Storyline modules. Unique learner tracking also allows your trainees to set their own goals.
3. EdApp
The top LMS for corporate training is EdApp. This all-in-one LMS and microlearning tool excels at the three features listed above as among the most important factors for a corporate LMS.
It includes a simple but extremely powerful SCORM-compliant authoring tool with all sorts of templates for making your elearning courses fun and dynamic. You also never have to worry about how it looks on mobile devices because they are optimized for a mobile learning experience.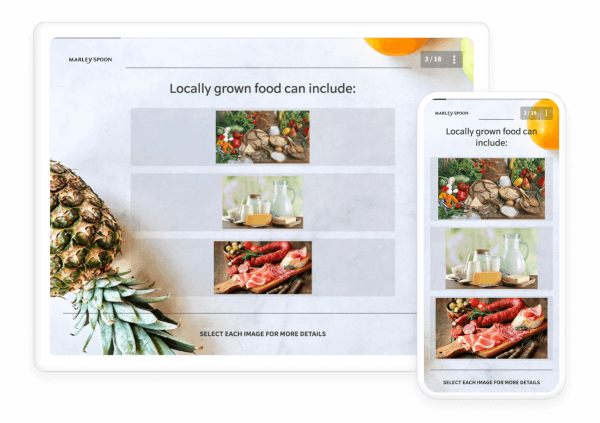 EdApp lessons also have a high amount of multi-sensory engagement with support for video and interactive elements. Colorful charts also make the presentation of data eye-catching. Furthermore, there is extensive progress monitoring, with the ability to gamify your courses so the top learners can receive real-world prizes.
The top lms software also includes a quiz maker tool called Rapid Refresh. This feature allows you to easily create quizzes without any prior existing content in EdApp. It's ideal for trainers in supporting blended learning practices.
Deliver professionally designed learning and development (L&D) that your learners will love. Send your learning needs to EdApp's skilled instructional design team, and they will transform them into engaging and instructive courses.
Sign up for Free and Start Using The Best Corporate LMS!
4. SendPulse LMS
A platform designed for entrepreneurs to create and sell their own online courses, but it also can be used as a SendPulse LMS.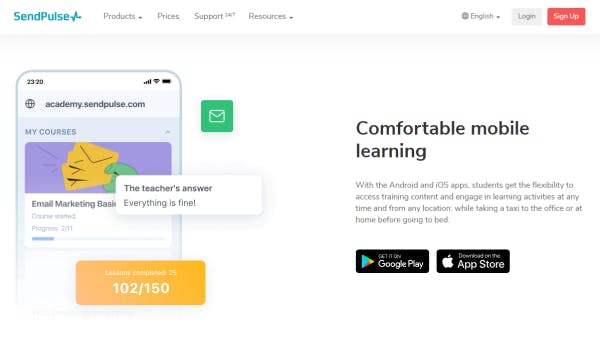 The platform features an intuitive drag-and-drop course builder that allows one to add all sorts of educational materials along with video and audio files. Detailed analytics and progress reports, email and SMS notifications for students, and templates for certificates are a good edition to better facilitate the learning process.  
5. Tovuti
Tovuti is another useful offering in the corporate LMS for small business market. It makes it easy to get started by offering coaching and tutorials.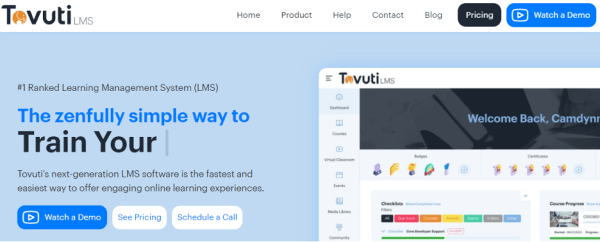 Course authoring is aided by professional services that are available and its online course creation software and course management tools. Lessons can use multiple engaging elements including gamification. In terms of learner monitoring, you can use KPI dashboards that let you see how effective your lessons are.
6. Schoox
Schoox is another corporate training software and best lms for business that users like. It aims to develop your employees from new hires to upper management.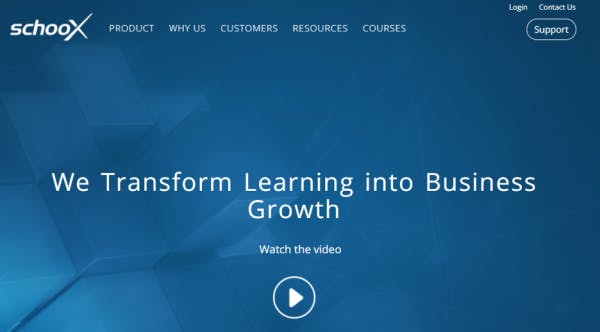 In Schoox, authoring is divided into modules that allow you to add them to different courses. Content can be curated from various sources. It also allows learners to go along their own custom elearning paths to meet their own goals at your company.
7. HealthStream
HealthStream is a corporate LMS, but is targeted at healthcare companies. It comes with many courses to help companies in this industry, including compliance and common medical training.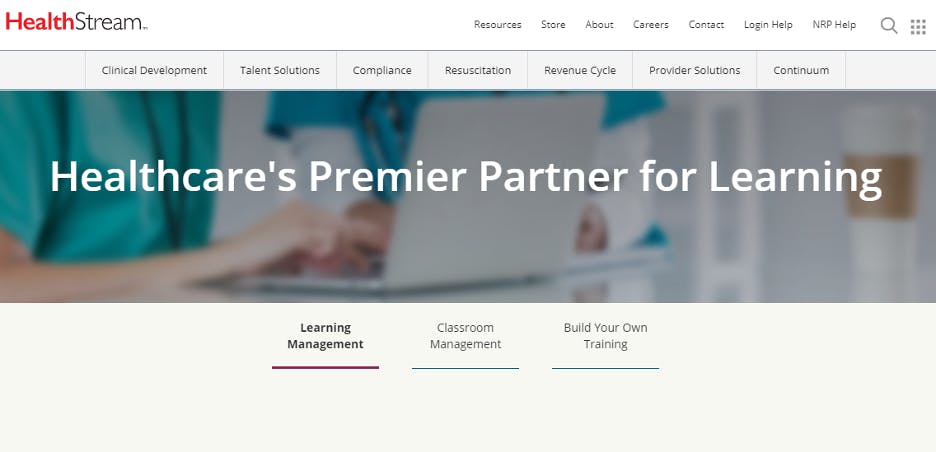 This LMS doesn't only just offer its own courses but also makes it easy to author your own. You can make your courses engaging through their A.D.A.M Resource Collection, which means you don't have to spend as much time looking for your own content. It also has unique learner tracking, including the ability to scan badges of users from different facilities to confirm a learner's attendance and identity.
8. Pluralsight
Another LMS website corporate users like is Pluralsight. This type of learning management system for business is focused on developing your employees' technical skills.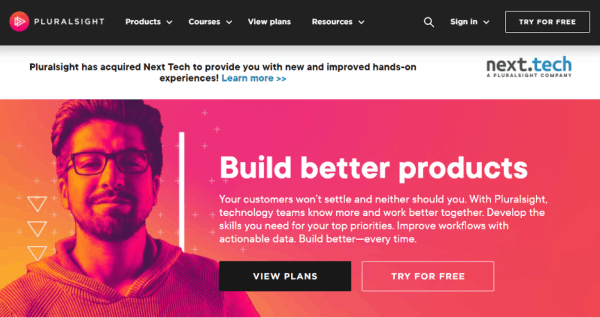 Pluralsight allows skilled authors the ability to create courses that they can share with anyone. They also include attractively designed courses that engage learners in the tech topics they are learning. Learner progress is also very detailed, with accurate percentage points showing progress towards completing milestones.
9. SilkRoad Learning
Another corporate LMS software is SilkRoad Learning. This LMS has ready-made content for compliance across all sorts of industries.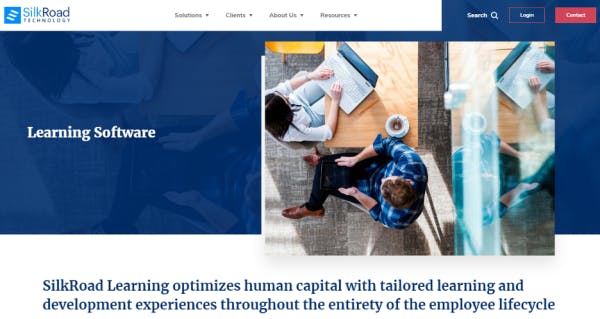 With this LMS, you will use their many learning materials to raise the skills of your employees. It has enough content variety to keep learners engaged. Additionally, learners can tailor then our learning journey and you can monitor their progress over time.
10. Axonify
Another corporate LMS software that makes the list is Axonify. It focuses on preparing front-line workers for their daily duties.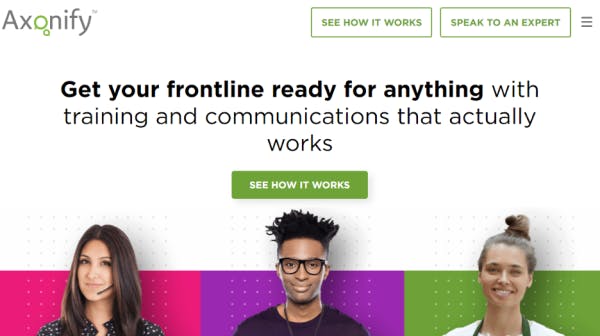 Since Axonify is specifically targeted at front-line workers, most of the authoring has been done for you. On the positive side, the lessons have been professionally created and made to keep learners engaged. It also has a reporting dashboard with useful information, including metrics that show how an employee's performance has changed before and after training.
11. Eloomi
Eloomi is one more corporate LMS to consider. It allows you to easily digitalize how you onboard your employees.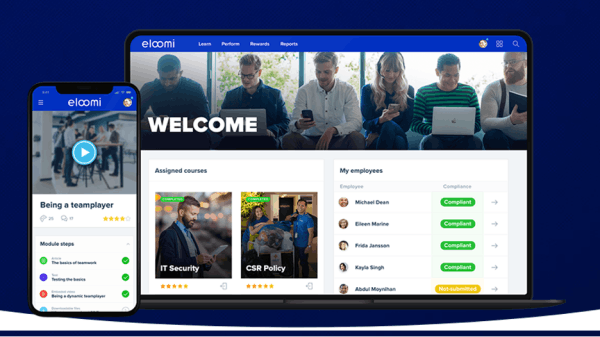 For authoring, you can easily import your content or create your own. All types of content are supported, including videos, slideshows, and SCORM content. Tracking learners is also insightful with Eloomi's ability to spot areas that need improvement.
12. WorkRamp
WorkRamp is a training LMS that serves as an all-in-one corporate digital learning platform for your personnel, especially those in sales, support, retail, marketing, and HR. This centralized LMS gives you a streamlined process in creating customized learning pathways for your personnel based on their role, teams, skills, or seniority. It provides a specialized onboarding software process, advanced training content creation, and learning progress tracking through dashboards and analytics. It also gives a blended learning experience with support for virtual instructor-led sessions. Through its modern technological features, you're able to transform the learning experience in your organization. In return, your employees are able to perform their roles better,  improve relationships with customers, and deliver desired business outcomes.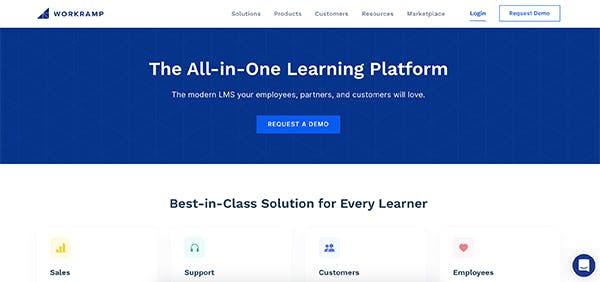 13. TopClass LMS
TopClass LMS is an award-winning learning platform that serves as a technology partner in providing a comprehensive and flexible learning experience for employees. It helps organizations provide skills development and career advancement opportunities for learners through a wide range of educational programs such as mini-courses, learning pathways, apprentice programs, certificate programs, discussion forums, interactive videos, and many more. With this training and TopClass LMS and quiz software, you can integrate a blended learning approach to your training program wherein your employees can access online learning materials before a conference event, and explore more content in the LMS after the synchronous learning session to extend their learning experience.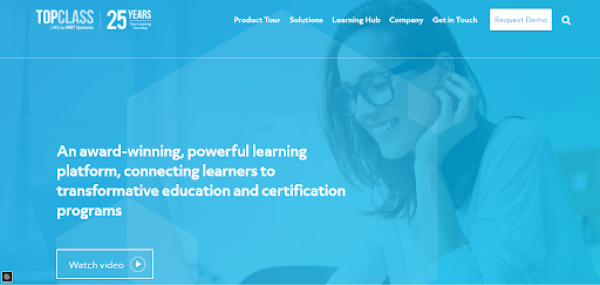 14. Learn Amp
Learn Amp is an all-in-one learning management system, one of the top 5 lms, and engagement platform focused on helping businesses develop and retain their employees. With this eLearning software, your employees can develop their professional skills through social learning and peer-to-peer features like in-app messaging, self-generated content, discussion threads, event management, and group assignments. You can access performance reports easily through Learn Amp's built-in visual dashboard and use these stats to design learning pathways and further each employee's growth. Do note that if you want to try out this tool, you'll have to get a price quote from their site.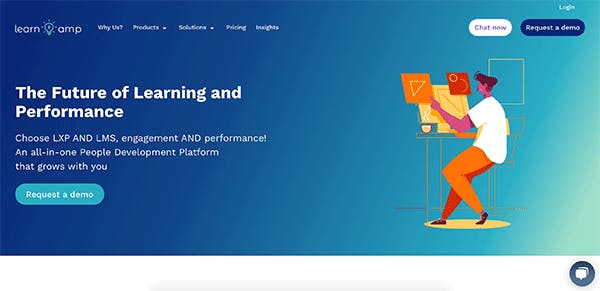 15. Tovuti LMS
Tovuti LMS is an employee training tool that incorporates features dedicated to an efficient training process for managers and an effective learning experience for your personnel. It integrates a course management tool that enables you to build and deploy interactive courses, as well as track interactions with your course content. This training LMS supports a blended learning strategy through its virtual classroom that allows you to set up synchronous training sessions where your personnel can discuss with groups or have one-on-one interaction with an instructor. Learners also have access to a personalized portal that shows their badges, certificates, leaderboard rank, checklists, assigned courses, and upcoming training sessions.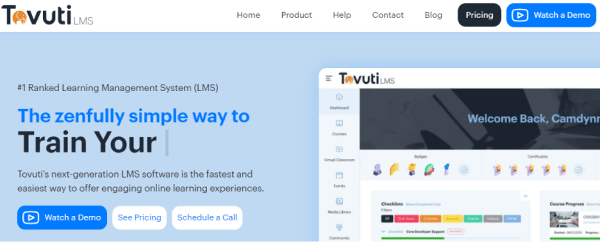 16. Looop
As an advanced learning management system, Looop helps you create online learning resources and automate training processes for your employees. With their simple yet visually appealing UX design, you can create engaging learning materials and access features like campaigns, and automate the delivery of training content through channels like Slack, Teams, and even SMS. Other features like user insights and analytics dashboards give you visibility on your teams' completion rates, learning gaps, and overall performance. Through these enhanced reporting features, you'll be able to gauge the effectiveness of your training and address your workers' learning challenges. To access all of Looop's products, you can sign up for a monthly subscription that starts at 99 per month for a maximum of 50 users.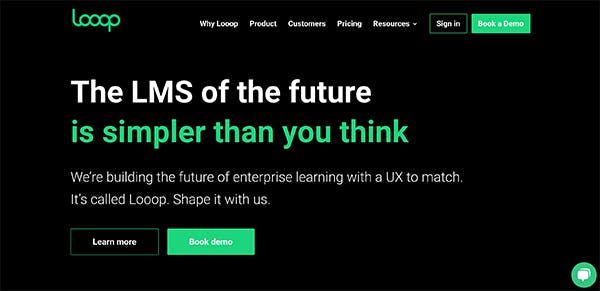 17. Arlo
Arlo is an LMS built specifically for training providers that focus on empowering learners through self-paced learning, live online learning, and blended learning. This online training website enables a blended learning solution by extending training through live and interactive webinars, eLearning modules, discussion forums, recorded videos, assignments, and quizzes. Its innovative training management system design streamlines processes and simplifies tasks enabling training providers to save time while still effectively increasing course registrations.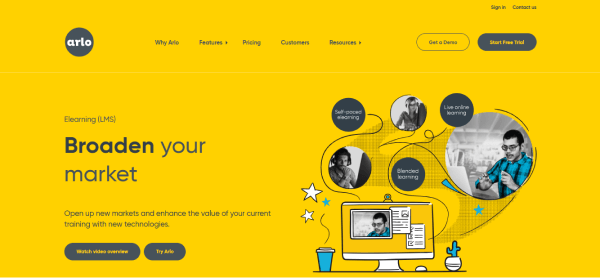 18. 360 Learning
360Learning is a training LMS and collaborative learning software designed with an authoring tool, a content integration system, and an analytics dashboard. Their intuitive course authoring & learning suite requires no technical skills and enables anyone to create courses in just a few minutes. You can also include learning resources like videos, images, blog articles, and research into your course to keep training content up-to-date and engaging. With 360Learning, your workers also have access to collaborative learning features like discussion boards and group pages that allow them to participate in meetings with both you and their fellow employees.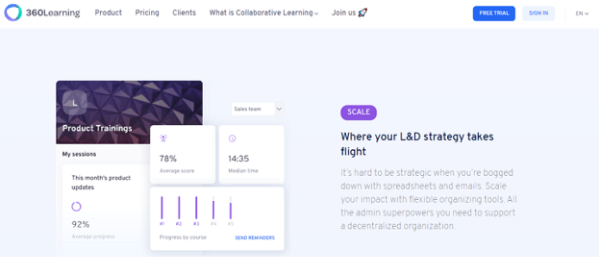 19. ProProfs
As a SaaS LMS platform, ProProfs is designed to help training managers ease up the process of creating training content. This training LMS allows you to create courses and quizzes with hundreds of available templates and media content. It provides a premium course library with pre-made courses on topics such as compliance, and customer service that you can easily deploy to your personnel. A collaborative learning environment is also promoted through features like discussion forums and virtual classrooms. Through its training management system, you're able to efficiently streamline processes in developing training materials, as well as track the progress of each employee.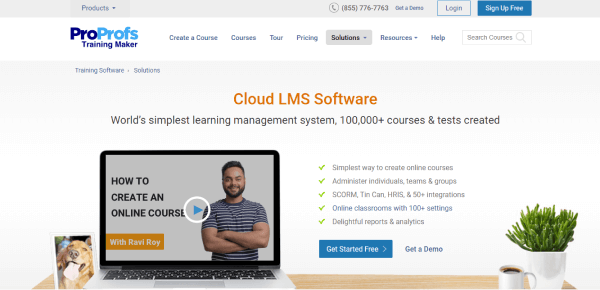 20. Gyrus
Gyrus is a cloud-based LMS that assists training consultants in effectively meeting the learning needs of their employees and equally creating a meaningful learning experience for their learners. Its AI-driven features like e-learning and skills management tools are designed for developing personalized learning programs for various groups of employees. In Gyrus, training content can be delivered through file-based courses, videos, webinars, simulations, documents, and virtual classrooms, which give you more flexibility in planning an adaptable training strategy. You're also able to instantly monitor the effectiveness of your training programs with its real-time data visualization and reporting.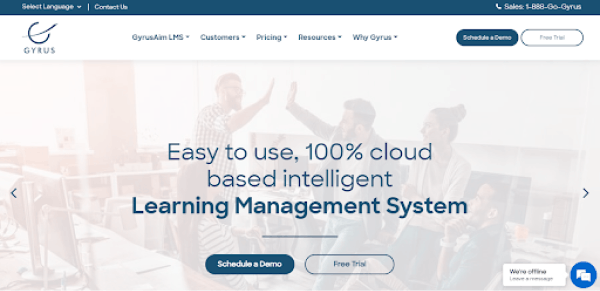 21. Trainual
Onboarding and training employees have never been quick and easy with Trainual. This corporate LMS has more than 150+ pre-built templates universal to different business industries, like a sales handbook, hiring checklist, orientation outline, and so many more. It also offers 30+ free Standard Operating Procedure (SOP) templates that you can use to document your organization's policies and procedures. All you need to do is a little adjusting to ensure that the content fits the internal tasks and processes you have at your company.  Although optional, you may also opt to store and organize your useful documents in Trainual's library section. This way, all courses will be easily accessible, searchable, and trackable by users anytime needed.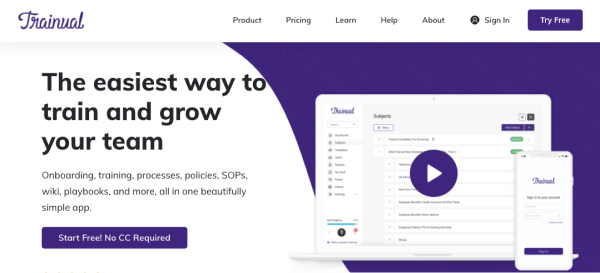 What is a corporate LMS?
A corporate LMS is a platform that allows training managers to streamline tasks and deploy training programs more efficiently. It provides advanced features like a course library, authoring tools, analytics, and learner engagement elements that can help you drive better learning outcomes for your employees. Some of the most important advantages of LMS-assisted learning in the workplace are integration with work, independent choice of learning pace, distribution of materials according to the needs of those who learn, standardization, accessibility, self-sufficiency, and individualization.
What Makes an LMS Effective?
There are a few different things that we should look for when analyzing a corporate LMS. We can divide these into ease of authoring, multi-sensory content presentation, and progress monitoring.
Authoring – An LMS in the corporate environment needs an easy way to develop lessons and courses quickly. Furthermore, this content should look good on any device.

Multi-sensory content – A corporate

LMS website

needs to support more than text and images, it also needs to be able to embed videos and interactive content so that it looks professional.

Progress monitoring – It's essential that your company's LMS keep track of how well users are progressing through your lessons, as it can show you which employees are most motivated or which concepts are hardest to grasp.
While those are just a few things to consider, they are nonetheless among the most important. Let's now look at some of the most popular LMSs out there.
Conclusion
In this article, we took a look at the ten top LMS systems for corporations. We looked at some of the most important characteristics of a corporate LMS, including the ability to author lessons easily, the use of multi-sensory content to engage learners, and the ability to monitor each learner's progress.
Hopefully, you will have a chance to try out some of the LMS yourself and see how useful they can be in training your own employees. Let us know what you think makes for a good corporate LMS.