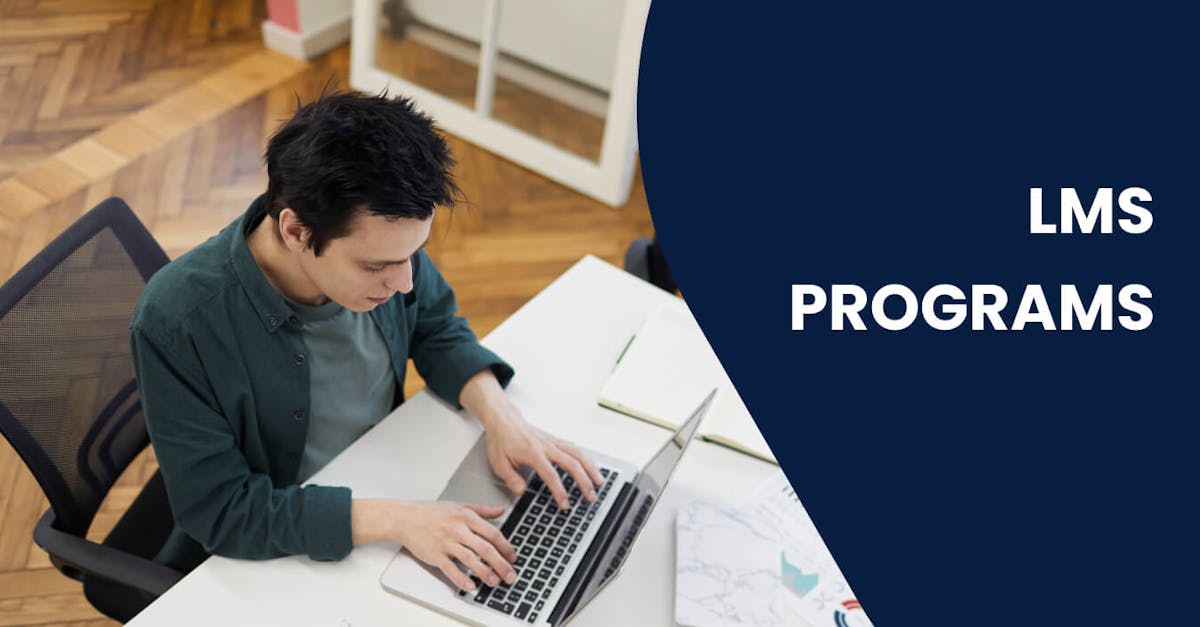 LMS programs offer different features that you can use to develop your training content. To make your training engaging, it's best to consider those platforms that include different interactive tools to spice up your learning materials. In this article, we'll look at 10 LMS Programs to help you do the trick.
1. EdApp
If you're looking for a simple and easy-to-use LMS program, EdApp is a platform you should check out! EdApp is a mobile-first microlearning software that allows you to create training content for your learners by utilizing cloud-based employee training management software capabilities.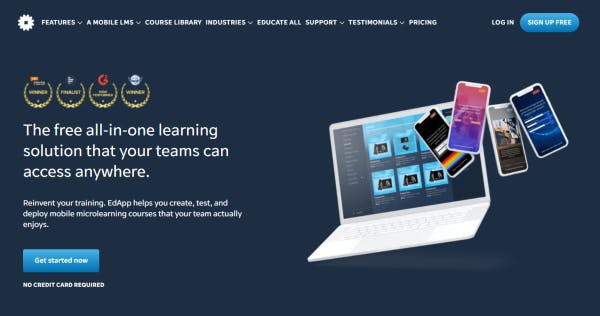 The available interactive templates streamline the process of developing course authoring and distributing eLearning content to groups. Managers can assign EdApp courses to learners' accounts from a library of ready-to-deliver courses prepared by instructional designers. Thanks to the fully customizable course library, courses, and learning solutions are available on a wide range of topics and can be taken as is or modified by altering them. Developed with cutting-edge learning and development approaches. The instructional designers at EdApp have created hundreds of engaging courses for businesses like yours.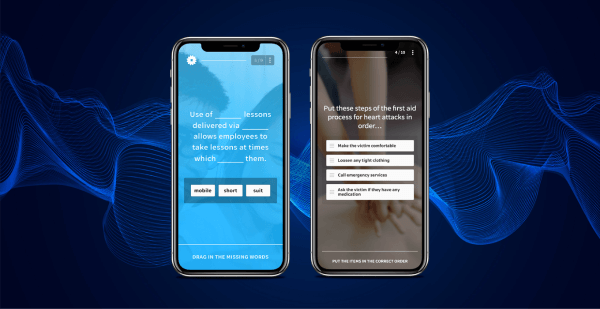 EdApp mobile learning is available on the Google Play and App Stores, allowing busy employees to accomplish learning materials on their smartphones anytime, anywhere. EdApp's microlearning technique is presented in a creative manner that simplifies the learning process while also improving the results.
Features:
Authoring tool

Editable course library

Microlearning

Interactive Templates

Mobile-friendly
Cost: Free
2. FutureLearn
FutureLearn is another LMS program that can help employees acquire new knowledge and skills. This learning platform features 2,000+ unique training programs covering a wide range of topics such as business, management, creative arts, and many more. Similar to other course training platforms, FutureLearn's courses are created by universities and industry leaders. These are delivered in different formats, such as videos, exams, and discussions. The programs provide certificate while being 100 percent online, so your employees can take courses in the comfort of their workspace. 

Features:
Cost: Free
3. edX
edX offers high-quality courses on in-demand topics contributed by the 160 member universities and partner companies such as Harvard, Google, and MIT. Anyone can take available courses to increase their knowledge at any level, all for free. In their collection, you'll find many course videos on different topics that you can use to train your team. These videos can also be viewed in up to 11 different languages.
Features:
Cost: Free
4. Looop
Looop helps you create online learning resources and automate training processes for your employees. With their simple yet visually appealing UX design, you can create engaging learning materials and access features like campaigns. It can also help you automate the delivery of training content through channels like Slack, Teams, and even SMS. Other features like user insights and analytics dashboards give you visibility on your teams' completion rates, learning gaps, and overall performance. Through these enhanced reporting features, you'll be able to gauge the effectiveness of your training and address your workers' learning challenges.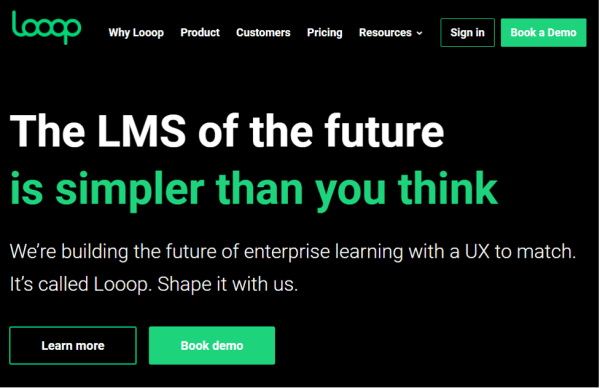 Features:
Cost: Starts at 99 per month
5. GoToTraining
GoToTraining is an LMS software with exciting built-in features, making it ideal for anyone who's always presenting tedious training and webinars. This platform makes it simple for businesses to conduct custom registration, organize training materials, and share courses. When it comes to sharing, you can email your training to your team for self-paced learning, or you can hold an online conference session to communicate synchronously with your employees.
It also supports improved learning retention and engagement during live training sessions by having exams, collaborations, and other group exercises. Following each session, complete attendance and progress reports are accessible to help you assess the effectiveness of your program. Overall, GoToTraining manages and keeps your training courses and assessments for learners to enroll in and access later on. 
Features:
Custom registration

Content sharing

Online conferencing

Reports
Cost: 09 USD monthly
6. Coassemble
Coassemble is a cloud-based LMS program that enables trainers to create online training courses and track progress without the use of third-party software. It includes over 40 interactive and configurable templates, so creating and publishing your courses won't take long. If you manage a large remote workforce, its mobile-responsive functionality will come in handy, allowing field personnel to access their courses at any time and from any location. 

This training management system also includes an employee training tracker, which allows you to monitor all of your employees outside of the workplace. You may use it to assess their success in three ways: the amount of time they spent on the screen, the answers and feedback they provided on tests, and the percentage of time they spent on each course.
Features:
Training creation

Progress tracker

Customizable templates
Cost: Free, paid plans
7. Administrate
Administrate is an LMS tool that allows organizations to plan, organize, deliver, and scale training efforts to meet their business objectives. It includes features such as course templates, event management, integrations, and learner analytics. It has a unique feature called vILT Rapid Implementation, which allows you to convert an on-site training program into a virtual instructor-led training session in as little as 5 business days. Their interface may seem intimidating at the beginning to first-time users and you'll have to do some tinkering to get the hang of things.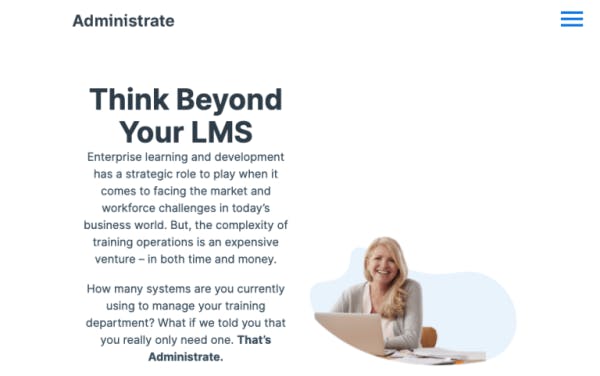 Features:
vILT Rapid Implementation

Integrations

Customizable reporting engine
Cost: Paid plans
8. Flowlu
Flowlu is an all-in-one LMS program that allows you to organize tasks, discuss projects, share information, and stay on top of customer communication processes. Through this tool, businesses can also create customer help centers so that their clients have easy access to solutions to frequently asked questions. Their easy-to-navigate knowledge hub makes it easy for both technical and non-technical users to manage data. It's also perfect for team collaboration and project management, as it provides discussion and tools like feeds and messenger, comments and mentions, instant notifications, and project chat. By combining all of these features, Flowlu enables businesses to create a streamlined work experience for their employees.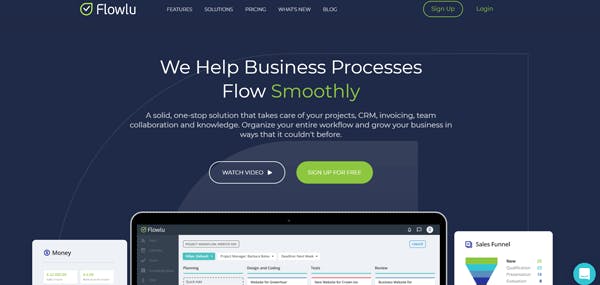 Features:
Knowledge hub

Customer help center

Project chat

Feed and messenger

Kanban boards
Cost: Free, paid plans
9. Core Achieve
Core Achieve learning management system is useful for managers who would like to deploy custom training to their teams. It can accommodate a limitless number of end-users and learning materials, making it an ideal training platform for both large and small businesses. This platform is a user-friendly tool that lets you create, upload, and organize course materials, add quizzes and assessments to make them more engaging, track and manage progress, and much more.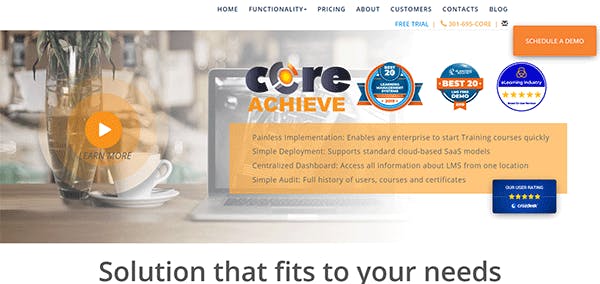 Features:
PaaS/SaaS

Course building

Content management

Analytics & reporting
Cost: Request a demo, paid plans
10. ProProfs
With Proprofs' learning platform, you can choose from over a hundred ready-made templates, add your own videos, images, or text, and customize learning materials according to your company's brand guidelines. For seamless collaboration and knowledge sharing among your learners, Proprofs also offers additional features like a learning community, a Q&A forum, and a centralized knowledge base for FAQs, and how-to manuals. The tool also features a report and analytics dashboard where you can track all your learners' responses and performance data.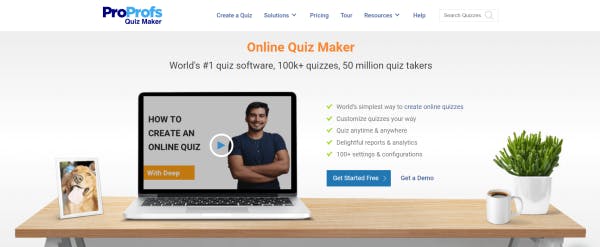 You don't have to worry about accessibility since quizzes are easily accessible through desktop and mobile devices, allowing your employees to take them anytime and anywhere. One big disadvantage of Proprofs is that the free basic plan only covers a maximum of 10 responses per month. If you need a higher number of responses, you can check out their paid plans, which start at 5 USD per month.
Features:
Course templates

Learning community

Knowledge base

Analytics dashboard
Cost: Free, paid plans