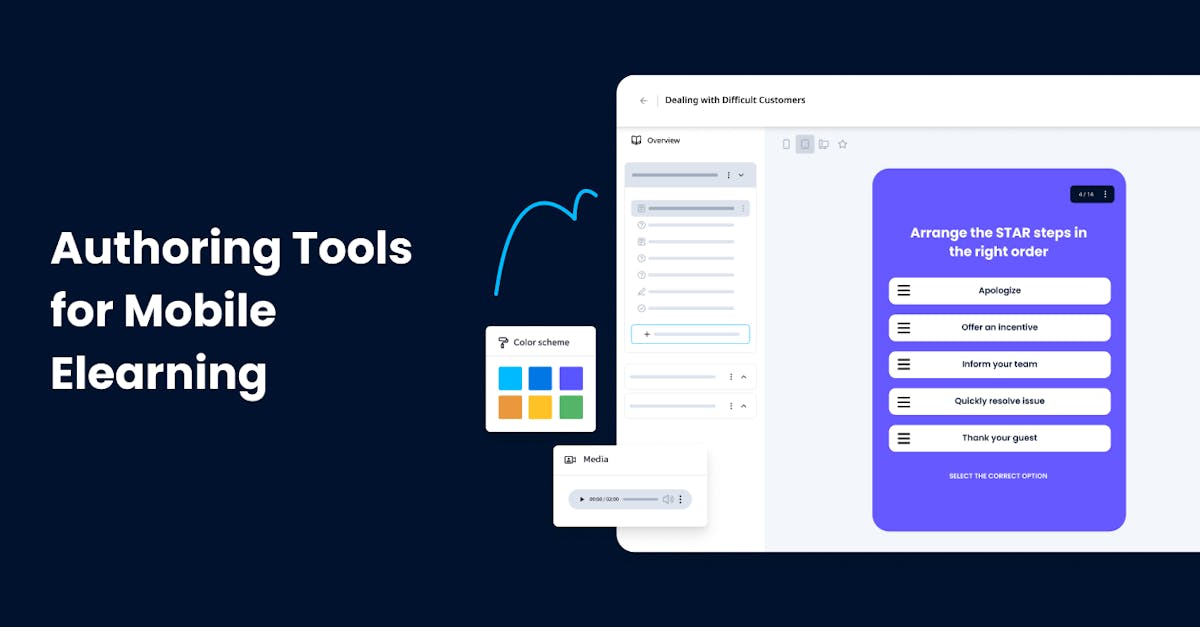 Part of growing and modernizing as a company is learning what authoring tools for mobile learning can do to make your training more efficient and effective. In this article, we'll check out some popular authoring solutions that you can get your hands on. We'll also discuss what you should consider when choosing the right one for you and your team.
Authoring tool for mobile elearning #1 - EdApp
EdApp is an amazing authoring tool for mobile learning that lets you create interactive and engaging microlearning courses in just a matter of minutes. Its free Creator Tool makes it super easy to get started. You don't have to have any coding expertise or design expertise at all.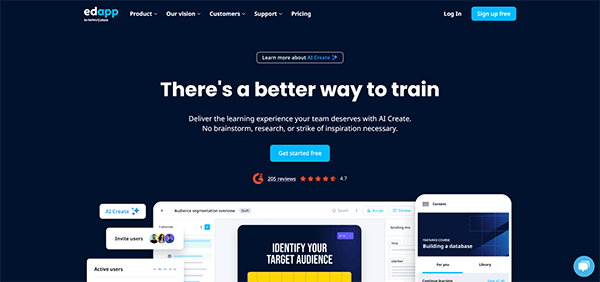 You simply choose a template, drag and drop your content, add your branding touches, and hit publish. Voila! Your course is ready to go. It even has a Canva integration, so you can take your course content to the next level. 
But you don't have to start from scratch if you don't want to. EdApp offers a bunch of ready-made courses for various industries through its Course Library. You can easily edit them to fit your specific needs or use them as they are.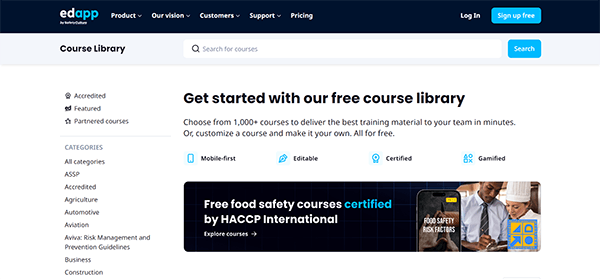 You and your team can access a wide range of hospitality training courses, retail training programs, cyber security training courses, and so much more. And even better? These courses adjust to any screen size, so you can access them on any type of mobile device.
You can also ditch the lengthy course-making process with EdApp's newest AI Create feature. You can create impactful and bite-sized training for your team right away, hassle-free, and all with just a single click!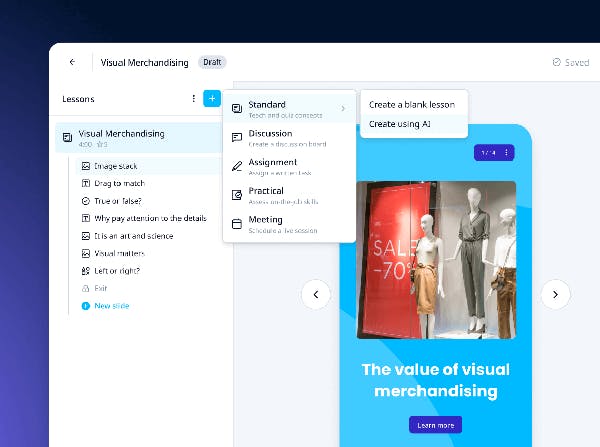 If you ever need help or have questions about EdApp and its features, don't worry. Their support team is always there to lend a helping hand. They'll guide you and make sure you're making the most of the app. Oh, and here's an extra bonus - EdApp can even help you generate training materials through their Course Creation Services.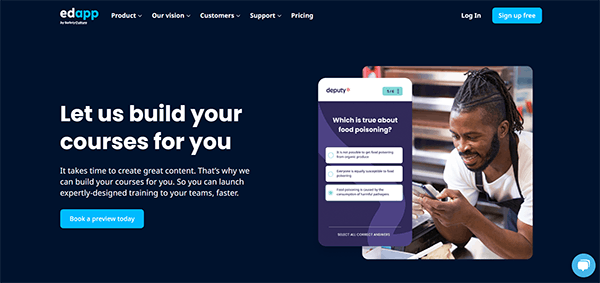 Cost: Free
Key features:
Creator tool

Canva integration

Course library

AI Create

Course creation services
Try EdApp at no cost and start using the best authoring tool for mobile learning!
Authoring tool for mobile elearning #2 - Teach on Mars
Teach on Mars is a mobile-first elearning authoring platform that works seamlessly on any device. It comes with a super user-friendly content authoring tool that offers over 20 fully customizable learning activity formats for you to choose from.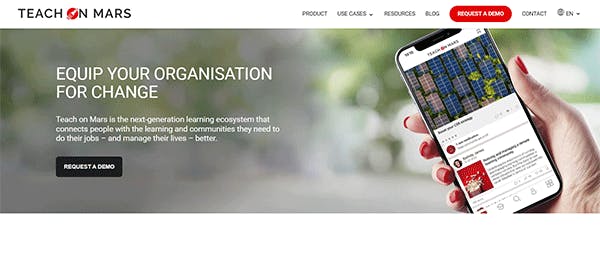 And to add to that, Teach on Mars is also compatible with SCORM, which means you can easily add third-party SCORM content to your courses. This opens up a world of possibilities for you to create engaging and interactive learning experiences for your team members.
Whether you're looking to create regular training courses, bite-sized microlearning modules, or anything in between, Teach on Mars has got you covered. You can even create a recommendation quiz to guide your employees along a personalized learning path. This way, they'll receive tailored recommendations for training courses that can help them reinforce their knowledge.
Cost: Contact for pricing
Key features:
Authoring tool for mobile elearning #3 - Eloomi
Take your team's skills and career growth to new heights with Eloomi's authoring tool that offers flexibility in content creation. You can either create your own custom courses or choose from their wide range of pre-built programs. It's all about finding what works best for you and your team.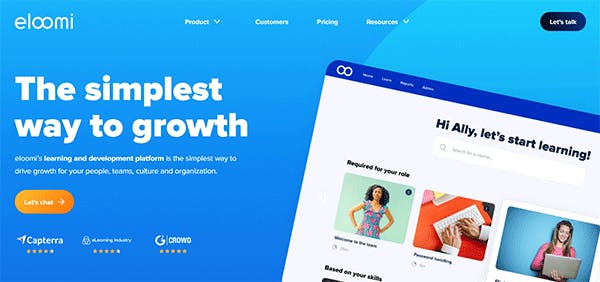 Eloomi also has a 360-degree feedback system. This means that you can receive valuable peer reviews that give meaningful insights and help you bridge any skill gaps. This fosters continuous improvement, making sure your team is on the right track.
Similar to other elearning authoring tools, Eloomi also lets you set learning paths. This way, you can guide your employees toward training content that's most relevant to their roles and aspirations. They can use this feature as a personalized roadmap to career advancement and success. 
Your team can access your training materials from any device, allowing them to complete lessons at their own pace.
Cost: Contact for pricing
Key features:
Authoring tool for mobile elearning #4 - Learningbank
Learningbank has nailed the art of microlearning with gamification. Its courses are designed as short quizzes and puzzles, making learning bite-sized and engaging for your teams.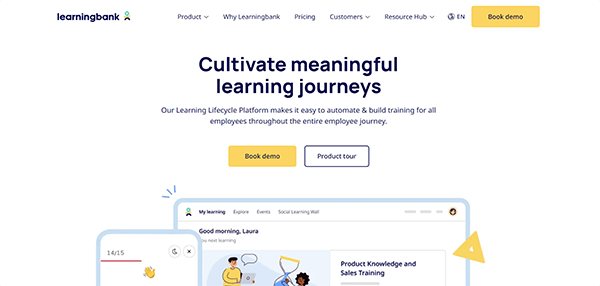 Like other mobile apps with training courses, it also focuses on showcasing elearning programs to improve various skills, from service to leadership. These courses come in the form of short video courses that are easy to digest.
And to make things even more interesting, Learningbank also offers webinars and eBooks as part of their learning offerings. Think of it like a whole package to spice up your employees' learning experience.
Now, here's the thing - Learningbank does come at a cost. But if you have a larger team and want to invest in comprehensive and interactive learning, it could be the perfect solution for you. Give it a go and see how it can take your skills and knowledge to the next level.
Cost: Contact for pricing
Key features:
Intuitive content builder

Gamified user challenges, quizzes, and surveys

Automated and scheduled learning

Analytics and reporting
Authoring tool for mobile elearning #5 - WizIQ
If you're looking for an authoring tool for mobile learning that's easy to use and delivers a top-notch learning experience, WizIQ is the way to go. It's an all-in-one learning management system and virtual learning environment that has everything you need to set up and manage your team's training effortlessly.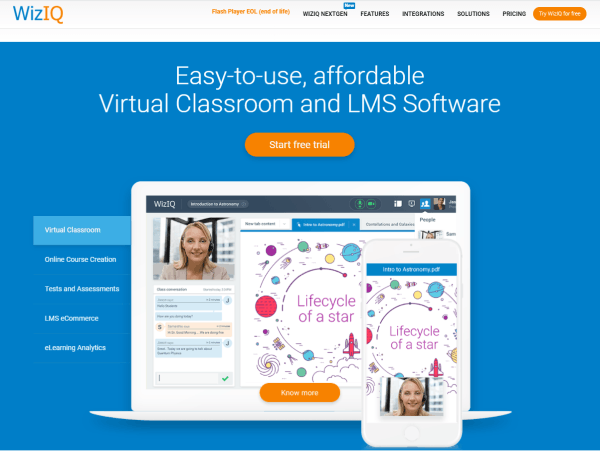 WizIQ supports multimodal learning, giving learners the freedom to choose between real-time audio, video, or textual communication. It's all about giving a flexible and engaging learning experience.
Designing and customizing your training materials is also a breeze with WizIQ's user-friendly course builder. Simply set up your learning portal, upload your content, and you're good to go. It's as simple as that!
Compared to other android learning apps, this one also offers a virtual classroom and HD video conferencing features. This means learners can join synchronous online classes and collaborate with their peers on group assignments.
Cost: Contact for pricing
Key features:
Authoring tool for mobile elearning #6 - Violet LMS
Violet LMS is a full-service powerhouse LMS that's here to support you on your authoring journey every step of the way. Through the platform, you can make sure that you're fully equipped to give your team various types of training, from onboarding to sales training, and even compliance training.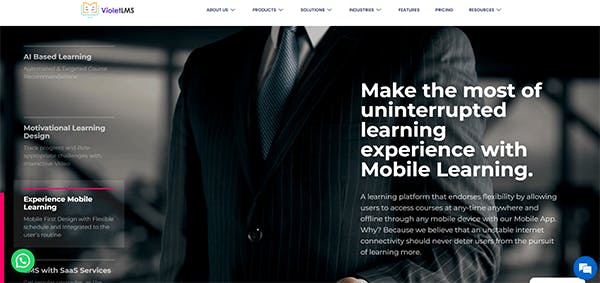 As a mobile software tool, it helps you deliver learning materials in interactive courses, making your team's learning experience engaging and enjoyable. But that's not all - Violet LMS goes a step further by fostering collaboration through virtual classrooms. This creates a mobile learning environment that your employees can access anytime and anywhere.
To add to that, this tool offers a course management system that makes life a breeze for training managers like you. It simplifies the entire process of creating learning content, making it incredibly easy and convenient.
Cost: Contact for pricing
Key features:
Course management system

Gamified microlearning

Learner engagement

Virtual classroom
Authoring tool for mobile elearning #7 - BrainCert
With Braincert, you get a virtual classroom, a course creation wizard, custom theme design options, a testing platform, shareable tests, and a bunch of other handy tools. It has everything you need to deliver courses, conduct assessments, and even host live online classes.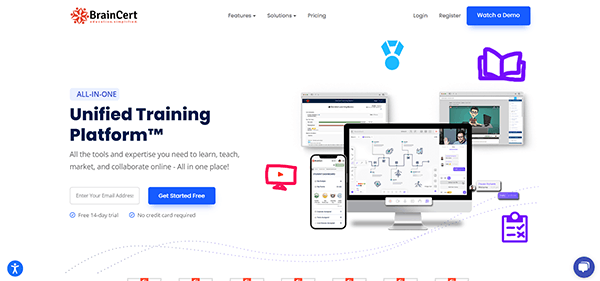 But here's what sets this e learning platform apart - it has integrated social learning with e-commerce. This means that you or your team of trainers/managers can actually sell your online courses, tests, and live classes in the platform's global marketplace if you choose to. It's a fantastic way to share your expertise and monetize your knowledge.
BrainCert offers a variety of paid plans to choose from, catering to different needs. But, they also have a free trial option. So, you can actually give it a spin and experiment with its features before committing to a purchase.
Cost: Starts at 39 USD per month
Key features:
Authoring tool for mobile elearning #8 - Qstream
Revolutionize your training program with Qstream's authoring tool for mobile learning. With it, you can scale up your employee training efforts, onboard new hires seamlessly, and even track your team's performance. It's like having a personal training and authoring assistant right at your fingertips.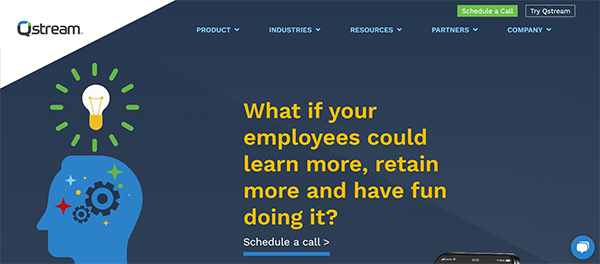 One of the coolest things about Qstream is its gamification features. It incorporates micro-explanations, challenges, scenario-based Q&A, and spaced repetition to help your teams retain knowledge and boost productivity. 
And that's not all - Qstream also offers some handy tools for managers. You can easily determine the effectiveness of your training, identify knowledge gaps, and keep tabs on your employees' overall performance in real time. The proficiency heat maps, leaderboards, team comparisons, and analytics dashboards are incredibly useful for tracking progress.
Cost: Contact for pricing
Key features:
Leaderboards

Analytics dashboards

Coaching hub

Real-time heat maps
Authoring tool for mobile elearning #9 - dominKnow
Although originally built as a cloud-based SCORM LMS, dominKnow can also be used as an authoring tool to deliver mobile learning. Whether you're a small company or a big one, this platform has been trusted by businesses for over a decade to meet their training and collaboration needs.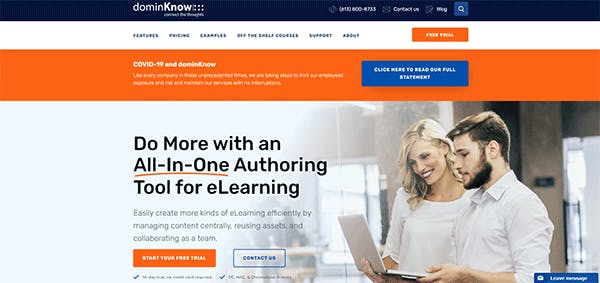 You can design your training materials on mobile devices using a range of templates and digital assets. Plus, you can easily deliver your courses directly to your learners' smartphones. 
For companies with teams across different parts of the world, you don't need to worry about training content localization as dominKnow has translation features already built in. You can easily choose from over 50 languages to translate your learning content, making it accessible to learners in specific regions.
Cost: Starts at 997 USD per year
Key features:
Authoring tool

Content management system

Real-time collaboration

Translation & localization
Authoring tool for mobile elearning #10 - Yarno
Yarno is another super handy authoring tool for mobile learning that's designed to train your employees no matter where they are. It comes with a learning library where you can store all your training content. Your team will feel like they have a virtual training hub right in their pockets.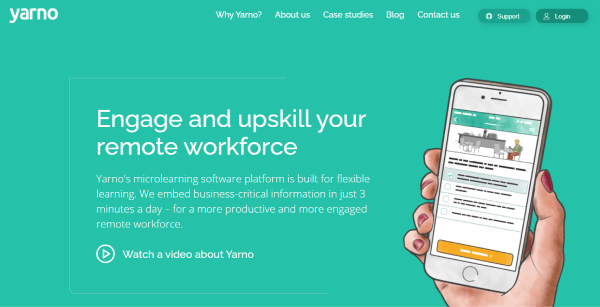 Oh, and here's something really neat: Yarno even offers the option to work with their team to create custom-made videos for your training. These videos can really take your training to the next level and make it more engaging and impactful for your employees.
Yarno also has this cool quiz feature called Embed that helps you identify any knowledge gaps and reinforce important information. Not only is it a great way to make sure everyone is on the same page but it's also designed to help strengthen recall by asking engaging questions.
Cost: Contact for pricing
Key features:
Mobile-ready

Quiz feature

Custom-made videos

Learning library