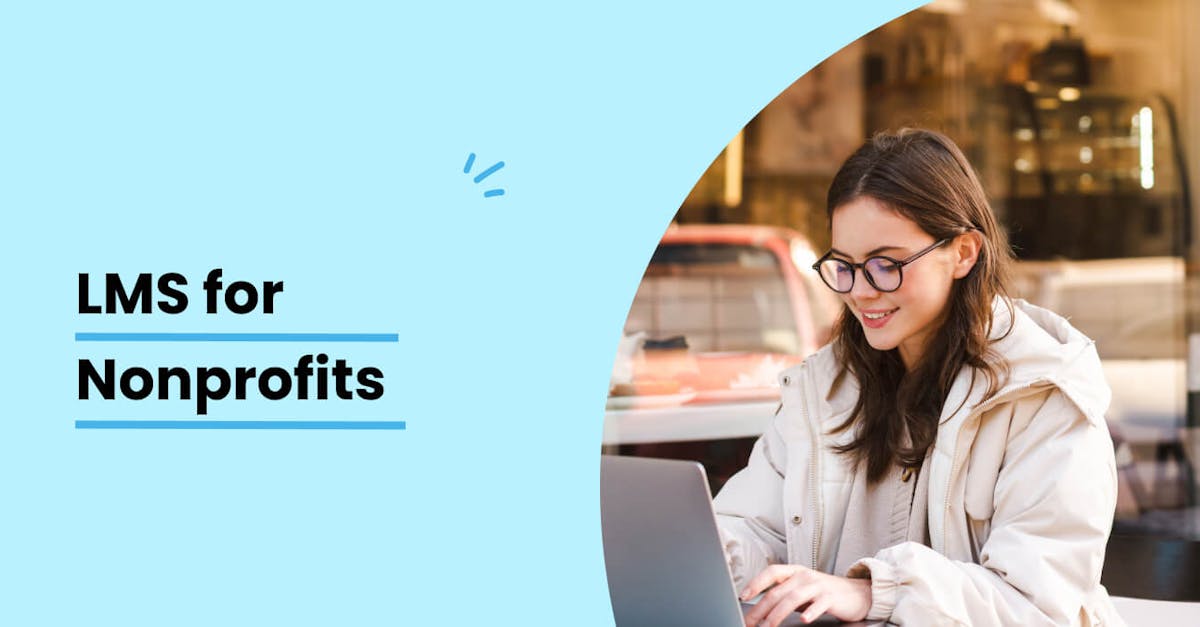 With the advancement of LMS for nonprofits, no one can deny that creating and managing training programs for members and volunteers is now easier than it has ever been. To help you find which one is the right fit for your nonprofit organization, we've created a list of the most popular LMS for nonprofits on the market today.
1. EdApp
When it comes to LMS for nonprofits, only a few can compete with EdApp's rich feature package and training management tools. From content creation to course management, this LMS has everything you need to develop and hone the skills of your volunteers and community members. And the best part? Most of their training solutions are free. There's no need to break the bank to upskill your nonprofit team!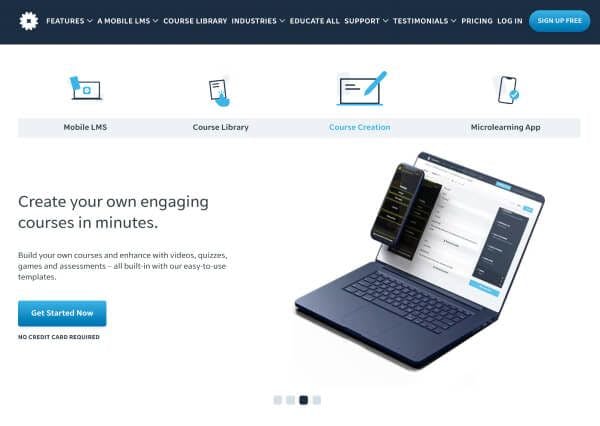 EdApp takes pride in its SCORM-compliant authoring tool, which uses a drag-and-drop template structure to help trainers and designers put together a microlearning course in just minutes. This LMS is also jam-packed with a range of beautiful, world-class courseware that you can import in an instant. From gender equality to food sustainability, responsible driving to fire prevention – whatever topic you need, you can count on EdApp for the best free online courses for adults and new manager training courses that you can deliver as early as today. Most of these courses also come fully customizable, meaning they're yours to edit, re-brand, and personalize however you want.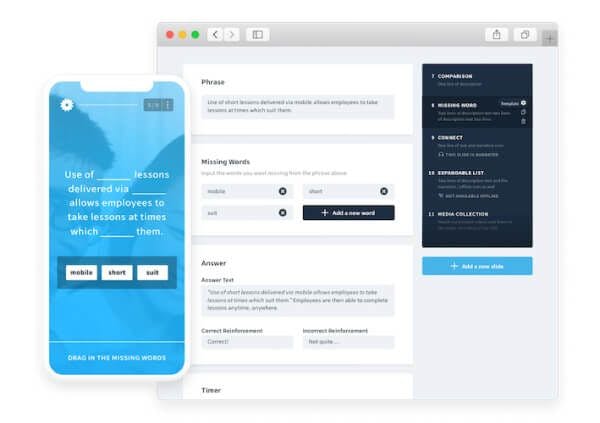 Another advantage of using this LMS is that it makes training monitoring and tracking a breeze. Forget about manually generating reports and analyzing your learners' progress. EdApp's automated analytics suite can instantly give you an overview of your learners' performance as well as identify users who are lagging.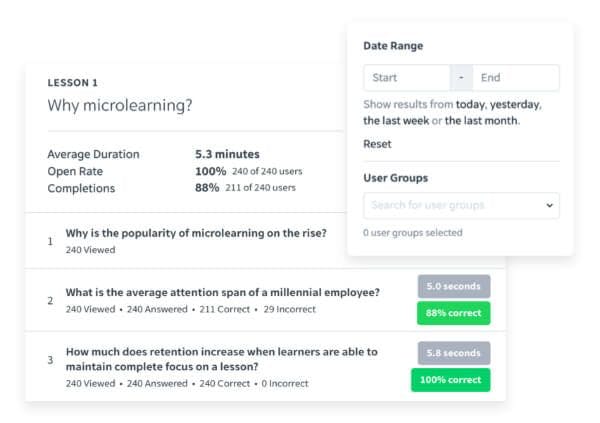 Cost: Free

Highlights: SCORM compliant authoring tool, editable training materials, branding options, automated analytics suite
Get started on EdApp's LMS for nonprofits today.
2. Coconut Learning
Whether you're onboarding, reskilling, or simply refreshing the knowledge of your non-profit organization, you can trust Coconut Learning for an unbeatable learning experience. Their bespoke LMS offers a variety of learning methods that is beyond the lines of textbooks. Here, you can present your training content in videos and live demonstrations, or even hold feedback sessions for a more engaging learning journey. It also offers a hassle-free course management system, where you can upload all related content in one location while keeping track of your learners' progress and results. Without the need to jump from one tool to another, you can save an invaluable amount of time and money with this excellent LMS for nonprofits.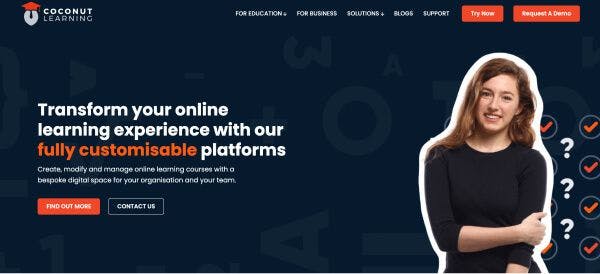 Cost: Pricing plans start at £25.00

Highlights: Bespoke learning methods, feedback sessions, centralized course management, training tracker
3. Sibme
Sibme's expertise lies in providing engaging, blended, and personalized professional learning solutions that can help bring out the best in your team and sustain their long-term growth. With this LMS for nonprofits, you can curate and share training content in different formats, encourage team collaboration, and meet live and virtually with your staff anytime and anywhere, on any device. You can even set personalized goals for each team member and witness their real growth in real-time through its training monitoring solutions. Sibme is also applauded for its amazing customer support and services, giving you no sweat throughout the software setup process. Plus, they meet with your team thrice per year for feedback and service adjustments.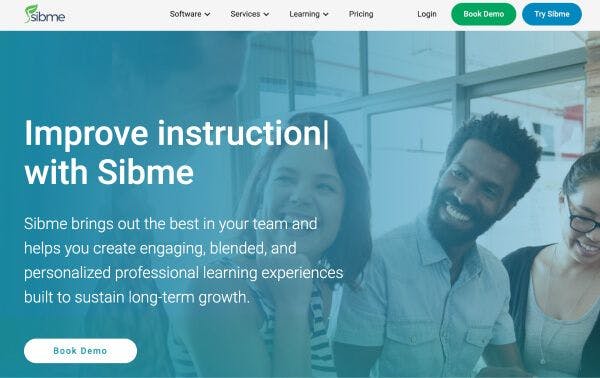 Sibme isn't exactly free, but they do offer a free trial so that you can try out their software first before making a purchase. 
Cost: Pricing plans start at 0 USD per month per user

Highlights: Content creation and sharing, team collaboration, live and virtual classes, personalized learning goals, reliable customer support
4. Xperiencify
Perhaps you want to move past your boring, monotonous training materials? Then look no further, Xperiencify can help you get 10-30 times more engagement and results from your learners. What's noteworthy about this LMS for nonprofits is that they created a very unique system called experiencification, which is based on a combination of ideas and techniques from the app and game industries. Here, you can add points to your courses, set variable rewards, custom countdowns to trigger urgency, and share their achievements and celebrations through their social media. They can also help you customize your quizzes in a way that will encourage your learners to take your course again and again. It's not rocket science – Xperiencify is engineered with a simple, easy-to-use management portal, and you'd be able to publish your gamified courses without having to lift a finger.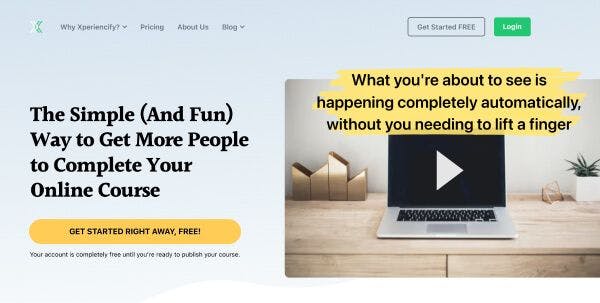 Cost: Pricing plans start at 9 per month

Highlights: Gamified courses with points, rewards, and countdowns, social media sharing, customized quizzes
5. Chamilo
Chamilo, also a highly recommended LMS for nonprofits, offers a range of course management tools that can help you create courses, organize virtual training sessions, and manage users, effectively addressing almost all of your training needs. But what's great about this learning management system vendor is that it offers open-source software that promises speed and ease of use, favoring nonprofit trainers and instructional designers who want more control over the design and delivery of their courses. As for tracking and monitoring, Chamilo can also help generate reports and check the activities and progress of your users on the portal, like their best scores and time they've spent in a lesson. The analytics will help you identify whether or not their courses are working well for them, and if there's anyone who is currently falling behind.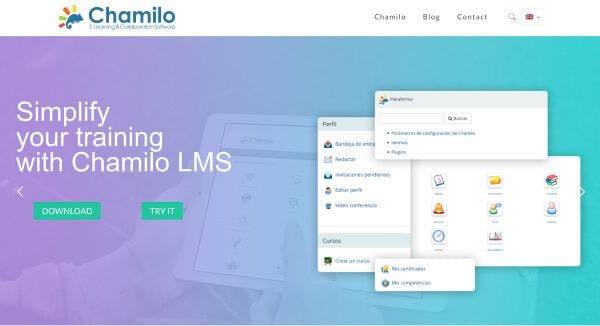 Just a quick heads up that Chamilo is getting a few complaints about random bugs in the software, so you may want to consider that factor first before purchasing their plans. 
Cost: Available upon request

Highlights: Course creation, virtual sessions, user management, open-source software, report generation
6. 360learning
360learning is also a great place to curate online learning materials for your nonprofit organization and encourage work collaboration within your teams, even when they aren't physically present. Take advantage of its intuitive course authoring suite to set up and publish your courses. You may also add interactive elements such as videos, images, even blog articles, and research materials to make your training more engaging and reliable. Fret not, as their authoring tools are designed for optimum ease of use – no technical skills are needed to get started. You and your team can also learn together in a shared space, and even hold feedback sessions for a more valuable learning experience.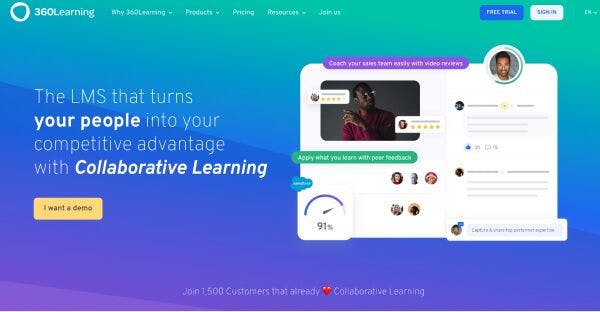 Cost: Pricing plans start at USD per month

Highlights: Intuitive course authoring suite, interactive elements, collaboration opportunities, virtual learning sessions
7. Thinkific
Thinkific features a range of powerful employee training tools that can help bring life to your online training lessons. With this LMS for nonprofits, you'll find no hassle in creating and deploying interactive courses, comprehensive quizzes, and engaging surveys, assignments, certificates. This is primarily because most of its tools are made very much easy to use, requiring little to no technical expertise to provide your learners with an excellent online learning experience. They also provide in-depth reporting that will help you track your learners' progress, making sure that everyone in your team is receiving the right training materials they need.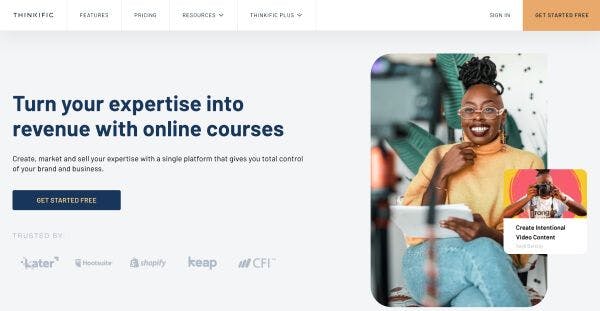 Apart from using this LMS for organization training, you can also use this platform to sell online courses and earn revenue. Worry not as they have useful metrics that will help you see how much revenue is coming in from each of your customized courses.
Cost: Pricing plans start at 9 USD per month

Highlights: Course builder tools, quizzes, surveys, certificates, in-depth monitoring, course selling
8. Blackboard
Blackboard has gained its reputation being one of the leading LMS for nonprofits that leverage technology to maximize the potential of online learning. Here, you're in full control of your training program — tailor e-learning courses, organize your tasks, and track your learners' progress. You can also host virtual training, enable discussion boards, or hold a live chat to improve employee engagement.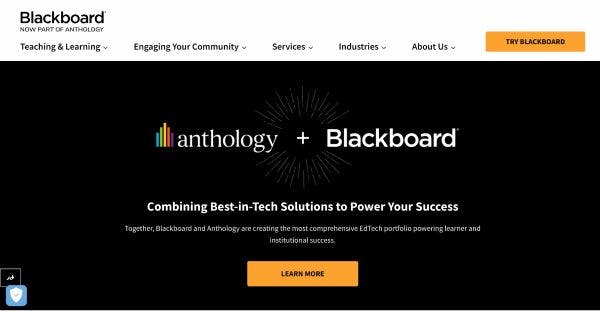 The best thing about Blackboard is that their team never stops upgrading their system. Enhancements, new features, and fixes are expected every month, and they are immediately integrated into your system with no installation or additional upgrades needed. 
Cost: Available upon request

Highlights: Custom e-learning courses, course management, employee training tracker, virtual training, discussion boards, live chat
9. CreateLMS
CreateLMS can help you onboard your new organization members and train existing ones, all without the need to worry about burning a hole in your pocket. With its advanced course builder tool and skills assessment tool, you can create and manage elearning courses and assessments, webinar, blended training, all with ease. The best part? You can also keep your team engaged by mixing these formats – instructor-led training and assessments with self-paced courses or video and PPT with quizzes. To save yourself from the burden of building your training programs, feel free to grab some of their ready-made courses developed by their content partners and directly deploy them to your team.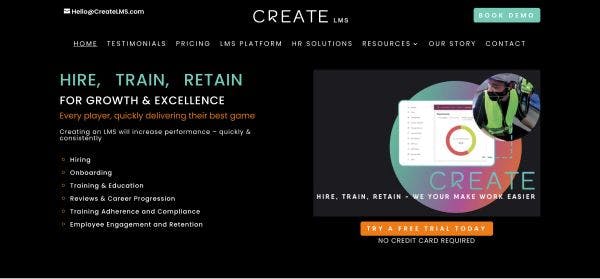 Cost: 2 USD/user per year

Highlights: Course builder, skill assessment tool, ready-made courses
10. WorkRamp
WorkRamp is an all-in-one LMS for nonprofits that can be customized for different types of training. This software allows you to create customized learning pathways for your team based on their role, teams, skills, or seniority. It also provides a specialized onboarding process, advanced training content creation, learning progress tracking through dashboards and analytics, and a blended learning experience with support for virtual instructor-led sessions. Through its modern technological features, you're able to transform the learning experience in your organization. In return, your staff will be able to perform their roles better, improve relationships with the community, and deliver desired outcomes.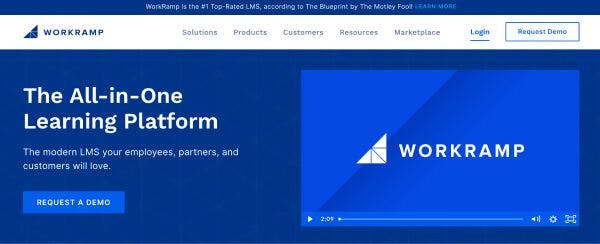 Cost: Available upon request

Highlights: Customized learning pathways, training content creation, dashboard analytics, virtual instructor-led training