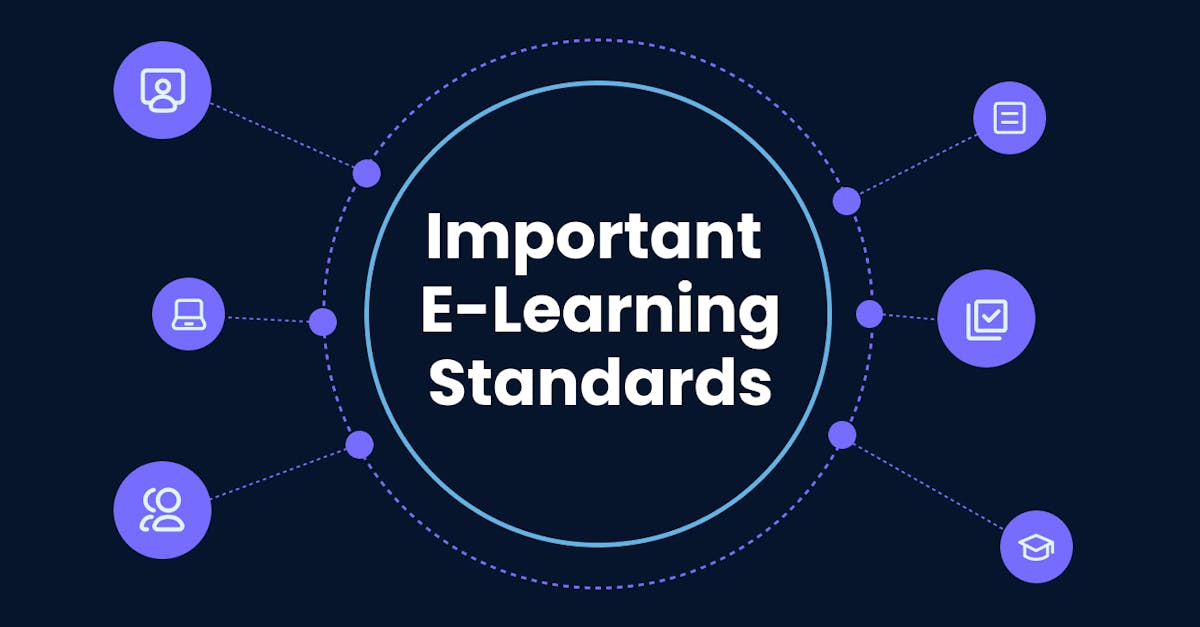 Is your content authoring software or LMS compatible with important e-learning standards? Worry not, we're here to help you understand these e-learning standards and how they can be relevant to your training and management needs. 
1. SCORM
The first e-learning standard on our list is the Shareable Content Object Reference Model, also known as SCORM. It refers to technical standards that allow e-learning courses to work seamlessly with any LMS. It was created to solve the limitations of AICC, another e-learning standard, which we'll also tackle in the latter part of this article. 
If your LMS is compatible with SCORM, it can give you zip files of your e-learning courses that you can also use in other SCORM-compliant LMS. With this standard, you'll also be able to track data from the course-related activities and the learning progress of your learners. That includes course completion data, test scores, points, and more. 
It's good to keep an eye out for this e-learning standard if your goal is to create simple courses that you can quickly share. But, take note that SCORM courses lack interactive and engagement elements. 
Looking for a SCORM-compliant LMS where you can spice up your e-learning content? EdApp has got you covered. As a digital adoption platform, it allows you to import your existing SCORM packages and transform them into engaging short-form courses.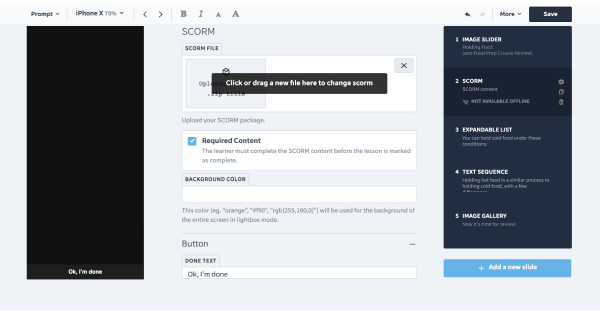 Thanks to its user-friendly course authoring tool, customizing them is made easy. You'll have access to 80+ interactive templates where you can edit your content. Aside from SCORM import functionality, you can also export EdApp courses into SCORM format with just a click!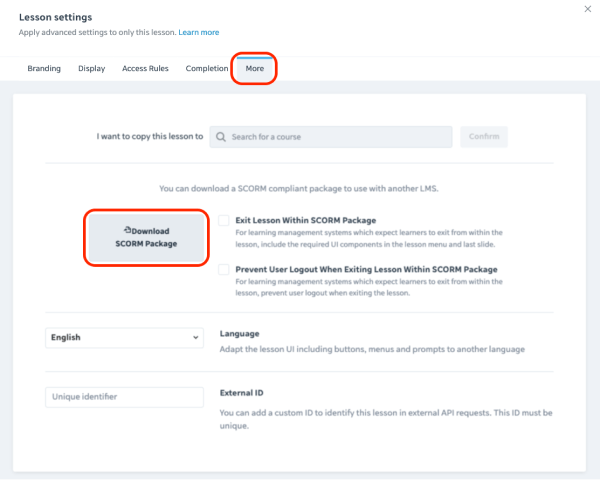 So, feel free to choose any course from EdApp's course library, such as free defensive driving courses, onboarding courses, and so on and transform them into SCORM files as you please.
Interested to use EdApp's SCORM functionality and discover its other amazing learning features? Join EdApp for free now!
2. xAPI
The Application Programming Interface (API), also known as Experience API (xAPI) or Tin Can API, is an e-learning standard that provides guidelines on how data can be transferred and stored. It's a more modern standard than SCORM, allowing you to collect various data from different sources, not just from e-learning courses. These sources can be in the form of team-based learning activities like social learning, simulations, mobile learning, electronic games, and more. 
With this standard, records of the activities of a learner or a team will be transmitted to a Learning Record Store (LRS), which is a feature of xAPI. An LRS doesn't only have the capability to store records of data, but it can also share transcriptions with other LRS. It can also exist within an LMS or separately. So, if e-learning courses aren't your only way of training learners, this standard will be helpful to you. 
3. cmi5
Cmi5 sets the rules for the communication and interoperability of xAPI learning activities with an LMS, especially regarding course structure, launching, authorization, and packaging. This e-learning standard lets your learning technology be adaptable and robust. It also provides a handshake mechanism, which adds an extra layer of security when exchanging data between courses and an LMS.  
If your LMS is an adaptive learning platform that's compatible with this e-learning standard, then you'll have more flexibility in how your content assets will be packaged or hosted. You will also not be limited to launching your content from a web browser. Instead, you can opt for mobile learning and even offline learning.  
4. WCAG
Web Content Accessibility Guidelines, or WCAG, are a set of e-learning standards that are designed to make content accessible for a wide range of people, especially those with disabilities. These include people with low vision impairment, hearing difficulties, photosensitivity, cognitive restrictions, and more. E-learning content complying with this standard follows four principles: 
Perceivable – This means that regardless of a learner's sensing abilities, your e-learning course should be able to access information.

Operable – With this principle, your learners should be able to perform actions that are required to complete their course without any hassle or unwanted incidents, like seizures due to flashing lights. 

Understandable – Here, your learners should be able to easily navigate through both their e-learning content and the user interface. 

Robust – Being robust means that your e-learning content should be friendly to technologies like screen readers. 
5. AICC
AICC is the earliest e-learning standard that was originally created for the aviation industry. In the e-learning environment, it provides guidelines for course creation, delivery, and assessment across web-based training platforms. Being compliant with AICC means that your learning technology can host, store, and distribute learning materials on several servers. It also supports the safe transfer of data between learning content and an LMS through HTTPS. 
The downside to this standard is that you won't be able to track and monitor course-related data. Also, while this standard serves as the foundation of today's e-learning standards, it has become outdated.