You can transform traditional HR workflows into opportunities to drive engagement and productivity with human capital management (HCM) software. Cutting down the time it takes to do your administrative HR tasks can lead to increased business values and better employee experiences. Discover below how you can efficiently manage your employees' time and performance with this list of 10 HCM software. 
HCM Software #1 – EdApp
EdApp is an award-winning, gamified learning management system (LMS) that can also act as the best HCM software. This LMS features easy and organized user management, allowing you to group employees into user groups by role, project, or however you want. With these user groups, you can distribute training and receive actionable data and feedback through admin portals and analytics dashboards. Users can also communicate with each other through forum-like discussion boards.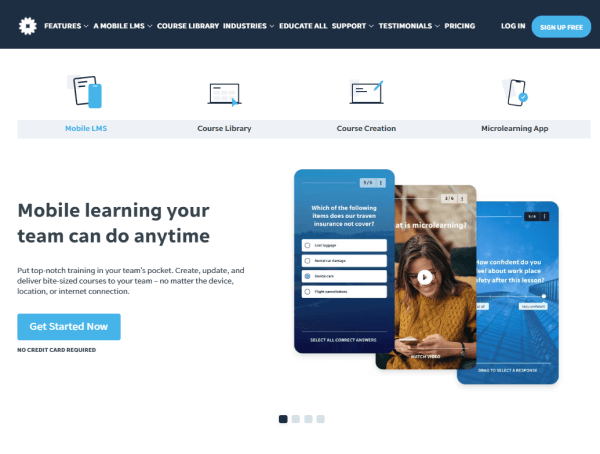 Training new hires and current employees alike have never been so easy as well. With a course library with over 800 courses, a built-in authoring tool, and a PowerPoint converter, you can find or create training that's suitable to your needs in minutes. Here, you'll find courses like free marketing courses, cyber security courses, workplace safety courses, security officer training courses, and more. 
Developed using the most latest learning and development approaches. Hundreds of engaging courses have been created by EdApp's instructional designers for organizations like yours.
Boosting your training engagement rates also becomes possible through EdApp's mobile application – learning can be done anytime and anywhere. And if your workers forget to complete their training, you can remind them through customizable push notifications.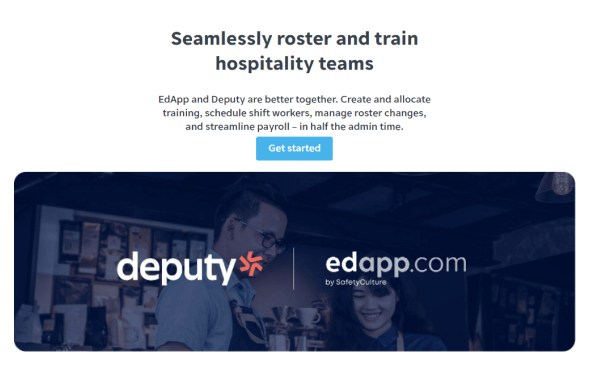 While EdApp does have a large focus on learning and training, its Deputy integration also allows you to seamlessly schedule employees for shifts, manage roster changes, and streamline payroll. By combining the two software, you can assign training and scheduling all at once and in one place. Employees can learn in between shifts and become updated with new policies and information in real-time as courses are published. This can all be done for free forever, making training and scheduling accessible to organizations of all sizes. 
Features:

User management, user groups, actionable data and feedback, discussion boards, content library, authoring tool, PowerPoint converter, mobile app, push notifications, Deputy integration
Try EdApp at no cost and learn to efficiently manage your workforce today!
HCM Software #2 – Workday
Workday is an HCM software for all things HR and finance. With cloud connect for third-party payroll integration, secure data storage, and automation, you can bring financial, operational, and people data into one unified source. Workday also uses machine learning to help you better understand your employees' skills and build up their talent through curated recommendations and suggested learning. Use the built-in augmented analytics and insights to improve employee performance and experience at scale.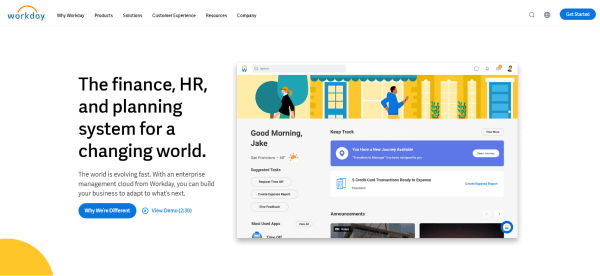 While Workday may look like an all-in-one solution, it lacks customized reports which could generalize your data. Additionally, all the processes may come across as a bit disconnected since there are multiple suites for different management functions. 
Features:

Cloud connection, payroll integration, secure data storage, automation, machine learning, curated recommendations and suggestions, augmented analytics
HCM Software #3 – Oracle Fusion Cloud HCM
Manage all your HR processes from as early as the recruitment stage to as late as the retirement stage with Oracle Fusion Cloud HCM. You can deliver quick and consistent HR services to every employee through the HR Help Desk and digital assistant. Additionally, you can easily give employees a personalized, contextual, and accessible work experience through communication boards, analytics dashboards, and touchpoints. Management of performance, talent, and workforce can be done simply and easily on a single platform.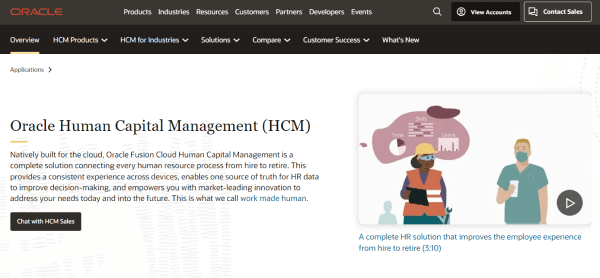 Oracle Fusion Cloud HCM, however, is not suitable for companies with less than 100 employees with its features scaled for enterprises. Additionally, there are some limitations with the payroll as only a handful of countries are applicable for localization. 
Cost:

Free trial available, starts at US$13 per employee per month
Features:

HR help desk, digital assistant, communication boards, analytics dashboards, touchpoints, performance, talent, and workforce management, payroll 
HCM Software #4 – ADP Vantage HCM
ADP Vantage HCM is another cloud-based employee payroll and HCM software solution. This performance management platform is open-architecture, making it easy to integrate with any other existing HR tools. It offers integrated services for recruitment and onboarding, talent and workforce management, payroll, and benefits compensation. Your workforce can also conveniently access the platform on any device, whether it's on a computer or mobile device. With ADP's DataCloud, you also have access to fresh and relevant insights that can help you make the best decisions.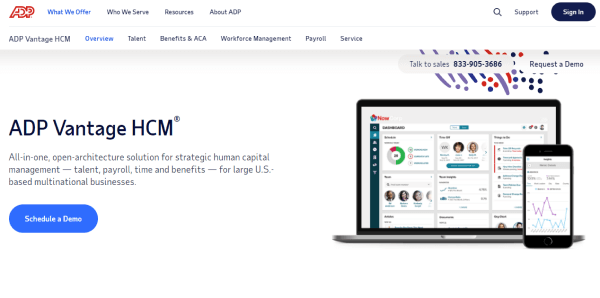 But, the complexity of ADP Vantage HCM may not make it suitable for small to medium-size organizations. It's more well suited for enterprise organizations with more than 1000 employees. 
Features:

Cloud-based, open-architecture, integrations, recruitment and onboarding, talent and workforce management, payroll and benefits, data cloud
HCM Software #5 – Sage People
Sage People is a global business cloud software that reaches your various HR needs. You can connect your global teams with customized communications, branded experiences per region, and localized benefits packages. With actionable analytics, you can make informed decisions, provide real-time insights, and get personalized feedback from different employee groups. Automating and accelerating HR processes is also possible with Sage People's no-code configurable system.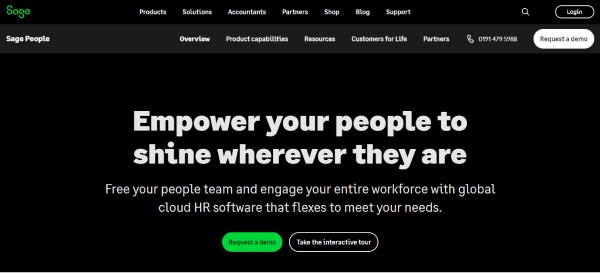 Since Sage People has been in the business for HCM software for over 10 years, the user interface feels a bit outdated. It also lacks hybrid learning tools to distribute training and learning activities, focusing more on management functions. 
Cost:

Free demo, starts at US$10 per user per month
Features:

Global cloud system, customized communications, branded experiences, localized benefits, actionable analytics, automation, no-code configurable system
HCM Software #6 – SAP SuccessFactors
If you're looking for individualized experiences and strategic solutions to empower your employees, then consider SAP SuccessFactors. The platform supports employee experience management, talent management, payroll, and analytics. These tools also come with prebuilt integrations across different SAP solutions and applications. Similarly, you can ensure that you can make your teams feel connected and supported by one another with SuccessFactor's simple cloud-based software.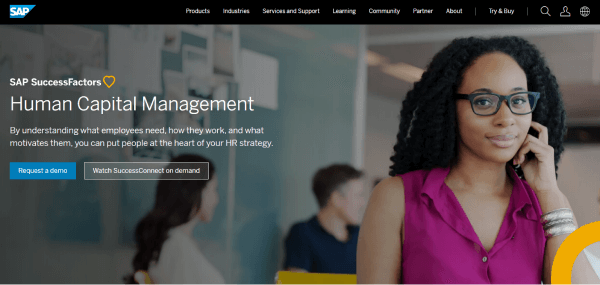 It's important to note that navigating this software has a steep learning curve. There is a lot to explore because of the number of features and functions. There is also no mobile app, making accessibility difficult for some.  
Cost:

Free trial, starts at US$8 per user per month
Features:

Employee experience management, talent management, payroll, analytics, prebuilt integrations for other SAP systems, cloud-based
HCM Software #7 – BambooHR
BambooHR is an all-in-one online HCM software that works best for small to medium-sized businesses. Have all your employee information in one place with their easy-to-use management system. You can easily manage different tasks from hiring to onboarding, performance management, and managing payroll and leave. Employees can also update their information, view training courses and goals, and celebrate others' birthdays and anniversaries.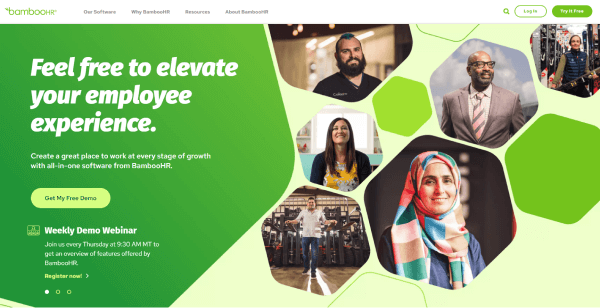 BambooHR excels at information management, but it lacks features for effective workforce management. It lacks customization and reporting features that can help in further personalizing the work experience of your employees and teams. 
Cost:

Free trial, request for a quote
Features:

Easy-to-use management system, hiring and onboarding, performance management, managing payroll and leave, communication
HCM Software #8 – Rippling
Rippling offers a unified workforce management platform that allows you to effortlessly manage employee data in one place. You can automate your HR, IT, and finance workflows with no coding knowledge required. Centralizing company policies and unifying permissions and approvals are also made simple and easy with its template library. Analytics is also available to help you build and visualize any type of report you might need.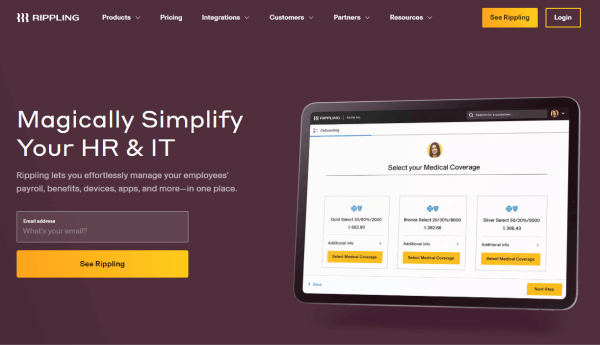 The tool, however, could improve on its reporting features. Data visualization is limited and lacks variety in viewing permissions for users. Similarly, it has limited options for roles and permissions, leaving management to mainly admin users. 
Cost:

Free trial, starts at US$7 per user per month
Features:

Automations, HR, IT, and finance workflow management, centralized company policies, template library, analytics
HCM Software #9 – Eddy 
With Eddy, you can hire, onboard, manage, and pay employees on an all-in-one, easy-to-use platform. When it comes to recruitment, you can find and hire workers easily by posting openings on multiple job boards with a single click. Eddy makes it easy to manage people and paperwork from onboarding up to retirement. From documents to policies, training, time tracking, and payroll, everything you and your employees need is in one place.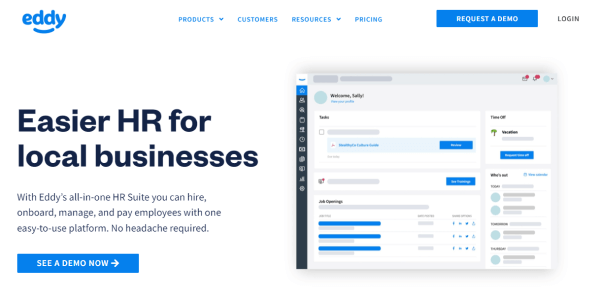 While most of the people management functions are available in Eddy's base payment plan, the payroll and applicant tracking system are considered add-ons. You'd have to pay more for functions that are typically included in other HCM systems. 
Cost:

Free trial, starts at US$8 per user per month
Features:

Applicant tracking, people management, onboarding, training tracking, time tracking, payroll services
HCM Software #10 – eXo Platform
The last HCM system on this list is eXo Platform. This digital workplace solution helps build your company culture through interactivity, engagement, and collaboration. Improve peer-to-peer communication on a single interface with user profiles, activity streams, private team workspaces, and more. Similarly, with a built-in chat application, employees can communicate and collaborate easily. A shareable content library is also available for quick and easy information management and sharing. 

Since eXo Platform is packed with a lot of features and functionalities, it can come with a steep learning curve. With so much functionality, it can be a bit overwhelming for users to manage, navigate, and use. 
Cost:

Starts at US$4 per user per month 
Features:

Peer-to-peer communication, user profiles, activity streams, private team workspaces, chat application, shareable content library
Get started with EdApp and master managing your people as soon as possible!