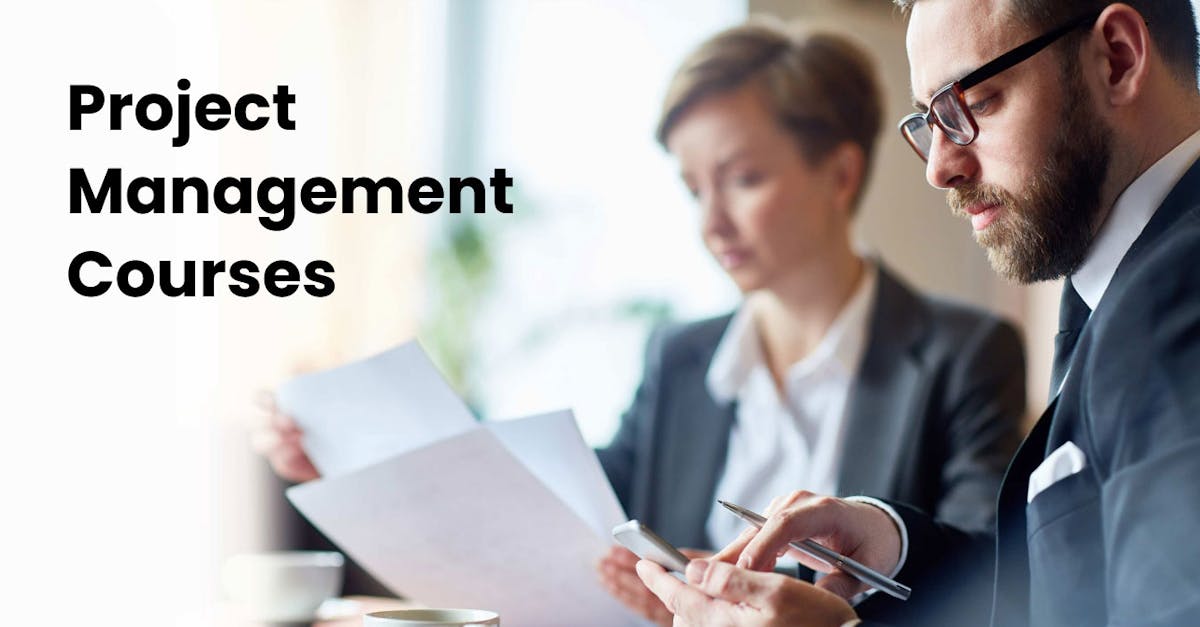 A project management process is the planning, forecasting, and controlling the strategy and execution of the lifecycle within a project. As a project manager, your responsibilities will include managing the project plan from its early design to its final release. Project managers study the project scope and requirements and develop plans and systems to achieve project goals within specified parameters including time frame and budget. All employees, regardless of skill level or seniority, can benefit from learning project management and scope management skills.
Here are some free courses to check out.
1. Communication in Project Management
Communication is the most vital aspect of a seamless free project management training exercises. Look no further than this course to boost your skills when it comes to collaboration and delegation of project requirements in your project team. Communication in Project Management by EdApp provides an introduction to communication, writing techniques, collaboration and delegation skills. We can guarantee you success in project management upon the completion of the aforementioned topics!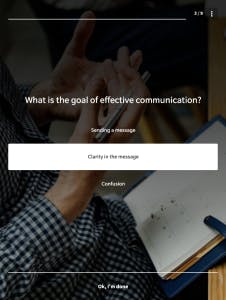 2. Results-Based Project Management- Monitoring and Evaluation
In this free online project management training course—Results-Based Project Management- Monitoring and Evaluation by the University of Witwatersrand- Johannesburg—you will learn the basics of results-based project management. After an introduction to the results framework and its associated performance indicators, you will learn how monitoring systems and evaluations provide a crucial source of evidence for management decision-making. This free project manager training course will address the behavioral and quantitative facets of project management, as well as the use of methods, management software, and techniques for the initiation, planning, execution and closing of projects. Monitoring and evaluation are increasingly called upon within public service, non-governmental sectors and multi-lateral development agencies to help ensure that resources are put to optimum use and that citizens and beneficiaries are assured of receiving the benefits that are committed to them.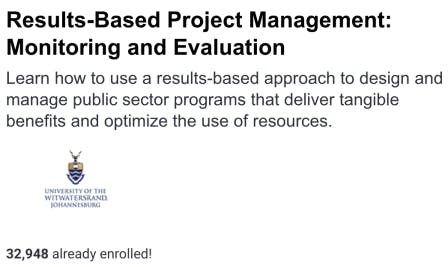 3. Best Practices for Project Management Success
Project management plays a key role in supporting a business's success. In the Best Practices for Project Management Success course, you will learn what's required from an organization for projects to excel. The course will cover project management methods and best practices, project portfolio management, and corporate culture and organizational behaviour. The course will utilize case studies and examples from companies to help students sharpen their project management skills to recognize and implement an environment that supports success.
4. Project Management Life Cycle
Learn about project management from a multidisciplinary perspective! You will learn about the project management life cycle course from initiation to closing. This course will address the behavioral and quantitative facets of project management, as well as the use of methods, tools and techniques for the initiation, planning, execution and closing of projects. This course is part of the RIT Project Management MicroMasters Program designed to teach the skills and behaviors necessary to be successful in a project management career. In order to qualify for the MicroCredential, you will need to earn a verified certificate in each of the three courses as well as pass a capstone exam.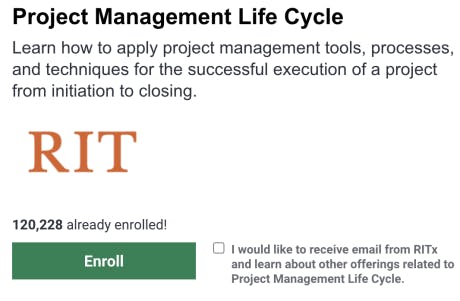 5. Fundamentals of Project Planning and Management
Projects are all around us. Virtually every organization runs projects, either formally or informally. We are engaged in projects at home and at work. Across settings, planning principles and execution methodologies can offer ways in which projects can be run more effectively and efficiently. Project management provides organizations (and individuals) with the language and the frameworks for scoping projects, sequencing activities, utilizing resources, and minimizing risks.
The Fundamentals of Project Planning and Management course is an introductory course on the key concepts of planning and executing projects. It'll teach you project management basics to guide your team toward your goals while keeping to certain parameters. It will also identify factors that lead to project success, and learn how to plan, analyze, and manage projects. Learners will be exposed to state-of-the-art methodologies and to considering the challenges of various types of projects.

6. Project Management
This free project management training course combines the essential elements of Project Management and Team Leadership into one course. Through class engagement and reflection, you will acquire further understanding of the responsibilities of leadership and become better prepared to apply this body of knowledge to the project environment. Upon completing this course, you will be able to learn about the role of high performance teams and leadership in project management, the tools and techniques for developing and strengthening high performance teams like scrum, and apply best practices to develop competencies and skills in planning and controlling projects to ensure successful outcomes for project stakeholders.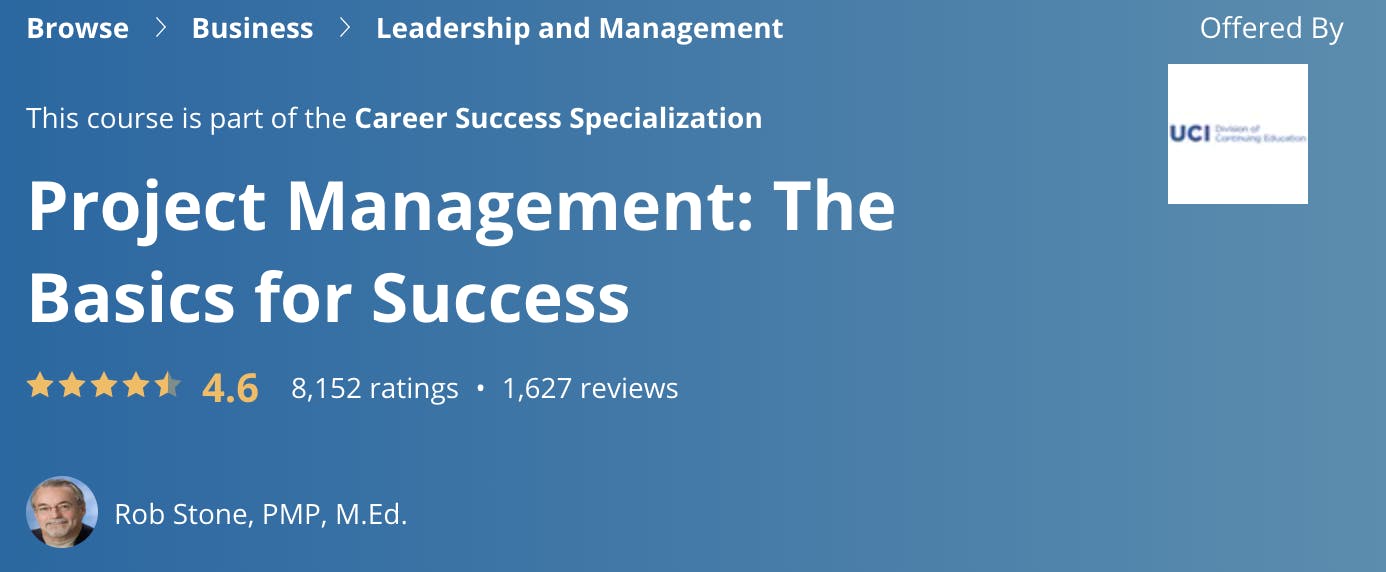 7. Introduction to Project Management
In the Introduction to Project Management course, you will learn practical ways to use project management skills, whether your project is large or small. Project management is an essential skill-set for many careers and in many contexts in our lives. Introduction to Project Management is an ideal starting point if you need to manage projects at work or at home, while not necessarily being a formally trained project manager. It is also suitable if you are considering undertaking a project in the near future and are seeking to learn and apply essential project management knowledge and skills.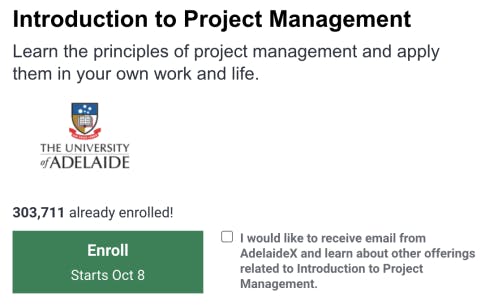 8. Project Management Basics
This online Project Management Basics course is ideally suited for anyone looking to better manage their projects for work, including junior project managers, business owners or those looking to start out in agile project management. In 15 engaging lessons, you will learn how to effectively manage projects from start to finish through a range of topics including project initiation and closeout, scope, constraints, schedule and resource planning, project execution and control plus more.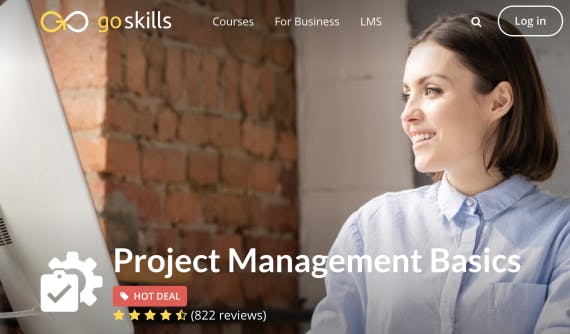 9. Project Management: Mastering Complexity
Underestimating project complexity is widely accepted as one of the major causes of project failure. When dealing with complexity, standard practices in the field of project management often overlook the inherent uncertainties linked to the length and scale of engineering and infrastructure projects and their constantly changing environments. The situation is exacerbated by rapidly evolving technologies and social change. In this Project Management: Mastering Complexity course, you will learn our approach to mastering complexity, focused on front-end development and teamwork, which will help you develop the skills you need to make timely actions in order to tackle complexities and improve your chances of project success. You will learn how to enhance your own capacities and capabilities by ensuring you have the necessary balance of complementary skills in your team.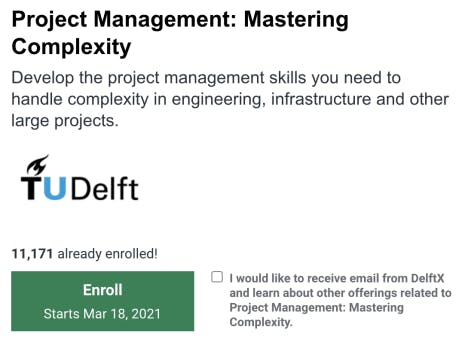 10. Project Management in Practice
This free online project management in practice course teaches you about monitoring, controlling and change management. It covers key principles and practices in project management where you'll learn how to improve project performance using project reviews, develop critical project management negotiation skills, and promote personal and organizational project management growth. This will enhance your project monitoring, analytics, and control skills.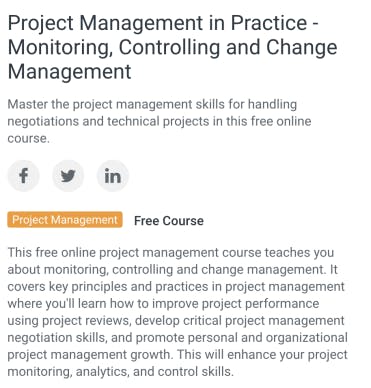 Are you interested in learning more about EdApp? Visit EdApp today to see how they can help. EdApp's multi-award-winning mobile app is the new standard in eLearning and offers support for microlearning, mobile learning, spaced repetition and gamification.
Check out an excerpt from EdApp's Communication course below.