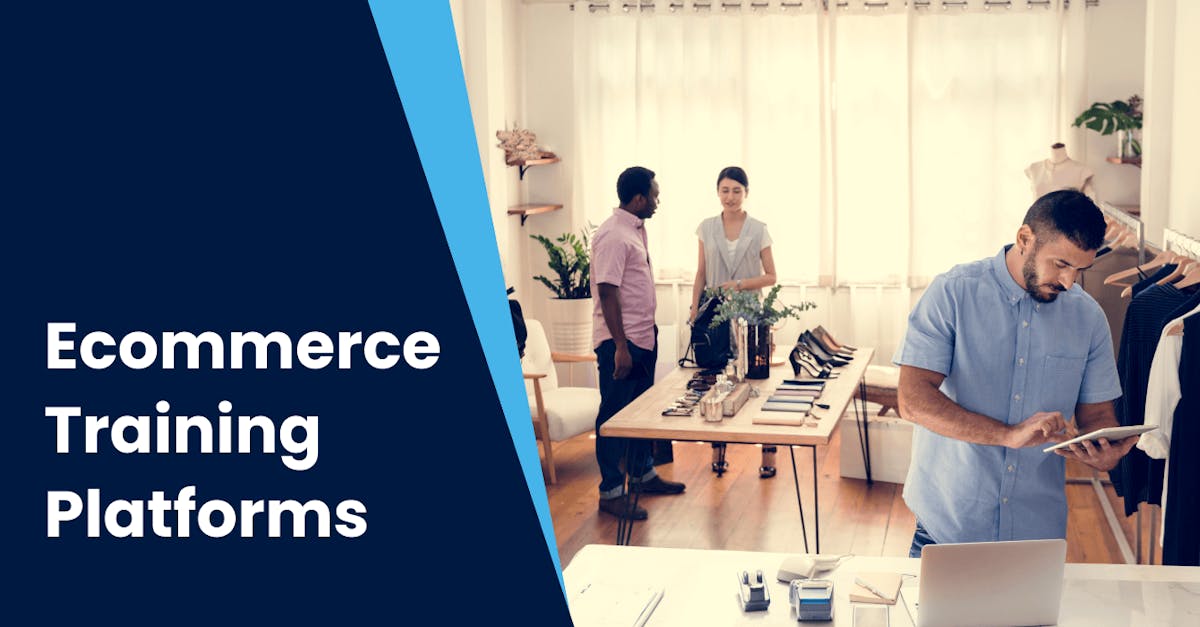 Ecommerce training platforms help train, upskill, and refresh your team with everything they need to know to succeed in their ecommerce roles. In this article, we'll look into the best ecommerce training platforms that will help you make your team's training journey a success.
1. EdApp 
EdApp is an all-in-one learning solution that includes a plethora of features that you'll find useful for your training. Its free course library contains the best e commerce course and training content, such as Digital Marketing, Email Campaigns and Strategies, and Social Media and Electronic Communication. These courses, aside from being free are all editable and customizable so you can tweak them to fit your training needs. EdApp's drag-and-drop authoring tool makes it a breeze to turn them into your own and you can also use this to create courses from scratch if you wish.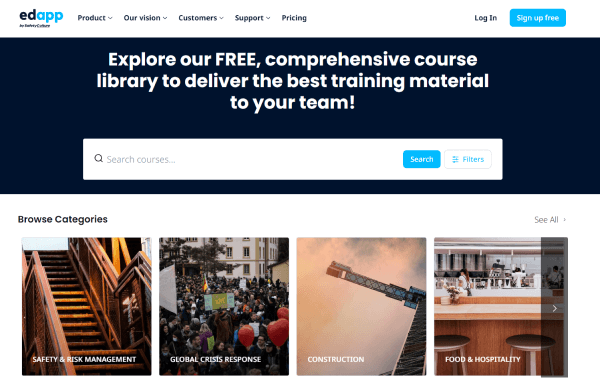 If you're pressed for time though, you can harness the power of a developer, designer, and training expert with EdApp's course creation services. You'll work with their customer success team and expert instructional designers to create impactful bespoke microlearning courses.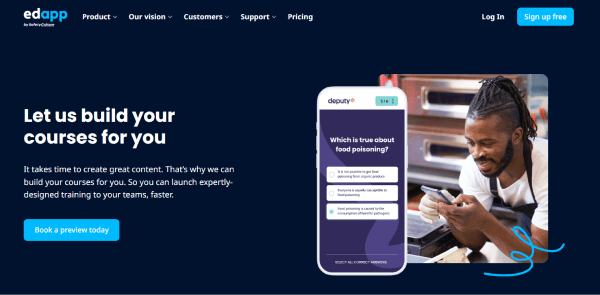 Since EdApp works on all devices, there's no need for your learners to be glued to their desks just to complete their training. With EdApp, put training in your team's pockets with its microlearning app. Here, learners can access bite-sized courses from their smartphones whenever they have a few minutes to spare. No internet required!
Cost: Free
Key features:
Course library

Course creation services

Mobile app
Sign up for Free and Start Using the Top Ecommerce Training Platform in the Market!
2. Arlo
Arlo is an ecommerce training platform that aims to empower learners through self-paced, live online, and remote learning. Through live and interactive webinars, eLearning modules, discussion boards, and archived videos, it extends training outside the office and makes it accessible anytime. You can also use Arlo to create modules that your teams can complete online at their own pace and from any location. You can also create and assign quizzes, record results, and monitor progress like other ecommerce training platforms.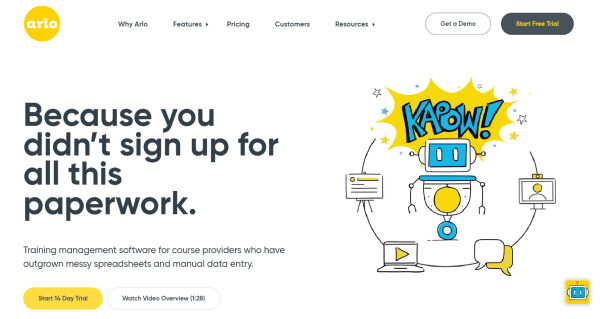 Cost: 94 USD/month
Key features:
Self-paced learning

Module creator

Quiz creator
3. Looop
With Looop, you can create ecommerce learning materials and automate training processes right on one platform. Just create or upload your content and have it directly delivered to your learners via team chat or even SMS. Through its user insights and analytics dashboard, you can see your teams' completion rates, learning gaps, and overall performance at a glance. With the help of these improved reporting features, you'll be able to evaluate the success of your training and deal with any learning difficulties that your employees may be experiencing.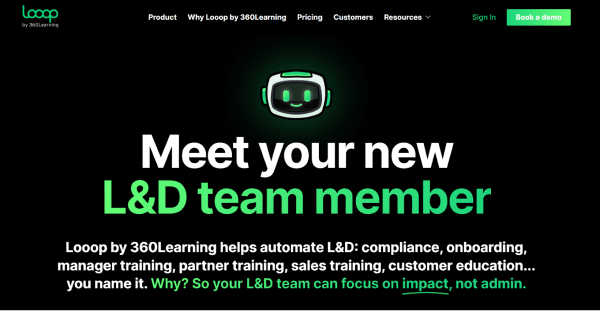 Cost: Contact for pricing
Key features:
4. GoToTraining
GoToTraining is an ecommerce training platform that makes your training journey easy. In preparation for creating your training program, you can create a custom registration with targeted questions to understand your learners' needs. Training can be self-paced with elearning courses or through live videoconferencing. You can also upload, arrange, store, and reuse your courses, exams, and recordings in this tool's content library. Additionally, GoToTraining comes with detailed reporting so you're always in the loop about your team's training progress and performance.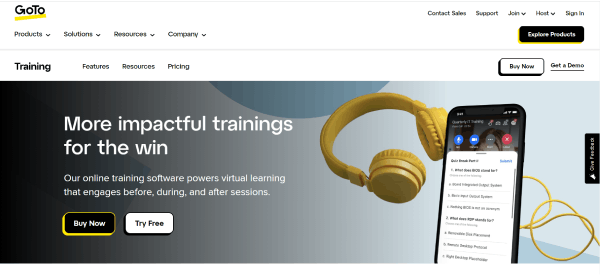 Cost: 109 USD/month
Key features:
Custom registration

Content library

Performance reports
5. Academy Of Mine
Academy Of Mine supports both virtual instructor-led training using webinars, and in-person instructor-led training, perfect for blended learning.  If you already have existing ecommerce training content, you'll be glad to know that you can easily convert PDFs, PPTs, videos, and other training materials into online courses. This platform also includes comprehensive learner insights so you can keep track of how learners perform on assessments and how engaged they are with their learning. You can also sell courses you create and connect them to your own ecommerce website.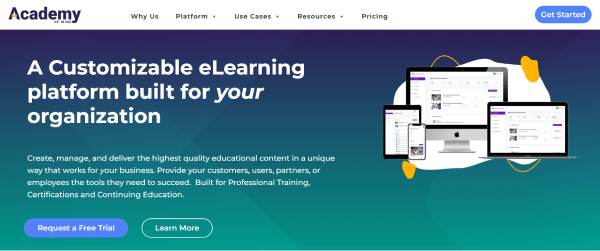 Cost: 599 USD/month
Key features:
Blended learning

Multimedia conversion

Learner insights
6. Learnworlds
Learnworlds is an ecommerce training platform that allows you to create and schedule the delivery of your training content with its built-in course player. You can create engaging videos by adding different interactions where learners can decide on the flow of their training. Additionally, there are note-taking and highlighting capabilities that your teams can use to review their lessons with ease. Like other ecommerce training platforms, LearnWorlds allows you to sell and promote your courses on their site. 
Cost: 24 USD/month
Key features:
Course player

Interactive videos

Course selling
7. Thinkific
Thinkific is a virtual training platform that offers simple and effective tools to build in-depth online courses in a variety of subjects, including ecommerce. Here, you can build courses and even market them for a profit. Through its detailed analytics, you'll be able to gain a deeper understanding of the behavior and interests of your learners. That way you can fine-tune your content to optimize the learner experience based on your training outcomes.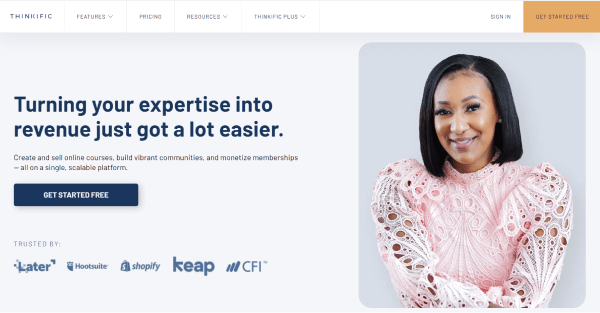 Cost: Free, paid plans
Key features:
Course builder

Course marketplace

Analytics
8. eloomi
eloomi is another great option to consider for your e commerce training. It offers a course creation feature that allows you to create training material in just minutes. You'll have pre-built templates and the option to add text, quizzes, images, videos, files, dividers, and more to create interactive content. To keep tabs on how your employees are faring for employee development, there are reporting tools at your disposal for performance tracking.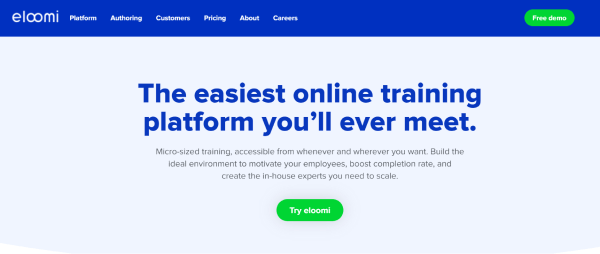 Cost: Book a demo
Key features:
Course creation

Prebuilt templates

Performance tracking
9. Rise Up
Rise Up is an ecommerce training platform that's focused on the blended learning process. It functions as a virtual campus that offers both face-to-face and eLearning training. This LXP platform places a strong emphasis on the community so there's an option to get peer assistance from forums and clubs with like-minded individuals from the same industry. Additionally, Rise Up offers an authoring tool to create your own training content if you'd like to create one from scratch.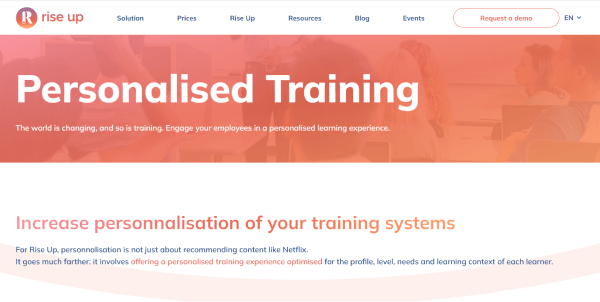 Cost: Get a quote
Key features:
Blended learning

Forums and clubs

Content authoring
10. Brainshark
Brainshark offers ecommerce training programs to improve the sales-readiness skills of your teams, particularly those who work with clients. Here, you can author training materials using its training module creator tool. This ecommerce training platform also offers video and text-based coaching assessments. Here, you can streamline the coaching process with its AI-powered scoring and feedback mechanism.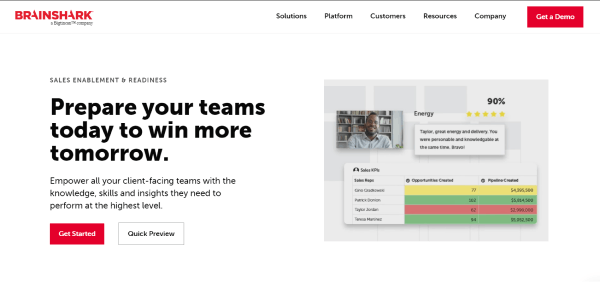 Cost: Get a demo
Key features:
Training programs

Content authoring

Coaching assessments