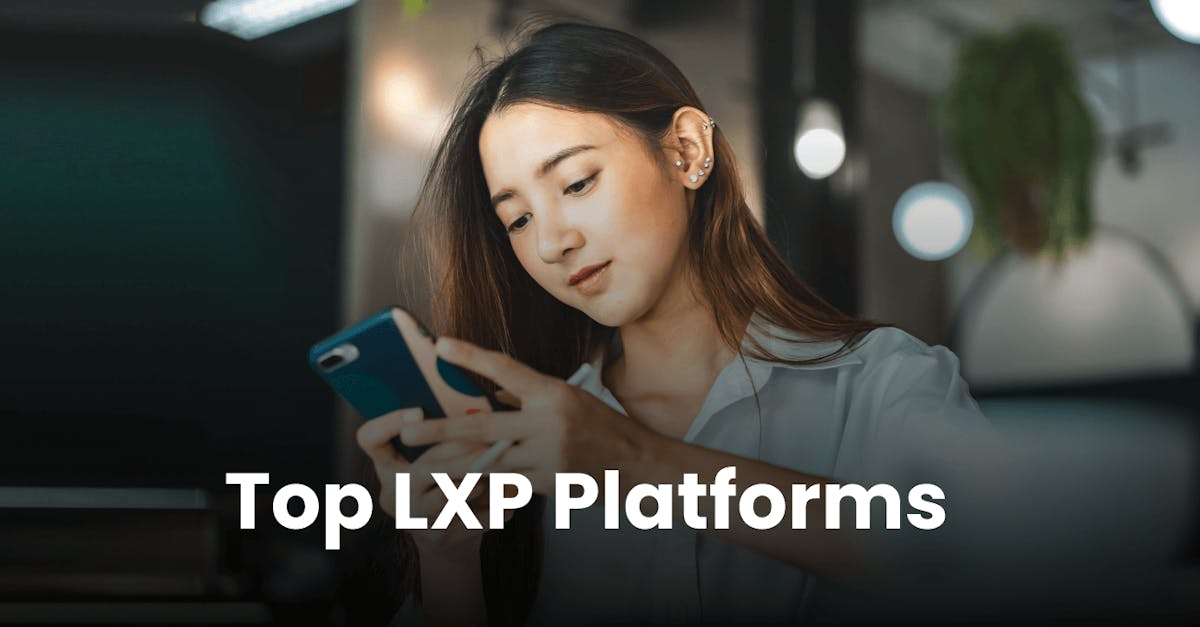 LXP platforms focus on the ability to deliver personalized learning experiences. They consider the learner experience instead of just managing and administering learning. In this article, we'll look at the top 10 LXP platforms to provide learners with training that they'll find meaningful and tailored to their needs and interests.
Top LXP Platform #1 – EdApp
EdApp is an award-winning and top LXP platform that's perfect for honing your team's talents based on their skill set. It has an editable content library with courses for different industries that you can choose from and customize. With over 80 microlearning templates, it's easy to create bespoke training without any coding knowledge or design skills thanks to its easy-to-use authoring tool.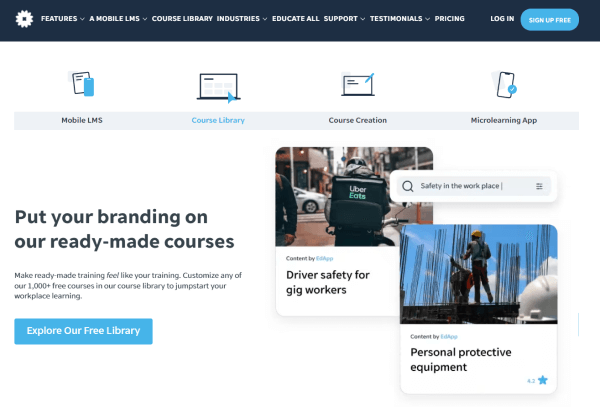 Additionally, EdApp's Discussion feature capitalizes on a forum-style exchange and helps learners provide richer contributions through video and image submissions for a more interactive learning experience. It allows learners to have the freedom to express their points in an open-ended format, which strengthens the connection between learners.
Cost: Free
Key features:
Editable content library

Microlearning templates

Discussions
Sign up for Free and Start Using the Top LXP Platform Today!
Top LXP Platform #2 – Raptivity
Raptivity is a cloud-based LXP platform that delivers distance learning through visually stimulating content that enhances the learner experience even from afar. It incorporates gamification in the workplace by including games in the training material, such as bowling and dart game quizzes. It also has an interactive template library suited for different learning styles that you can customize with various themes and colors. In this distance learning tool for teachers, learning programs can run on different devices, including mobile. This helps you focus more on your content as you're sure that it will seamlessly display your training materials regardless of the device used.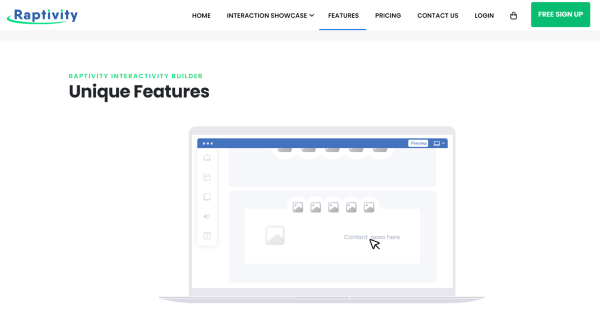 Cost: US 0/user/month
Key features:
Gamification

Template library

Mobile-compatibility
Top LXP Platform #3 – Unlock:Learn
Unlock:Learn is designed to tailor learning experiences for your team. With its user-friendly features and automated processes, it allows you to onboard and train your employees easily. You can also strategize your training by accessing relevant data reports through the LXP platform's analytics feature. Unlock:Learn promises 3 things: measurable performance impact, meaningful learning experiences, and sustainable operational excellence. They have integrated features such as role-based dashboards and custom-built data visualizations for learners all in one channel. You can also upload your content, create a learning path, launch a course, and view analytics and reportings with this platform. Lastly, they have an AI search that enables you to search all text within a course across multiple entries.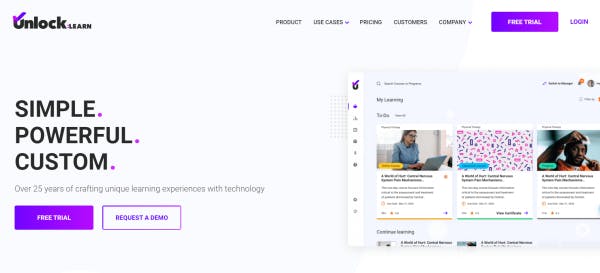 Cost: Free trial, paid plans
Key features:
AI chatbot

Role-based dashboards

Automation

Analytics & reporting
Top LXP Platform #4 – Tovuti LMS
Tovuti LMS is a top LXP platform that provides the tools needed to generate, deliver, and manage eLearning programs. Easy customization, interactive assessments, and certification are some of Tovuti's most distinguishable features that can help personalize the learner experience. Also, it offers many microlearning path options to make the training purposeful based on a learner's skills and knowledge. Handy integrations in this platform include an open API, Single Sign-On capabilities, and a Zapier integration to make cross-platform communication easier. 
Cost: Available upon request
Key features:
Interactive assessments

Microlearning path

Cross-app integrations
Top LXP Platform #5 – Degreed
Are you looking for a way to provide your employees with resources that will help them learn and grow in one place? Look no further as Degreed is another top LXP platform that has an abundance of courses, videos, books, articles, and podcasts to facilitate discovery and learning for your teams. This LXP platform also connects your teams to projects and assignments suited for their skills that can not only benefit your organization but also support their personal and career growth. By utilizing real-time data on each employee's unique strengths and interests, Degreed is able to match employees with asks, projects, stretch assignments, shadowing, or even mentorships to boost experiential learning.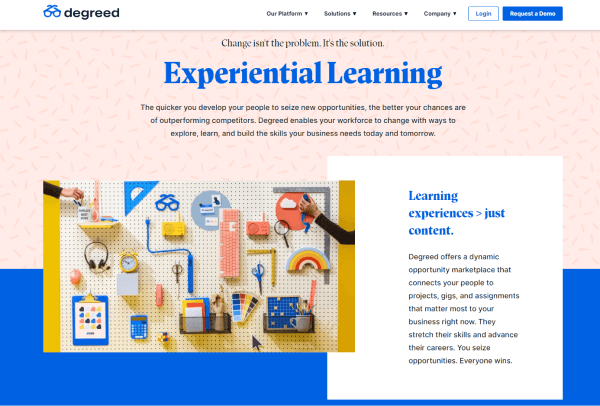 Cost: Available upon request
Key features:
Top LXP Platform #6 – Bridge
Bridge combines learning and performance management to yield a unified training experience.  Whether you are looking for career development or engagement measurement, Bridge works to meet your training needs. Remote workers are able to stay connected via virtual training activities and career development plans. HR or L&D professionals can author their own courses using the intuitive system. Additionally, this top LXP platform has a Bridge Advanced Video feature through effortless video capture, which comes with auto-captioning and translation, multimedia file sharing, time stamped commenting, and more.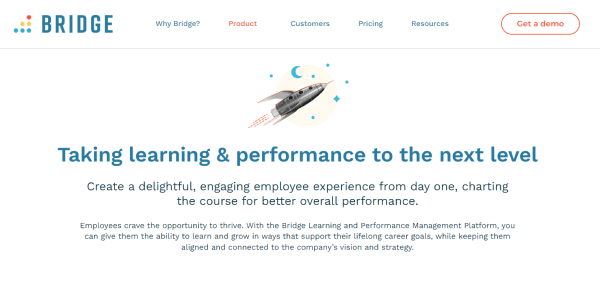 Cost: Starts at US /user/month
Key features:
Virtual training

Career development plans

Bridge Advanced Video
Top LXP Platform #7 – EdCast
EdCast is an AI-powered LXP platform designed to help different organizations scale employee training and learning engagement with a strong commitment to performance improvement. Using employee performance data from EdCast LXP's detailed analytics reports, you can create customized learning paths and provide upskilling courses for each learner enrolled in your system. Through the tool, you can also encourage your employees to engage in social learning activities by sharing procedural knowledge through video or article content.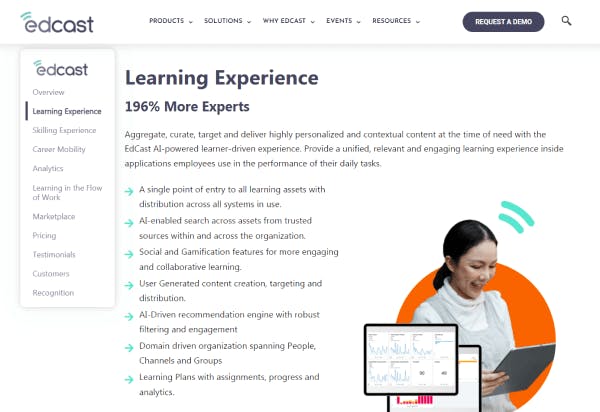 Cost: Available upon request
Key features:
Analytics

Customized learning paths

Social learning activities
Top LXP Platform #8 – Stream
Stream is another top LXP platform that aims to provide learners with a personalized on-demand learning approach. It allows you to conduct mentoring, host a webinar, or buddy up with learners for a unique learning experience. Its content services include off-the-shelf editable learning content and you can even have them create custom content as well. With Stream's deep search, your learning content automatically transforms into performance support materials.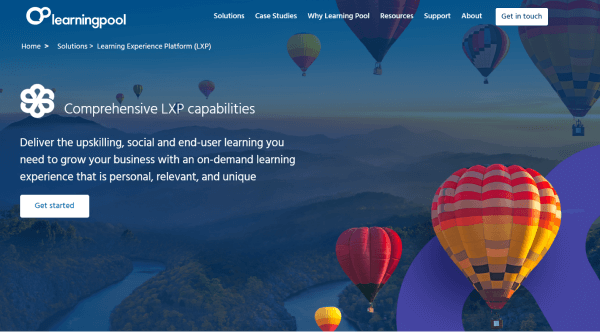 Cost: Available upon request
Key features:
Deep search

Webinars

Learning content
Top LXP Platform #9 – LearnWorlds
LearnWorlds is built to make distance learning more engaging and interactive for your learners, instead of providing them with typical modules created in a PDF file or PowerPoint presentation. With this distance learning tool for teachers, you can easily create your training content and use the platform's eye-catching themes and styles to turn it into a visually engaging online course that your learners will surely enjoy. You can also combine your lessons with self-improvement quizzes, formal tests, and assignments to drive their confidence and boost learning retention. If needed, you can create a beautiful course player and schedule the delivery of these training materials with ease. To improve their scanning and reading, this platform also allows casual reading with note taking and highlighting.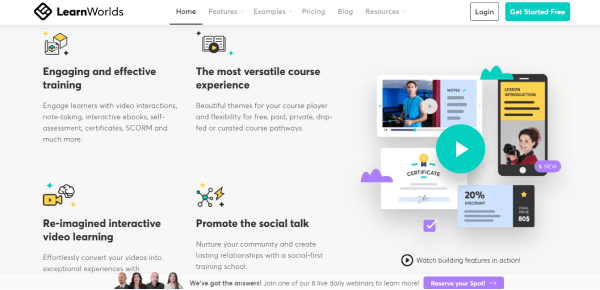 Cost: US 4/month
Key features:
Top LXP Platform #10 – Yarno
Yarno is a top LXP platform designed to effectively provide tailored learning experiences and have employees reap the benefits of online learning. It features a learning library where your training teams and learners can store all your training content for easy access. It also includes a quiz feature called Embed that allows you to identify knowledge gaps and reinforce information. In this platform, training is delivered through interactive questions to further strengthen the recall of information. Answers are supported with informative explanations where they can receive feedback from their answers. You can also work with a team at Yarno to help you create custom-made videos to level up your training.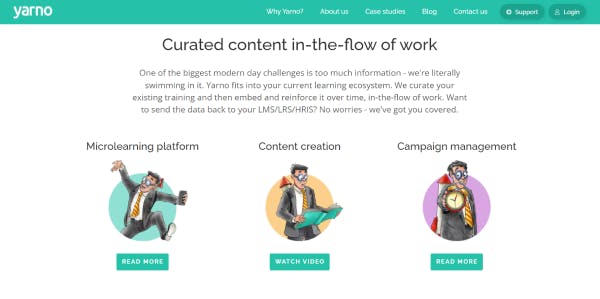 Cost: Available upon request
Key features:
Learning library

EMbed quiz

Custom video creation