Crane operators are responsible for maneuvering heavy cranes to lift and transport materials and large equipment on the sites in the manufacturing and construction industries. Operating huge machinery such as cranes is a risky role that poses an inherent danger. When oversights take place or some safety protocols are not followed, accidents happen which cause injuries or fatalities on the worksite.
But, these dangers are preventable with proper preparation of equipment and crane training for operators. Implementing and reinforcing safety protocols through crane training help mitigate accidents and injuries. Through crane training, you're able to prioritize the safety of your workforce as well as make operations easier for them. 
What is crane training?
Crane training provides your crane operators a solid foundation of knowledge through comprehensive discussions on proper operation, inspection, and maintenance of different types of cranes, such as an overhead crane, truck cranes, telescopic crane, or a mobile crane. Aside from understanding key concepts like knowing the parts of a crane (such as knowing the difference between a hoist and lifts), operating a crane, and learning proper crane operation procedures, crane training also helps crane operators recognize dangers and reinforces safety measures to avoid accidents. 
Importance of proper crane training
Proper crane operator training is an important aspect of a heavy equipment operator or crane operator's onboarding to ensure an overall smooth and safe operation. It improves the safety of individuals on the worksite and also ensures that project timelines are not disrupted by any emergency due to mishandling of equipment. 
Well-informed crane operators are able to perform their tasks professionally. Instead of relying on their instincts, crane training helps operators take necessary actions according to operational standards and best practices during critical situations or when operation issues arise on the worksite. This includes learning about proper lifting, crane service, and usage of hand signals.
The nature of crane training involves risks that won't only cost financial and manpower loss for businesses in the construction and manufacturing industries but can also result in fatalities when not prevented. By implementing crane training programs, you're able to foster a safe environment for your staff on the worksite, as well as improve the operational tasks of your crane operators resulting in a smoother operation process.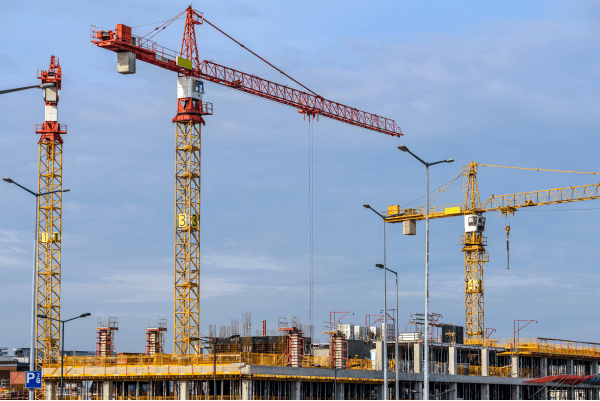 What are the training requirements to be a crane operator?
Crane operators are skilled equipment operators specializing in operating and handling various kinds of construction and manufacturing machinery, such as tower cranes, mobile cranes, and boom trucks. To guide you, we've listed the basic requirements to be a crane operator or a rigger. 
Education:

An aspiring crane operator needs a high school diploma to apply for an apprenticeship. It's also a good practice to take crane training courses as a headstart before taking an apprenticeship. You can access both free and paid courses online from accredited training institutes and even

online training software

, such as

EdApp

.

Apprenticeship:

Actual crane training begins with an apprenticeship under the supervision of an experienced crane operator. Through on-the-job training, apprentice crane operators are able to put their knowledge into practical application and develop their important skillsets for the role.

Certification:

Successful completion of apprenticeship means that an apprentice crane operator is eligible to take a certification. Certification for the specific crane operation area is required by OSHA for a crane operator or mobile crane operator. Crane operator certification can be earned through Crane Operator Courses or a certification program that usually ranges from four to eight weeks, as well as passing a written test and practical examination. Some states and cities also require a local license to be eligible as a crane operator. 
Reinforce key concepts and best practices with EdApp Crane Training Microlearning Courses
As a training consultant in the manufacturing or construction industry, the safety of your staff in the worksite is your highest priority – especially with roles such as crane operators who are always at risk of possible accidents or injuries. To ensure smooth operation in the worksite, it's important to reinforce key concepts, standard procedures, and safety protocols by deploying courses such as: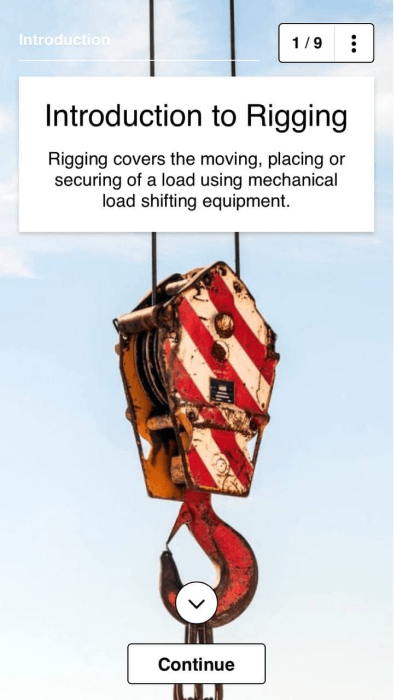 These courses are available for free in EdApp's course library making them readily deployable to your team. This LMS's courses are editable so you can easily tailor them to your company's specific standards and practices. No need to start from scratch! But, you can also deploy additional training materials for your crane operators through EdApp's built-in and easy-to-use authoring tool that enables you to create engaging bite-sized microlearning courses. 
Through microlearning, courses can be completed in just a couple of minutes making it accessible and convenient for your crane operators. This learning approach prevents cognitive overload by focusing only on the important concepts that are presented through interactive concepts and gamification features.
EdApp is a mobile-first training platform that perfectly adapts to the agile lifestyle of your staff. Learn more about how to make a convenient and effective training program for your team by signing up for free.