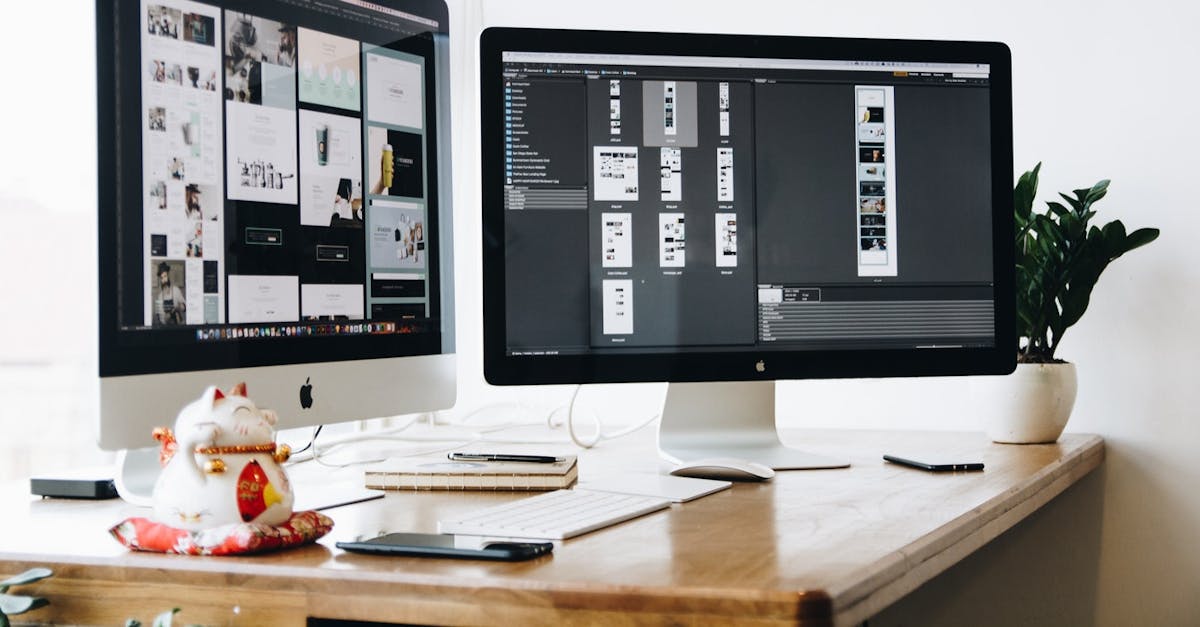 There are many reasons why training consultants are now shifting to online training from traditional learning. First, online training gives you the ultimate flexibility to train and learn anytime and anywhere. It's also much less expensive than hosting a seminar or conference since you no longer need to book a venue and pay for a sound system or screen projectors. Online training has become even more relevant today when everyone was forced to work remotely due to COVID-19.
But to successfully implement your online training, you need an online training platform that will help you manage your courses and track your employees' learning progress. There's no need to spend hours doing your research. We've collected the best online training systems along with their key features so you can find the tool that best suits your needs and preferences. Scroll down to learn more.
1. EdApp
EdApp is currently at the forefront of its competition, being the best online training platform in the market today. With its flexible and adaptive learning tools, it's easy for training managers to deploy and manage online training courses.
Among its key features is its template-driven authoring tool, which anyone can use to build beautiful, interactive course content, even without any technical expertise. It is so simple and intuitive that all you need to do is choose the best e learning template that fits your training objectives and simply copy and paste your content. You can also directly add any relevant news and updates in just minutes and not days.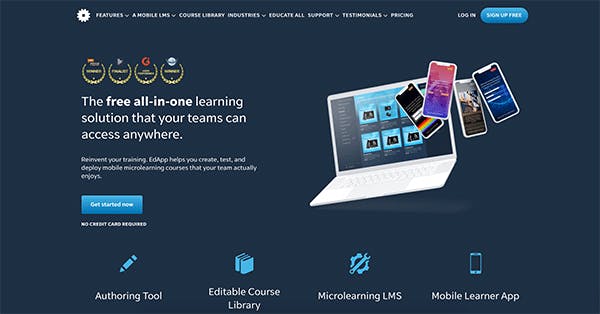 EdApp also takes pride in its wide range of comprehensive microlearning courses authored by some of the most reputable brands and well-thought leaders, like Pernod Ricard, Marley Spoon, UNITAR, and more. The lessons are structured in easy, digestible small pieces to keep the learning retention of your busy employees at higher levels.

What's more, this online training platform is built with an advanced analytics suite that helps you track the learning progress of your employees. You can monitor how many people have unlocked and completed their training, as well as determine how often they use the app.
Cost: Free

Highlights: Template-driven authoring tool, comprehensive microlearning courses, advanced analytics suite
is known for its unique and engaging tools that transform an otherwise boring and demotivating experience. From registration to content sharing, tests and polls, it has the simplest solutions guiding you before, during, and after training sessions.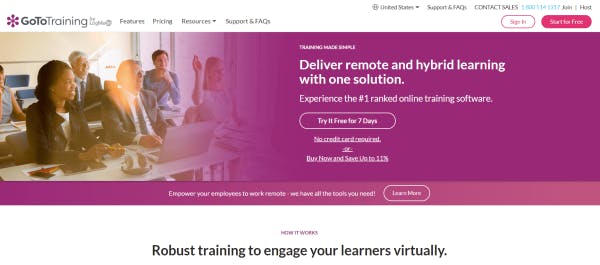 Before you start to build your training, you can use this platform to create custom registrations with tailored questions. From there, you can use the data to understand your learners' needs and preferences and then decide and create the best training courses that will work best for them. You can improve knowledge retention through activities and small group interactions, and then use tests and polls to assess the learning progress of your learners. As for the content sharing, you may opt to send your course catalogs for self-paced learning or you may also host an online conferencing to ensure direct communication with your team. 
After each session, you may upload, organize, store, and reuse your courses, tests, and recordings that your learners can access even after their training. Detailed reporting on attendance and training progress will be available to help you check the effectiveness of your program and the knowledge retention of your participants.
Cost: 09.00 USD per month

Highlights: Custom registration, course creation, tests and polls, self-paced content sharing, online conferencing, detailed reporting
3. LearnWorlds
Making your information more engaging and interactive, rather than providing them a static module created in a PDF file or PowerPoint presentation, is a great way to capture your learners' attention. This strategy is not only possible but easily attainable . Just write your content once and use this platform's eye-catching themes and styles to turn it into a nice-looking online course that your learners will surely enjoy. You can also combine your lessons with self-improvement quizzes, formal tests, and assignments to drive their confidence and boost learning retention.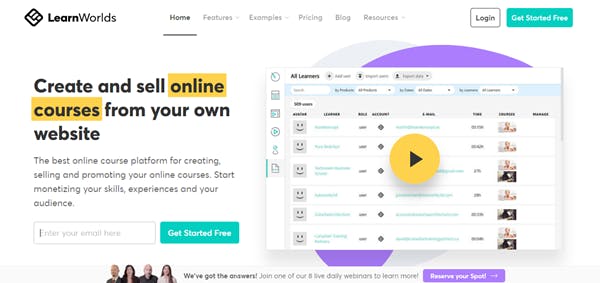 If needed, you can create a beautiful course player and schedule the delivery of these training materials with ease. To improve their scanning and reading, this platform also allows casual reading with note taking and highlighting. 
But apart from the usual elearning courses, you can also create training videos through its easy-to-use video editor. To make it more interactive, you may opt to include transcripts & subtitles, screencasts, navigation, and even end questions in your clips. LearnWorlds also allows its users to sell and market online courses, which is perfect if you want to make a profit out of your learning materials. 
Cost: Pricing starts at 4 USD per month

Highlights: Course building with eye-catching templates, quizzes, tests, assignments, beautiful course player with note taking and highlighting, video editor with interactive elements, course selling
4. Ruzuku
Another great platform to consider is Ruzuku, built with a powerful yet clean and user-friendly interface that allows you to create and run great online courses without overwhelming designing tools and options. They are all yours to edit – you can customize the design to fit your brand and incorporate content suited to your students' learning objectives. If needed, you can also add PDFs, Word, PPT, and other files to your course content and make them downloadable for self-paced learning. These courses will never go to waste because you can always copy and reuse them, and distribute them as refresher material for your learners.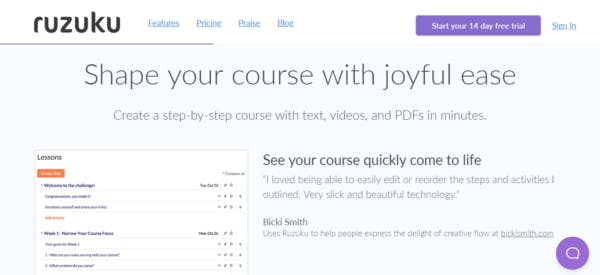 But it's not just limited to course creation and deployment. You can also run webinars and present training with slides. Your audience can even participate directly using the chatbox. This strategy dramatically increases participation and engagement rates. There's a course health feature too, which allows you to keep track of your team's learning progress, including activity completion and any queries or comments they may have about their courses. Any updates made by participants will be sent to you automatically via email.
Cost: Pricing starts at 4.75 USD per month

Highlights: Clean and user-friendly interface, custom branding, self-paced learning, webinars, chatbox, course health feature
5. Arlo
Arlo is an automated training platform that can help simplify and automate your workforce training initiative. Here, you can create and deliver blended learning courses and online modules, store training resources, and automatically schedule and run live webinars. Discussion forums, assignments, and quizzes can also be activated to increase engagement and productivity from the learners' side.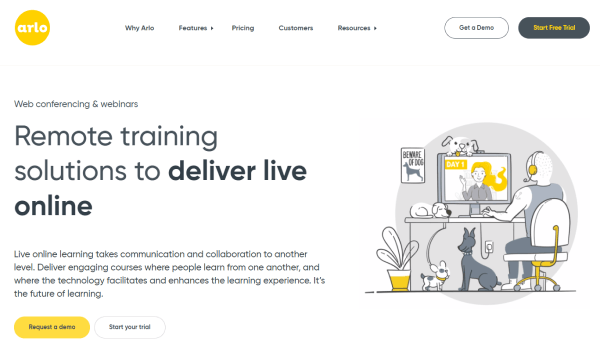 Unfortunately, Arlo only works through a monthly paid subscription. Users, however, are allowed to try all its key features for 14 days, all free with no credit card needed. 
Cost: Pricing starts at $ 79 USD per month

Highlights: Simplified training management, cloud storage, automated schedule, live webinars, discussion forums, assignments, and quizzes
6. Trainual
Onboarding and training employees have never been quick and easy with Trainual. This online learning platform has more than 150+ pre-built templates universal to different business industries, like a sales handbook, hiring checklist, orientation outline, and so many more. It also offers 30+ free Standard Operating Procedure (SOP) templates that you can use to document your organization's policies and procedures. All you need to do is a little adjusting to ensure that the content fits the internal tasks and processes you have at your company.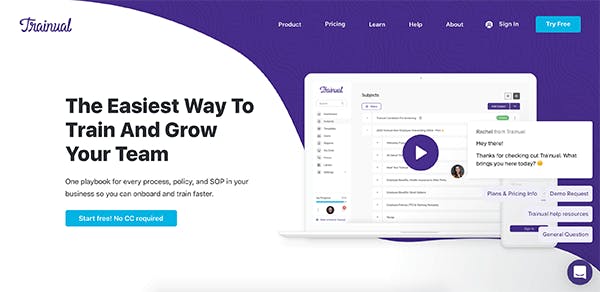 Although optional, you may also opt to store and organize your useful documents in Trainual's library section. This way, all courses will be easily accessible, searchable, and trackable by users anytime needed. 
7. EasyWebinar
EasyWebinar is focused on providing a hassle-free platform for training managers who believe in the power of webinar training and remote conferences. There are no delays or buffering, just pixel-perfect, high-quality communication with your team. Screen recording and archiving are also enabled, allowing your learners to view and watch the video content even after the live webinar has already concluded.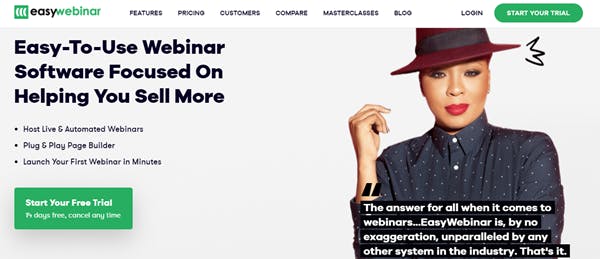 While it works like your regular Zoom account, this platform allows up to four hosts and moderators at a time. There are also multiple packages available where you will benefit from a few engagement tools, detailed webinar analytics, and live streaming on Facebook or Youtube.
Cost: Pricing starts at 8 USD per month

Highlights: High-quality streaming, screen recording and archiving, multiple presenters, detailed webinar analytics, Facebook or Youtube streaming
8. CreateLMS
CreateLMS is another great online training platform that you can use to onboard your new employees faster and train your employees more efficiently, all without breaking the bank. With its advanced course builder tool and skills assessment tool, you can create and manage elearning courses and assessments, webinar, blended training, all with ease. The best part? You can also keep your team engaged by mixing these formats – instructor-led training and assessments with self-paced courses or video and PPT with quizzes. To save yourself from the burden of building your training programs, feel free to grab some of their ready-made courses developed by their content partners and directly deploy them to your team.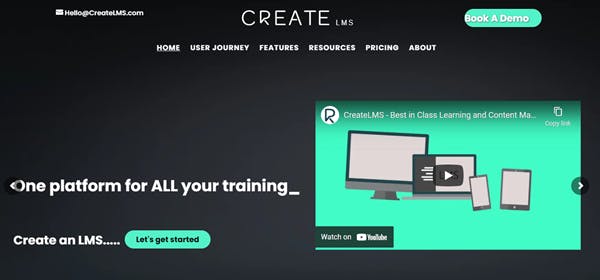 Perhaps you have bandwidth issues hindering your online training? Worry not, this platform got you covered. Thanks to its Network Attached Storage (NAS) solution, users can store, archive, and access all training content in one centralized location even without the use of a internet gateway.
Cost: 2 USD/user per year

Highlights: Course builder, ready-made courses, Network Attached Storage (NAS)
9. Degreed
Another versatile online training platform is Degreed, designed to provide a fluid skill-development experience for small and large-scale organizations. It integrates all learning materials that your workforce needs to grow and upskill – online courses, videos, podcasts, news, and blog articles. And by using its real-time data on each employee's unique strengths and interests, these resources will automatically find the right team who needs them the most.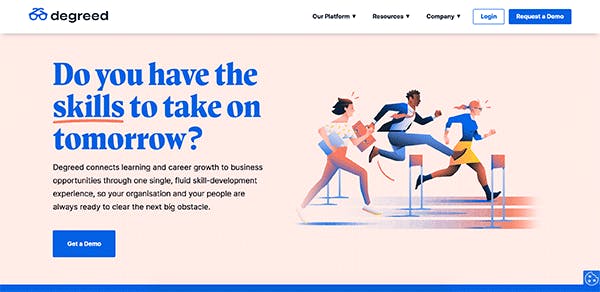 Another bonus feature is that you can also use this platform to reach your channel partners and external audiences and deliver these learning materials. This way, you can rest at ease knowing that their knowledge and skills are also in sync with your company's vision and objectives.  
Cost: Pricing available upon request

Highlights: Wide range of learning materials in different formats, real-time data insights, automatic deployment, resources extended to external audiences
10. Kajabi
If you are looking for an online tool that can help you develop online training courses while also making money out of them, then Kajabi is among your premium choices. There are so many things that you can do with this platform. Thanks to its smart yet easy-to-use product generator, it's easy to build polished, profitable digital courses and launch them out into the market fast. You can also create membership sites where you can provide more exclusive content for your target audience. Forget about the hassles of worrying about coding or programming. All the tech issues are covered by Kajabi so that you can just focus on growing your business.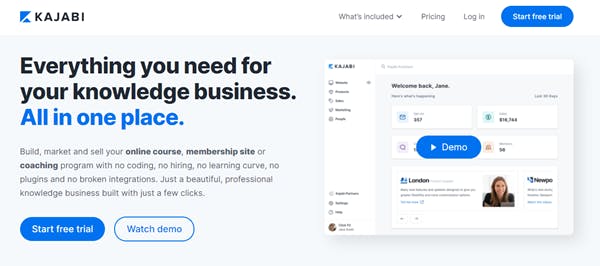 This tool also hosts its very own Kajabi University where you can find a range of training courses, although they are intended mostly for digital entrepreneurs.
Cost: 09.00 USD per month

Highlights: Custom registration, self-paced content sharing, online conferencing, detailed reporting
11. Learner Mobile
Learner Mobile is an online training platform built for modern learners with mobile accessibility in mind. With its built-in authoring tool, you can easily build courses and update content whenever you need it. Through its predictive algorithms, learners will have access to personalized training programs and will be directed to training that's relevant to them. Learner Mobile provides real-time data on different metrics for learning measurement so you're never amiss on each individual's performance.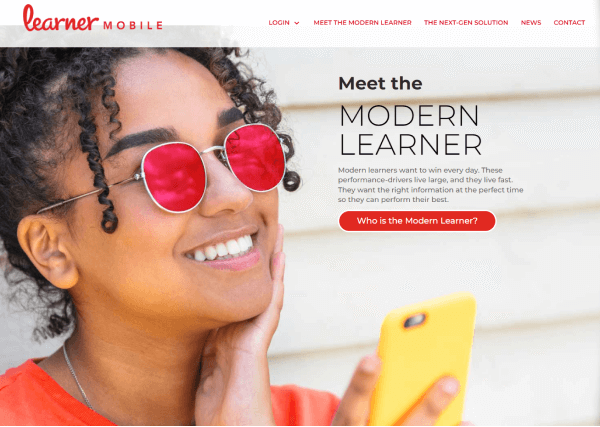 Cost: Available upon request

Highlights: Mobile accessibility, Built-in authoring tool, Predictive algorithms, Performance insights
12. Traineaze
Traineaze is another online training platform that's focused on ease of use and includes all of the tools you'll need to make your online training successful. You can create unlimited training content from existing materials that you have such as PowerPoint slides, videos, PDFs, images, audio, and more. Learners can also enroll themselves in any course available in Traineaze's library and you can then award certificates as they go beyond the extra mile to complete unrequired training. To get insights on your team's performance, progress reports are delivered to your inbox daily.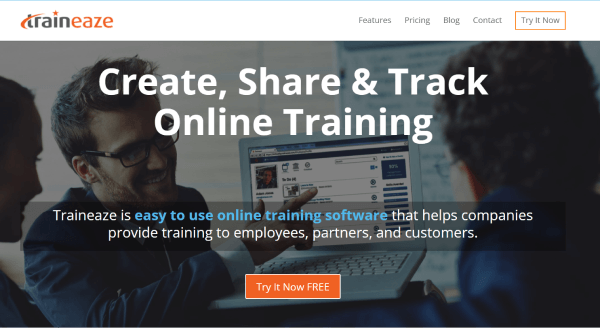 Cost: Starts at US 9/month

Highlights: Course library, Unlimited training content creation, Progress reports