Canvas LMS is well-loved because of its course creation tools and customized learning pathways that make learning fun and engaging. But here's the thing. It's incredibly buggy and not exactly as user-friendly as reviews in the eLearning Industry suggest. If you're here to find a better Canvas LMS alternative, we've got your back! Let's look at other apps and software that we think can better meet your elearning needs than this LMS tool. 
Canvas LMS Alternative #1 – EdApp
EdApp ranks as the best Canvas LMS alternative because of its array of powerful tools that are far easier to use. The best part? You can take advantage of most of its course authoring features for free, with no credit card needed.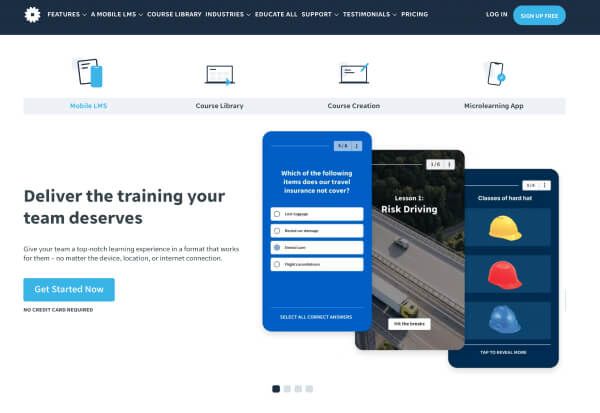 Only a few LMS come close to the quality of its free course authoring tool, which, unlike Canvas LMS, can publish your courses in just minutes. There's no learning curve either. All you need to do is pick from its intuitive templates, add your content and brand it, and you're all good to go. Embracing mobile technology, the content can be delivered to learners through their smartphone devices. It also sports a cloud-based delivery system, which means all its courses are accessible 24/7.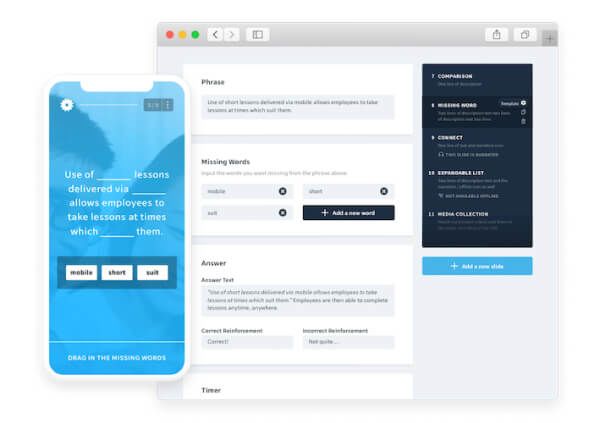 There are many interactivities that you can also use to make your courses more fun and engaging. EdApp sports gamification templates that can turn your core content into a smartphone game like Jeopardy, Letter Jumble, Next in Order, and so much more. Make everything even more exciting by turning on timers and scoring. Leaderboards can also be activated to foster healthy competition and bring out the best in your teams.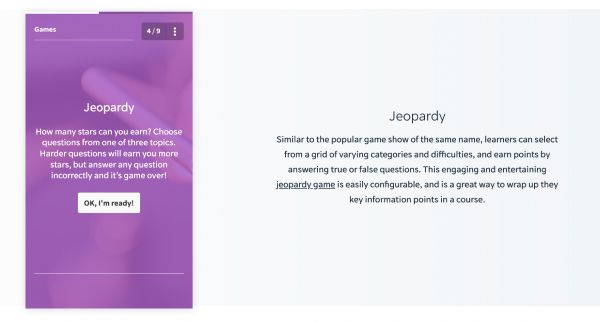 Last but not least, EdApp also takes pride in its top-notch analytics suite, which performs better than the tracking features of Canvas LMS. Here, you can monitor completion rates, engagement duration, as well as learner course behavior, like the time it takes them to progress past each slide. Not to mention, it can also give you actionable reports where you can choose from a number of options to re-engage your team members.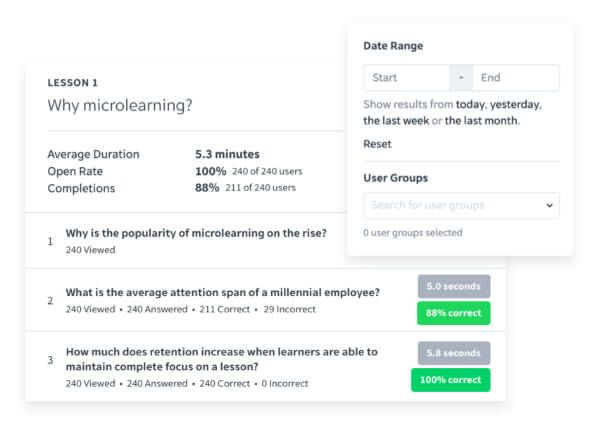 Cost: Free
Key features: 
Authoring tool

Mobile-friendly courses

Cloud-based delivery system

Gamification features and templates

Analytics suite with actionable reporting
Sign up for Free and Start Using The Best Canvas LMS Alternative!
Canvas LMS Alternative #2 – Blackboard
Blackboard makes our list of Canvas LMS alternatives because of its advanced tools and features addressing pretty much everything you need from an LMS tool. Here, you can craft courses and also make use of templates, so you no longer have to start from scratch. Similar to Canvas LMS, assessments and quizzes can be added for better learning retention. Responsive and mobile-friendly, learners can even learn on the go through Blackboard's smartphone app. And more to that, this software is equipped with a smart analytics tool that will track your team's progress and pinpoint knowledge and skill gaps. You can also use this to identify which learning materials work best and which need to be improved.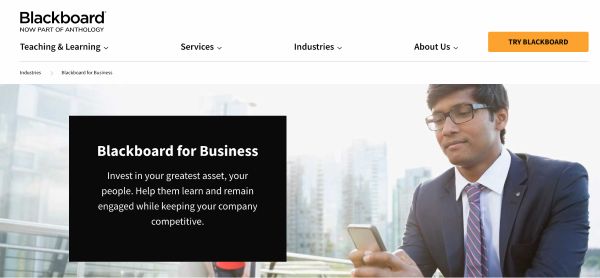 Cost: Available upon request
Key features: 
Course creation

Assessments and Quizzes

Mobile app

Analytics tool
Canvas LMS Alternative #3 – Knowmax
If you're looking for a Canvas LMS alternative that can serve both as a learning management system and a knowledge management system, Knowmax is a good option. It comes with a content design and change management tool, which can help you design simulative visual content that's far more interactive than simple text-based learning materials. A quiz management system is also available with detailed reporting to determine knowledge gaps and learning challenges. As a knowledge management system, Knowmax also works as a single repository where you can store, access, and manage all your business information in one place. 
Cost: Available upon request
Key features: 
Knowledge management system

Content design and change management 

Quiz management system with detailed reporting
Canvas LMS Alternative #4 – Rippling
Rippling is well-known for its easy-to-use tools and automation functionalities that make it easy for enterprises to train and onboard teams. What's great about this training platform for businesses is that you can create courses from scratch, as well as upload existing SCORM content in case you're already using another elearning software product. It also offers a course catalog, which houses 1000+ pre-built courses that you can immediately share with your team. Unlike Canvas LMS, Rippling has an intelligent course assignment that can deliver your courses at the time arranged by you. All you need to do is set up your enrollment once, and this platform will take care of the rest. Also, course reminders can be activated if you want to make sure that your learners are taking and completing their training as needed.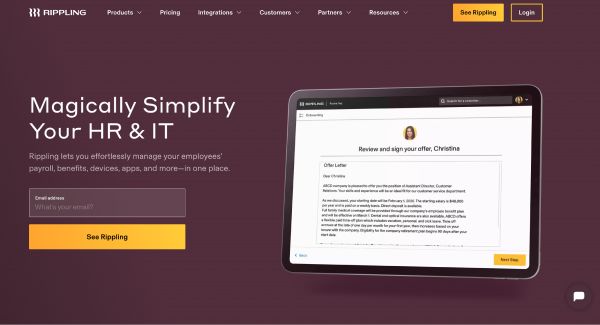 Cost: $8 USD per user per month
Key features: 
SCORM content creator

Course catalog

Intelligent course assignment

Course reminder
Canvas LMS Alternative #5 – ProProf Training Maker
Similar to Canvas LMS, ProProf Training Maker also offers an easy-to-use content creator with ready-made templates. Here, you can create new content that can be customized according to your brand guidelines. You can reinforce interactivities like videos and images to make your training more engaging for your learners. Activate its gamification elements like brain games and quizzes to test your learners' knowledge levels in a fun and exciting way. ProProf Training Maker is also built with an AI-powered reporting function, which can give you insights into your learners' course participation, progress, engagement, and knowledge gaps.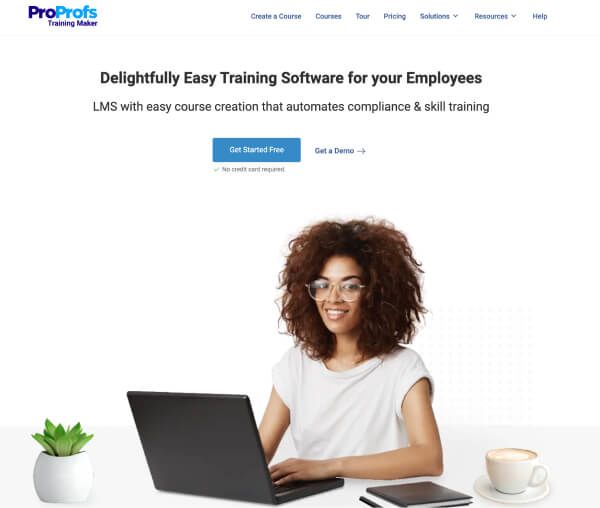 Cost: $1 per learner per month
Key features: 
Content Creator

Gamification elements

AI-powered reporting function
Canvas LMS Alternative #6 – Lectora
Lectora is an elearning authoring platform that's part of eLearning Brothers' LMS package. It works like a course-authoring playground where you can have fun creating online courses and designing them to your liking. You can enhance them with images, audio, and video, add screen recordings or short video clips, or use animations for higher learning engagement. If you want to spice it up even further, this Canvas LMS alternative can be used with CenarioVR®, a VR authoring tool that's also offered by eLearning Brothers. This tool can help you build immersive learning scenarios to extend reality experiences for your learners. Feel free to embed them within your Lectora courses to secure the best learning process for your learners.
Cost: Starts at $899 USD per year
Key features: 
Course authoring playground

Engagement elements

VR authoring 
Canvas LMS Alternative #7 – Intellum 
Intellum gives a wide range of tools that can help you create and manage a different content and make sure that your team and partners are aligned with your products and services. Here, you can create blog post-like content with its easy-to-use authoring tool, Evolve. Bring life to your courses with quizzes, surveys, and assessments, and even better, incorporate creative elements like flip cars, carousels, responsive tables, and interactive videos. This ensures highly engaging learning experiences. Unlike with Canvas LMS, you can also mix and match these assets into individual or group paths that will allow your learners to easily navigate the topics they need the most.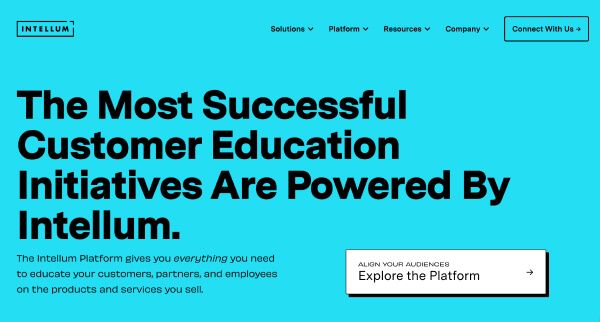 Cost: Available upon request
Key features: 
Evolve authoring tool

Highly engaging elements

Individual or group paths 
Canvas LMS Alternative #8 – Violet LMS
Similar to most Canvas LMS alternatives on this list, Violet LMS is also equipped with a powerful content authoring tool designed specifically to simplify the process of creating courses. Without any coding expertise, you can easily design your courses and quizzes and improve their engagement with game elements like points, badges, and leaderboards. Course completion certificates are also available to motivate your learners into completing their courses. Combine all your training modules into a role-specific learning path to help learners better understand their learning goals and have a more structured training experience.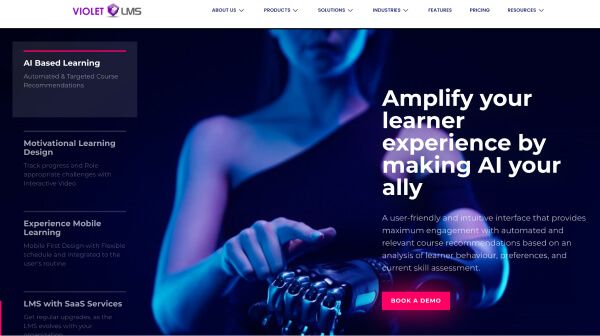 Cost: Available upon request
Key features: 
Content authoring tool

Game elements

Course completion certifications

Role-specific learning paths
Canvas LMS Alternative #9 – Abara LMS
Creating and managing your training courses is just a walk in the park with this Canvas LMS alternative, Abara LMS. This tool allows you to easily build your courses from scratch and use your existing content. If you already have your mandatory training materials or compliance training examples on hand, everything can be easily uploaded and managed on the Abara LMS platform Basic settings like keywords, categories, descriptions, and certifications can be added to each course file to ensure a seamless and more enhanced learning experience for your learners. This platform also offers a scheduled delivery option, so you no longer have to spend extra time sending your courses. Simply set your preferred delivery frequency, and Abara LMS will email the training materials to your learners automatically. Activate push notifications so you'll have peace of mind that your learners will never miss new training content or course updates.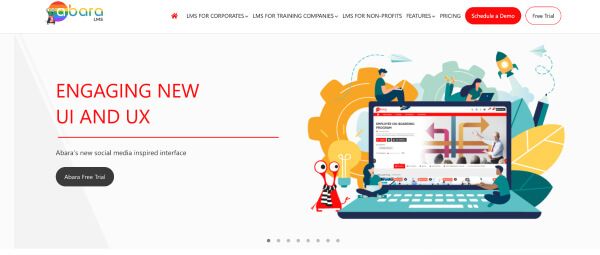 Cost: Starts at $420 USD per month
Key features: 
Course builder

Flexible course settings

Scheduled course delivery

Push notifications
Canvas LMS Alternative #10 – Vowel LMS
Vowel LMS has earned the trust and confidence of corporate trainers because of its flexible learning solutions, which give them ultimate control over their training programs, whether online or in person. For online training, they have an HTML5 drag & drop authoring tool that can be used to design courses, or even reuse existing training materials in just a few easy steps. Whether you need to create diversity and inclusion training, crisis management courses, or any compliance training examples, this tool can defnintely help out. As for instructor-led or classroom training, this Canvas LMS alternative offers a flexible scheduling system and automated reminders, removing all the headaches of arranging face-to-face training sessions. Take advantage of its user reporting function to keep tabs on your learners' progress. You can also modify your reports to your preference.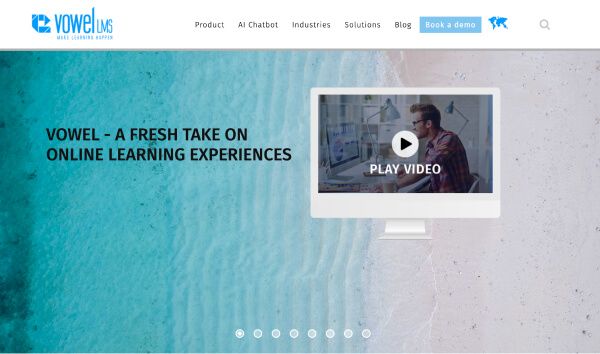 Cost: Available upon request
Key features: 
HTML5 drag & drop authoring tool

Scheduling system 

Automated reminders

User reports