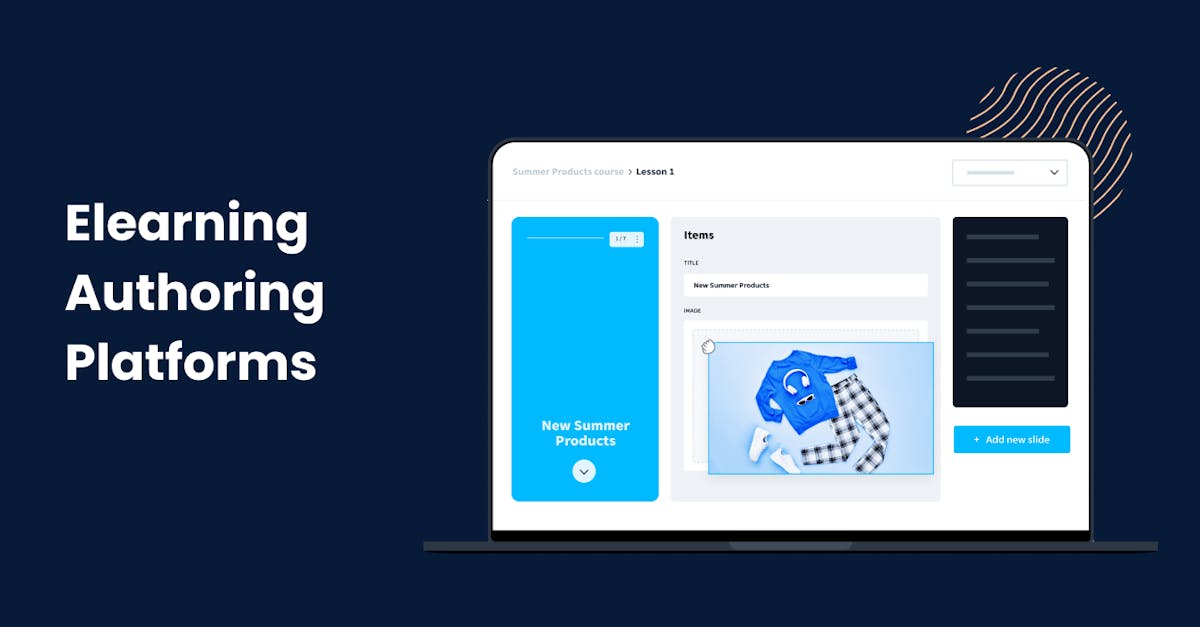 For most companies, elearning authoring platforms make it simpler and more efficient to create training materials. These powerful tools can also help you scale and develop an engaging elearning experience for your teams without sacrificing the benefits of conventional training. Through this list, we'll help you find the best elearning authoring platform for your team.
Elearning Authoring Platform #1 – EdApp 
With EdApp, creating elearning content such as cybersecurity training courses, free customer service certificate programs, or product owner training programs has never been simpler. Through its template library, you can find over 80 microlearning templates that include games, multiple-choice quizzes, surveys, vocational training programs, marketing lessons and more.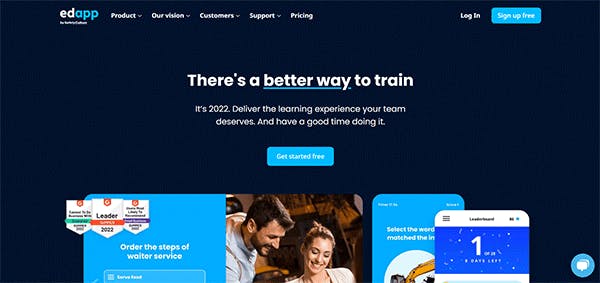 You won't have to write a single line of code with EdApp's easy-to-use Creator Tool. All you have to do is choose a template, drag and drop your content, and hit publish. Additionally, EdApp's built-in Canva integration makes it easy for you to add images, graphics, and branding elements without leaving the authoring tool. 
If you're a team that collaborates on lesson creation, make use of EdApp's Lesson Locking feature to avoid losing hours of work when many writers make modifications. This helps prevent any disputes as it only permits one author to use the lesson editor at once. 
The PowerPoint converter is another important feature to take note of, especially if you already have existing training content in PowerPoint format. Through this feature, you can transform your PowerPoint slides into more contemporary microlearning lessons with just a few clicks.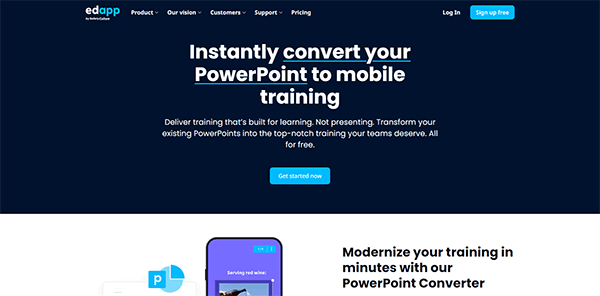 Along with additional onboarding and account assistance, EdApp also offers course creation services. Through this feature, you can tap their team of expert course developers to design a bespoke training program for you.
Cost: Free
Key features:
Template library

Canva integration

Lesson locking

Powerpoint conversion
Sign up for Free and Start Using The Best Elearning Authoring Platform Today!
Elearning Authoring Platform #2 – GLOMaker
GLOMaker is an open-source elearning authoring platform that enables you to create rich, interactive learning resources by dividing the process of authoring into two parts: planning and designing. It also offers coaching training courses to help you create rich, interactive learning resources. The planner tool offers instructional design guidance for using and setting up each block, and this is where the storyline learning design is created. The designer part is where slides are developed. There are also a variety of responsive elearning templates that can be customized according to branching or your training needs. GLOMaker provides a great number of options, including quizzes with feedback, slide-show viewer, photo display with zoom facility, video and audio players, and more. However, this tool may be a bit complicated to use, and novice course builders may have a hard time with content-creation while navigating the platform.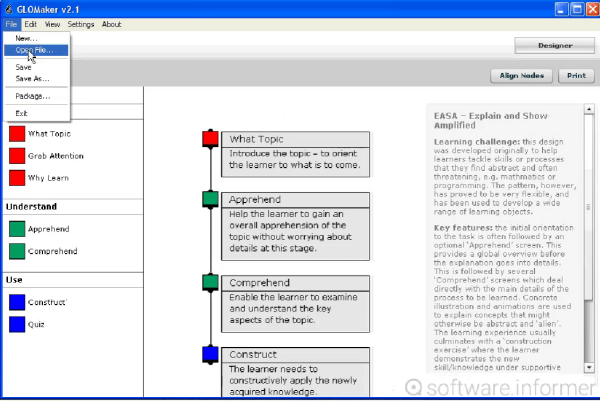 Cost: Free
Key features:
Templates

Planner tool

Designer tool
Elearning Authoring Platform #3 – Raptivity
Raptivity is another elearning authoring platform that you can use to design engaging and visually stimulating online learning experiences. This platform features a growing library of pre-made responsive interactions that include parallax displays, panning slides, and 360 interactions. Even with no design expertise, anyone can customize interactive quizzes, games, simulations, flashcards, and brainteasers through the tool's user-friendly interface. You can also store all your assets and eLearning resources thanks to its media storage to easily find them when needed. Additionally, Raptivity offers inspection courses, field training courses and conflict resolution online courses that you can use as groundwork to build more effective training programs. Whether you're a teacher or an instructional designer, you and other trainers can maximize the tool's many capabilities to keep your learners engaged and motivated throughout their learning journey.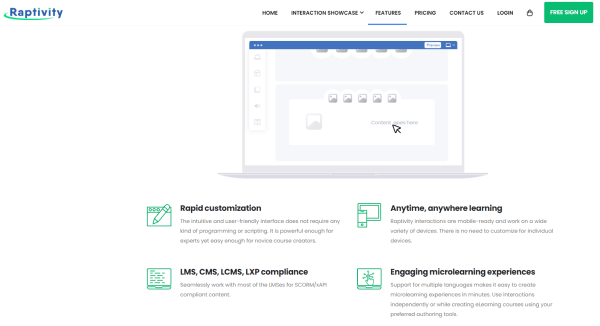 Cost: Free
Key features:
Responsive interactions

Interactive quizzes

Media storage
Elearning Authoring Platform #4 – Adapt
Courses built with Adapt provide a webpage-like experience – they scroll vertically, not flipped like slides. This open-source elearning authoring platform is designed for rapid content development. It stands distinctly apart from other content developing and elearning tools that have evolved from a PowerPoint format design and are suited only to those who want to create long read courses with 'linear navigation.' Overall, the core functionality is sufficient to make simple online courses, but you can enhance the learner experience by installing additional Adapt plug-ins that will allow you to custom design your content. Courses created can be used on any device and are SCORM-compliant.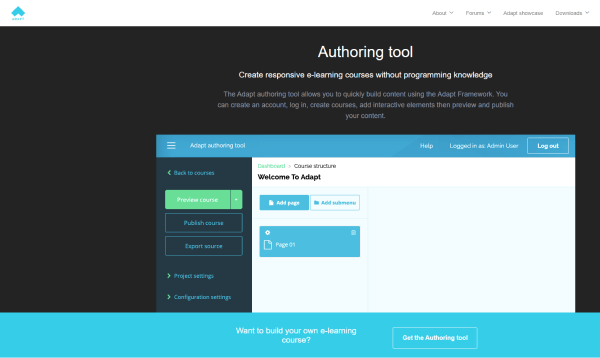 Cost: Free
Key features:
Plug-in library

Web-page like experience

SCORM compatibility
Elearning Authoring Platform #5 – CourseLab
CourseLab is one of the top 10 elearning authoring tools for building eLearning courses that can be published on the web or an LMS. Whether you need to create diversity and inclusion training, crisis management courses, or any free customer service certificate programs, this tool can definitely help out.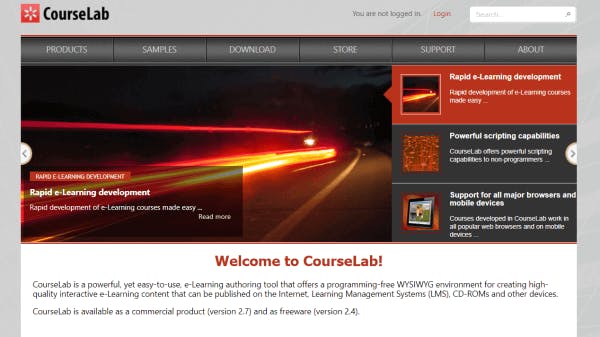 You can make slide-based courses with images, videos, complex multi-object interactions, and quizzes. CourseLab comes with a set of eLearning templates, though learning how to use and customize them may require quite a lot of time. With its built-in test creation capability, you can also create assessments with custom questions and interactive exercises of virtually any type. The downside of this authoring tool is that the interface isn't as intuitive as others and may even feel a little outdated. This means it can feel quite complicated to those who are just beginning to work with authoring tools for eLearning. This tool is better suited to more experienced developers who have an idea of how LMS authoring tools work and are more comfortable navigating the platform.
Cost: Free
Key features:
Elearning templates

Slide-based courses

Test creator
Elearning Authoring Platform #6 – Chameleon Creator
Chameleon Creator is another elearning authoring platform that you can use to quickly and easily create fully-responsive elearning content on any subject, including diversity and inclusion, harassment and bullying prevention courses, and free online medical laboratory courses.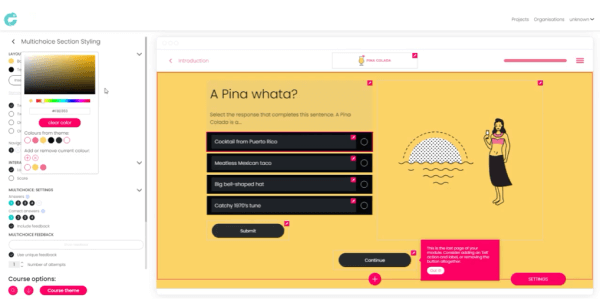 It has a simple and intuitive user interface (UI) that allows you to choose dynamic interactions, where you can enter text, videos, animations, and more. You can even customize each interaction to match your branding by choosing different color themes. If you want to recycle or edit any assets you've previously used in your elearning development, Chameleon Creator features a built-in library to store your content safely in the cloud. Lessons that you create can be used in a different LMS since they're SCORM-compliant but you can also rely on their native platform to deliver your training. Chameleon Creator isn't free to use but they offer a 14-day trial.
Cost: Starts at 5 USD/month
Key features:
Simple and intuitive UI

Interaction library

SCORM compatibility

Built-in asset library
Elearning Authoring Platform #7 – Thinkific
Thinkific is an elearning authoring platform with a user-friendly interface that needs no programming or technical expertise. To get started with your custom elearning, choose from their ready-made course templates and themes or customize them to fit your branding. Its drag-and-drop functionality makes adding and managing your content easy. Along with its bulk importer feature, you can quickly add pdfs, audio, screen recordings, and video files to your course at one time, and then rearrange them once they've been uploaded.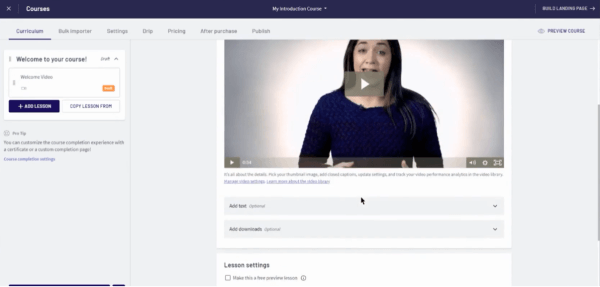 Cost: Available upon request
Key features:
Elearning Authoring Platform #8 – Teach on Mars
Teach on Mars is a mobile-first elearning authoring platform that works perfectly on any device. It comes with a content authoring tool with more than 20 fully customizable learning activity formats to choose from. You can also opt to add third-party SCORM content thanks to its SCORM compatibility. With Teach on Mars, you can create different types of courseware and training, such as regular training courses, microlearning, and more. You can also guide learners toward a learning path by creating a recommendation quiz that will recommend training courses to reinforce their knowledge.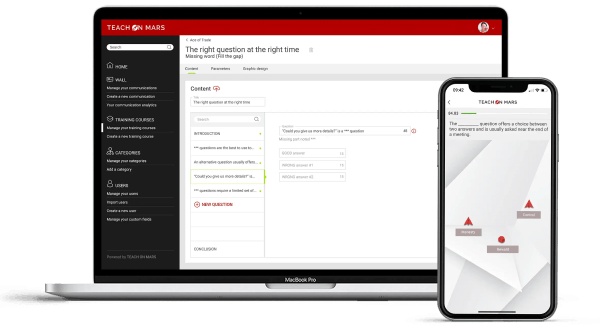 Cost: Available upon request
Key features:
Elearning Authoring Platform #9 – Knowbly
Knowbly enables you to create elearning content that works seamlessly on any device. WIth this elearning authoring platform, you can create dynamic learning content using flexible templates, interactive quizzes, interactive activities with elearning gamification examples, and more. Courses can be published in many formats including SCORM, HTML5, and xAPI. Knowbly also allows for interactive online learning and real-time collaboration with your team members where you can also manage team roles and even use their commenting and review tools. To share editable content, it has an asset manager where you can also find millions of royalty-free stock images that you can use for your lessons. 
elearning-authoring-platform-knowbly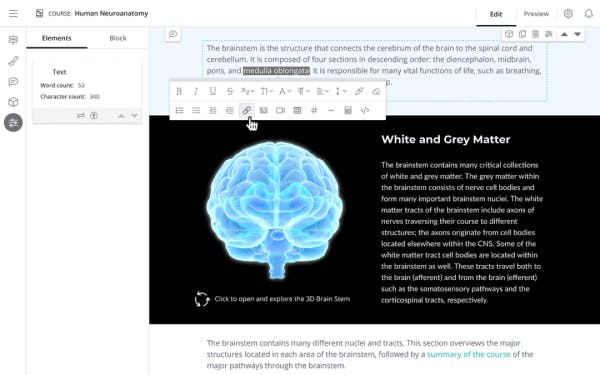 Cost: US 95/year
Key features:
Elearning Authoring Platform #10 – Gomo
Gomo is a cloud-based elearning authoring platform that promises ease of use while having robust features. Its drag-and-drop interface allows you to create interactive and media-rich learning content without any coding knowledge. You can even customize the layout of your screen and design it how you want for a personalized authoring experience. With Gomo, you'll have access to content interactions, sub-screen reveals, and display conditions that you can easily add to your lessons. Gomo also supports horizontal pagination, vertical pagination, as well as continuous scrolling which allows you to present a scrollable flow of screens without the need for learners to click 'Next' just to continue.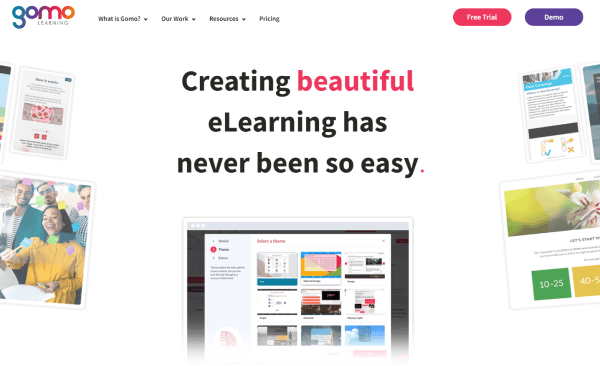 Cost: Available upon request
Key features: